Over the past month, the floor price of some blue-chip NFT series seems to have rebounded, with a few NFTs selling for hundreds of ETH, such as Fidenza #545, which sold for 625 ETH (approximately $1.17 million) on June 6, making it the fifth highest sale in the series; Azuki #9236 sold for 161 ETH on June 3; and Bored Ape Yacht Club #4980 sold for 530 ETH on May 16.
But whether the NFT market has revived or not, let's look for the answer from the following data. Overall, the NFT market is still sluggish in terms of transaction volume, trading addresses, and market demand from both buyers and sellers. Currently, it is still in the bottoming stage of the bear market, let alone the awakening of the bull market. In terms of popularity, the NFT leader is "dim", and the old NFT Milady Maker "fizzles out" after turning red again; although NFTs on Bitcoin are also attracting community attention, they are still in the early stages of development and far from forming a stable pattern.
1. Ethereum NFT market transaction volume in May fell by nearly half compared to the previous month
According to The Block Data, the transaction volume of NFT market on Ethereum in May was US$652 million, a new low since December last year, a month-on-month decrease of 48.7%, and a decrease of 87% compared to the transaction volume of US$5.35 billion in January 2022. Since April, Blur has accounted for 50% to 60% of the NFT market, while OpenSea's share has been between 20% and 30%.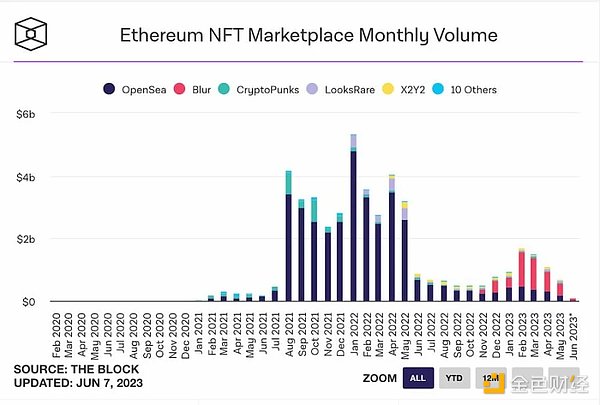 2. In May, the number of independent trading addresses for Ethereum NFTs was less than 200,000, a month-on-month decrease of 44%
In terms of trading users, according to The Block Data, there were 194,800 independent traders in the NFT market on Ethereum in May, of which 150,000 were on OpenSea and 36,500 were on Blur. In terms of the number of NFT traders, it fell 67% from the peak in January last year (591,500) to May, and 44% from April (349,100).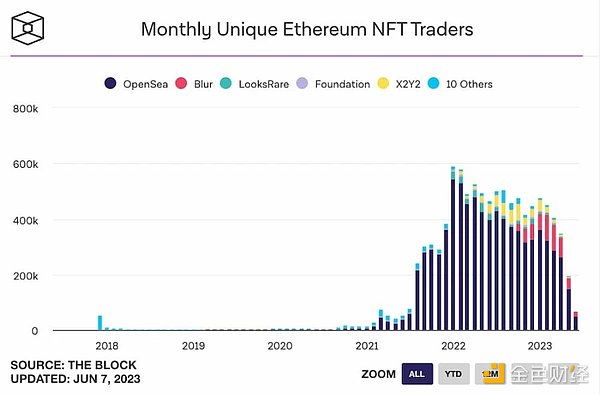 3. The Bitcoin NFT market continues to be hot, with a transaction volume of nearly US$200 million in May
Looking at public chains, in May, Bitcoin's NFT trading volume ranked second after Ethereum. According to CryptoSlam data, Bitcoin's NFT trading volume in May reached $196 million, with about 330,000 transactions.

Source: CryptoSlam
With the entry of CEXs such as OKX Web3 Wallet and Binance NFT Market, the Bitcoin NFT market continues to maintain its popularity.

Source: CryptoSlam
IV. Half of the blue-chip NFT series floor prices rise
As far as floor prices are concerned, according to data from WGMI.io, looking at the trading volume in the past 30 days, among the top 20 NFT series with the most transactions, the floor prices of 11 NFT series have risen, with an average increase of 24%. Jack Butcher's Opepen Edition series, with an increase of 418%, leads the way, followed by 0 N 1 Force (178%), Nakamigos (40%), The Captainz (35%), Azuki (30%), and BEANZ Official (28%); the largest decrease is Tykes (-24%).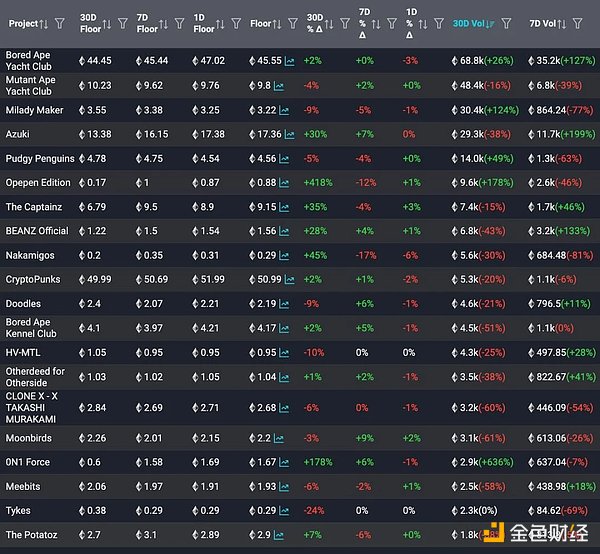 Source: WGMI.io
It should be noted that since May, some floor prices in most top NFT series have risen to varying degrees, but they are still more than 50% lower than their respective historical highs. According to The Block Data, the BAYC floor price has rebounded from its low point in May (40 ETH) to the current 46 ETH, but is still far from its historical high of 128 ETH in May last year. CryptoPunks, MAYC, Clone X, and Doodles have fallen by 54%, 72%, 86%, and 89%, respectively, from their historical highs. Azuki has been rebounding since its low point in late August last year (5.8 ETH), and is currently at 16.95 ETH, a decrease of 32% from its historical high of 25 ETH.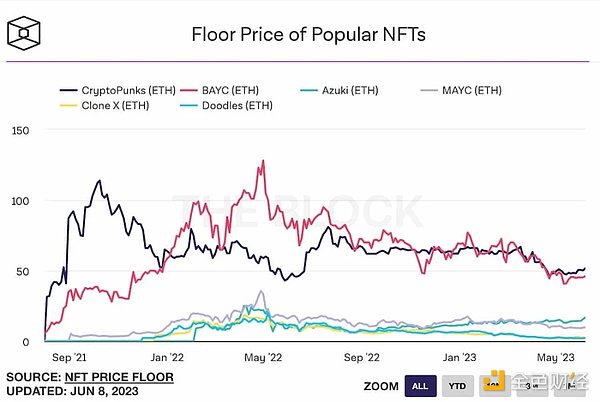 V. Weak head effect in NFT series
In most markets, a certain degree of head effect will drive the development of the entire industry. However, in the past month or even longer, the head effect of the NFT field has been weak.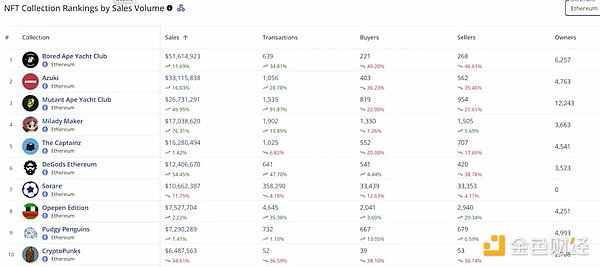 Source: CryptoSlam
In terms of popularity, NFT leader "dimmed", while old NFT Milady Maker turned red again and then "extinguished"; although Bitcoin Frogs, Bitcoin Punks, DeGods and other NFTs are also attracting the attention of the community, they are still in the early stages of development and have not yet formed a stable pattern.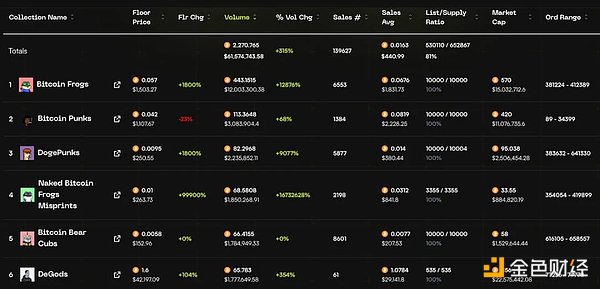 Source: OrdinalHub
VI. The number of profit and loss addresses is seriously imbalanced
According to NFTGo data, after filtering out suspicious transactions, the number of unique addresses with profits and losses (P&L) greater than 1 ETH in the past 30 days is 66,000, and the number of unique addresses with P&L less than -1 ETH is 425,168, with a numerical ratio of 1:6.43. The 30-day profit and loss refers to the sum of the realized profits generated by sales in the past 30 days and the estimated unrealized profits of each NFT held by each address.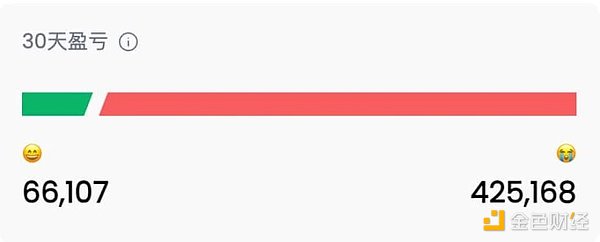 Source: NFTGo
VII. More NFT sellers than buyers
The game between buyers and sellers can largely reflect market supply and demand. The following two charts are the data charts of NFT holders and traders in the past 6 years and the past 1 year, respectively. According to NFTGo data, from the column chart, it can be found that June 2022 is a dividing point. Before this, the number of buyers was greater than the number of sellers, and after this, the number of sellers selling NFTs is more. The purple solid line representing the number of traders also began to decline last year, and there is no sign of rebound at present.


Source: NFTGo
Although the difference between the number of sellers and buyers is narrowing, considering factors such as the shrinking overall trader base, it does not have too much reference value.
VIII. NFT Google Trends popularity continues to decline
Google Trends is also one of the indicators that best reflects the attention to NFTs. It can be seen that since January 2022, the search popularity of NFTs has sharply declined, and after a small peak in December last year, it has gradually declined again.

Source: Google Trends
Like what you're reading? Subscribe to our top stories.
We will continue to update Gambling Chain; if you have any questions or suggestions, please contact us!