Author: ARKHAM Research Team; Translator: Blockingxiaozou
1. Introduction
The anonymous creator of Bitcoin, Satoshi Nakamoto, is believed to be the largest holder of Bitcoin, with holdings of approximately 1.1 million Bitcoin (worth approximately $30 billion). While no one knows exactly how much Bitcoin Nakamoto holds, research indicates that he mined 22,000 blocks, which were his mining rewards. The wallet with the most Bitcoin is a Binance exchange wallet, with approximately 250,000 Bitcoin.
Through ARKHAM's research, we can see which wallets hold the largest amount of Bitcoin: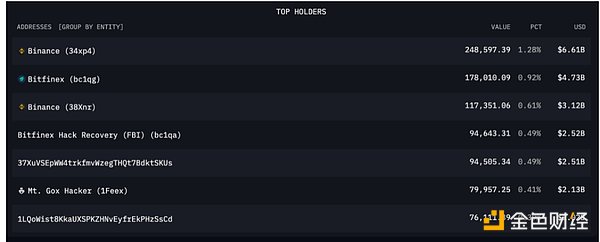 Bitcoin is a decentralized digital currency that operates on a peer-to-peer network called the blockchain. Due to these properties, no one can truly own the entire Bitcoin network, but individuals can access and own Bitcoin controlled by their own private keys.
Bitcoin's price has surged significantly, reaching a peak of approximately $69,000 in November 2021, and its market capitalization reached $1.3 trillion. In the process, several Bitcoin millionaires and other wealthy Bitcoin holders were born. In this article, we will explore some of the whale wallets in the crypto world, some of which are owned by individuals and some by companies, and investigate the amount of Bitcoin they hold based on on-chain data and their public disclosures.
Note: Bitcoin prices constantly fluctuate, and the amount of Bitcoin held by specific wallets may change over time.
Summary:
· Satoshi Nakamoto is the largest holder of Bitcoin with an estimated 1.1 million Bitcoin, worth approximately $30 billion at today's prices.
· Binance and Bitfinex are the two largest Bitcoin exchange holders, holding over 600,000 and 200,000 Bitcoin, respectively.
· The US government holds 205,515 Bitcoin, which were seized from the Silk Road marketplace, the hacker James Zhong, and the Bitfinex hack.
· There are several anonymous Bitcoin billionaires' wallets, most of which have been inactive since the Bitcoin initially flowed into the wallets.
2. The Largest Known Individual Bitcoin Holder
Many large holders of Bitcoin are not known to the public, and many of them are anonymous but have become known through public disclosure or research.
Satoshi Nakamoto, the anonymous creator of Bitcoin, is rumored to be the largest holder of Bitcoin, with 1.1 million stored in 22,000 addresses. Although we cannot be sure how many Bitcoin Nakamoto actually holds, as the first miner on the Bitcoin network, he may have mined over 22,000 blocks from 2009 to 2010 and received 1.1 million Bitcoin as block rewards. However, while assuming that these rewards were obtained by a single entity, we cannot be completely certain that these rewards are Nakamoto's Bitcoin, nor can we be certain who Nakamoto actually is.
Here is an address known to be held by Nakamoto himself: 1A1zP1eP5QGefi2DMPTfTL5SLmv7DivfNa
Gemini founders Tyler and Cameron revealed in 2013 that they had bought 1% of the total supply of Bitcoin at the time, which was estimated to be around 70,000 Bitcoin.
In 2014, prominent venture capitalist Tim Draper bought 29,656 Bitcoin from the US Marshals Service for $18.7 million. In December 2014, Draper participated in a second Bitcoin auction and bought 2,000 Bitcoin. These Bitcoin were originally seized from the Silk Road market and later auctioned off and bought by Draper. (Disclosure: Draper is one of Arkham's investors, and his company is Draper Associates.)
Michael Saylor, co-founder of MicroStrategy, revealed in November 2021 that his personal Bitcoin holdings are 17,732 Bitcoin. Saylor is known for his extremely bullish stance on Bitcoin and has become a prominent figure in crypto culture. He maintains an active media presence on Twitter and other platforms, vocally promoting his support for the Bitcoin ethos.
3 , Public Companies Holding Bitcoin
As Bitcoin gains more adoption and acceptance as a digital asset, many public companies have incorporated Bitcoin into their investment strategies or as part of their corporate reserves diversification.
MicroStrategy, led by Michael Saylor, holds more Bitcoin than any other publicly traded company. The company has been accumulating Bitcoin since August 2020, and their most recent purchase was in April 2023, when they spent $29.3 million to purchase 1,045 Bitcoin. This brings their total Bitcoin holdings to 140,000.
Galaxy Digital, founded by Mike Novogratz, provides a range of asset management, trading, and other institutional services. Galaxy Digital reported in its recent 2022-23 public filings that its holdings of Bitcoin were worth $357 million. However, this figure does not include any digital assets for which the company owes loans or mortgages.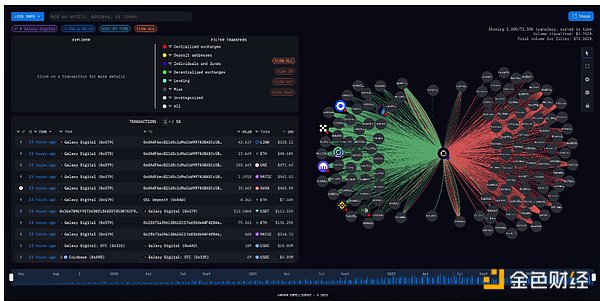 Marathon Digital Holdings is a North American publicly-traded Bitcoin mining company and another large holder of Bitcoin. They operate nine mining facilities and mine an average of 24.4 Bitcoins per day. According to the latest quarterly filing as of March 31, 2023, Marathon Digital holds 11,466 Bitcoins.
According to reports, Tesla holds 10,700 Bitcoins. This data was initially disclosed in Tesla's 10-K filing in February 2021, which revealed that Tesla spent 7.5% of its cash to purchase $1.5 billion worth of Bitcoin. The company initially stated that it would also begin accepting Bitcoin as a payment method for its products, but quickly abandoned the plan citing climate change. With the crypto market crashing in 2022, Tesla sold 75% of its Bitcoin holdings in the second quarter of 2022, resulting in a loss of $140 million. Since then, Tesla's holdings of Bitcoin have not changed.
Finally, let's look at Voyager Digital, a public company founded in 2018 that filed for bankruptcy in 2022 due to market volatility and a default on $350 million in USDC and 15,250 Bitcoin loans from Three Arrows Capital. According to Voyager's last quarterly filing as of March 31, 2022, the company holds 25,171 Bitcoins. According to Arkham's research on Voyager, they hold 5,855 Bitcoins on-chain at the time of writing this article.
4. Private companies that hold Bitcoin
Mt. Gox is a Japan-based Bitcoin exchange that suffered a massive Bitcoin hack in 2014, causing it to shut down and file for bankruptcy. Over the years, the designated trustee has been able to find some of the lost Bitcoins, with creditors expected to receive partial repayment in 2023. The Mt. Gox wallet currently holds 137,892 Bitcoins.
As of March 31, 2023, Tether, the issuer of the stablecoin USDT, reported a latest circulating supply of $83.4 billion and holdings of $1.5 billion in Bitcoin. In the first quarter of 2021, Tether reported a net profit of $1.48 billion and said that starting in May, they would regularly allocate up to 15% of realized net operating income to buying Bitcoin.
5. Exchange-traded funds and trust funds
Grayscale is an asset management company that provides a range of products for the public market. The company, a subsidiary of Digital Currency Group, holds 628,932 bitcoins in its Bitcoin Trust Fund, according to recent quarterly filings. All digital assets in Grayscale's financial products are also stored under Coinbase's custody.
While a spot bitcoin exchange-traded fund (ETF) has yet to be listed in the United States, Canada's Purpose Investments allows investors to hold underlying bitcoins through its ETF product without self-custodying any bitcoins. As of June 9th, 2023, the Purpose Bitcoin ETF had a bitcoin holding of 22,756.
6. Which government owns the most bitcoin?
Unlike most countries that confiscate and hold bitcoins after criminal arrests, El Salvador and the Central African Republic have boldly adopted bitcoin as legal tender. El Salvador purchased 2,546 bitcoins for $108 million. Additionally, on November 2022, Salvadoran President Nayyib Bukele announced the country will buy one bitcoin every day. Assuming they continue to purchase bitcoin at this frequency, El Salvador will have a bitcoin holding of 2,791 by the end of this year.
Since the Russia-Ukraine conflict, Ukraine has also received $22.8 million in bitcoin donations. According to data released by the Ukrainian government in April 2021, over 700,000 public officials in Ukraine also claimed to own bitcoins, with some holding as many as 18,000 bitcoins. Allegedly, public officials held a total of 46,351 bitcoins. Although the bitcoins held by public officials are not strictly owned by the government, the fact that public officials widely and openly hold bitcoins is itself unusual and significant.
Bhutan has been mining bitcoin since 2019. In May 2023, Bhutan's sovereign wealth fund, Druk Holding and Investments, announced a $500 million partnership with Bitdeer to expand its bitcoin mining business. Given Bhutan's geographic advantage, the country has built many hydroelectric power plants along glacier rivers. The country will now use its cheap and abundant hydroelectric power to mine bitcoin and invest the profits in national development.
7, confiscated
However, when it comes to government-held assets related to confiscation, the United States ranks first with a wallet size of 205,515 bitcoins. These bitcoins were seized by the FBI from Bitfinex hackers and the Silk Road market as well as Silk Road hacker James Zhong. The US government has liquidated about 10,000 Silk Road bitcoins for approximately $215 million and has announced plans to liquidate the remaining 41,000 Silk Road bitcoins in four batches by 2023.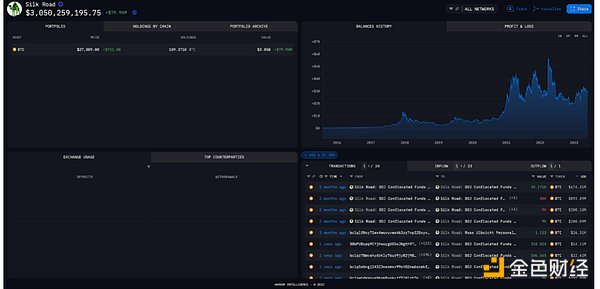 In 2017, the Bulgarian government seized 213,519 bitcoins following a crackdown on a criminal operation. At the time, these bitcoins accounted for 1% of the circulating supply and were worth $3.3 billion. After the crackdown, rumors circulated that the Bulgarian government auctioned off all of the bitcoins in the following months. However, it is unclear whether this is true.
In November 2020, Chinese authorities confiscated 194,775 bitcoins from the operators of the PlusToken Ponzi scheme. These bitcoins were deposited into the national treasury, but it is currently unclear whether China still holds these bitcoins or has sold them.
In July 2022, Finland liquidated 1,889 bitcoins seized from criminal activity prior to 2018. Finnish customs still hold 90 bitcoins and an unknown quantity of other tokens, which are currently awaiting a court ruling.
8, cryptocurrency exchanges
According to Coinbase's Q1 2023 filing, Coinbase represents customer holdings of $55.6 billion in bitcoin, including all customer assets and institutional assets held by Coinbase. Coinbase also invests 10% of its net revenue in a diversified portfolio of cryptocurrencies and as of March 31, 2023, holds bitcoin worth $261.5 million on its own behalf. In addition, Coinbase holds $8.8 million in bitcoin for operational purposes.
For security reasons, most of Coinbase's bitcoin wallets remain undisclosed. However, according to existing research by Arkham, Binance and Bitfinex are the two largest bitcoin exchange holders, holding over 600,000 and approximately 200,000 bitcoins, respectively. These cold wallets hold customer deposits and do not typically represent ownership of the exchange. Binance and Bitfinex together hold over 4% of bitcoin's circulating supply.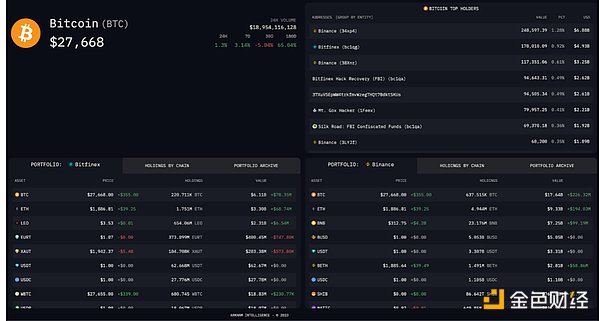 9. The largest anonymous Bitcoin whale wallet
In addition to cryptocurrency exchanges, there are many anonymous Bitcoin billionaire wallets that hold large amounts of Bitcoin. The activities of these wallets vary, with some actively participating in transactions while others remain dormant for long periods of time, leading people to speculate whether the wallet owners still have access.
Of the eight wallets analyzed, five are dormant, while the remaining three wallets have both inflows and outflows over the past year. Interestingly, six of the Bitcoin billionaire wallets were created after January 2018.
The table below shows the largest anonymous Bitcoin holders, their percentage of the circulating supply, the status of their wallets, and some observations about the wallets.
Top anonymous Bitcoin whale wallets with holdings of over $1 billion: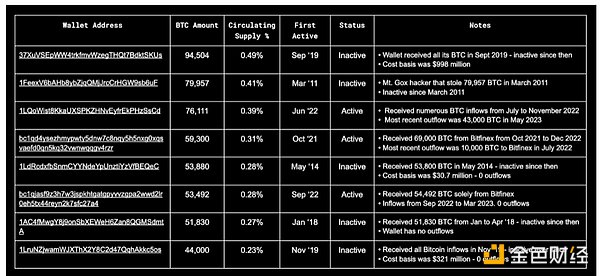 10. Conclusion
Bitcoin was initially a niche project for cryptography enthusiasts and has since developed into a globally important financial asset held by many companies, individuals, and governments. Holding Bitcoin has a strong attraction for users, which comes from its decentralized nature, ensuring that no one can own the entire Bitcoin network, and even for the most determined attacker, the cost of fully controlling the Bitcoin network would be prohibitively high.
The maximum supply of Bitcoin is 21 million, which is a fundamental aspect of the project's design, ensuring that Bitcoin is always a scarce asset that cannot be inflated in value by printing. Given that an estimated 3.7 million Bitcoins are still in some inaccessible wallets, representing a permanent loss, the actual total supply of Bitcoin is even lower.
Like what you're reading? Subscribe to our top stories.
We will continue to update Gambling Chain; if you have any questions or suggestions, please contact us!