Note: It was this ZachXBT investigation report that made Huang Licheng angry and sued ZachXBT. The following is the full text of the investigation report.
---
Brief Introduction
Huang Licheng (Jeffrey Huang), also known as Machi Big Brother, is a former Taiwanese-American musician and tech entrepreneur who embezzled 22,000 ETH from Formosa Financial in 2018. In the four years since Formosa Financial's collapse, Jeff has launched more than ten pump-and-dump tokens and NFT projects. The following will outline Machi Big Brother's exploits in the cryptocurrency field, a brief overview of Formosa, his subsequent projects, other participants in these projects, and, as always, evidence to prove these things.
In the past year, "Machi Big Brother" (aka Jeff Huang) has become famous in the NFT field as one of the largest holders of Bored Ape Yacht Club (BAYC). However, few people know his black history in the cryptocurrency world…
Background
Huang Licheng, also known as "Machi Big Brother," is a Taiwanese-American rapper and tech entrepreneur. In 1991, Huang Licheng founded the pop/rap trio LA Boyz, which gained great fame. LA Boyz was active from the early to late 1990s, released 13 albums, and became popular in Asia, eventually disbanding in 1997.
After LA Boyz's success, Huang Licheng founded the hip-hop group "Machi" in 2003 and achieved success again. Machi Entertainment is one of Asia's largest hip-hop/rap record companies and is a subsidiary of Warner Music Taiwan, founded by Huang Licheng and his partners. Eventually, with the founding of 17 Media (M17), the parent company of 17 Live, Huang Licheng transitioned from the music industry to the tech industry. M17 was established in 2015 and has since developed into one of Asia's most popular live streaming apps.
In 2017, Huang Licheng and Mithril entered the cryptocurrency field, which was the first of a series of dubious projects, with unclear team members, questionable moral issues, and consistent, mechanical pump-and-dump tactics. Let's dive in.
---
Project One: Mithril ($MITH)
In late 2017, Jeffrey Huang founded Mithril, a decentralized social media platform designed to directly reward content creators through its native token, MITH. Mithril conducted a token private sale on February 21, 2018, raising a total of $51.6 million (60,000 ETH), which accounted for 30% of the total token supply. In February 2018, 70% of these private sale tokens were unlocked during the TGE, with the remaining 30% unlocked over the following three months. In April 2018, Mithril was listed on the centralized exchange Bithumb. By May 2018, the fully unlocked MITH tokens accounted for 89% of the total circulating supply at the time and caused significant selling pressure thereafter.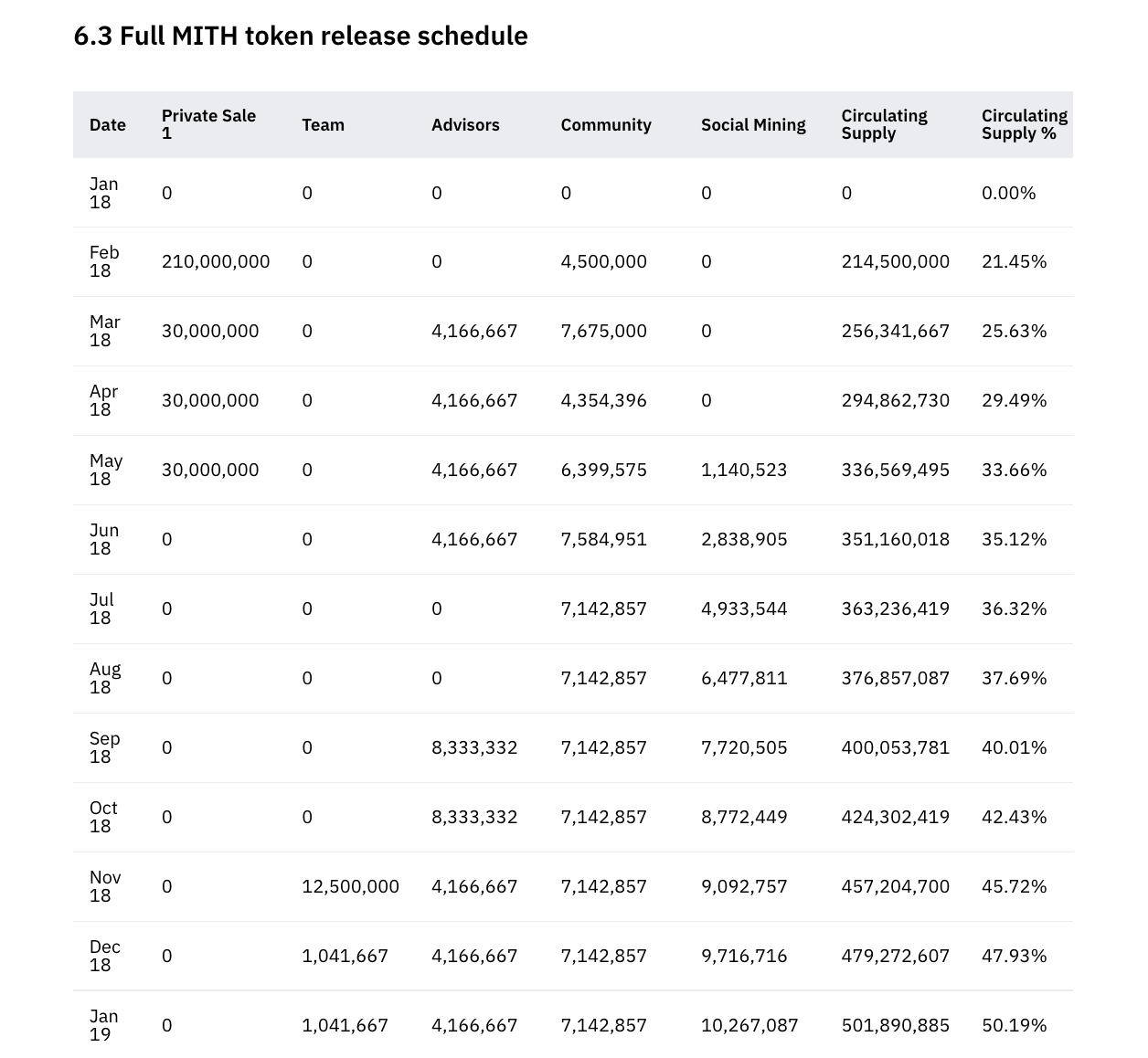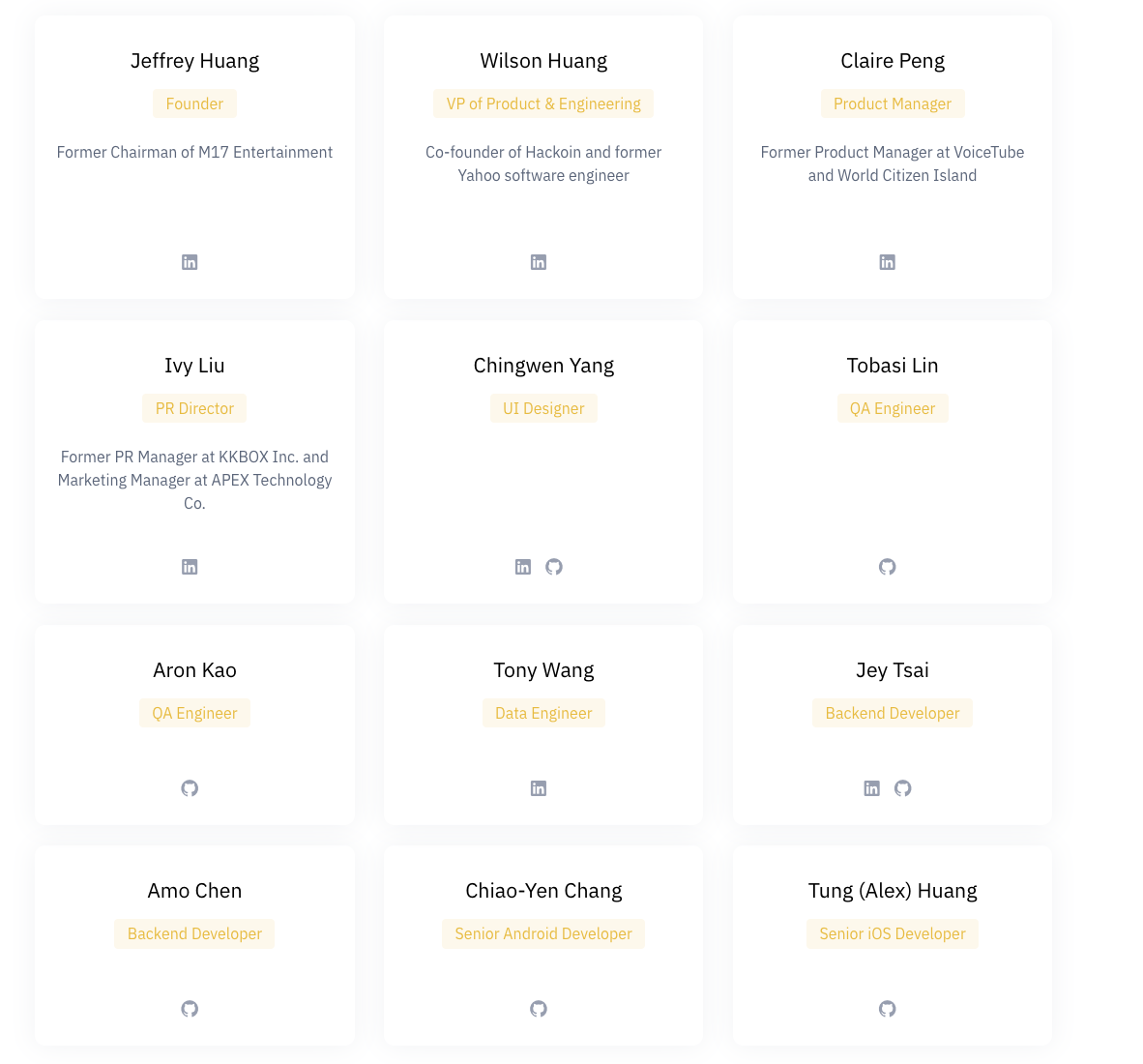 ---
Project Two: Formosa Financial
Starting from early 2018, Ryan Terribilini, George Hsieh, Czhang Lin, and Huang Li-Cheng worked closely together to establish Formosa Financial, a treasury management platform designed for blockchain companies. Formosa Financial conducted an angel round financing in the last week of April 2018, raising a total of 22,000 ETH. The private round sale ended on May 31st and raised an additional 22,000 ETH. These sold tokens accounted for 30% of the total supply. Formosa Financial raised a total of $23 million (44,000 ETH), with participation from notable investors such as Binance, QCP Capital, Lemnis Cap, Block One, Mithril/Huang Li-Cheng (remember this), Maicoin, Wilson Huang, Leo Cheng's Syndicate, Blockstate, and Block One.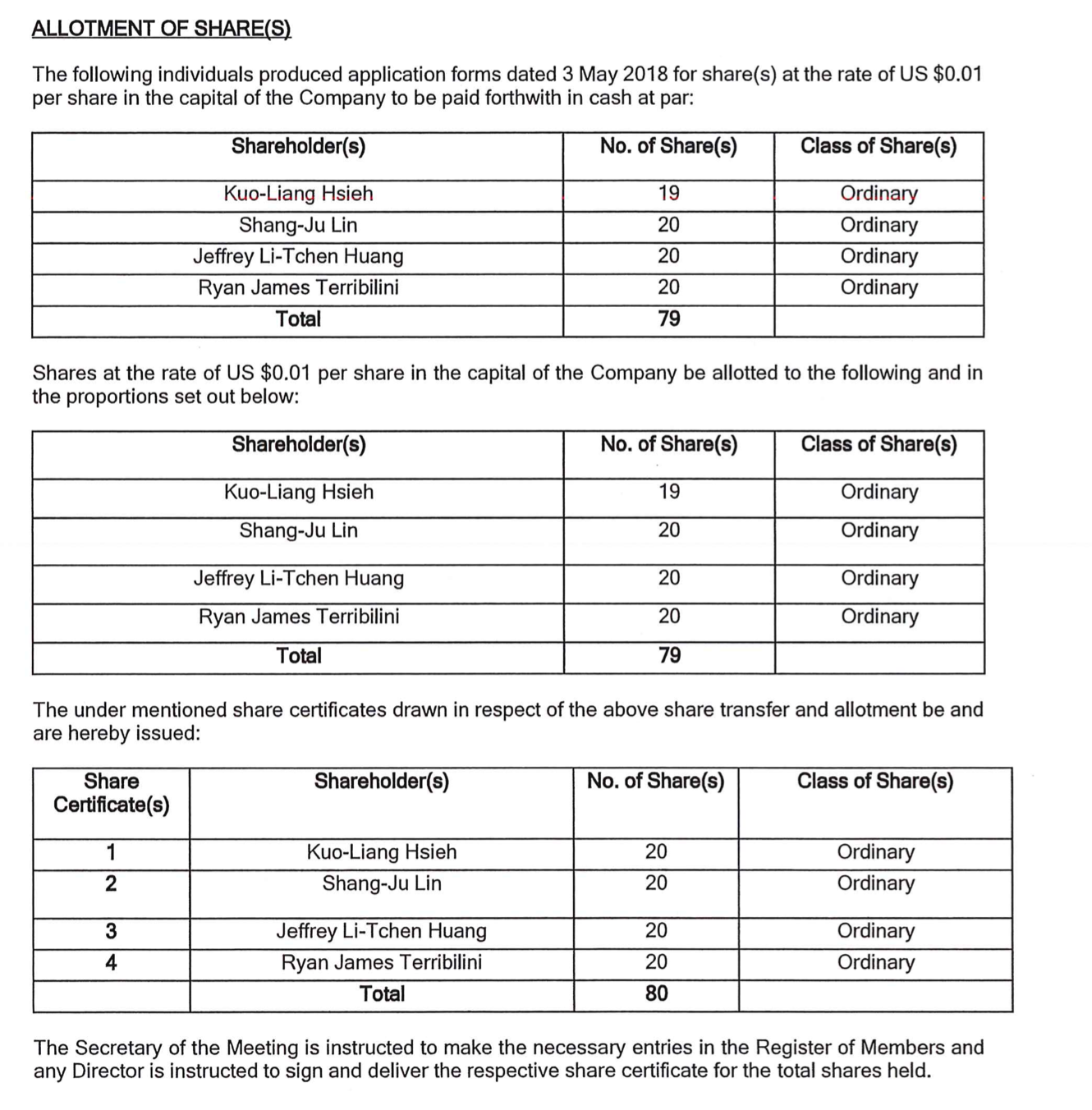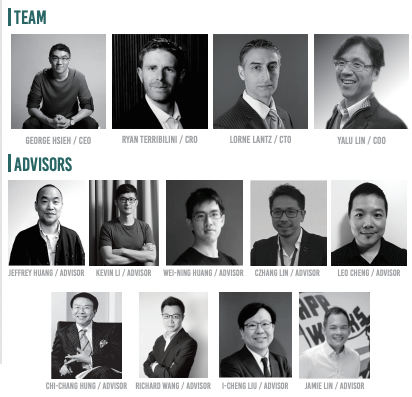 Investors were sold on the promise that FMF will be quickly listed on top cryptocurrency exchanges.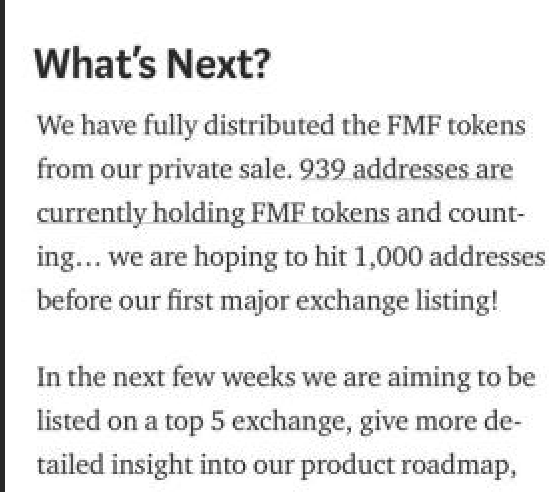 FMF was launched on the decentralized exchange IDEX in June 2018 and immediately crashed. It was not until September 2018 that it was listed on centralized exchanges (IDEX, UEX).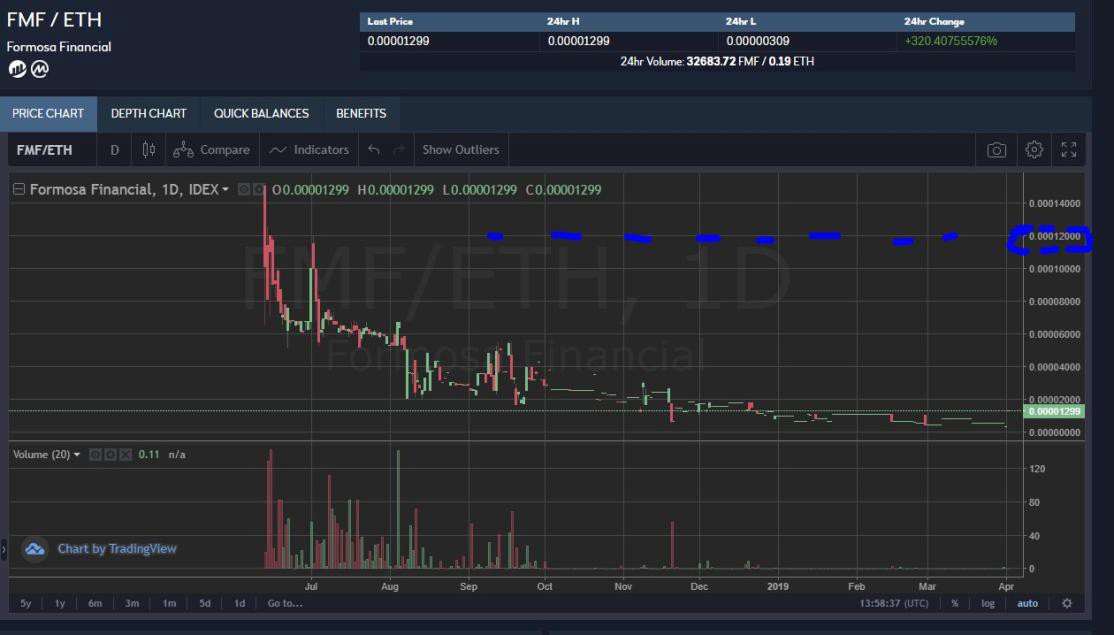 Meanwhile, 17 Media, which had originally planned to go public on the New York Stock Exchange (NYSE) on June 7, 2018, saw its IPO delayed after failing to raise the intended $115 million due to unspecified settlement issues with investors. ZachXBT contacted an anonymous source to uncover the reason:
"M17's trading suspension and its current private entity status are unrelated to regulatory or Citibank mistakes.
M17 ultimately failed to meet audit and reporting requirements and could not overcome the hurdle of its book value, as people could not adapt to this business model."
After the failed IPO, Jeffrey Huang expressed his frustration on Facebook and criticized Citibank and Deutsche Bank, both of which were involved in the IPO.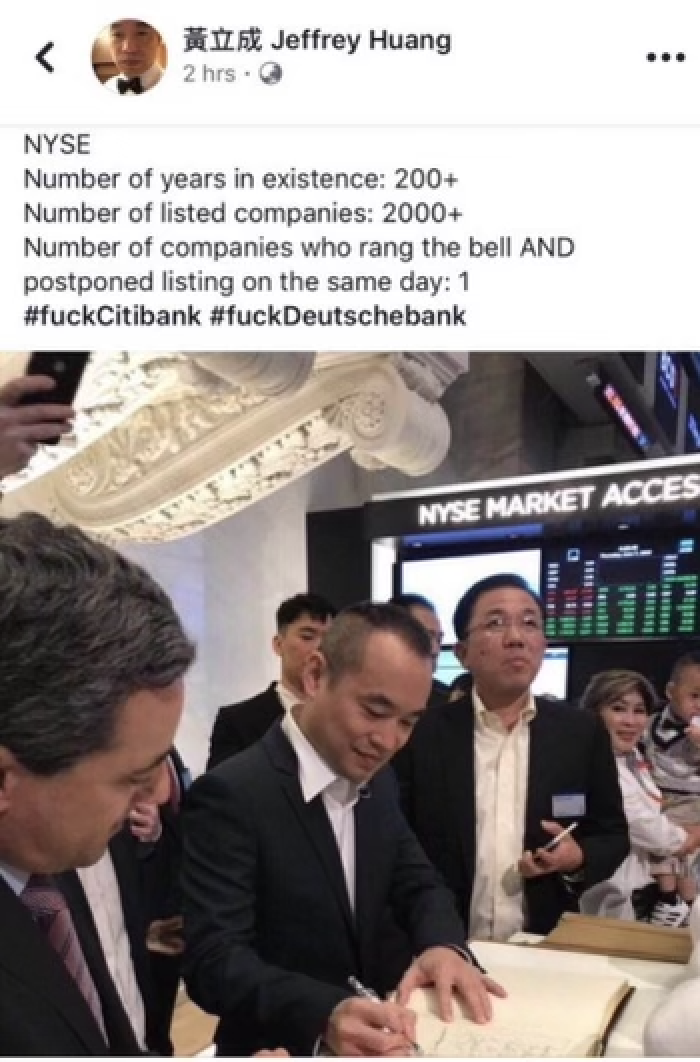 Three weeks after the FMF ICO, the situation of the Bao Dao Financial project took a turn for the worse. On June 22, 2018, Formosa Financial's project treasury wallet was twice drained of 11,000 ETH each. What investors did not know was that co-founder Shieh Kuo-liang, in his capacity as the company's sole director, had initiated a bilateral stock repurchase.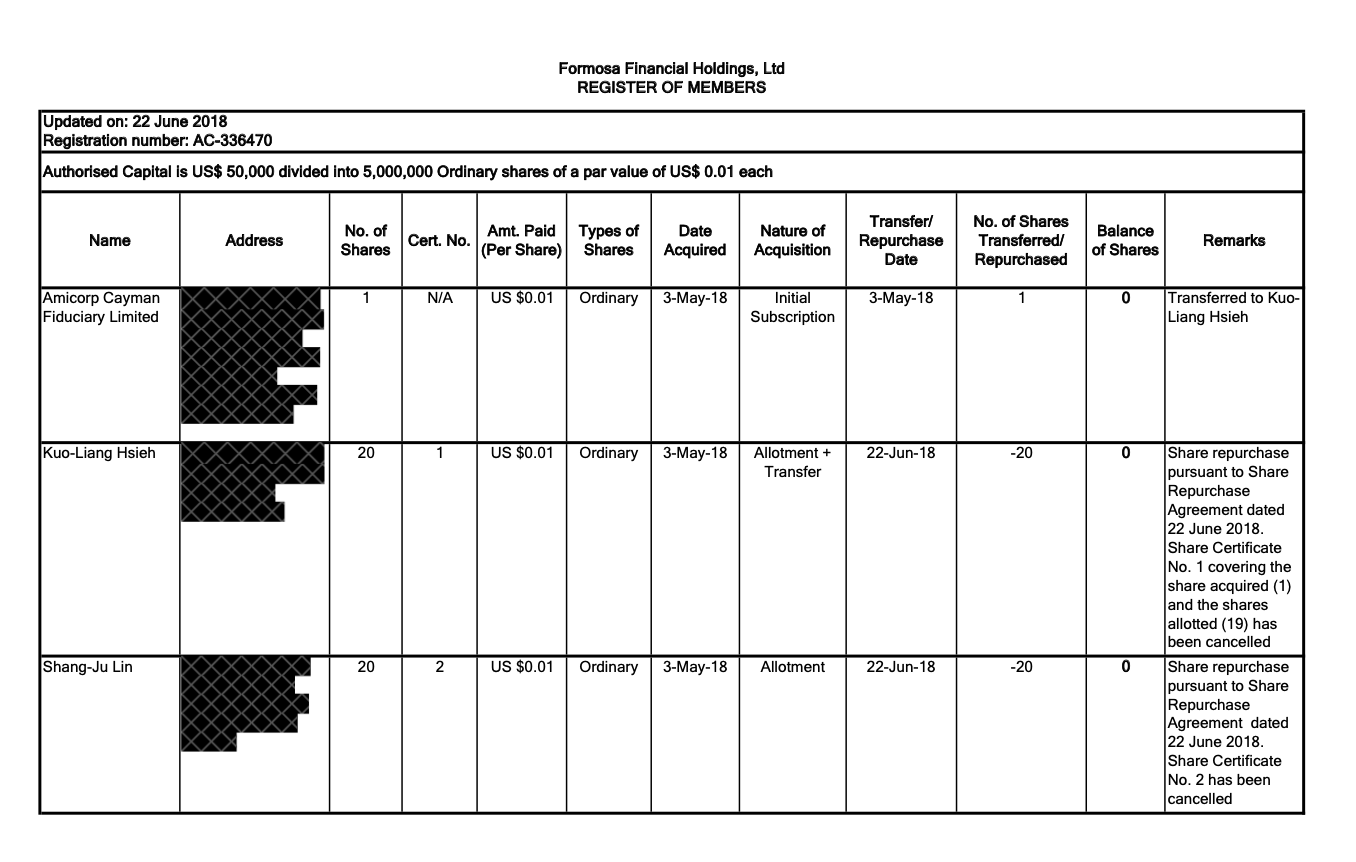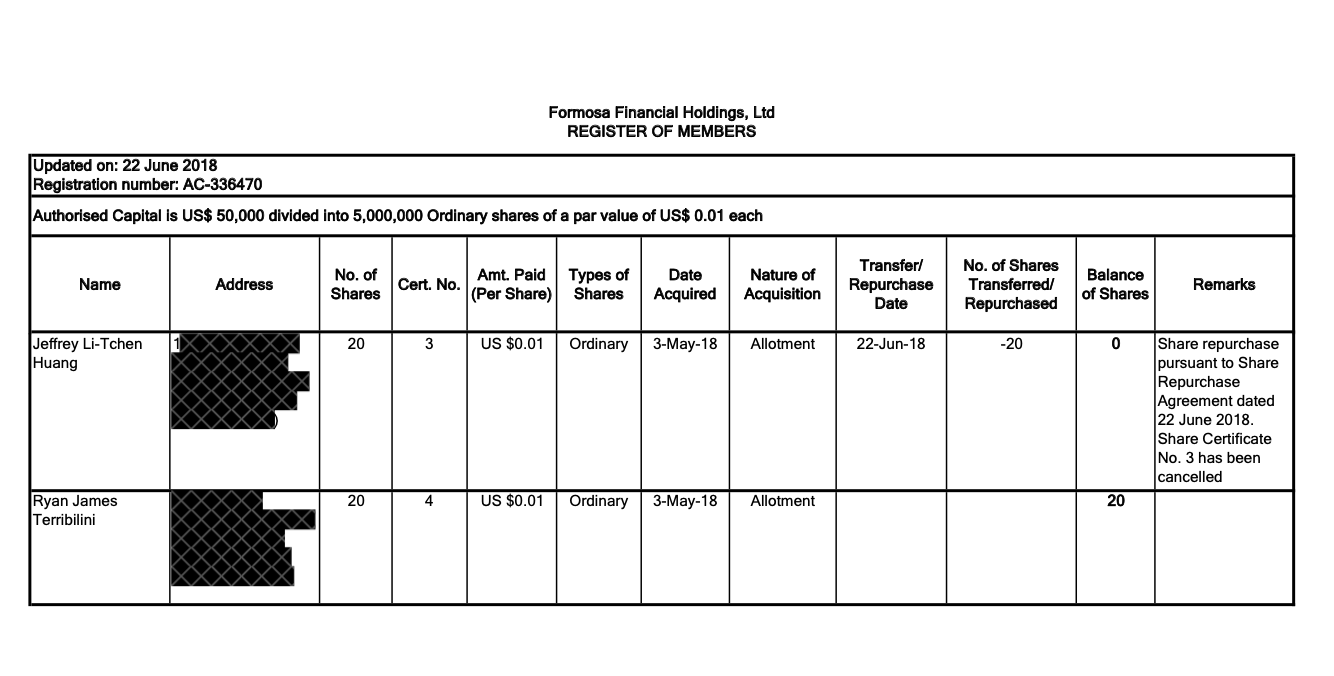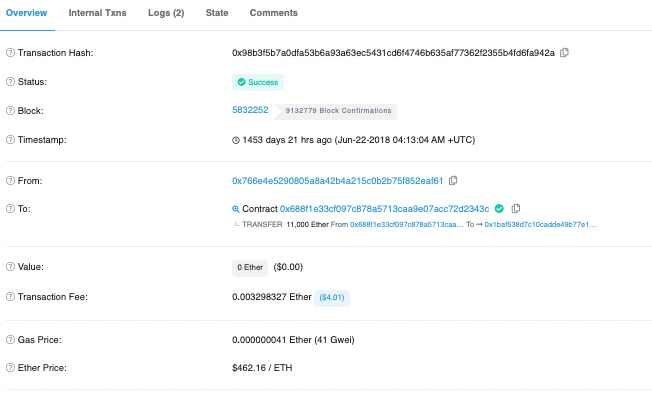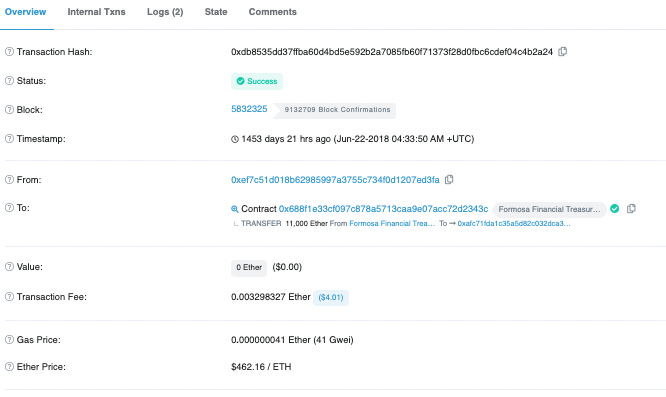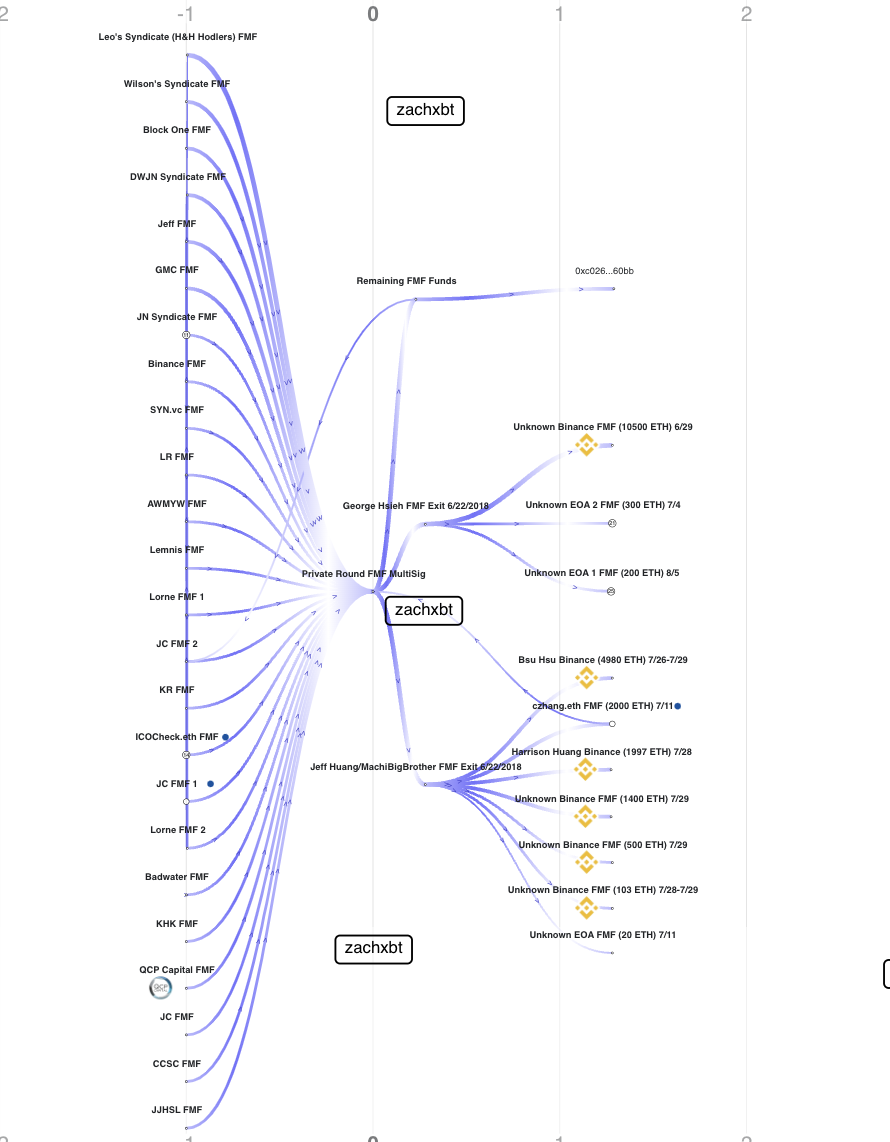 Huang Lik-cheng did not move the 11,000 ETH he withdrew from the wallet until the end of June and the beginning of July, when he transferred 4,980 ETH, 1,997 ETH, 1,400 ETH, 500 ETH, and 103 ETH to various Binance accounts. Among them, 2,000 ETH was sent to czhang.eth and 20 ETH was allocated to an EOA wallet.

Questions remain: who owns the Binance accounts and wallets? Let's take a deeper look and carefully examine some of the outflows of ETH!
1. From July 26th to July 29th, 2018, 4,980 ETH was withdrawn: records show that this Binance account frequently received funds from two sources: FTX and littlebang.eth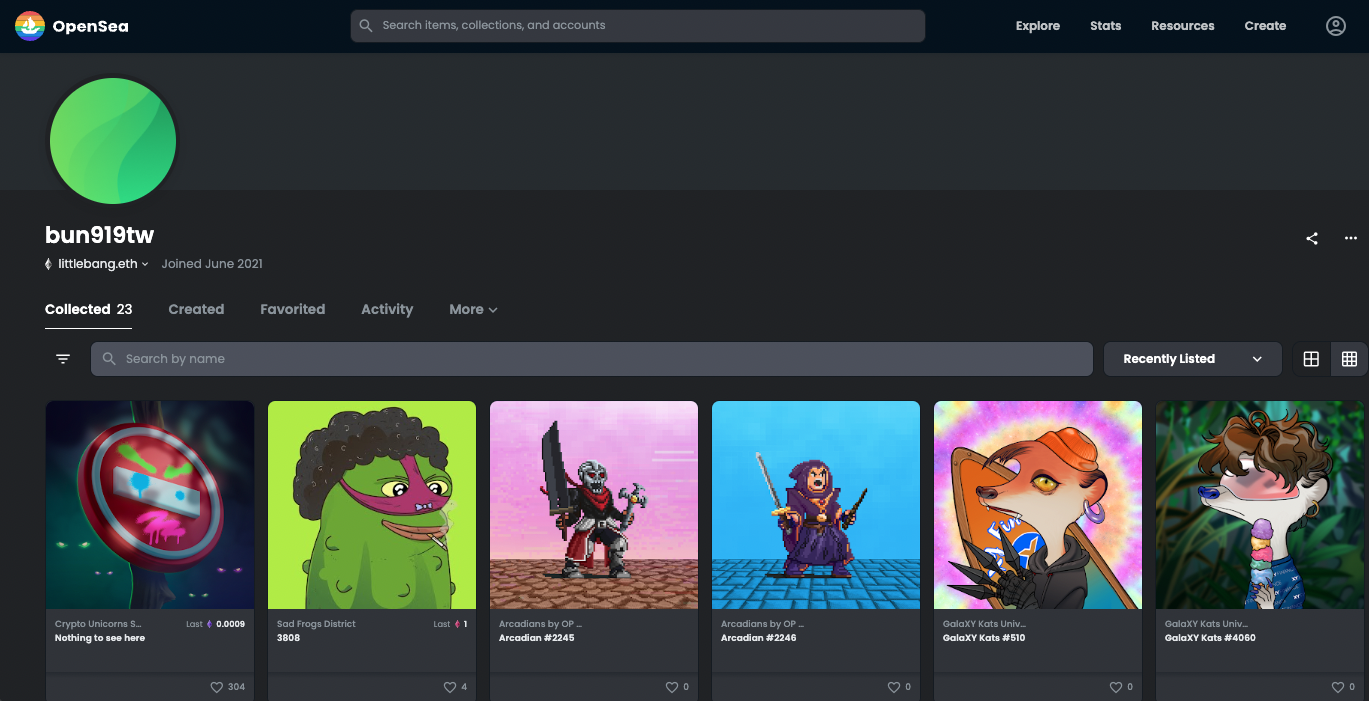 1a). If we look up the owner of littlebang.eth on OpenSea, we will see that their username is "Bun919tw"

b) A quick Google search of "bun919tw" shows that it is actually Bun Hsu, a core engineer at Cream Finance (Cream is another project of Huang Lik-cheng).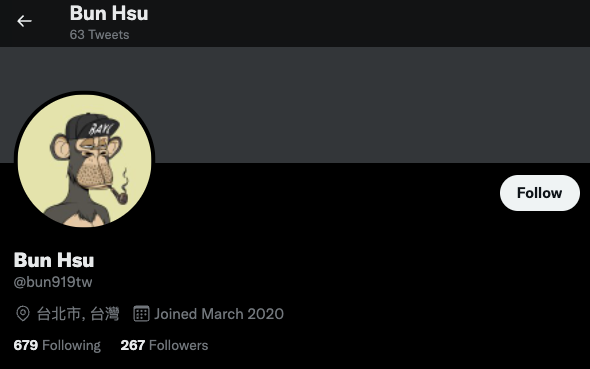 C) Bun Hsu's Twitter profile picture is a Bored Ape Yacht Club #7066, which was gifted to him by machibigbrother.eth (Jeff's public wallet).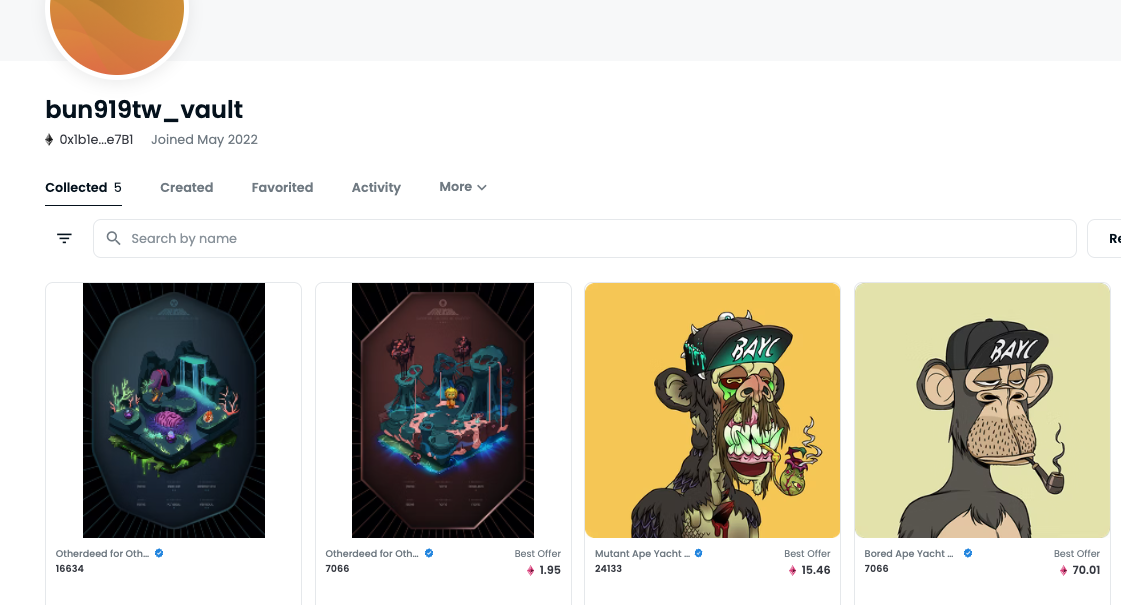 d) Bun Hsu also happened to trade multiple Jeff projects, such as FMF, SWAG, CREAM, SQUID, PHOON, MCX, and MIS/MIC.
Why did someone who is not part of the Baoshan Finance team receive 4980 ETH just 3 weeks after the ICO, and trade tokens from other Jeff projects and receive a Bored Ape Yacht Club NFT from Jeff?
2. 2,000 ETH flowed out on July 11, 2018: Blockchain on-chain records show that the transaction has been received by czhang.eth (Czhang Lin). Mr. Lin was an advisor to Baoshan Finance until June 22.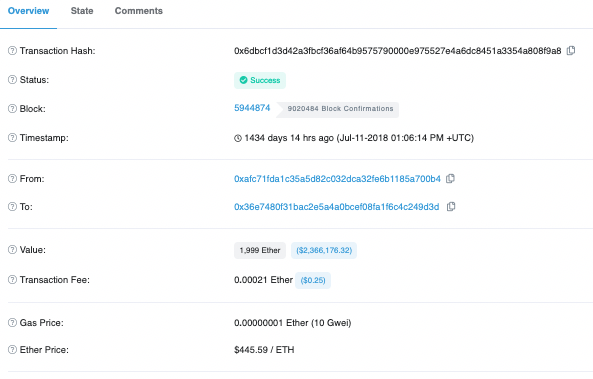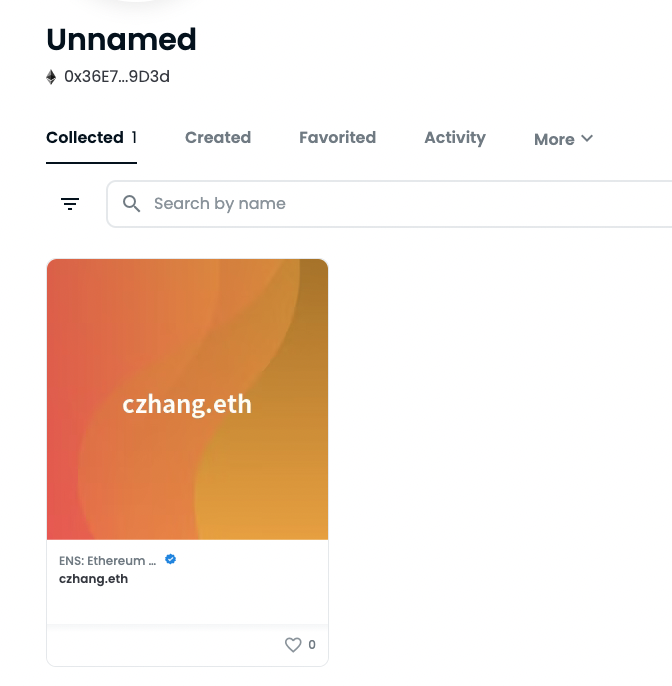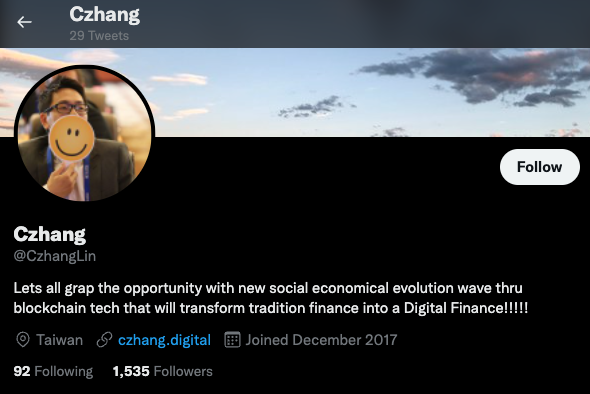 a) Three weeks after Czhang received the 2,000 ETH, Czhang sent 150 ETH to his brother Lin Yalu (COO of Baoshan Finance) on July 22, 2018.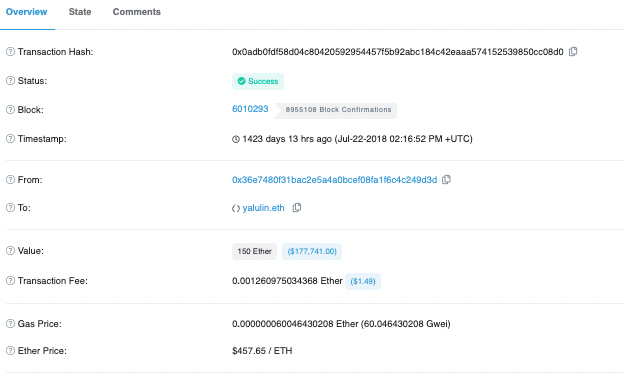 Once again, why did the advisor and COO of Baoshan Finance receive money to build the project?
3. 1,997 ETH flowed out on July 28, 2018: The only funds that flowed into the Binance account came from harrisonhuang.eth, which frequently interacts with w9g.eth (Wilson Huang), the Vice President of Engineering of Mithril, and the founder of XY Finance and GalaXY Kats.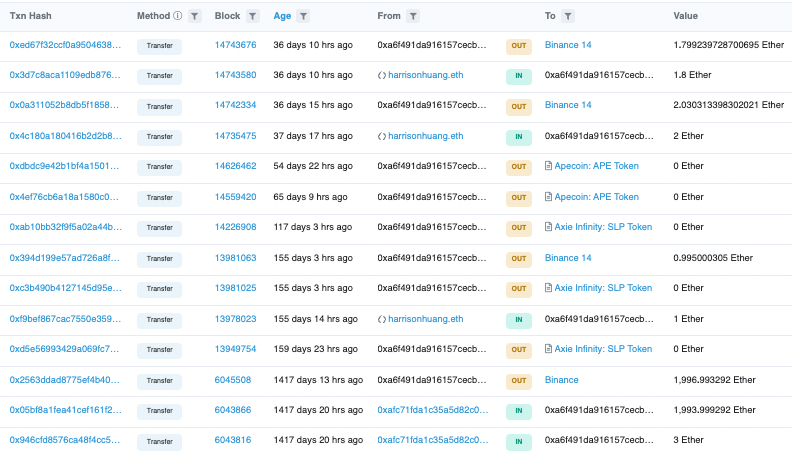 a) Based on a quick Twitter search for harrisonhuang.eth, we can infer that this is his Twitter account, as he posted his ENS address on Twitter in response to Wilson.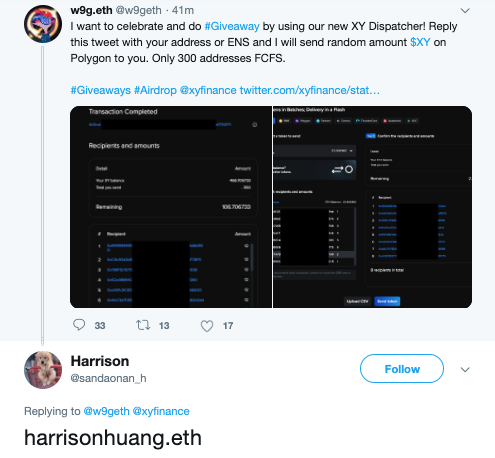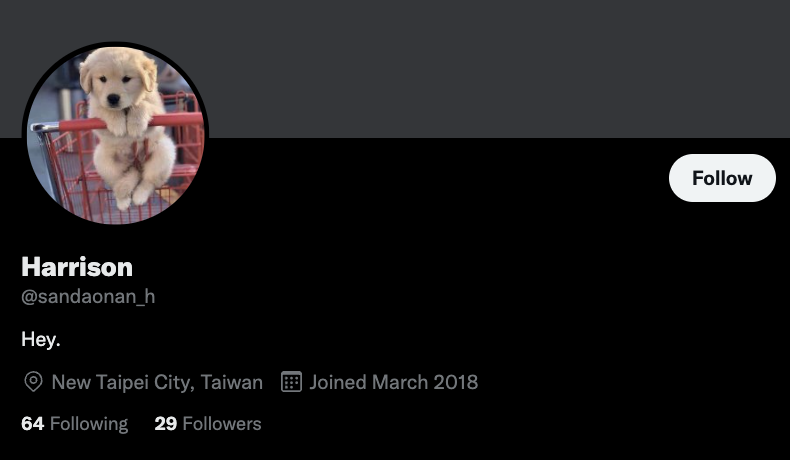 Harrison is not listed as a team member in the Formosa Financial whitepaper or website. Once again, there is a pattern of individuals receiving project funds without any public affiliation to the island.
The remaining Binance accounts that received funds from Huang have hit a dead end; these accounts have not interacted with any external or personal address recently, and the trades were simply moved from CEX to CEX.
On July 26, 2018, Huang Licheng and Mithril were caught trying to cheat in Binance's monthly community coin vote. A user named Lucky discovered evidence that Mithril received over 80,000 votes, which were supported by only two to three addresses.
The community coin vote works this way: 1 BNB equals 1 vote, and each account is allowed to have a maximum of 500 BNB/vote, so a voter can have a maximum of 500 votes by holding 500 BNB. However, in the rules, Binance stated that if fake accounts were created and BNB was scattered in large amounts, the competition qualification would be automatically canceled.

In Mithril's actions at the time, Huang used the same address that was closely related to the ICO of Formosa Financial, which held $8.6 million worth of MITH. The following figure shows the wallet that batch transferred BNB, which received ETH as gas from the wallet of Mithril's largest whale at the time.
Even worse, a large amount of BNB used to deceive the community coin vote was received by Bun Hsu on the same day as the 1980 ETH. In fact, it was deposited into his Binance account less than an hour before the vote.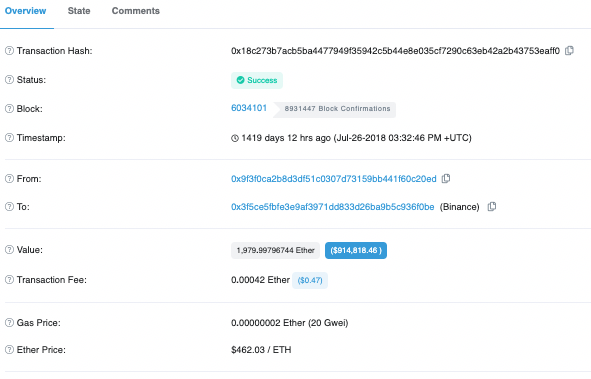 When checking transactions on the chain, I found additional instances of BNB being distributed to Binance in smaller amounts (500 BNB or less) that are consistent with the timeline of the FMF fund theft.
1a. On July 28th at 3:25am (UTC), 2000 ETH was deposited into Bun Hsu's Binance account

1b. On July 28th (UTC) at 4:43am, 43.8k BNB was withdrawn from Binance (likely by Bun)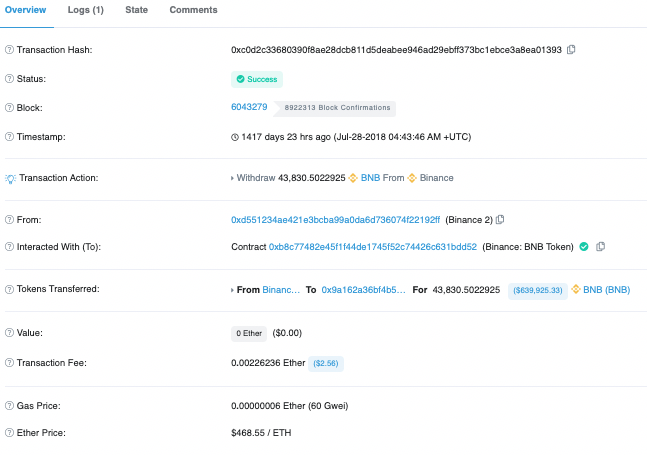 2a. On the morning of July 28th at 7:08am, 1994 ETH was deposited into Harrison Huang's Binance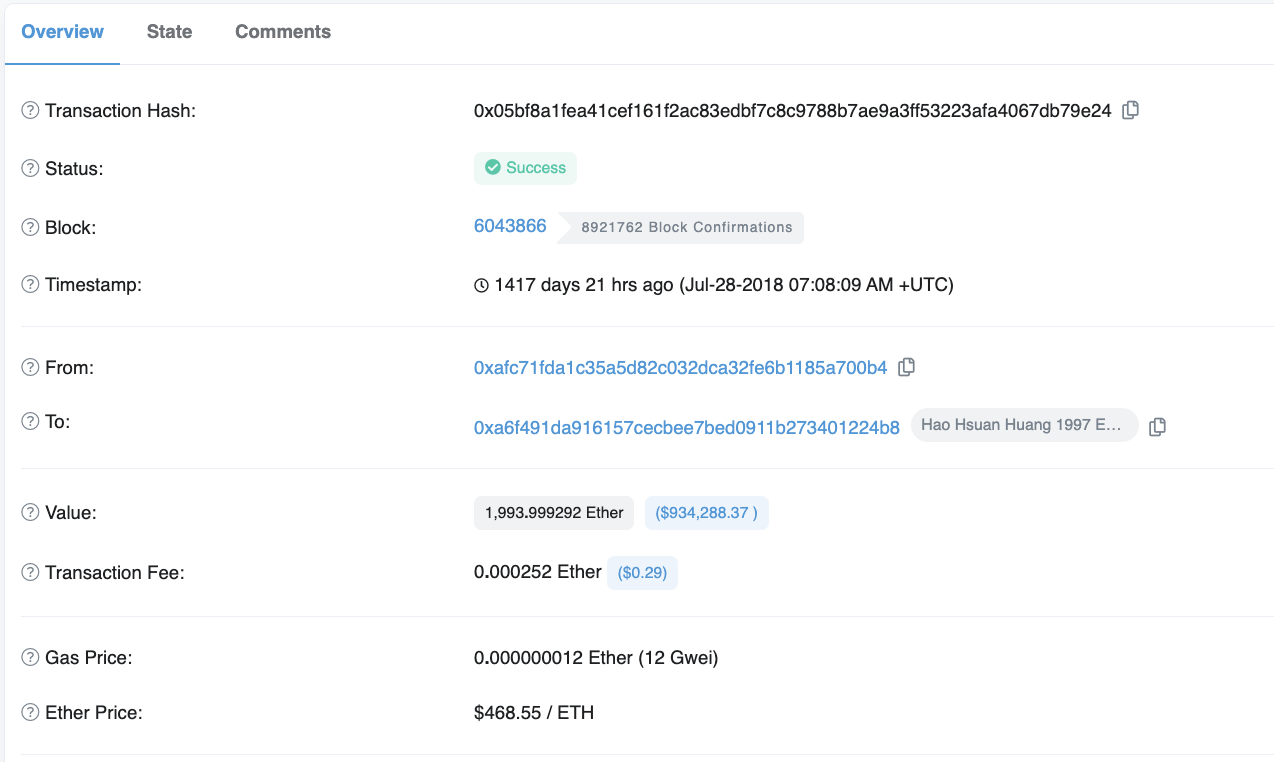 2b. On the morning of July 28th at 7:28am (UTC), 30k BNB was withdrawn from Binance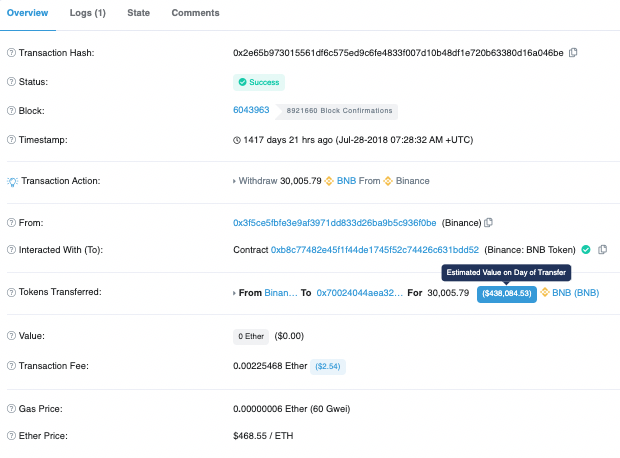 Once again, these addresses are associated with Huang Licheng/Mithril. But unfortunately, this is exactly where most of the funds of Baodao Finance are likely to flow.
Once again, this is the use of Baodao Financial funds.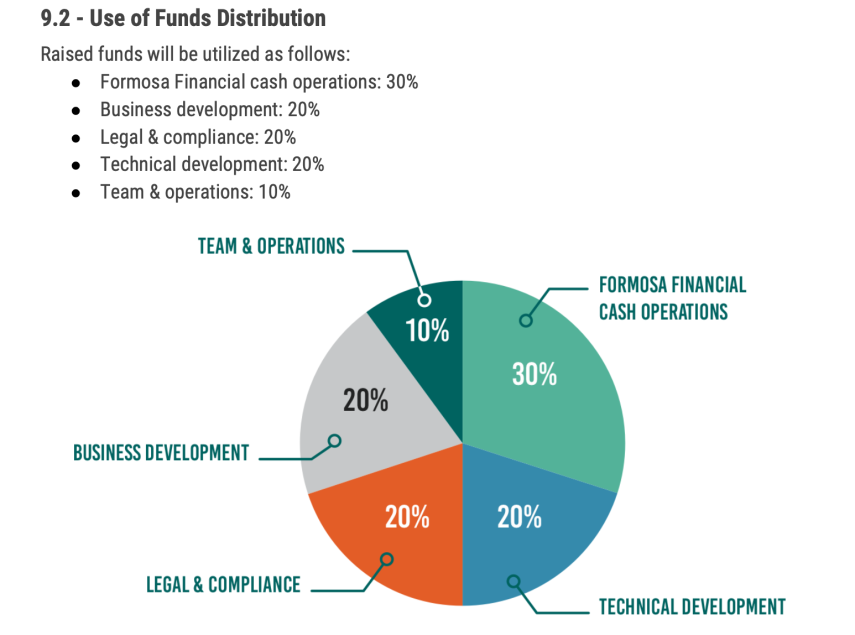 This is where they flow: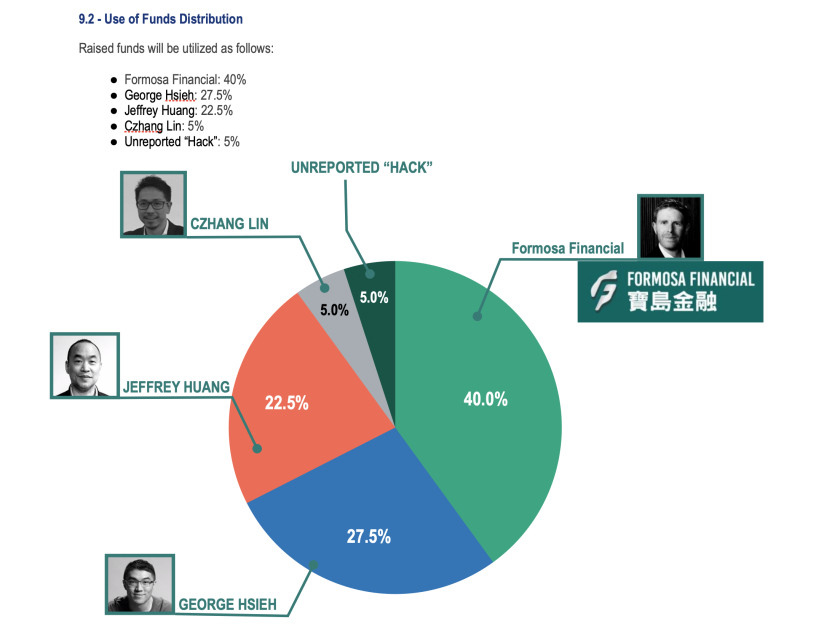 In the fall of 2018, when communication with Huang Licheng, Czhang, and other FMF team members became increasingly distant, and no appropriate explanation or project update was given, token holders began to suspect that something was wrong. FMF continued to plummet, and the sudden abandonment of key team members left the project in trouble.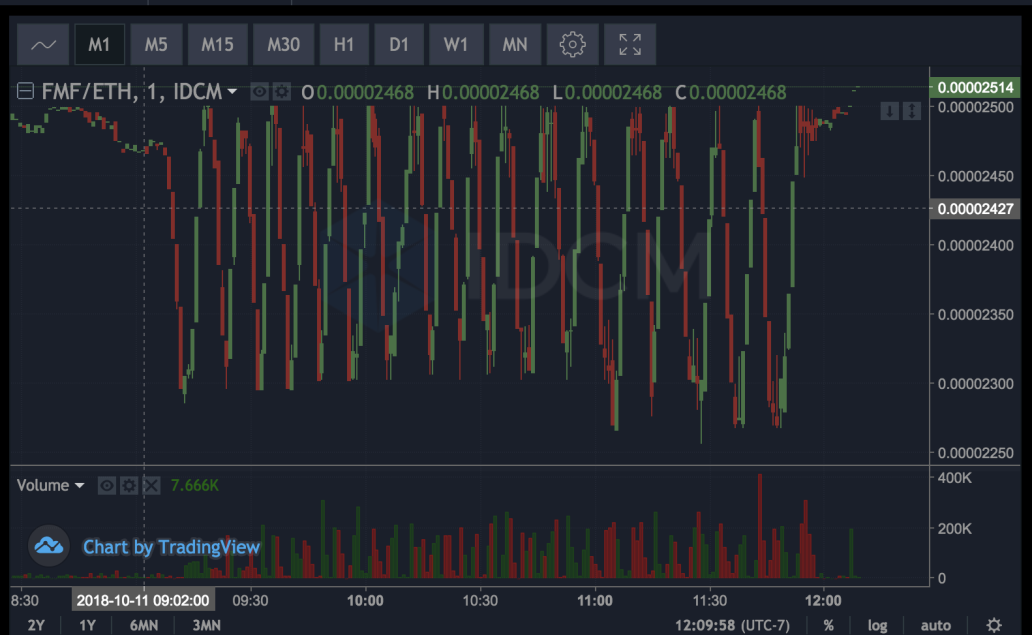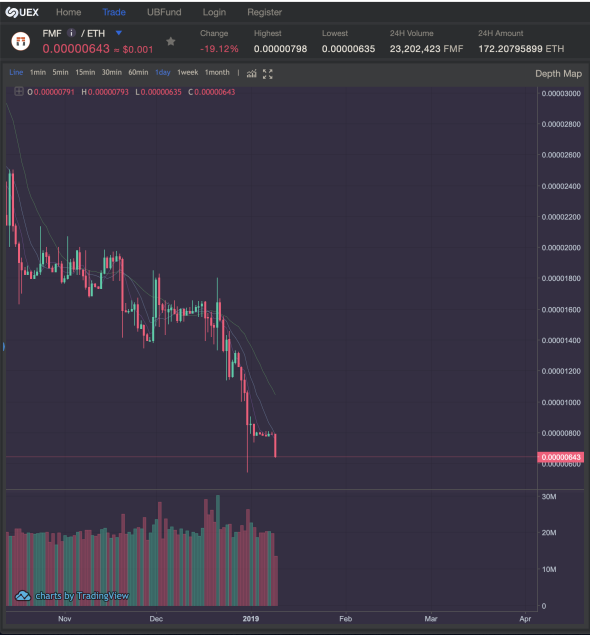 Project 3: Machi X
In October 2018, Huang Licheng and Leo Cheng launched the Machi X exchange for smart property copyrights, but due to Huang Licheng's previous projects, Mithril and Baodao Financial events, they had difficulty obtaining funds.
---
Mithril was listed on Binance in November 2018, coinciding with the unlocking of the team's token shares. At that time, MITH had fallen by more than 80%, and by 2020, the team's development had been completely abandoned.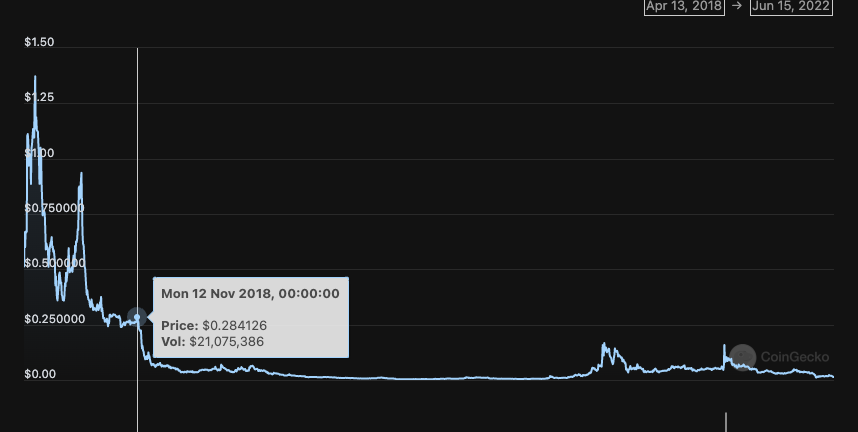 It wasn't until more than a year after its launch that Baodao Financial's investors finally understood what had happened to their investments. On August 12, 2019, Baodao Financial investors received an anonymous email stating that 22,000 / 44,000 ETH had already been invested in Baodao Financial's ICO private placement wallet just three weeks after the 2018 ICO. Various internal documents that could prove this were attached to the email.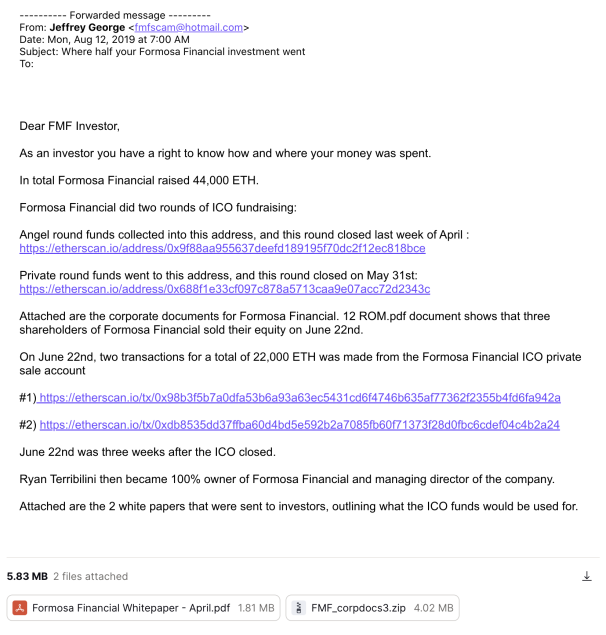 In this leaked recording from 2019, former CEO of Treasure Island Financial, Ryan Terribilini, shares his perspective on Jeff and George's misappropriation of funds.
I reached out to several VCs and angels who invested in the project to better understand why they didn't take legal action against Huang Li-Cheng and Xie Guoliang. This is largely due to the fact that Huang and Xie are seen as powerful figures in Taiwan, and the investors I spoke to were concerned about what might happen if they spoke out. Others simply didn't want to deal with the mess because the events took place in multiple jurisdictions. Everyone agreed they just wanted to forget it ever happened.
---
Project Four: Cream Finance
In 2020, the cryptocurrency market began heating up once again. In early July 2020, Huang Li-Cheng forked decentralized lending platform Compound Finance and created Cream Finance with Leo Cheng. Bun Hsu, Jeremy Yang, and Stanley Yang were all part of Cream's development team. As of today, due to technical oversights, Cream Finance has been hacked three times, resulting in the theft of over $192 million.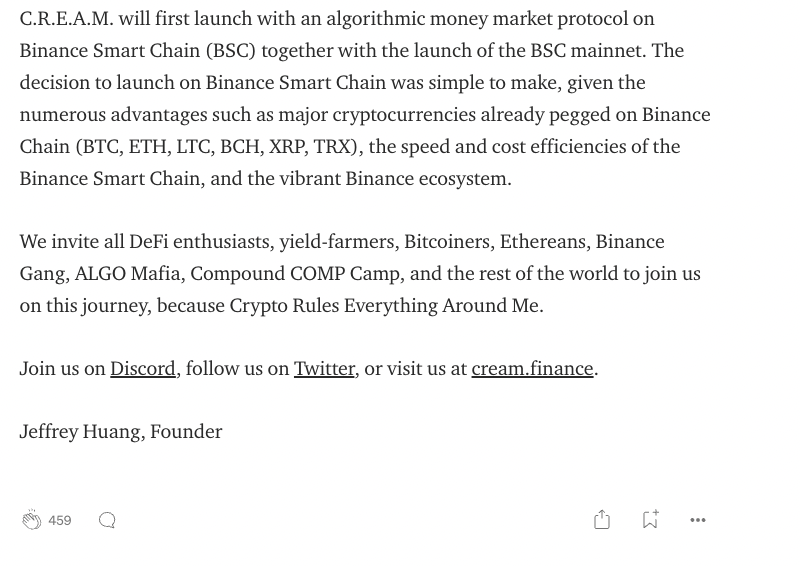 ---
Project Five: Wifey Finance
In August, an "anonymous team" created a fork of Yearn Finance called Wifey Finance, and both Ma Ji and Wilson Huang were among the first members of the Wifey Discord channel. Transaction records show that the deployer of Wifey sent multiple transactions to Wilson Huang. Four days later, Wifey Finance was abandoned.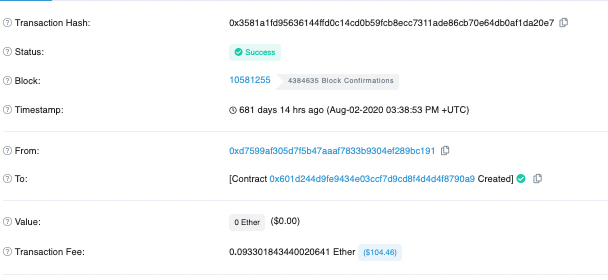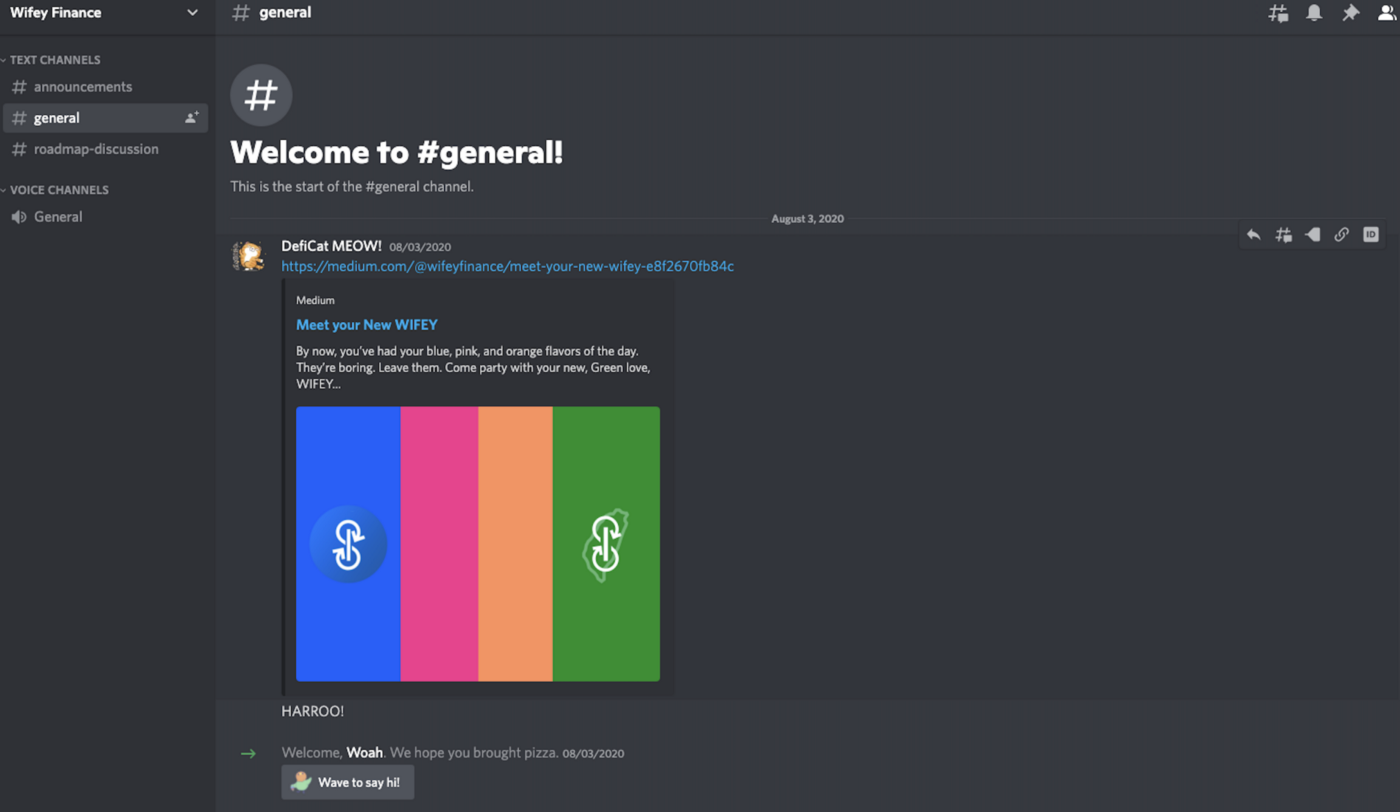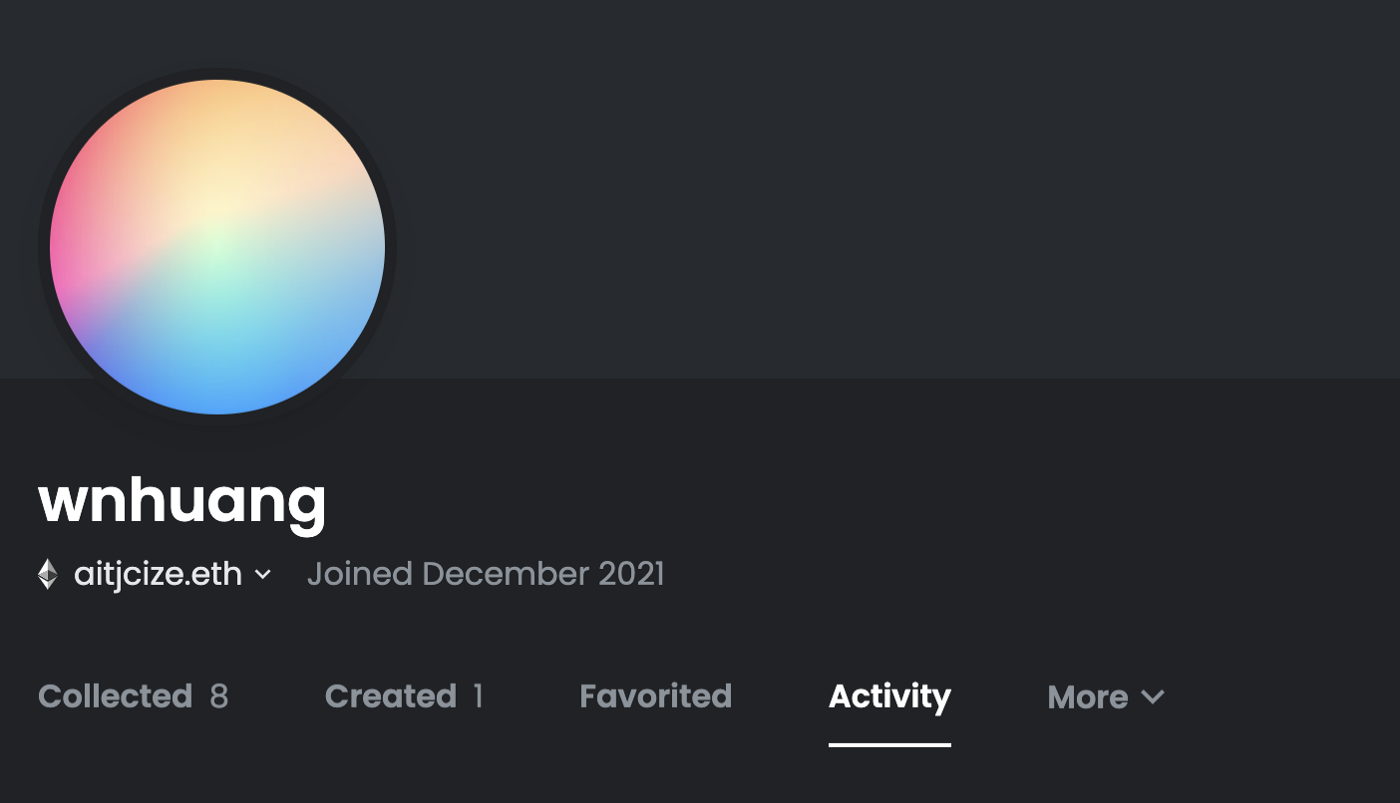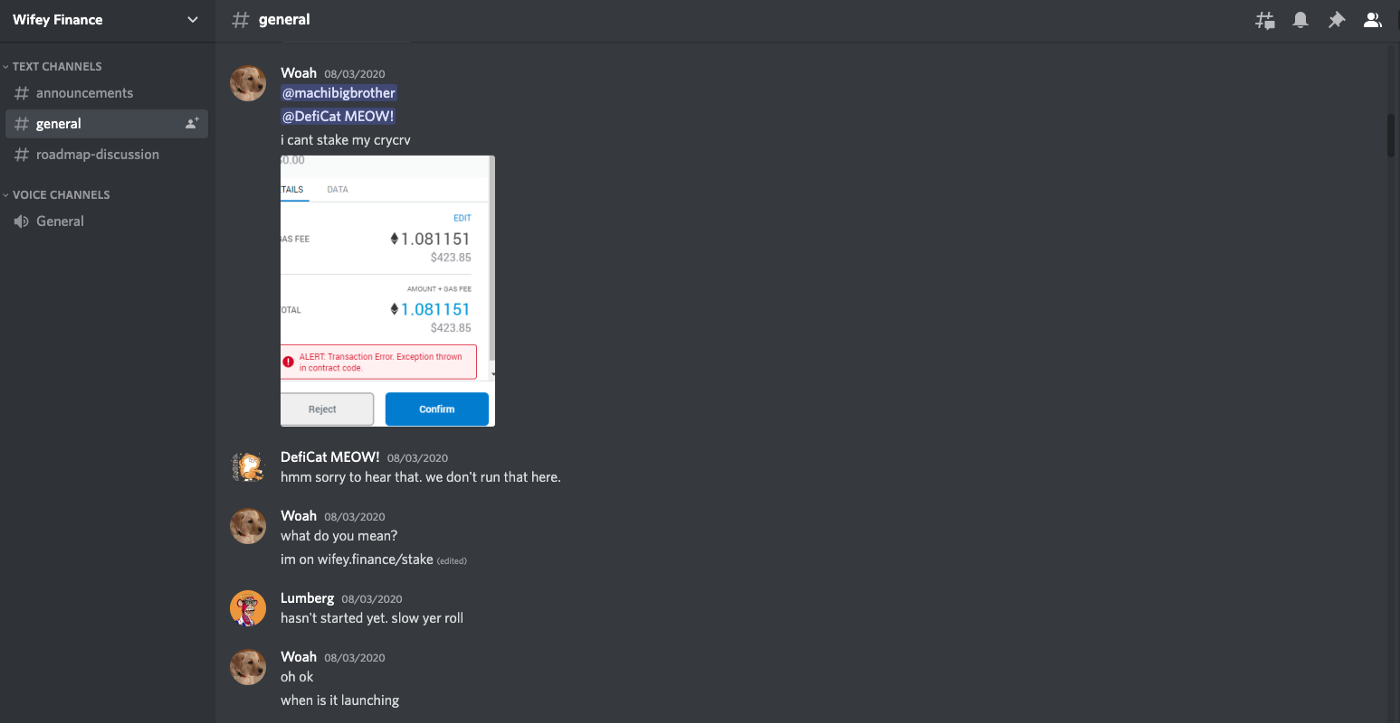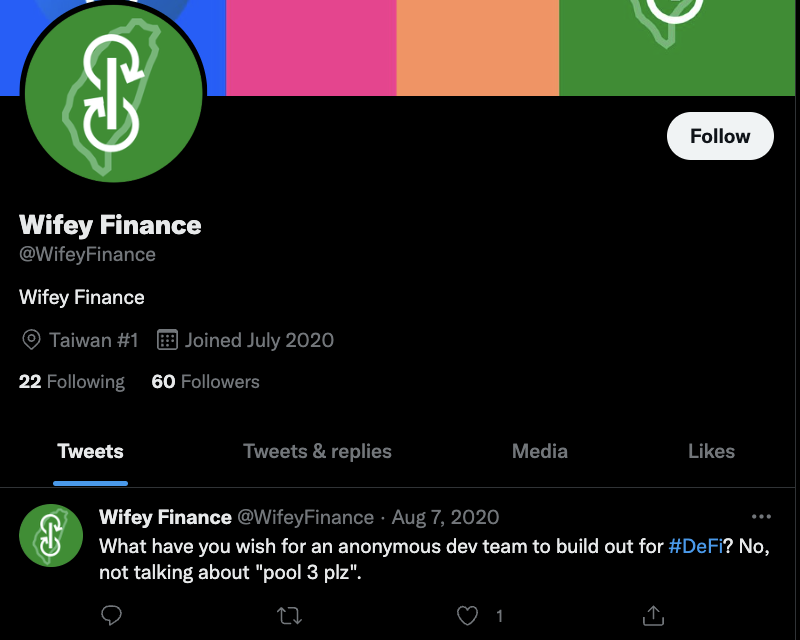 Since August 7, 2020, there has been no posts or activities in Discord. The lifespan of Wifey is 5 days.
---
Project 6: Swag Finance
Swag.live, another project founded by Machi, is an adult entertainment website that launched governance tokens in early October 2020. Lack of transparency around the listing caused controversy on Twitter when Swag was quietly listed as collateral for Cream Finance. Within weeks, the token was mined, dumped, and delisted from Cream.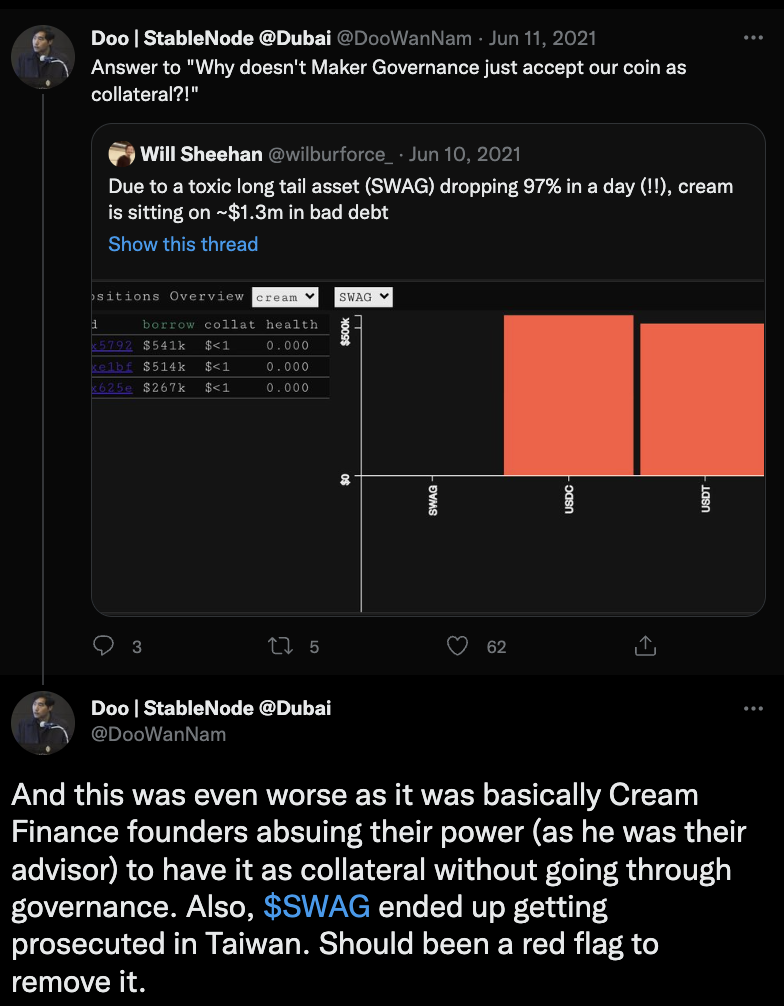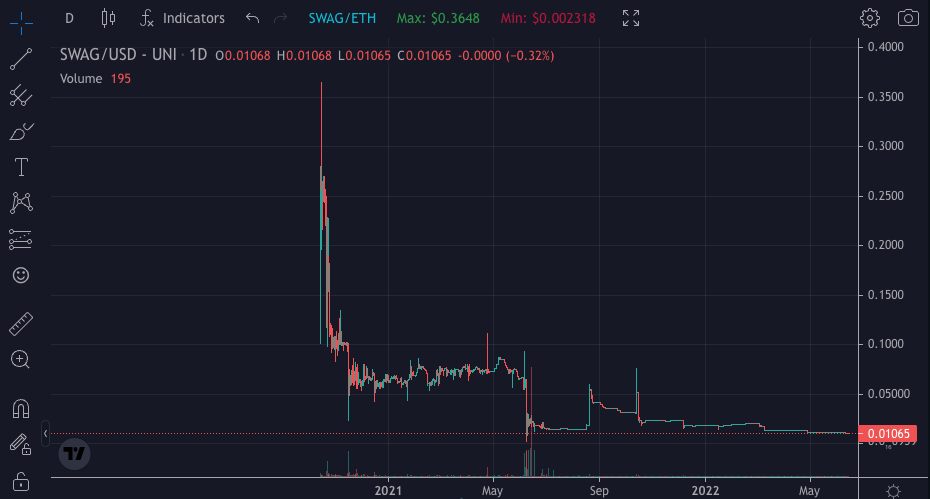 ---
Project 7: Mith Cash
On December 30, 2020, Jeffrey Huang and Mithril returned with a new project: Mith Cash, a fork of Basis Cash protocol (an algorithmic stablecoin). Within days of its launch, Mith Cash's total value locked (TVL) grew to $1 billion, only to crash as token holders cashed in their rewards. Mith Cash ultimately suffered the same fate as Basis Cash. Similar to Huang's other projects, the team behind it is "anonymous," with Huang claiming to be just an advisor.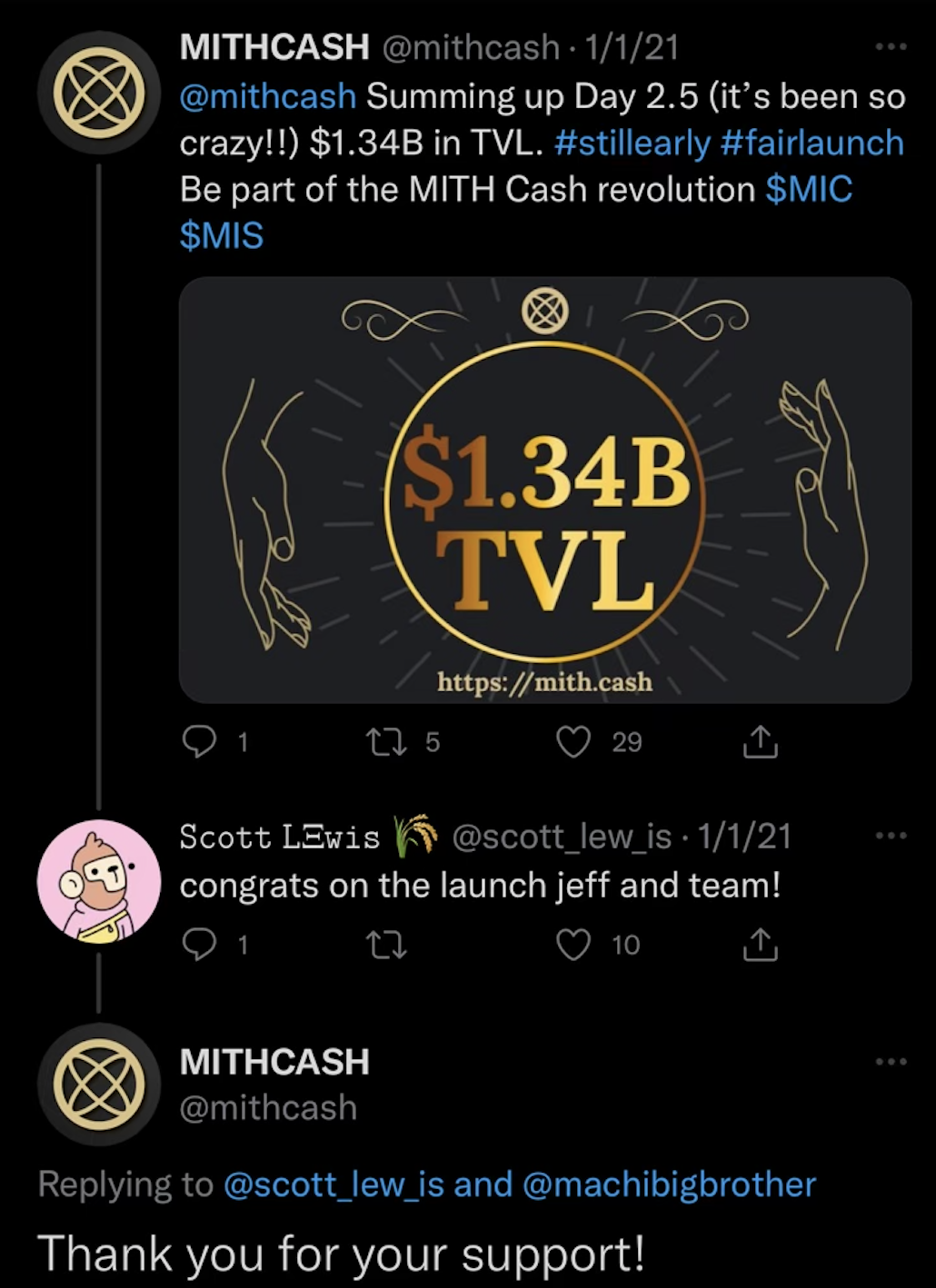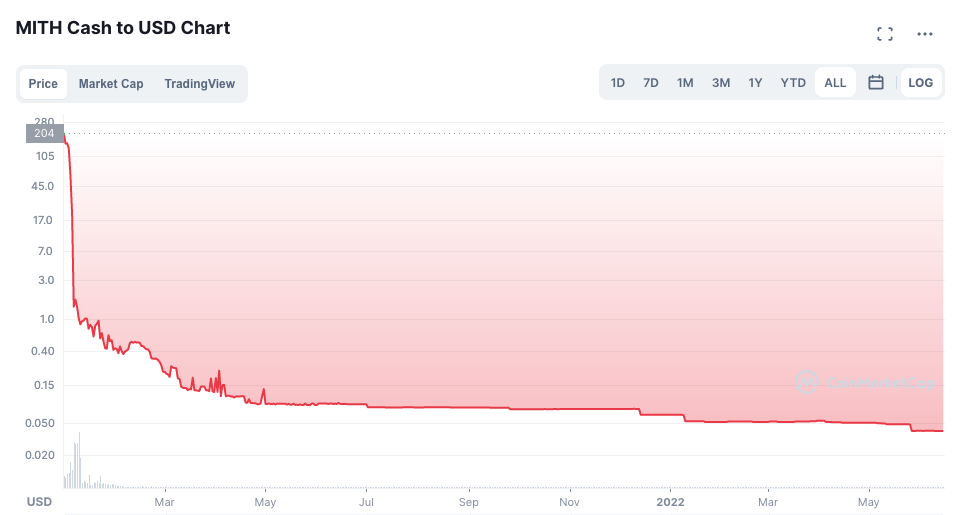 ---
Project 8: Typhoon Cash
Shortly after the collapse and burn of Mith Cash, Ma Ji, the big brother, once again returned with a Tornado Cash fork project called Typhoon Cash. The Typhoon team claimed to have an anonymous team, but it is well known that Jeffrey Huang and his friends are the masterminds behind Typhoon. At launch, it was obvious that development was rushed. Anyone could stake into the anonymous pool and remain anonymous, but in order to receive rewards, you had to stake into the same pool. This meant that your reward deposits would be doxxed, rendering the concept of anonymous coins worthless. The project was abandoned again in the weeks after mining began, with members leaving the Telegram and Discord channels destroying it.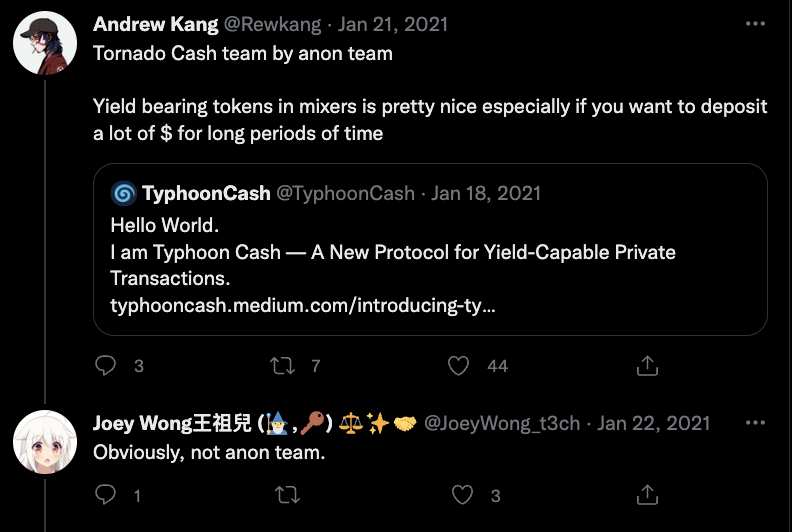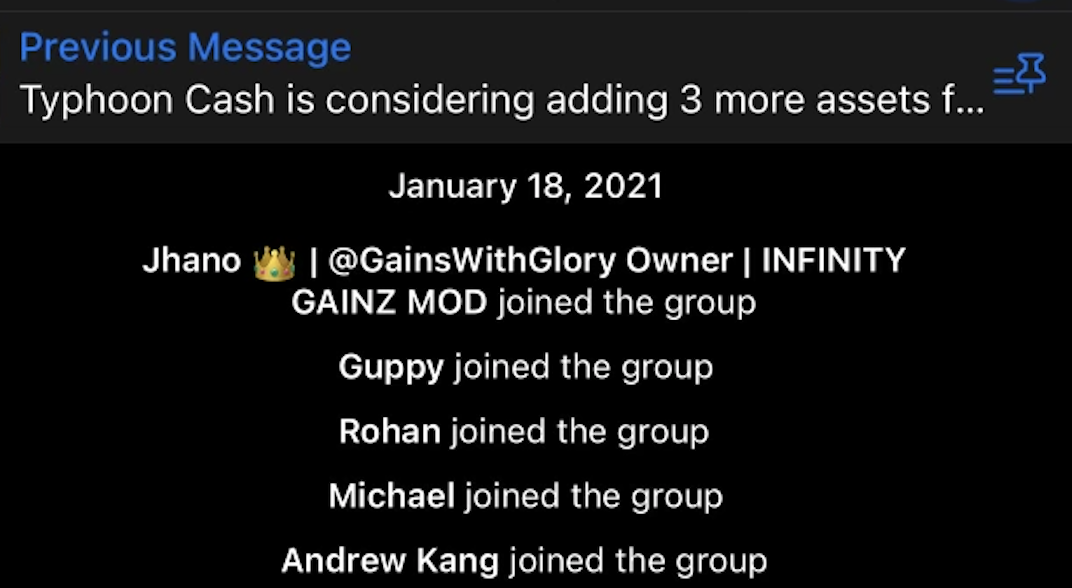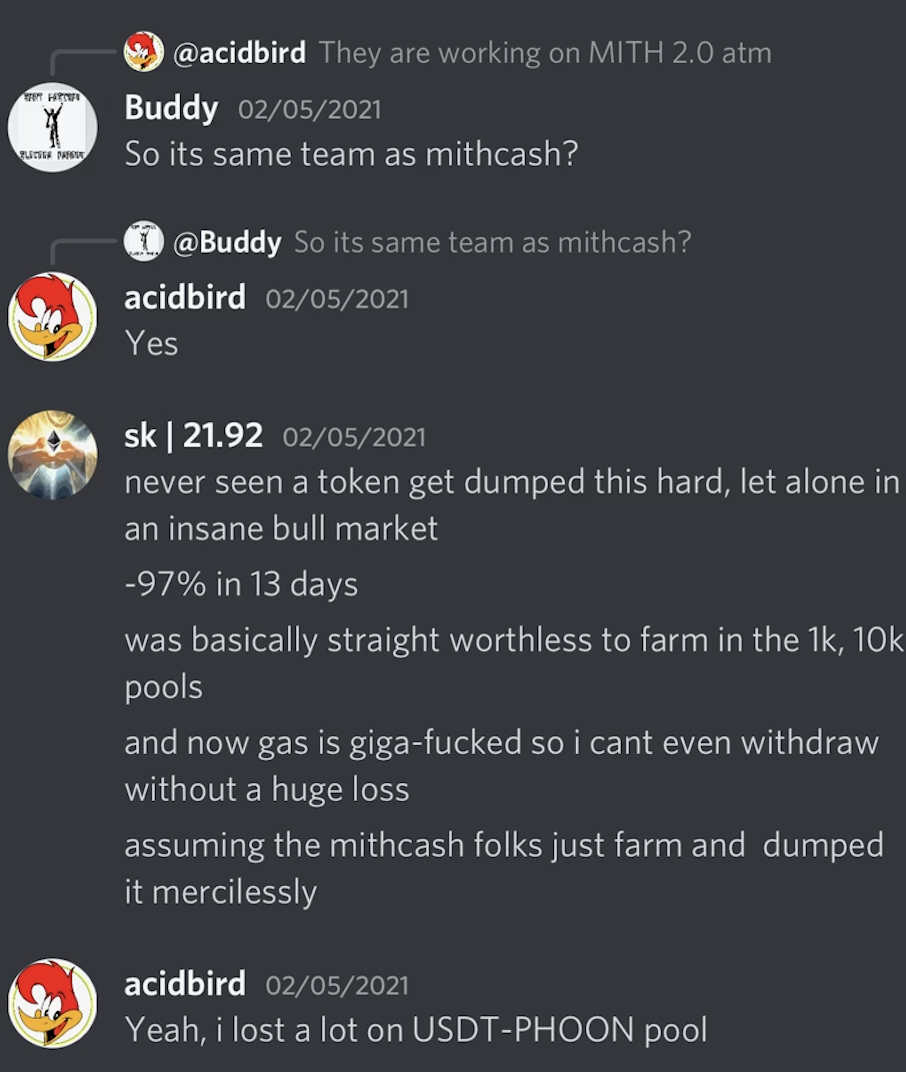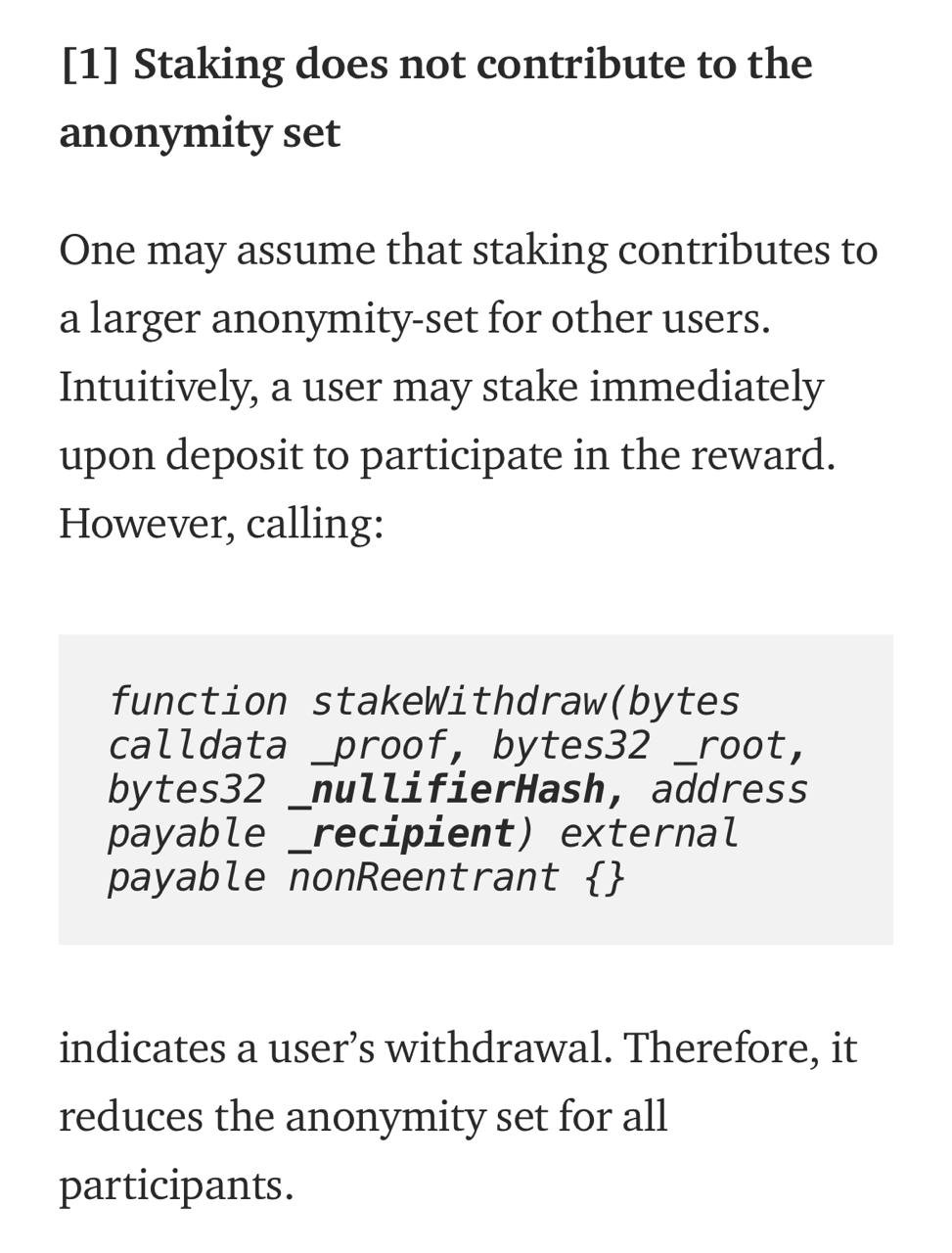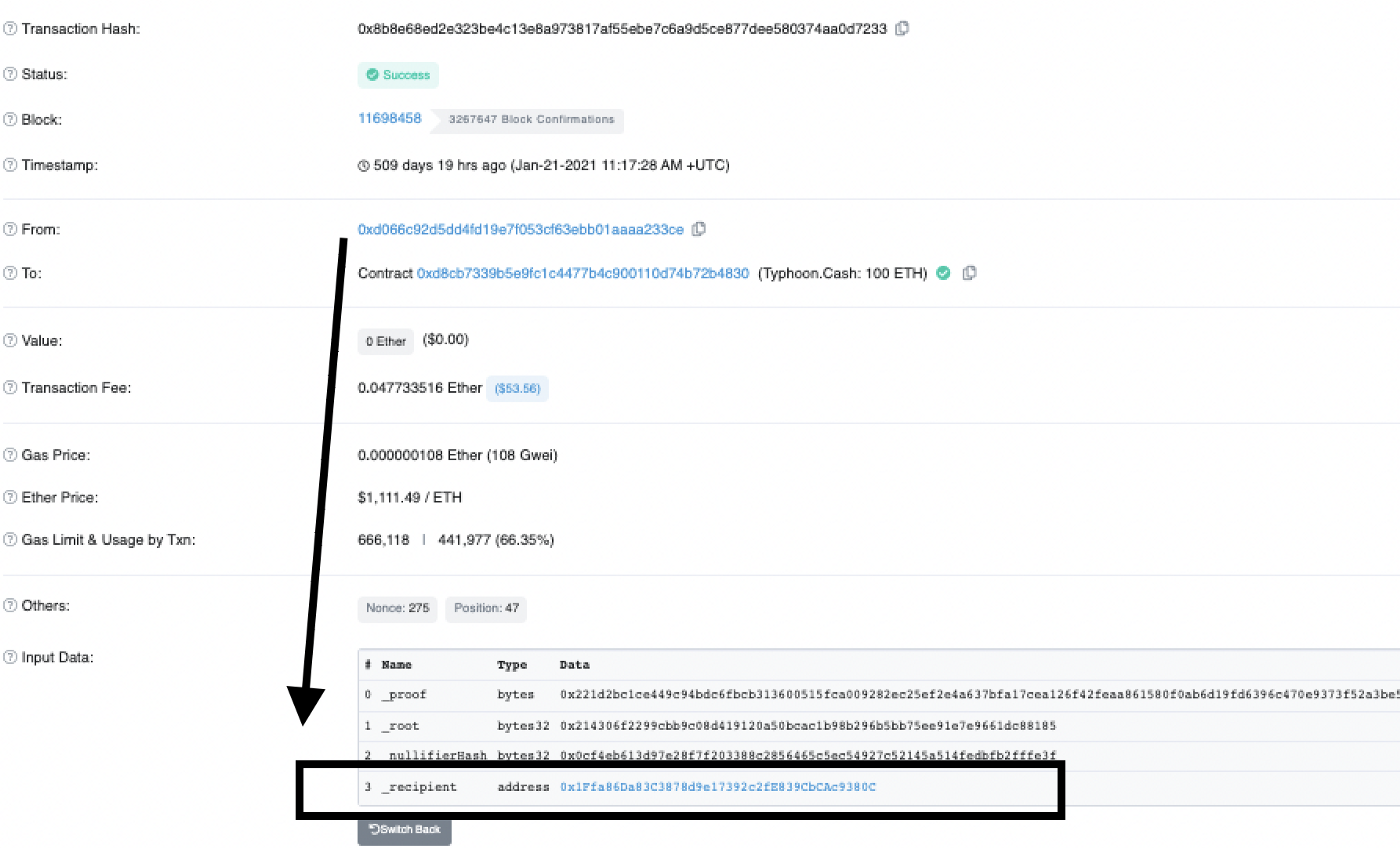 No updates have been posted on Discord, Telegram or Twitter since February 2021, and people are being fooled again.
---
Project 9: Mud Games
As Loot for Adventurers (random in-game assets stored on chain) suddenly became popular at the end of August 2021, Mahjongda quickly forked his own version, called Heroes of Evermore, which quickly earned the anonymous team 533.92 ETH in profits. Unlike Loot, Evermore's heroes are not random, and anonymous team members quietly minted all the rarest NFTs in the series, while Evermore holders were unaware.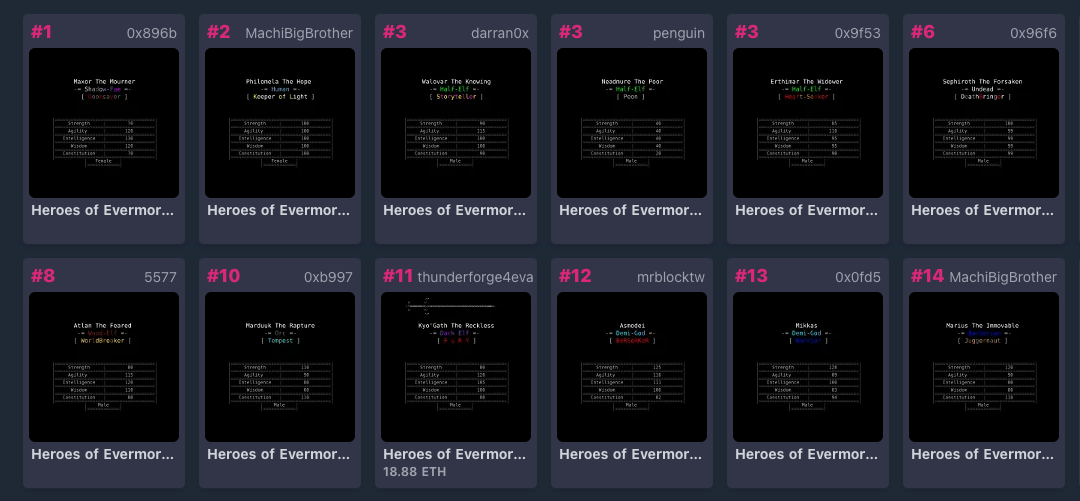 ---
Project 10: Squid DAO
Once again, an "anonymous team" supported the launch of the game Squid DAO, a fork of OHM/Nouns DAO that emerged in October 2021. Early holders included MachiBigBrother.eth. By January 2022, the project was closed at Machi's suggestion.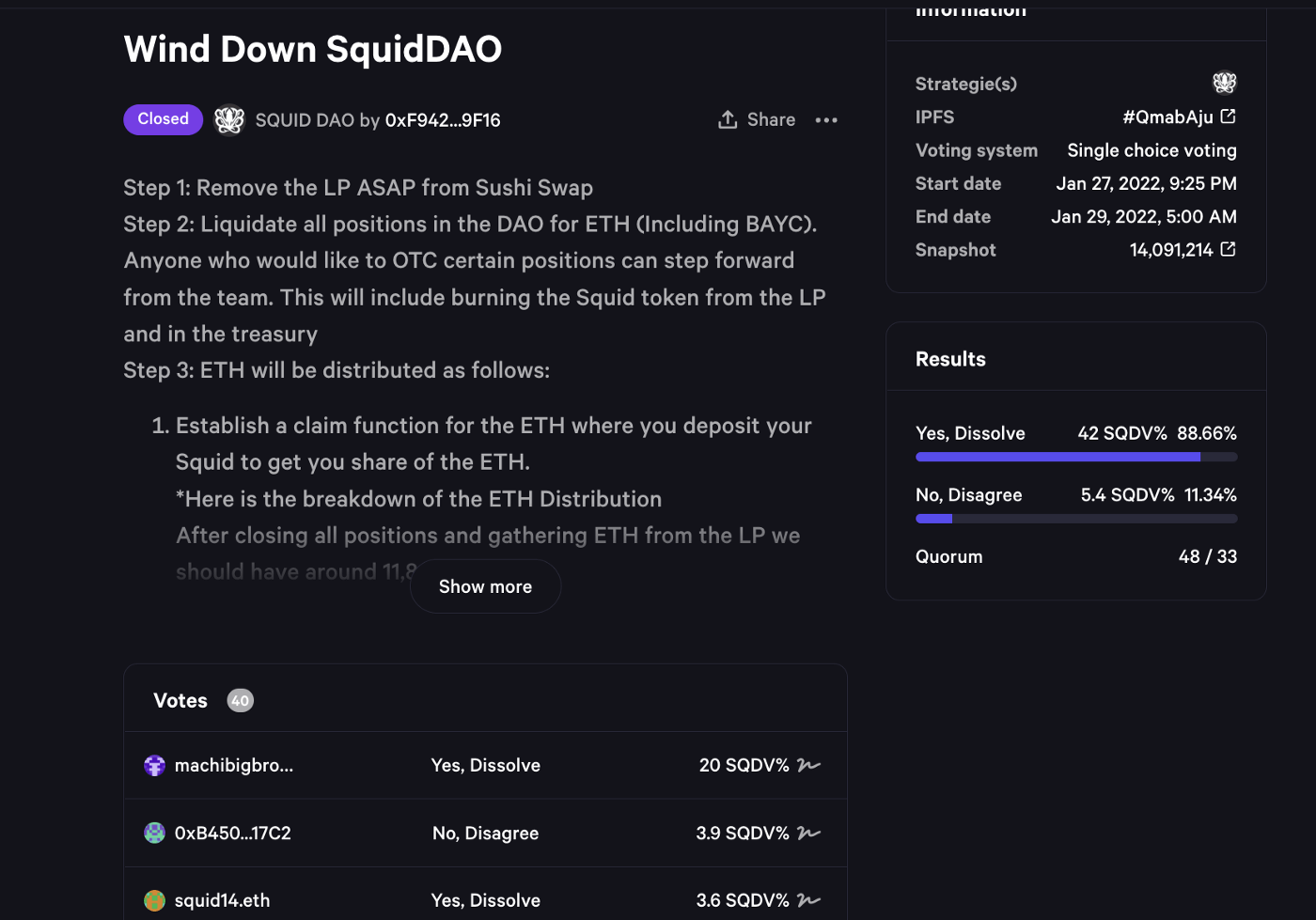 Today, Machi has moved on to X, XY Finance, and most recently his newest fork: Ape Finance.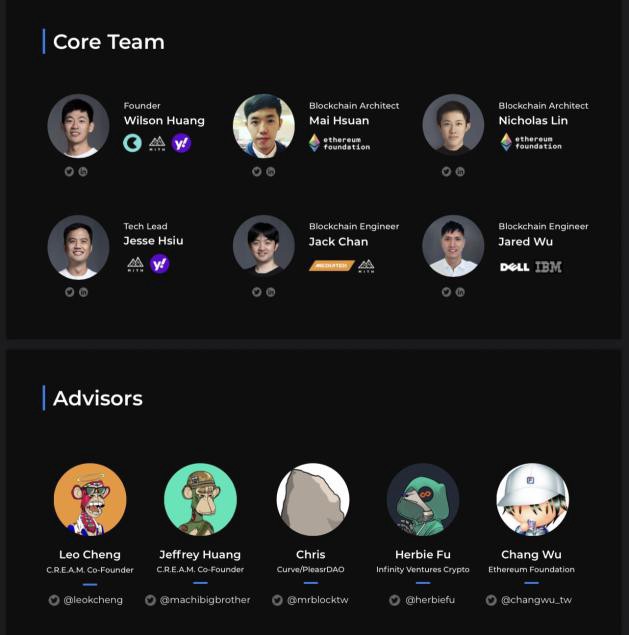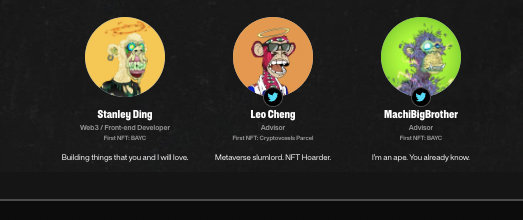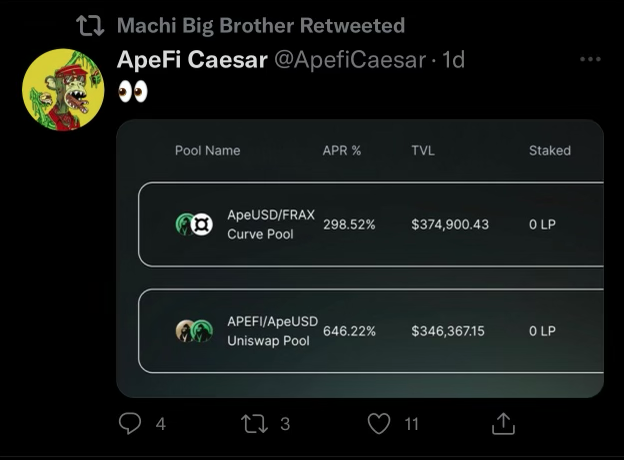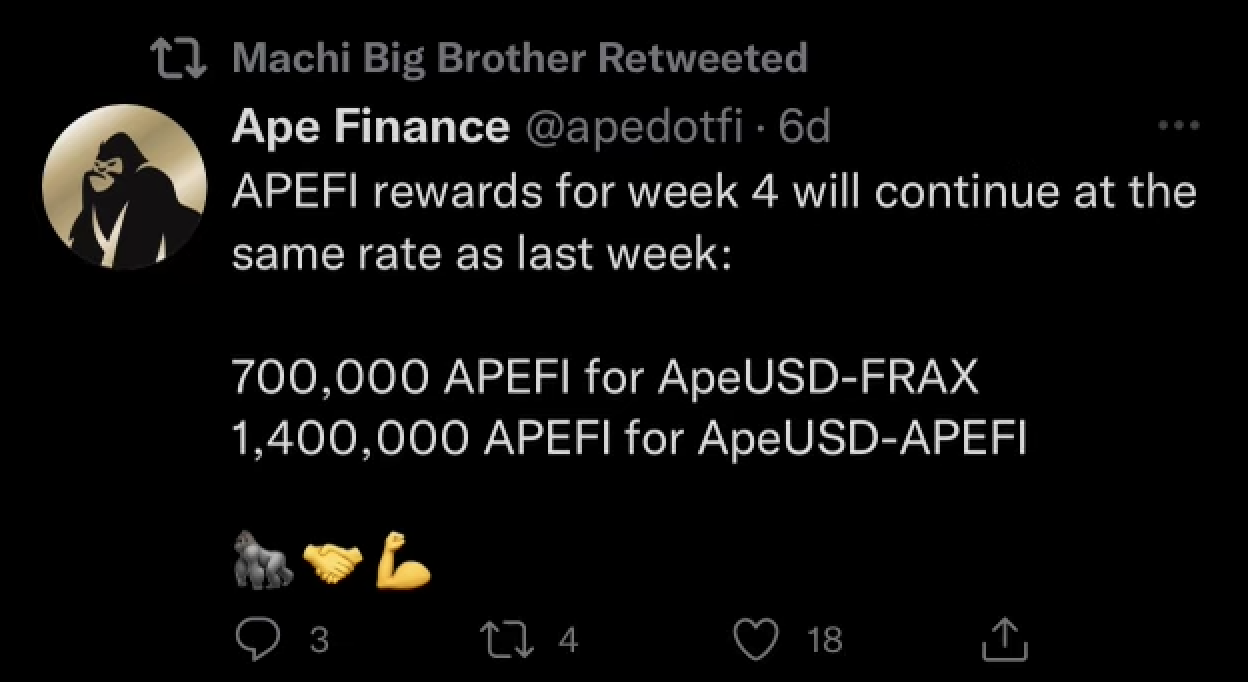 In many of Huang Licheng's projects, we see the same recurring themes: anonymous teams, forked projects, new wallets funded by FTX, and shorter lifecycles. We see the same players in each project, with Wilson and/or Leo always hanging out with the big brother. Even VCs like Andrew Kang turn a blind eye. I contacted Andrew in October 2021, and he said: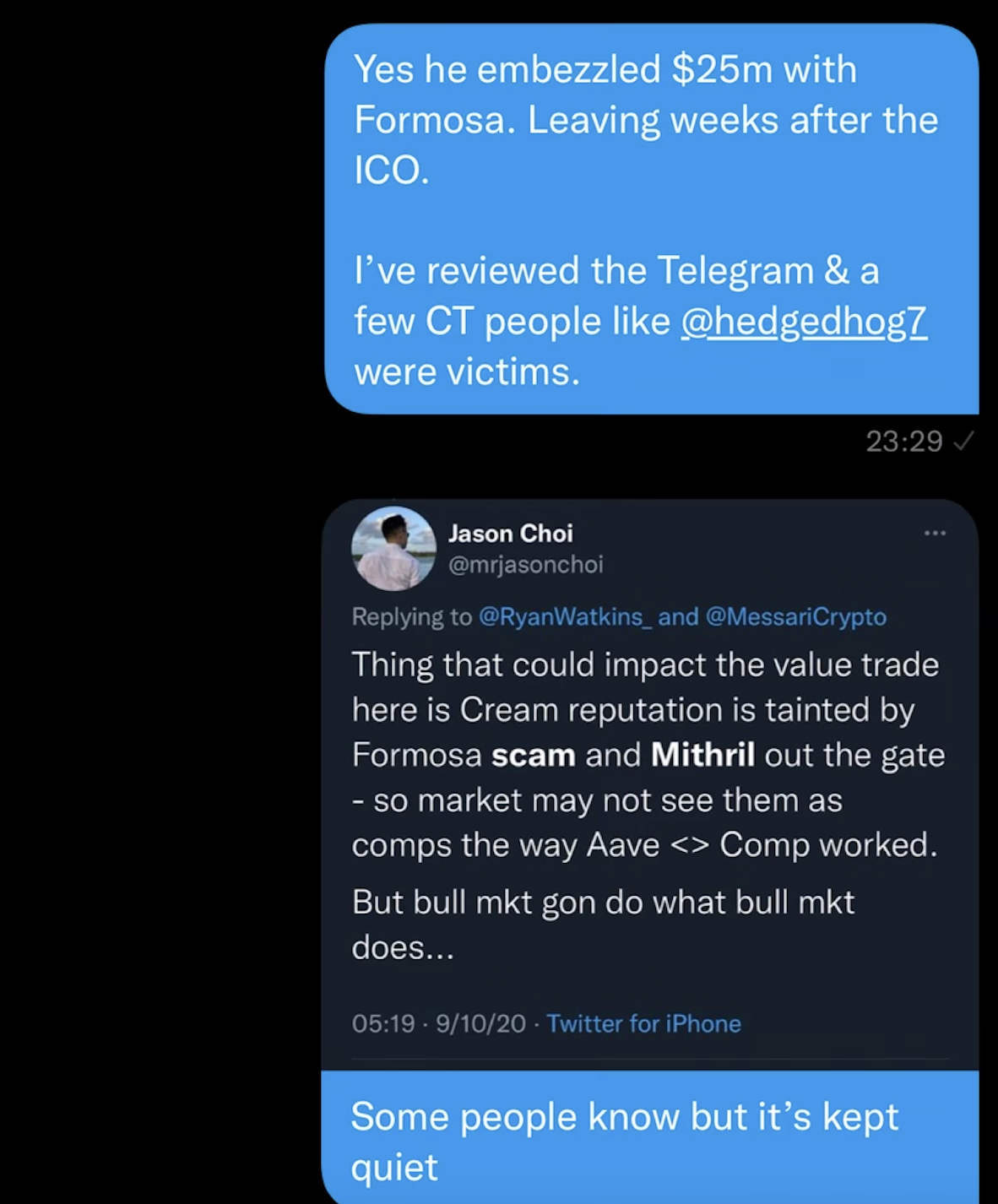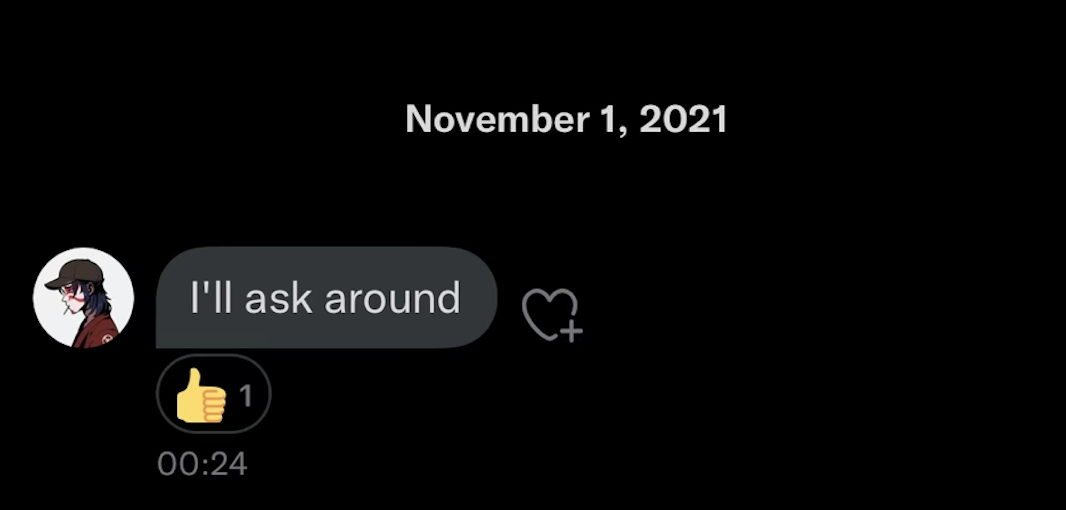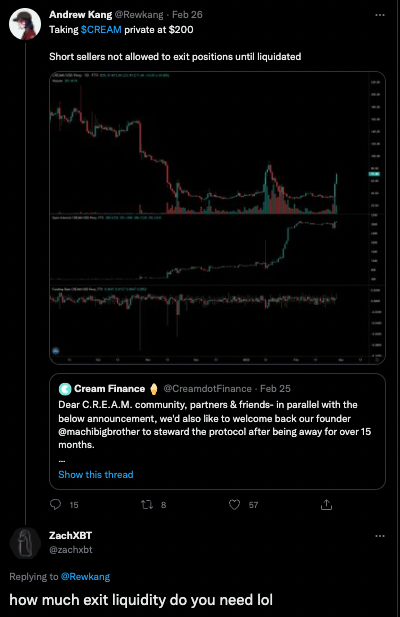 Then in February, Andrew again expressed support to Huang Li-Cheng, despite Cream being almost dead at that time. Unfortunately, when it comes to money, people turn a blind eye to the obvious red flags, especially when the parties involved have hurt others economically at great cost, either through over 10 low-effort projects, or through helping to misappropriate 22,000 ETH.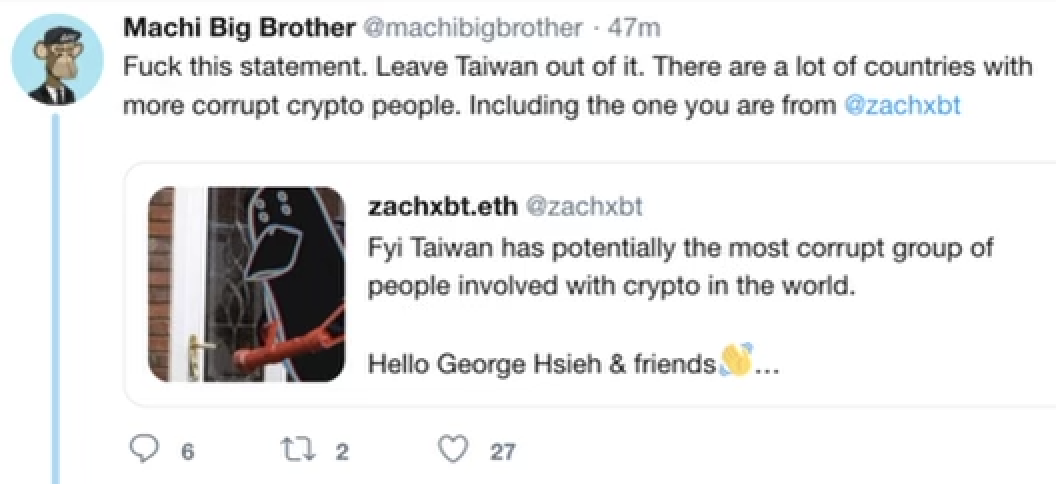 When Huang Li-Cheng's crimes were exposed, he expressed concerns about the misdescription of Taiwan, but his and his team's actions have continued to harm the field and Taiwan as a whole. I hope that one day, every person who has been harmed can see some form of justice.
To be courteous, I reached out to Huang Li-Cheng before publishing this article. He emphasized that he only received compensation for serving as an advisor at BaoDao Finance, claiming that he did not know about paying 4,980 ETH to Bun or Harrison, and he insisted that he never cheated in the community coin competition. I believe there are too many coincidences between all of these projects to be true.
Like what you're reading? Subscribe to our top stories.
We will continue to update Gambling Chain; if you have any questions or suggestions, please contact us!