Editor's Note: LianGuaiNews has selected high-quality content from the past week to help you catch up and fill in any gaps during the weekend. Click on the titles to read more.
Extra! Extra! LianGuaiNews launches the global LEAP journey!
Korea, Singapore, Shanghai, and Taipei, from September to December, will witness a new chapter in globalization!
📥 Collaborations are underway in multiple locations, and communication is welcome!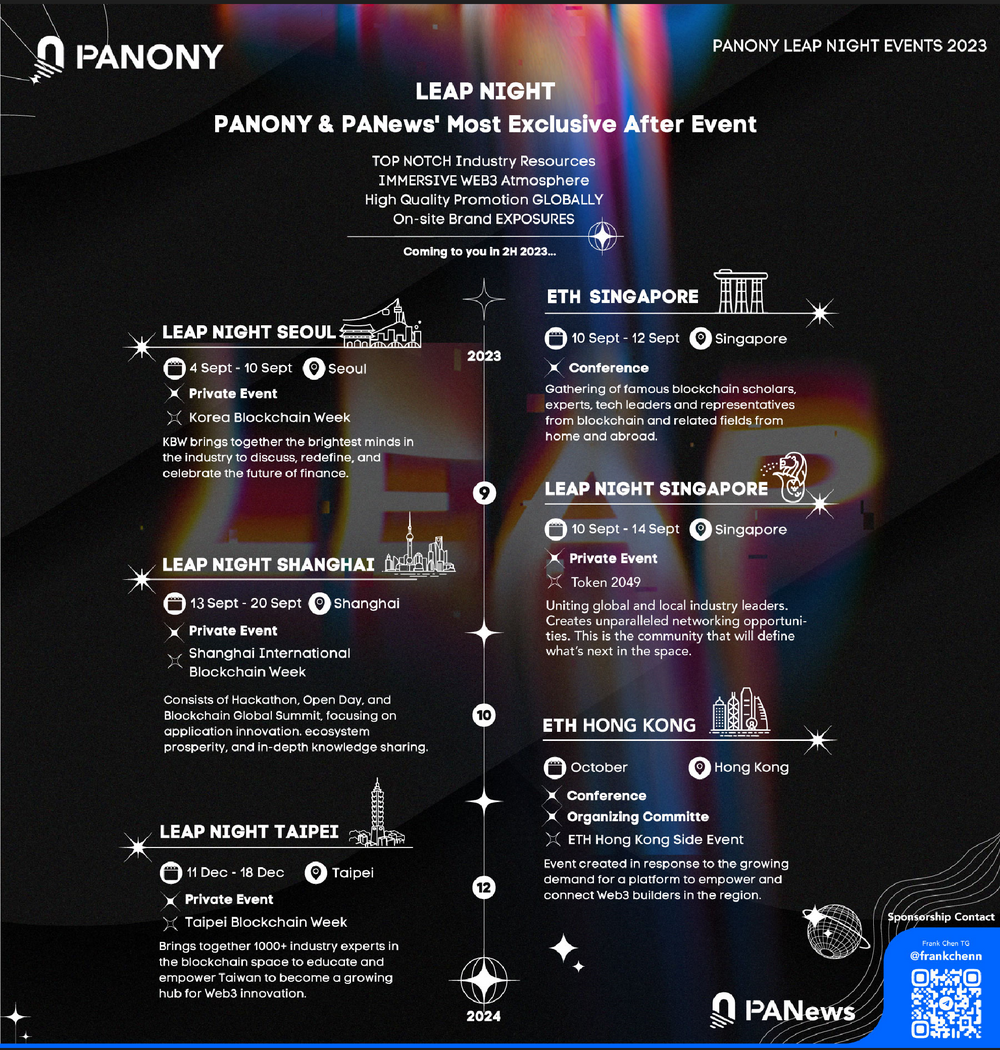 Curve Hacked Incident
A summary of the Curve attack incident and the potential impact on DeFi has just begun?
The attack on Curve is not yet settled, and the chain reaction of price fluctuations, deteriorating liquidity, and bad debts may cause incalculable losses to the entire DeFi sector.
Losses exceed 50 million US dollars, a compilation of the cascading attack incident caused by Vyper programming language failure
Bugs in the smart contract language layer resulted in the failure of reentrancy lock defense for some well-known projects. Black and white hat hackers, as well as MEV Bots, went crazy, manipulating reentrancy and racing to take away funds.
This time, Chainlink's pricing scheme has made a "big contribution"
If Chainlink adopts DEX price sources entirely, Curve, Aave, and even the entire DeFi industry may face a bigger disaster.
Curve devastated, what should the DeFi ecosystem do?
Over the past weekend, decentralized finance (DeFi) has been in crisis due to a series of attacks on several mainstream platforms.
"When the tree falls, the monkeys scatter"? After the Curve crisis, lending platforms "quickly cut ties"
Although the Curve incident seems to have turned around (at least DeFi is still here), core lending platforms like Aave, Fraxlend, Abracadabra, and Inverse have been busy preparing for the future by proposing significant changes to Curve pools, hoping to reduce the risks of future bad debts and cascading liquidations.
Macro Perspective
The gray area without KYC: The interweaving of mainland tourists and Hong Kong cryptocurrency exchange shops
This article explores the development of Hong Kong's cryptocurrency exchange shops and the underlying factors.
Rise in the East, Fall in the West: Turning point for Asian builders
In the past few months, Chainbase has frequently participated in various crypto events and developer gatherings in Hong Kong, Vietnam, Japan, Hangzhou, Shanghai, Montenegro, and Stanford. We are trying to determine our position through these activities, and in the process, our thoughts on the positioning of the East are gradually taking shape.
Long article: The iron curtain of US regulations has fallen, what kind of future awaits Crypto?
The worst outcome for the crypto industry is not that most tokens are ultimately classified as securities, but the time and space lost, as well as the wasted resources and opportunities, due to the long-term lack of a clear regulatory framework.
Civilized evolution theory: Breaking away from internal competition, from urban residents to digital nomads
In the process of transitioning from urban residents to digital residents, the biggest problem we face is not a problem of possibilities, but one of path dependence and nihilistic attitudes.
Seizing opportunities
Raising hundreds of millions of dollars in five rounds of financing, CoinList's new project Eco launches "Currency Experiment" four years later
With the support of top venture capitalists, Eco hopes to launch a new payment and value storage tool, but this task may be difficult in the current market environment.
In-depth analysis of Orbiter: Transforming into a cross-chain bridge, it will become a universal Ethereum basic protocol
Compared with other cross-chain bridges, Orbiter mainly focuses on cross-chain transactions between Ethereum Layer 2 networks, as well as between Ethereum Layer 1 and Layer 2. It inherits the security of the Ethereum mainnet and uses EOA addresses. In addition, it supports native assets. Therefore, Orbiter has significant advantages in terms of security, speed, and fees.
Saying goodbye to the slump, a quick look at the 10 reasons why the Cosmos ecosystem is worth paying attention to
With the rise of perpetual contracts, the launch of new chains, and the upgrade of token economics, Cosmos, which has been quietly cultivating during the bear market, can it become an explosive ground for hundredfold profits in the next bull market?
A sneak peek at Chainflip, the native cross-chain DEX about to be launched on CoinList: Mechanism, features, and token economics
CoinList announced that the Chainflip (FLIP) token sale will start at 1:00 am on September 1st (Beijing time). Let's learn about the new generation cross-chain DEX Chainflip together.
An analysis of Polkadot 2.0: Abandoning the slot auction mechanism, selling parachain time in the form of NFTs, which can be sliced and combined
Gavin Wood has proposed a new leasing scheme for Polkadot, which may sell parachain time in the form of NFTs that can be sliced and combined at will.
Breaking down the current implementation path of RWA and exploring the future development logic of RWA-Fi
Mapping interest-bearing assets to the blockchain is just the first step for RWA. It is worth exploring how to graft DeFi's composability Lego in the future, and it is expected to further open up the ceiling of RWA+DeFi. It can be compared to the LSD-Fi track's Pendle interest rate swap project or stablecoin projects based on LSD.
Web3 matters
A comprehensive interpretation of the BALD market manipulation incident: How much money did the mastermind actually make?
BALD is not a Memecoin, but a blatant financial manipulation "scam".
Google Policy Update: Can Web 3.0 Attract a Massive Android User Base?
Google Play's policy change towards blockchain games and NFT applications could potentially bring a massive influx of Android users to Web 3.0. Allowing blockchain applications to be listed will provide blockchain games and NFT applications with a wider user base and more exposure opportunities in the world's largest Android app store. With billions of users on Google Play, this has the potential to bring significant growth to the blockchain industry. Despite the current bear market in the cryptocurrency market, the market value of NFT and GameFi sectors is expected to expand as the market recovers, attracting more users to the world of Web 3.0.
Interpreting FTX's Preliminary Restructuring Plan: Compensation in Cash, FTT Holders Excluded, Revised Version to be Announced in Q4
The current restructuring plan by FTX is still in the early stages, and the team will submit a revised plan and disclosure statement in Q4 2023 based on feedback from creditors in order to reach a consensus and overcome bankruptcy challenges.
Data Analysis of OP Mainnet Development Status: Overall Lack of Competitive Advantage, Brand Collaboration of OP Stack Benefiting the Ecosystem
Recently, OP Mainnet has attracted market attention with its killer feature, OP Stack, achieving significant growth in on-chain data. So, what is the current development status of OP Mainnet? And how does it differentiate itself in the Layer2 battle?
Polygon Accuses zkSync of Plagiarism: Amidst the Clash of the Two "ZK Giants," Manta Claims Some of the Controversial Parts Were Original Creations by Its Employees
Today, a battle of accusations regarding plagiarism has unfolded between two "L2 giants," attracting the attention of the masses.
Triggering a Wave of Ethereum Futures ETF Applications? A Look at Seven Ethereum Futures ETF Filing Companies
Recently, the hype surrounding spot Bitcoin exchange-traded funds (ETFs) has cooled down, as issuers and investors are still awaiting regulatory approval for this investment tool. Meanwhile, Ethereum futures ETF filings are popping up like mushrooms after rain.
Quick Look at Coinbase's Q2 Financial Report: Revenue Exceeds Expectations, But Still Incurs a Nearly One Million USD Loss
Coinbase reported $707.9 million in revenue for Q2, with a net loss of $97.4 million, which is an improvement compared to the same period last year. However, trading volume decreased by 57% YoY, and trading revenue declined by 13% QoQ.
Out with the Old, In with the New: Atari's Web3 Strategy Without Tokens
With the failure of the ATRI token and the unsuccessful new token plan, Atari is left with the option to continue developing its Web3 ecosystem under Atari X.
Tech Vibes
Celestia Researcher: Interpreting 4 New Rollup Solutions
This article is a compilation of scattered speeches by Celestia researcher NashQ on the analysis of the Rollup model, including 4 new variants of Rollup.
ZK Bridges: How do Zero-Knowledge Proofs Empower the Cross-Chain World?
Ensuring the security of its cross-chain bridges is a significant challenge as it requires protecting assets stored in smart contracts or centralized custodians. However, introducing zk-SNARKs technology in cross-chain bridge design effectively addresses decentralization and security-related issues.
StarkWare Introduces Shared Prover SHARP: How to Further Reduce Gas Fees?
Through the upcoming SHARP dynamic layout customization, gas fees will be further reduced by 30%.
Advantages of Layer1 Rising Star Sei Network in Technical Mechanisms
This article primarily elaborates on the superiority of Sei mechanisms through the description of Sei's basic mechanisms. The report is divided into several specific sections, including "Introduction to Sei Mechanisms," "Flourishing Ecology of Sei," "Comparison between Sei and other Layer1s," and "Unique Transaction Advantages of Sei," etc.
Detailed Explanation of ZeroSync: Starkware's Zero-Knowledge Proof System Developed for Bitcoin
ZeroSync aims to solve scalability, accessibility, and privacy issues in the Bitcoin ecosystem through zero-knowledge proof technology.
Key News
Exclusive: Hong Kong Securities and Futures Commission has approved the license upgrade of HashKey Exchange, allowing it to serve retail investors
Cryptocurrency exchange ZT Global suspected of running away, platform unable to process transactions
Insider: The U.S. Department of Justice is considering fraud charges against Binance but is concerned about causing a run on the exchange
Jiangsu Provincial Public Security Department: Numerous individuals suffered heavy losses due to involvement in "virtual currency" related investments, please exercise caution
IRS Releases New Guidance: Staking rewards obtained on Proof of Stake blockchains are subject to taxation
Crypto influencer Wang Dayou discloses his identity as the founder of AIDOGE, confirmed by the project's official Twitter account
Lifeform: Airdropping LFT tokens to early users, snapshot completed
Shanghai to strengthen research and layout of cutting-edge technologies such as blockchain
Litecoin block reward halving completed, reducing block rewards to 6.25 LTC
MicroStrategy plans to raise $750 million through stock sales to fund Bitcoin purchases
Due to regulatory uncertainty, GameStop will stop supporting cryptocurrency wallets
Following Volatility Shares, Grayscale, VanEck, and other 5 companies submit Ethereum futures ETF applications
Like what you're reading? Subscribe to our top stories.
We will continue to update Gambling Chain; if you have any questions or suggestions, please contact us!