Key Points
The floor price fluctuates in the middle of the month, and the floor price at the end of the month is the same as the end of the previous month, and the trading trend is influenced by whale transactions.

The contraction of BAYC's market value and the decrease in trading volume are strongly related to the total NFT market value, but at the same time highlight its market leadership position.

The increase in the total number of holders indicates that BAYC maintains its attractiveness as a long-term investment during the market consolidation process.

The amount of ETH borrowed by BAYC demonstrates its strong market performance, and the different behaviors in the Yuga Labs ecosystem – MAYC holders seeking liquidity and BAYC holders pursuing long-term value – highlight the unique community culture.

Although there was a surge in activity during the launch of HV-MTL Forge, the complexity of the game may hinder future player participation. The floor price of LoTM has risen, but user acquisition and trading volume have declined.

Boredgentleman.eth believes that Crypto + NFTs + AI = Metaverse will bring the next market hot spot.
In this report, we will explore the data from multiple dimensions of the Yuga ecosystem, including Yuga Labs news and upcoming events, data analysis of BAYC and ApeCoin, holder trends, highest sales, lending situation, and game economy.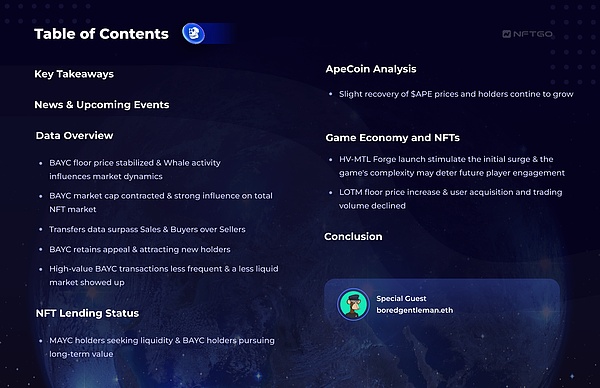 In this report, we have invited @boredgentleman, the holder of Bored Ape #2069 and a long-term NFT trader. He will provide some insider insights on various topics throughout the report. Let's start with the news section!
News and Upcoming Events
FuckItSaturday: BAYC announced that it will celebrate the two-year anniversary of MAYC on August 26, 2023, in Miami, Florida. Tickets have been released.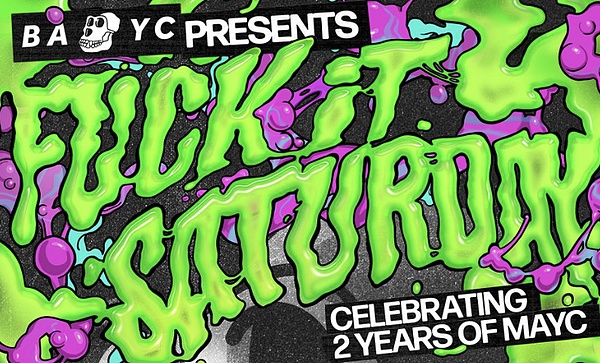 10KTF Battle.town Season 2: Season 2 of Battle.town launched on July 14. This season introduces a series of community-wide sieges and new features for more efficient gameplay. The platform now supports running on iOS and Android devices and includes a Loadout Optimizer for strategic planning.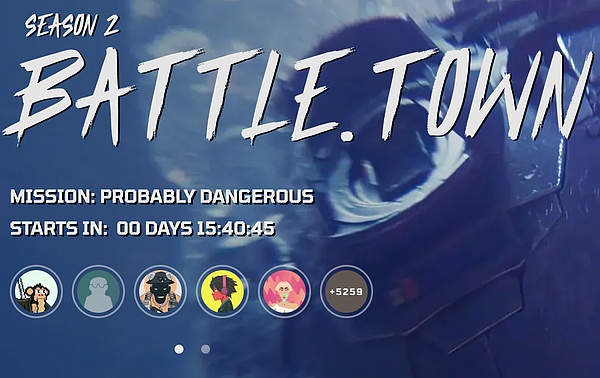 Global Community Events: Yuga Labs is planning to hold speeches and community events globally, starting with Tokyo. The method of claiming ApeFest Hong Kong tickets has been announced: BAYC and MAYC holders can enter for free with a refundable deposit. Tickets will be provided on a first-come, first-served basis. Details of events in South Korea and Singapore will be provided later. Virtual attendance options will also be available, and community-hosted events will be held globally.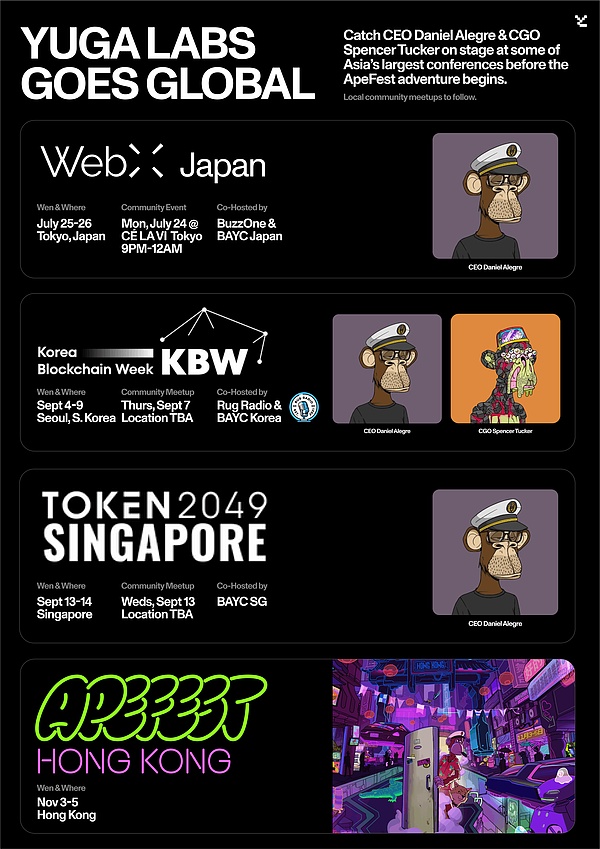 Made by Apes Platform: Yuga Labs has partnered with SaaSy Labs to launch the Made by Apes platform on July 25, which allows BAYC and MAYC holders to use the "Made by Apes" logo in their Apes projects. The platform will maintain a directory of valid licenses and projects. We interviewed @Boredgentleman, who said, "Made by Apes is a very good platform where people can not only see how IP is being used but also provides us with an opportunity to showcase the projects we are personally working on, giving many people a chance."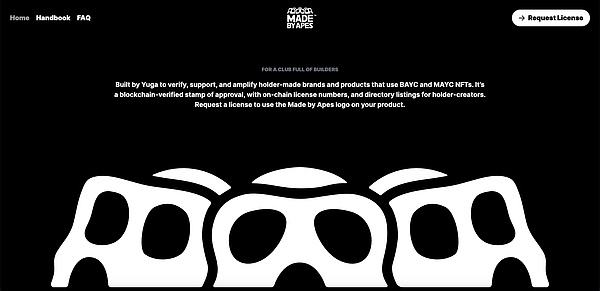 CryptoPunks Archiving Book: Yuga Labs will collaborate with @zakgroup to publish the first book dedicated to archiving CryptoPunks in the autumn of 2023. This book will capture untold collection stories from the community.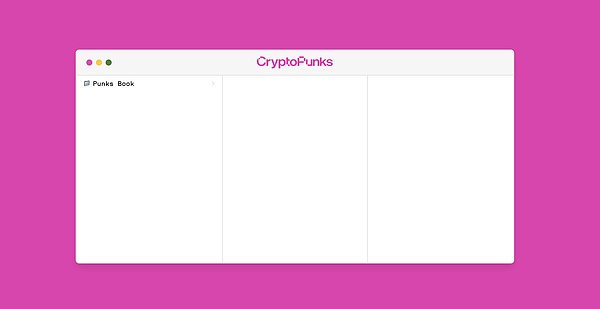 Data Overview
Floor PriceFloor Price (%)Trading VolumeTrading Volume (%)Number of Holders (%)Bored Ape Yacht Club29.06+1.97%29.8K-78.93%+0.92%Mutant Ape Yacht Club5.64+18.82%16.89K-64.77%+1.6%Otherdeed for Otherside0.611+1.66%1.57K-40.58%-1%Otherside Vessels0.1645+20.96%395.09-44.15%-0.17%Otherdeed ExLianGuainded0.3537-15.79%970.18-38.74%+1.16%Otherside Koda3.99+9.32%950.46-57.4%+0.97%HV-MTL0.56+24.44%1.98K-58.4%-2.57%
Floor Price: BAYC Floor Price Stable & Whale Trading Activity Influences Market Dynamics
The floor price showed a 11.53% pullback to 29.49 ETH this month, although it reached a peak of 35.28 ETH during the month, the floor price at the end of the month remained consistent with the previous month. Overall, the market tends to be stable with no significant fluctuations.

Floor price and whale trading of Bored Ape Yacht Club, data source: NFTGo.io
The volatility of the floor price in the early part of this month was caused by whales buying in at a lower floor price and selling at the peak on July 7th. This trend gradually transformed into a slow decline in prices, prompting whales to strategically buy more. It is worth noting that Machi accounted for 80% of whale trades, which had a significant impact on the overall market performance.

Regular and whale trading of Bored Ape Yacht Club, data source: NFTGo.io
In fact, whale activity seems to have a greater impact on market dynamics than the floor price on regular traders. The price surge caused by whale trading on July 8th also stimulated a small peak in regular buying and selling, showing a chain reaction to a broader market. In addition, the increase in whale activity seems to have sparked higher trading frequency among regular users. This indicates a symbiotic relationship, where whale trading patterns can ignite market excitement and indirectly boost overall trading activity. Therefore, although whales may drive significant market volatility, they also play a key role in activating regular buyers and sellers.
Market Cap and Trading Volume: BAYC Market Cap Shrinks and Has Strong Influence on the Overall NFT Market
Although the market value of Bored Ape Yacht Club (BAYC) continues to shrink, the significant decrease in trading volume by 75% in July indicates a cautious attitude among holders towards the price trend of BAYC. We will analyze this trend based on the behavior of the holders. The market value at the end of the month is the same as in October 2021. However, the current community culture is clearly more cohesive and self-sustaining than before. We remain optimistic about the future progress of BAYC driven by the continued growth of Yuga Labs.

Total market value and trading volume of Bored Ape Yacht Club, data source: NFTGo.io
Interestingly, there is a strong correlation between the market value of BAYC and the total NFT market value, highlighting the market leadership of BAYC, which is unmatched by other NFT collections. This connection also means that BAYC's trend can be inferred from broader market conditions, providing valuable insights for strategic positioning.

Total market value and trading volume of the NFT market, data source: NFTGo.io
Transactions and Liquidity: Transfers exceed sales & more buyers than sellers
From a liquidity perspective, we observe that the number of NFT transfers significantly exceeds the number of buying and selling transactions. In BAYC transactions, the number of buyers slightly exceeds the number of sellers, and the total number of holders has also shown a slight increase. This suggests that the market is consolidating and accumulating momentum for possible future dynamics.
Despite the decrease in market value, Yuga Labs continues to attract a portion of investors and NFT enthusiasts. This resilience demonstrates the intrinsic attractiveness of BAYC and its viability as a long-term investment in a volatile market.
Holders: BAYC maintains attractiveness and attracts new holders
The dominance of long-term holders characterizes the holding pattern of BAYC, showing slow but steady growth. In contrast, the number of NFTs held for less than 24 hours plummeted from 263 to 24 within a month. On the other hand, the number of BAYC held for one month increased by approximately 200. This confirms our observation that BAYC purchased at the lowest floor price of the month is being held rather than sold again during the price recovery period.

Holders seem to expect further price appreciation. By the end of the month, 46% of BAYC had been held for over a year, and only about 50 BAYC re-entered the market. This trend indicates strong investor confidence in BAYC and a strong willingness to hold BAYC for the long term, further reinforcing its value potential.
boredgentleman.eth is also one of the long-term holders. Regarding his investment approach, he said, "Let me make it clear that I am more like a long-term trader rather than a day trader. I am looking for projects with really good ideas, teams composed of people who have been in this field for a while, and who know how to communicate everything to the public in a way that generates buzz. So yes, I will buy or mint a project and then wait a few months to make a profit."

The number of holders remains relatively stable, although there has been a slight decline in the number of investment addresses holding more than 5 BAYC. This suggests that these addresses, possibly arbitrageurs, may have sold some NFTs when the price rebounded. However, the sharp increase in the number of holders with 1 BAYC, nearly 100, has brought vitality to the community.
Highest Sales: Decrease in high-value BAYC transactions, resulting in a less liquid market
In the past month, BAYC #1734 recorded the highest sale price, reaching 600 ETH. It is worth noting that only four BAYCs have a price exceeding 100 ETH, which is a significant contrast to two months ago when more than 10 BAYCs were sold at prices above this threshold. It is noteworthy that holder 0x66666F purchased BAYC for the second time at a price exceeding 100 ETH, the first time being on May 16th at a price of 530 ETH.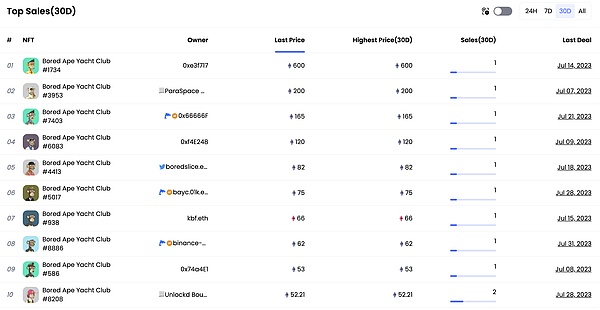 This change highlights a market with lower liquidity and reduced price volatility. In other words, high-value transactions are becoming less common, indicating that investors may be more cautious in the current market environment or adopt a wait-and-see attitude. This trend underscores the necessity of continuously monitoring the market to assess the changing investor behavior and market sentiment.
Lending Situation: MAYC holders seeking liquidity & BAYC holders pursuing long-term value
Data from @LianGuailiatzis reveals interesting insights into the lending protocols on Blend for the Yuga Labs ecosystem. Although BAYC does not dominate in terms of market share, it has shown strong performance in terms of borrowing ETH, highlighting its strong influence in the market. In the Yuga Labs ecosystem, MAYC's borrowing volume exceeds that of BAYC, indicating different cultures within the same ecosystem.

MAYC holders seem to be more inclined to utilize their holdings to obtain liquidity, while BAYC holders view their holdings as long-term investments. The difference in behavior patterns emphasizes the unique identities within the community, with MAYC holders focusing on immediate liquidity benefits and BAYC holders prioritizing long-term value appreciation.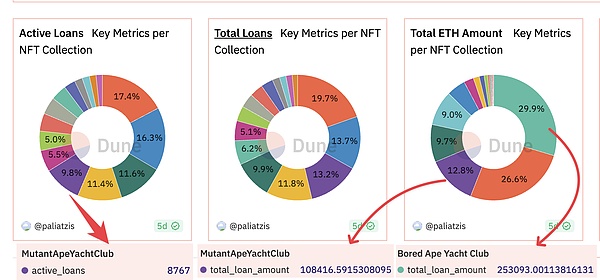 Overall, according to data from @sealaunch, the trading volume of Yuga Labs' collections on Blur decreased by approximately 50% in July, but they still account for about 30% of the total market volume, serving as a key pillar of market liquidity. The decrease in trading volume, but relatively stable proportion, indicates that the trading activities of these collections are consistent with broader market fluctuations and have not been affected by community behavior or sentiment.

Therefore, for holders, the Yuga Labs series aligns with the overall market trend, and BAYC itself does not have significant drawbacks. This resilience in the face of market volatility highlights the strength of BAYC and reinforces its position as a strong and reliable asset within the NFT space.
Apecoin: $APE price slightly rebounds, while the number of holders continues to grow
Currently, the price of $APE is 2.35. Despite the rebound from below 2 levels in early July, community confidence remains fragile. On July 14th, the official Twitter account of Apecoin released the report for the first quarter of 2023 for $APE. However, the data from 2022 dominates, and the lack of timely updated fresh data unfortunately triggered negative emotions among community members. Nevertheless, we still see the number of token holders continuing to grow.

Game Economy and NFTs
On June 29th, Yuga Labs launched HV-MTL Forge, a game that combines casual world-building and pet games, ultimately ending with competitive dungeon crawling. Players can win up to six upgrades for their HV, reaching Evo2 form.
HV-MTL Forge release stimulates the market & factors of game complexity
Overall, the release of HV-MTL Forge brought a temporary surge in market dynamics and had a significant impact. This is evident in the significant increase in trading volume among holders surrounding the release, as well as a 20.67% growth in the base price witnessed over the past month. However, we note that this impact seems to gradually fade over time.

HV-MTL floor price and regular transactions, data source: NFTGo.io
Boredgentleman.eth commented, "Forge is an interesting game, although it can be challenging to play. Rewards mainly appear in the form of decorations, and I'm not sure if they can be used now. So my strategy revolves around accumulating as much energy as possible in the game to compete in 'The Riff'."

HV-MTL trading volume, liquidity, and holders, data source: NFTGo.io
From here, we can infer that the inherent complexity of the game may raise the barrier to entry, which could hinder the progress of subsequent players. This is confirmed from the perspectives of trading, liquidity, and holders. The comprehensive decrease in these data points suggests that the game may not be attractive to future players. This highlights the necessity of considering reward mechanisms to promote increased participation and sustained impact.
Otherside Vessels: LoTM price rises & user acquisition and trading volume decline
LoTM, another game by Yuga Labs, underwent updates and held offline gatherings last month. Despite a 20.51% increase in the base price, there was a slight decline in new user acquisition and trading volume.

Otherside Vessels floor price and regular transactions, data source: NFTGo.io
On one hand, many other series collections have joined LOTM, which is a good sign for PFPs becoming more functional. On the other hand, the offline event specifically held for the 40-member Voyagers small group in LA to enhance the participation atmosphere for Otherside did not succeed in attracting a broader player base.

Volume, liquidity, and holders of Otherside Vessels, data source: NFTGo.io
However, we still see the strong confidence of Ape holders. In our interview, boredgentleman said, "I don't think this particular game has had any impact on the overall positivity of the community, but it's a clear sign that Yuga Labs wants to fulfill their promises. They will." Despite the current shortcomings, this sentiment emphasizes the community's trust in the game being developed by Yuga Labs.
Summary
The NFT market remained weak in July, with a market sentiment index of 17, indicating that pessimism is still prevailing. Many traders have suffered losses as prices continue to decline from last year's bubble peak. However, there are some encouraging signs emerging. Blue-chip NFTs, represented by the Bored Ape Yacht Club collection, have rebounded from the low point earlier this summer. This may indicate the bottoming process and potential recovery of top-tier NFT projects.

Boredgentleman.eth provided a forward-looking perspective, "Yes, unfortunately, there is currently little interest in NFTs, and the market reflects that digitally. My mind is on the Metaverse, and others really can't bring their attention back to this space. Crypto + NFTs + AI = Metaverse. It's going to be crazy."
Overall, although the current landscape may present challenges, many investors are still bullish on the Metaverse and carefully crafted NFT projects.
Like what you're reading? Subscribe to our top stories.
We will continue to update Gambling Chain; if you have any questions or suggestions, please contact us!