Author: James Hunt, THE BLOCK; Translation: Matsuyuki, Blocking
· The amount of Bitcoin that has not moved for at least one year reached a historic high in June, accounting for about 70% of the circulating supply.
· Despite concerns about an economic downturn, Bitcoin's price trend, the GBTC discount, and institutional interest in Bitcoin over-the-counter trading desks also increased last month.
In its latest Bitcoin report for June, asset management firm Ark Invest emphasized the growing support of strong holders and improving sentiment for the leading cryptocurrency among institutions.
According to Ark, nearly 70% of Bitcoin's circulating supply has not moved for at least one year, indicating that the holder base is growing and the confidence of long-term Bitcoin investors is increasing.
Bitcoin long-term holder supply. Image source: Ark Invest.
Bitcoin closed at $30,460 in June, up 11.9% for the month. According to Ark's report, the cryptocurrency found strong technical support at the 200-week moving average and closed the month 14% above that average.
Bitcoin 200-week moving average and short-term holder cost basis. Image source: Ark Invest.
Improved institutional sentiment
Since BlackRock applied for its spot Bitcoin ETF on June 15, the net asset value (NAV) discount of the Grayscale Bitcoin Trust Fund (GBTC) (i.e., the market price per share is lower than its represented Bitcoin value) has dropped from 42% to 30%—a new low for the year. According to Ark's report, the narrowing discount may indicate the market's expectation of approval for a Bitcoin spot ETF, increasing the likelihood of GBTC being converted to an ETF.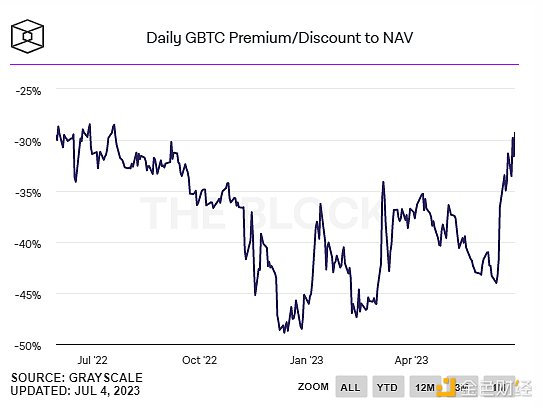 Daily GBTC premium/discount to NAV
Last week, Ark stated that BlackRock's ETF application may be a "turning point" for Bitcoin. A few days later, the Chicago Options Exchange modified Ark's Bitcoin ETF file, including a monitoring sharing agreement similar to BlackRock's to prevent fraud and market manipulation. According to Bloomberg, Ark also stated that it was the first to join the new round of competition for Bitcoin spot ETFs, which includes applications from Invesco, Valkyrie, and Fidelity, and the company originally submitted its application in April.
Like what you're reading? Subscribe to our top stories.
We will continue to update Gambling Chain; if you have any questions or suggestions, please contact us!