Author: Peng SUN, Foresight News
Hashed is a Korean crypto VC founded in 2017. Three engineers with no previous VC experience started Hashed with a capital of $600,000 and developed it into a globally influential crypto venture capital firm. Currently, Hashed has about 200 members distributed in Korea, Singapore, and the United States. Sixty percent of its investment projects are in Asia, 40% in the United States, and a small portion in Europe or Africa.
The assets under management (AUM) of Hashed are currently unknown. In March 2022, its AUM reached $4 billion according to an interview with The Block. However, in August last year, Hashed confirmed losses of over $3 billion in the LUNA crash, as it had purchased 30 million LUNA tokens early on, which were valued at over $3.6 billion in April 2022.
Despite the heavy blow, Hashed's story is not limited to Terra/Luna. In the past six years, Hashed has invested in over 130 projects, covering various tracks such as CeFi, DeFi, gaming & NFT & metaverse, L1 & L2, infrastructure, currency, Web3, investment, and donations. For Hashed, gaming and infrastructure have always been key investment areas. As early as 2017 and 2018, Hashed invested in well-known gaming and metaverse projects such as Axie Infinity, The Sandbox, and Decentraland. At the same time, Hashed was an early investor in Ethereum and invested in star public chains such as Cosmos, DEFINITY, zkSync, Aptos, NEAR, and Klaytn. In 2021, Hashed established the venture studio UNOPND, dedicated to incubating and building consumer-centric companies in the Web3 space, with a focus on Web3 gaming.
According to Baek Kim, a partner at Hashed, in an interview with Foresight News, "Gaming is the best way to achieve mass adoption of cryptocurrencies and blockchain infrastructure. We believe that more LPs and content are the way to achieve mass adoption, and games will provide the best content and LPs for the next decade." For Hashed, its strategy is to build the metaverse as an application layer on top of the infrastructure (including Layer1, wallets, key management, or developer tools) in its investment portfolio, creating real Web3 use cases for consumers.
In addition, in the past year, Hashed has been working hard to recover and actively explore new markets and opportunities. Since 2022, Hashed has invested in over 60 projects, and since 2023, it has invested in at least 15 projects, with gaming and infrastructure still being the main focus. However, Hashed's strategic choices in the global market are worth noting. Its newly established crypto fund, Hashed Emergent, focuses on emerging markets such as India, Africa, and the Middle East. It has hired Yongbeom Kim, former Deputy Minister of Economy and Finance of Korea and former Chairman of the Financial Services Commission, and established Hashed Open Research to engage in macroeconomic and policy research support, ensuring that the founders build product use cases in a compliant manner and promote mass adoption of Web3.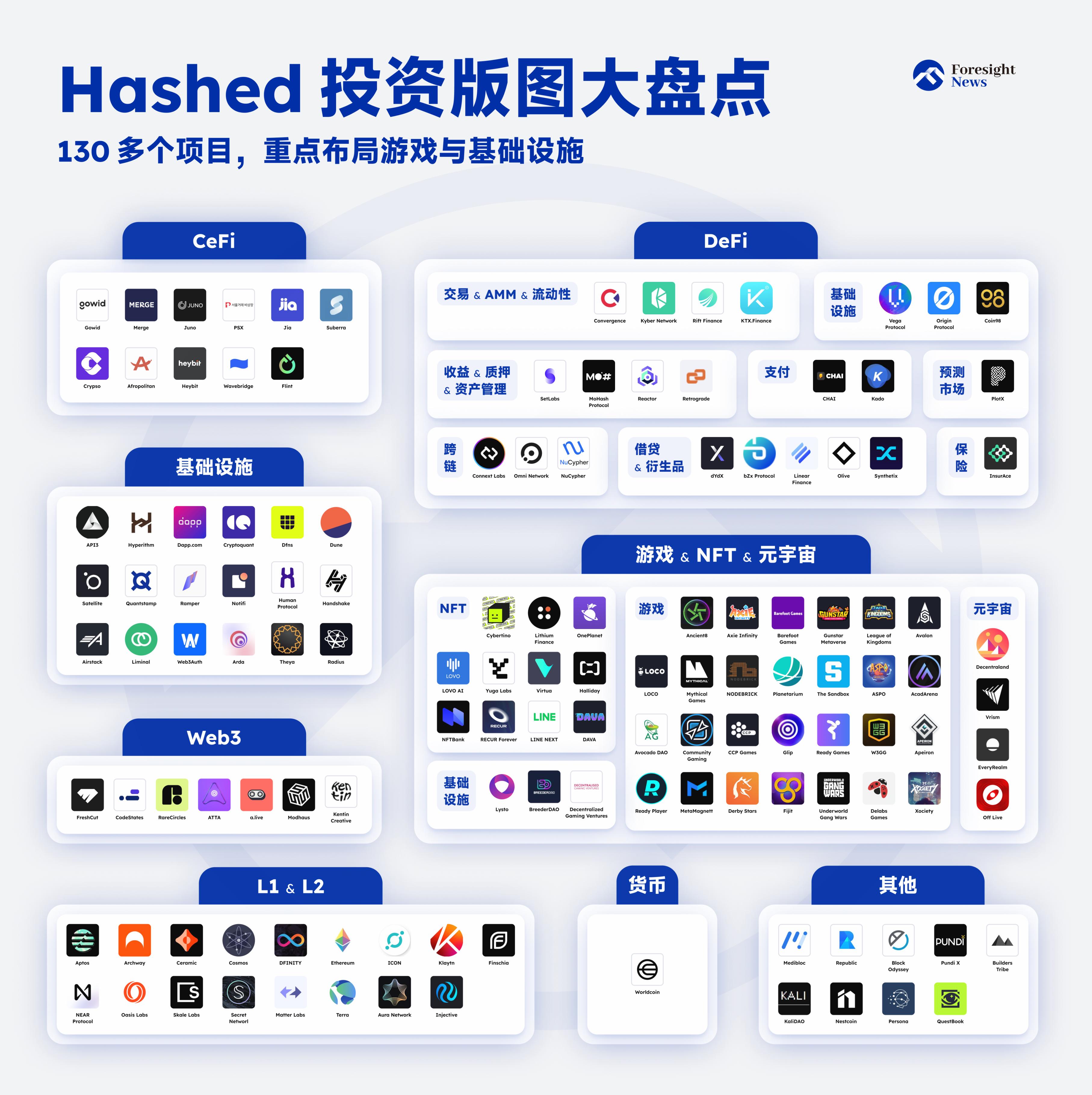 CeFi
Gowid is a B2B fintech startup dedicated to building the next generation of financial infrastructure through artificial intelligence (AI) and blockchain technology. The services offered by the group include fintech, robo-advisors, financial platforms, and cryptocurrencies.
Merge is an API that empowers banks and payments for the Web3 economy, aiming to merge today's compliance, banking, and payments into the financial technology infrastructure of Web3, enabling it to create bank accounts, send payments, and seamlessly exchange funds between fiat currencies and cryptocurrencies.
In May 2022, Merge completed a $9.5 million financing round with participation from Coinbase Ventures, Hashed, and others.
Juno is a crypto-friendly checking account application that provides US residents with checking accounts, allowing users to earn, invest, and spend cryptocurrencies. Juno's token loyalty program is designed to incentivize actions such as receiving funds and making purchases by distributing JCOIN to users. Juno states that tokens will not be distributed to employees or investors, and it will not promote secondary market trading. Tokens can only be used for purchasing products from partner brands, among other uses.
In October 2022, Juno completed an $18 million Series A financing round with lead investment from LianGuairaFi Capital and participation from Hashed, Jump Crypto, and others.
PSX operates a non-public stock trading platform, making it easier for angel investors and accelerators to sell their capital and allowing people to invest in non-public stocks with greater security.
Jia is a blockchain-based fintech company aimed at providing loans to micro and small businesses in emerging markets. The current financing round will be used to expand into the Kenyan and Philippine markets and explore emerging markets in West Africa, Latin America, and Asia.
In May 2023, Jia completed a $4.3 million financing round with participation from Hashed Emergent and others.
Suberra is a Web3 subscription and payment platform, offering enterprise services such as automated recurring payments and one-time cryptocurrency payments in a fast and convenient manner on a global scale.
In October 2022, Suberra completed a $2.7 million financing round with participation from Hashed and others.
Crypso is a community-driven cryptocurrency trading platform that allows users to trade cryptocurrencies.
In July 2022, Crypso completed a $3 million financing round with participation from Hashed Emergent and others.
Afropolitan is an Africa-focused community-as-a-service company launched in 2016, creating a range of community-driven opportunities for Africans and diaspora through travel, events, and media, with the aim of building an internet nation.
In June 2022, Afropolitan completed a $2.1 million seed financing round with participation from Hashed and others.
Uprise is a South Korean crypto startup, mainly offering digital asset financing services Heybit and global ETF investment service Iruda. Harvest is a coin storage product launched by Heybit. After depositing digital assets, profits are paid according to the announced interest rate every week. The paid profits can be automatically reinvested and assets can be accumulated through compound interest.
In July 2022, Uprise lost almost all customer funds, totaling about 26.7 billion Korean won (20 million USD), by shorting the Luna token (now LUNC). These customers are high-net-worth individuals and corporate entities. In addition, Uprise also lost 3 million USD of its own funds. Subsequently, Uprise plans to compensate users for 40% of the losses through stock.
Wavebridge is an all-in-one digital asset investment platform that connects digital asset exchanges and wallets through Dolfin. It provides quantitatively-driven investment management solutions and indexes the digital asset market from benchmarks to strategies.
Flint is a crypto investment solution and a passive cryptocurrency investment gateway aimed at providing passive high-yield returns to India's millennial crypto users.
In January 2022, Flint completed a $5.1 million seed round of financing, led by Sequoia Capital India and GFC, with participation from Coinbase Ventures, Hashed, IOSG, and others.
DeFi
Trading & AMM & Liquidity
Convergence is a decentralized interchangeable asset protocol, with products including the LaunchLianGuaid platform ConvO, the AMM-based decentralized exchange ConvX, and its liquidity pool ConvPool.
Kyber Network is an on-chain liquidity protocol, as well as a DEX aggregator and AMM. KyberSwap aggregates liquidity from over 80 DEXs and multiple aggregators, currently deployed on 13 chains, including Ethereum, Polygon, BNB Chain, Avalanche, Fantom, Cronos, Arbitrum, BitTorrent, Velas, Aurora, Oasis, Optimism, and Solana.
Rift Finance is a DAO and DEX liquidity provider that supports both Ethereum and Aurora blockchains, aiming to help crypto companies achieve their token liquidity goals.
In February 2022, Rift Finance announced the completion of a $18 million financing led by LianGuaintera Capital, with participation from Hashed and others.
KTX.Finance is a decentralized derivatives platform on the BNB Chain, with a maximum leverage of 50x. KTX adopts a dual-token model, where the liquidity token KLP is a multi-asset liquidity pool composed of 50% stablecoins (BUSD, USDT) and 50% blue-chip crypto assets (such as BTC, ETH, BNB), and users use the liquidity pool as counterparties for trading. KTC is the governance and utility token of the protocol.
In July 2023, KTX.Finance completed a $4 million seed round of financing, led by Hashed.
Lending & Derivatives
dYdX is an Ethereum-based decentralized exchange that provides users with perpetual contracts, margin, spot trading, and lending.
The bZx Protocol (now Ooki) is a margin trading and lending protocol.
Linear Finance is a decentralized synthetic asset protocol that is cross-chain compatible with Ethereum and BNB Chain. It allows users to gain exposure to a variety of assets through synthetic assets, including digital assets, commodities, and market indices.
Olive (formerly Polysynth) is a decentralized derivatives platform on Polygon. It aims to increase the baseline yield of assets by approximately 1.5x without exposing user funds to principal or credit risks. Olive features a vault structure that abstracts away the complexities of structured products such as underwriting and pricing. Instead, users deposit their assets into strategies they like, and the rest is handled by Olive's automated compounding vault.
In November 2021, Polysynth completed a $1.5 million financing round with participation from Hashed and others. In July 2022, Polysynth completed a $3 million strategic financing round with participation from Hashed and others. The proceeds from this round of financing will be used for new product development, auditing, security enhancements, and hiring engineers and designers.
Synthetix is an Ethereum-based synthetic asset protocol that allows users to mint and trade synthetic assets (Synths). Synths track the prices of underlying assets, and users can buy Synths to gain exposure to the price movements of the underlying assets without actually owning them.
Cross-chain
Connext Labs is an interoperability protocol that currently supports cross-chain transfers between 16 networks, including Ethereum, Aribiturm, BNB Chain, Polygon, Avalanche, Fantom, Gnosis Chain, Optimism, and more.
In June 2023, Connext Labs completed a $7.5 million financing round at a $250 million valuation. Investors include Polychain Capital, Polygon Ventures, Coinbase Ventures, Ethereal Ventures, 1kx, Hashed, and Scalar Capital. The proceeds from this round of financing will be used to establish the Connext Foundation, which will be responsible for funding initiatives built on top of Connext.
Omni Network is an Ethereum interoperability protocol that aims to provide interoperability for Rollup networks such as Optimism, Arbitrum, zkSync, and Starkware. It aims to become the core infrastructure for all Rollup networks and modular applications on Ethereum, enabling seamless and secure cross-Rollup user experiences. Omni Network plans to launch its public testnet in the third quarter of 2023 and collaborate with major Rollup partners such as Arbitrum, Polygon zkEVM, Scroll, ConsenSys' Linea, and Starkware to release the first version of the mainnet in 2024.
In April 2023, Omni Network announced a $18 million financing round with participation from LianGuaintera Capital, Two Sigma Ventures, Jump Crypto, Hashed, The SLianGuairtan Group, and others.
Threshold Network (NuCypher) is a privacy protocol that supports end-to-end encrypted data sharing on public blockchains and decentralized storage solutions without the need for trusted central authorities. The company was founded by MacLane Wilkison and Michael Egorov. In 2021, Keep and NuCypher merged to form Threshold, and users can upgrade their NU tokens to T tokens. Threshold provides the tBTC bridge, which brings BTC into the Ethereum network.
Insurance
InsurAce is a decentralized DeFi insurance protocol that provides comprehensive insurance services with investment functions, offering insured and profitable insurance services to users.
Payments
CHAI is a simple payment service operator based on the Terra network. Its products include CHAI LianGuaiy, CHAI Card, and I-Import. The founders are Daniel Shin and Do Kwon.
Kado is a provider of Web3 payment infrastructure that supports deposits, withdrawals, and exchanges of multiple networks and tokens. In March 2022, Kado announced the completion of a $5.4 million seed round of financing, led by Hashed.
Earnings & Staking & Asset Management
Set Labs is the development team behind the asset management protocol Set Protocol, currently supporting Ethereum, Polygon, Optimism, and Avalanche networks. In April, Set Labs announced that it would stop developing Set Protocol V2 and the TokenSets user interface. The team will give up the multi-signature ownership rights of Set Protocol V2 and redeploy the existing TokenSets website to IPFS to facilitate users to withdraw or redeem funds from the protocol.
MoHash is a DeFi protocol that provides investors with sustainable, scalable, and stable high-yield investments backed by real-world debt assets. The protocol issues ERC-20 tokens (MoH tokens) that represent claims on a diversified pool of debt instruments. These debt instruments undergo risk management and financial supervision to protect the interests of investors.
In June 2022, MoHash announced the completion of a $6 million seed round of financing, led by Sequoia India and Sequoia Southeast Asia, both under Sequoia, and Quona Capital. Other participants include Ledger Prime, Jump Crypto, Hashed Ventures, Coinbase Ventures, CoinSwitch, as well as Balaji Srinivasan, the founder of Polygon, Sandeep Nailwal, and Jaynti Kanani.
Reactor is a Terra ecosystem Booster protocol aimed at building a yield optimization platform to help users increase rewards on DeFi protocols on the Terra blockchain.
In April 2022, Reactor announced the completion of a seed round of financing, with undisclosed amount, led by Hashed and Delphi Ventures.
Retrograde is a yield acceleration and governance protocol based on Terra. The project's Twitter account has been deactivated.
In April 2022, Retrograde announced a private fundraising round with participation from Hashed and others.
Prediction Markets
PlotX is a prediction market protocol where crypto traders can earn rewards by making price predictions on crypto assets. PlotX plans to launch the PlOT single-token staking program and upgrade core gaming features, including PvP battles, NFTs, leaderboards, and daily/weekly tasks.
In January 2022, PlotX announced the completion of a $5 million Pre-A round of financing, led by Polygon Studios and Hashed.
Infrastructure
Vega is a Layer2 solution that enables decentralized trading of derivatives, allowing users to anonymously launch derivative markets, including futures, swaps, and options, while complying with regulations and eliminating intermediaries in the financial process.
Origin Protocol is a DeFi and NFT project, with products including Origin DeFi and NFT marketplace Origin Story. The main products of Origin DeFi are the stablecoin OUSD and the Ethereum yield index product OETH. OGN is the governance token of the Origin Story platform, which can be staked to earn ETH rewards.
Coin98 is a Vietnamese blockchain and cryptocurrency company that aims to provide users with a one-stop DeFi service including exchange, staking, lending, investment, and yield. Coin98's products include Coin98 Finance, Coin98 Hub, Coin98 Wallet, Coin98 Exchange, Coin98 Markets, Coin98 Portfolio, Coin98 Vault, etc. Coin98 Ventures, the risk department of Coin98, operates the country's largest cryptocurrency fund and jointly manages the Solana ecosystem fund with the Solana Foundation.
Games & NFTs & Metaverse
NFT
Cybertino is an NFT platform for KOLs and fans, providing functions such as airdrops, NFT marketplace, and redemption.
Lithium Finance is a decentralized NFT valuation protocol supported by AI and Crowd Wisdom Valuation, providing valuation for NFTs. Lithium Finance's NFT analysis, DeSwap, collectible expert appraisal, art category, and rare asset categories are coming soon.
OnePlanet is an NFT launchpad and marketplace on Polygon, initially launched on the Terra ecosystem in January 2022.
In March 2022, OnePlanet completed a $3.35 million strategic financing round led by Hashed.
LOVO AI is an AI-based voice NFT startup, hoping that its synthetic voice tool can be used in chat applications or in-game assets.
In April 2022, LOVO announced the completion of a $2 million extension financing round led by Hashed, bringing the total funding raised in the Pre-Series A round to $6.5 million.
Yuga Labs is the development company behind Bored Ape Yacht Club (BAYC) and also owns the NFT projects Mutant Ape Yacht Club (MAYC) and Bored Ape Kennel Club (BAKC), holding the IP of CryptoPunks and Meetbits. The team's metaverse project Otherside aims to build a large-scale multiplayer online role-playing game that integrates multiple NFT products, including BAYC, to create a "gamified" and "fully decentralized" "interoperable world". At the same time, as a community member of ApeCoin DAO, Yuga Labs launched APE as its ecosystem token.
Virtua (formerly known as Terra Virtua) is a blockchain-based cross-platform ecosystem for sharing, trading, and interacting with digital collectibles. The platform provides NFT creators and collectors with a marketplace to interact and share exclusive content in a multi-platform environment, including AR and VR environments for content interaction.
In November 2020, Terra Virtua completed a $2.5 million financing round with participation from Hashed, NGC Ventures, LD Capital, etc.
Halliday is an NFT "buy now, pay later" service company that provides the "buy now, pay later" feature for NFTs in gaming applications that require NFTs for the full experience. Halliday transfers ownership of the NFT to the user after they complete the payment. During this period, Halliday provides the user with the rights to the NFT in the form of wrapped assets, but the user cannot transfer the NFT.
In August 2022, Halliday completed a $6 million seed round of financing, led by a16z, with participation from Hashed, A.Capital, and SV Angel.
NFTBank is a cross-chain NFT asset management platform that serves as a portfolio management tool to monitor one's NFT investments and help find investment opportunities. MetaMask has launched NFT price estimation functionality supported by NFTBank in its Portfolio dApp.
In June 2020, Hashed made an angel investment in NFTBank operator Contxts.io. In April 2021, Hashed led the seed round investment in Contxts.io. In April 2022, Contxts.io completed a Series A financing of KRW 15 billion (approximately $12 million) led by Hashed, with participation from Sequoia Capital, 1kx, DCG, Alameda Research, Dapper Labs, and others.
RECUR Forever is a Web3 enterprise platform that helps large enterprises release NFTs, allowing fans to purchase, collect, and resell NFTs.
LINE NEXT is a subsidiary of the Japanese social media giant LINE, specializing in NFTs. It has launched an entertainment NFT platform called "AVA," where Web3 artists and fans can co-create new value. At the same time, LINE NEXT has released 5 games on the Web3 gaming platform "GAME DOSI."
In July 2022, LINE NEXT completed a $10 million financing round with participation from Hashed and others.
DAVA is an NFT collection on Polygon consisting of 10,000 on-chain customizable avatars. DAVA has two series: DAVA Wearables and DAVA Humanoids. The end-to-end solutions provided by DAVA include composable NFT systems, on-chain data analytics, marketplace, and wallet.
Games
Ancient8 is the largest blockchain gaming guild in Vietnam, aiming to develop a platform that allows their community to play and build in the metaverse while earning monetary rewards. Ancient8 has grown into one of the most successful gaming guilds through investments, scholarships, and education. Currently, Ancient8's guild structure is relatively simple and flexible, with a single entity owning all assets and investment ownership. However, it is moving towards decentralization and aims to become more decentralized.
In January 2022, Ancient8 completed a $4 million seed round of financing with participation from Dragonfly Capital, LianGuaintera Capital, and Hashed. Ancient8 plans to use this funding to establish a decentralized autonomous organization (DAO) and further build a community around play-to-earn gaming.
Axie Infinity is a play-to-earn game developed by Sky Mavis.
B-Clipse is a gaming platform that allows users to tokenize in-game and out-of-game achievements. Players truly own their assets and can freely trade them. The company's platform enables users to experience various PC games by subscribing and using blockchain and NFTs to access game assets on a monthly basis.
Bearfoot Games is a game company that builds a self-sustaining platform game on decentralized technology.
Gunstar Metaverse is a large-scale multiplayer online role-playing and turn-based artillery strategy NFT game.
League of Kingdoms aims to build a metaverse game that provides an entertainment gaming experience, including launching PvP arenas, guild battles, business platforms (such as NFT markets), GameFi tools (such as Staking portals, GameFi dashboards), governance infrastructure, token rewards for in-game competitions such as CvC, social media features, esports tools, interoperable assets, etc.
Avalon is a metaverse gaming platform headquartered in Florida that will build an interoperable digital world through game engines and blockchain technology, addressing real-time interaction and scalability issues.
In February 2023, Avalon Corp completed a $13 million financing round led by Bitkraft Ventures, Hashed, Delphi Digital, and Mechanism Capital, with participation from Coinbase Ventures, Yield Guild Games, Merit Circle, Avocado Guild, and Morning Star Ventures.
Loco is an Indian game streaming platform that offers a variety of game streaming and esports content to viewers. Loco has been a pioneer in the Indian game streaming and esports field, paving the way for gaming to evolve from a niche hobby to a mainstream interest nationwide.
In February 2023, Loco partnered with Avalanche to join the Avalanche Metaverse Incentive Program and launch a subnetwork. With the support of Ava Labs, Loco will also launch a collectibles marketplace. Loco recently completed a $42 million Series A financing round.
Mythical Games is a blockchain game studio, and its platform will be built on an EVM-compatible sidechain.
In January 2023, Mythical Games is considering raising $50 million and will also launch version 2.0 of the Mythical Marketplace. In addition, Mythical recently acquired and integrated the technology of NFT marketplace DMarket, aiming to promote user growth by improving the trading of digital assets.
NodeBrick is a blockchain game developer founded in 2018 that aims to establish a true gaming experience using blockchain technology. The company is developing a blockchain game called "Train City," which is based on various cryptocurrencies such as ETH and TRX. Currently, the project website cannot be accessed.
Planetarium is a Web3 game network supported by its community, using Libplanet to create large-scale serverless network games with token economies. Planetarium is also developing Nine Chronicles.
The Sandbox is an Ethereum-based metaverse game. Its parent company is Animoca Brands, and the token is SAND. Users can use Voxel and Game Maker tools to create scenes on 166,464 blocks of land and earn profits. The iOS version of the game was launched in 2022. In January 2022, The Sandbox raised $359 million, with a valuation exceeding $5 billion.
In 2019, The Sandbox completed a $2.5 million financing round with Hashed as the lead investor.
ASPO aims to turn P2E games into the future of digital assets. ASPO is currently developing its first project, called ASPO World, which is a tactical game and a magic card NFT game built and developed on the blockchain platform.
AcadArena is a blockchain education game established in 2018.
Avocado Guild is a game guild for P2E games that allows guild members to earn income from games like Axie Infinity. Guilds typically have profit-sharing agreements and provide initial loans to players. Avocado Guild currently has over 7,000 members, mainly from the Philippines and Indonesia.
Community Gaming is a Web3 esports platform that originally operated as an offline esports and gaming tournament organizer, providing services to organizers and players at all levels. In 2019, Community Gaming transitioned to an online hybrid platform, using blockchain-based smart contracts to provide competitive gaming experiences from registration to instant payment. After its Series A financing, Community Gaming will expand its platform products and is expected to allow users to earn additional income on the blockchain through gamified tasks within the Community Gaming system later this year.
In April 2022, Community Gaming announced the completion of a $16 million Series A financing round, led by SB Opportunity Fund under SoftBank Group, with participation from Animoca Brands, Binance Labs, BITKRAFT Ventures, Griffin Gaming LianGuairtners, CoinFund, Hashed, Multicoin Capital, Shima Capital, Polygon Studios, ConsenSys Mesh, as well as angel investors Jeff Zirlin, co-founder of Axie Infinity, and Gabby Dizon, co-founder of Yield Guild Games.
CCP Games is a blockchain game developer. In March 2023, CCP Games completed a $40 million financing round, led by a16z, with participation from Makers Fund, Bitkraft, Kingsway Capital, Nexon, Hashed, and others. The funds raised will be used to develop a new 3A-level blockchain game set in the Eve Online universe.
Glip is an Indian Web3 gaming startup that offers a live streaming platform with over 2 million active users. Its Android application has been downloaded over 7 million times in India, Southeast Asia, and Brazil. It provides gamers with new Web3 games and tutorials, as well as tournaments and tasks.
In November 2022, Glip completed a $2.5 million Pre-A financing round, led by Hashed Emergent. Glip will use this funding to expand its team of 10, launch new product features, and grow its community globally.
Ready Games is a game startup founded in 2016. In June 2023, Ready Games launched tools for building and publishing Web3 mobile games, which are part of the DApp Store Kit developed by Polygon Labs and are now incorporated into Ready Games' development stack.
In May 2022, Ready Games announced a $3 million financing round through the sale of AURA tokens, with lead investment from BITKRAFT and Hashed. This funding will be used to develop the Web3 mobile gaming division.
YGG SEA is the first regional sub-DAO under the YGG gaming guild, focusing on players from Malaysia, Indonesia, Vietnam, and Thailand.
In April 2022, YGG SEA raised $15 million in two separate private financing rounds. The first round was led by YGG and Infinity Ventures Crypto (IVC), followed by participation from Crypto.com Capital, Animoca Brands, Jump Capital, Circle, Digital Currency Group, Hashed, Polygon, BukalaLianGuai, and others. The funds raised will be used to promote the development of the blockchain gaming market in Southeast Asian countries.
Apeiron is a card-based action-adventure game that adopts a three-token model. In April 2022, Apeiron completed a $10 million seed round of financing, led by Hashed.
Ready Player DAO (RPD) is a play-to-earn (P2E) game guild dedicated to leveraging the collective power of games to create fairness for all. In April 2022, RPD announced the completion of a $10.2 million financing round, with participation from Hashed and others.
MetaMagnet is the operator of the C2X, a universal blockchain gaming platform built on the Terra blockchain.
In March 2022, MetaMagnet Ltd. announced the completion of a $25 million private financing round with a valuation of $500 million. The round was led by FTX Ventures, Jump Crypto, and Animoca Brands, with participation from Hashed and others.
Derby Stars is a horse racing metaverse game and P2E NFT game. Originally based on the Terra ecosystem, it began migrating to the Polygon network in early 2023, where players can breed, grow, build, and trade.
In March 2022, Derby Stars completed a $6 million seed round of financing, with participation from Hashed and others.
Fijit is a Web3 play-to-earn platform based on memes and ultimate arcade casual games. It received investment from Hashed Emergent and others.
Mayhem Studios is a Web3 game studio under Mobile Premier League (MPL), an Indian P2E game development company. Its first mobile game, Underworld Gang Wars, is a battle royale game set in the backdrop of Indian gangs and is currently in the pre-registration stage. MPL is India's largest mobile gaming platform with over 95 million users and offers over 70 different types of mobile games. In 2021, Mobile Premier League raised $150 million at a valuation of $2.3 billion.
In April 2023, Mayhem Studios completed a $20 million financing round, led by Sequoia Capital, with participation from Hashed Emergent and others.
Delabs Games is a Web3 game that is developing free games that allow Web2 players to participate without any knowledge of NFTs, wallets, or cryptocurrencies. Since 2021, Delabs Games has been developing games such as Rumble Racing Star, SLianGuaice Frontier, and Metabolts. Its first game, Rumble Racing Star, has already been launched, and the other two will be released soon.
In July 2023, Delabs Games announced the completion of a $4.7 million seed round of financing, led by Hashed, with participation from The SLianGuairtan Group, Planetarium, Polygon Labs, and Merit Circle, among others.
XOCIETY is a metaverse with shooting game mechanics as its core, combining third-person shooting game and MMORPG game mechanics, aiming to bring various NFT assets on the market into the XOCIETY metaverse.
Metaverse
Decentraland is a metaverse platform where users can buy and sell digital real estate, as well as explore, interact, and play in this virtual world.
Vrism aims to redefine the wearable experience in the metaverse, bridging the gap between the metaverse and real-life experiences through Web3 branding, interactive avatar platforms, 3D scanning technology, and XR experiences. Currently, it has provided various digital content for more than 50 brands, such as FILA and NEW BALANCE.
EveryRealm is a metaverse project developer that aims to shape the metaverse through investment, management, and development of assets, including NFTs, virtual real estate, metaverse platforms, games, and infrastructure.
In February 2022, Everyrealm completed a $60 million Series A financing round with a16z as the lead investor, and participation from Coinbase, Dragonfly Capital, Dapper Labs, Hashed, and others.
Off Live is a metaverse startup company based on PFP NFTs. It is currently building a decentralized social platform called MYTY, dedicated to creating on-chain and off-chain infrastructure for PFP NFT-based Web3 social metaverse. OFF believes that social interactions in Web3 will evolve around PFP NFTs and continue to expand, forming a social metaverse (decentralized society).
In November 2021, Off Live completed a $3.5 million seed round of financing, led by Hashed and with participation from Coinbase Ventures, among others.
Infrastructure
Lysto is a game infrastructure protocol that has built APIs, tools, and infrastructure to create and distribute NFTs.
In August 2022, Lysto completed a $12 million Series A financing round led by Square Peg, Beenext, and Hashed.
BreederDAO is a metaverse game asset production factory, with its founders including a player guild founder with 500 members and individuals with extensive experience in multi-chain DApp development.
BreederDAO announced the completion of a $10 million Series A financing round led by a16z and Delphi Digital, with participation from Hashed, among others.
Decentralized Gaming Ventures is a Web3 gaming venture capital company. In June, Decentralized Gaming Ventures completed a seven-figure investment round led by Hashed. This investment will support the success of emerging game developers in Southeast Asia through acquisitions of independent studios and specialized guidance, co-development, and knowledge sharing.
L1 & L2
Aptos is a Layer1 public chain built by former members of the Meta (formerly Facebook) development team. It adopts Diem's programming language Move and Diem-BFT consensus technology.
Archway is a Layer1 blockchain in the Cosmos ecosystem, incubated by Ignite (formerly Tendermint), the development company behind Cosmos. It is a smart contract platform based on Cosmos that rewards developers. The protocol serves as an entry point to Cosmos, enabling developers to deploy cross-chain DApps and receive corresponding rewards for their contributions to the network.
In March 2022, Archway contributor Phi Labs completed a $21 million seed funding round, led by CoinFund and Hashed.
Ceramic is a decentralized content computation network that provides computation, state transition, and consensus for all types of data structures stored on decentralized networks. Ceramic's streaming capabilities enable developers to build applications using dynamic information without relying on trusted database servers, creating powerful, secure, trustless, and censorship-resistant applications.
In February 2022, Ceramic's core developer, 3Box Labs, announced a $30 million Series A funding round with participation from Hashed and others.
Cosmos describes itself as the "Internet of Blockchains" and is an ecosystem composed of the Cosmos SDK and the cross-chain messaging protocol IBC. In September 2022, Cosmos released a new version of its whitepaper, proposing to allow other chains to use a Hub to secure their networks. It also proposed changes to the utility and issuance schedule of ATOM, intending to reduce the monthly inflation of ATOM to a constant quantity after a 36-month transition period. In March 2023, Cosmos announced the release of SDK V0.47 version "Twilight," which aims to improve the overall performance and functionality of all Cosmos SDK-based chains. It introduces CometBFT V.037 into Cosmos SDK to replace Tendermint Core and supports the upgrade to ABCI 1.0, significantly enhancing performance.
DFINITY aims to create an "Internet Computer," an open network that acts as a large virtual host in cyberspace. This network will enable decentralized versions of many online technology services, such as Uber, Dropbox, and eBay.
Ethereum is an open-source, decentralized computing infrastructure that can execute Turing-complete smart contracts.
ICON is a universal blockchain ecosystem focused on connecting different blockchains.
Klaytn is a Korean blockchain that was initially a fork of Ethereum. Klaytn has introduced an on-chain governance system through Klaytn Square and launched the "Metaverse Knowledge Kit" to support metaverse development. It will also launch the decentralized oracle network Orakl Network. Recently, Klaytn announced its transformation into a public foundational layer for the future on-chain world through tokenization of real-world assets (RWA), digital ownership guarantees, and value creation. Klaytn will build an RWA tokenization support system, covering token-based product development, token issuance, asset storage, and trading.
LINK is a private mainnet that has migrated to the Finschia blockchain.
NEAR Protocol is a PoS public chain that uses sharding technology for scalability. It implements cross-chain interoperability through the Rainbow Bridge and Layer2 solution Aurora. Its features include optimized shard design, Nightshade consensus, and "big blocks" design.
In April 2022, NEAR Protocol completed a $350 million financing round, led by Tiger Global, with participation from Republic Capital, FTX Ventures, Hashed, and Dragonfly Capital.
Oasis Labs is the development team behind the privacy-focused blockchain Oasis, aiming to solve the pain points of blockchain in terms of performance, security, and privacy. Oasis previously launched a $235 million ecosystem development fund with support from Dragonfly and other investments, aiming to support the development of projects in the Oasis ecosystem such as DeFi, data DAOs, NFTs, and the metaverse.
Skale Labs is an Ethereum sidechain designed to support a collection of dApp-specific chains that can interoperate with Ethereum. In 2023, SKALE launched the ZK program and will release the decentralized zero-knowledge proof solution Levitation Protocol, aiming to seamlessly connect a full ZK solution to the SKALE architecture and connect Rollup to the Ethereum mainnet.
Secret Network is a privacy-focused blockchain network built on Cosmos. In February 2023, the Secret Network community decided to restructure the Secret Foundation and establish a new transparent non-profit organization (NPO).
Matter Labs is the development team behind zkSync, an Ethereum Layer 2 network based on ZK Rollup.
In September 2019, Matter Labs completed a $2.5 million seed round financing with participation from 1kx, Hashed, Dragonfly Capital, and LianGuairtners.
Terra is a stablecoin blockchain protocol. After the crash in 2022, Terra forked into Terra Classic and Terra 2.0. At its peak, it had dozens of ecosystem projects including Anchor Protocol, and DefiLlama showed its TVL reached over $20 billion. Currently, it only has $6 million left. Terra still has many supporters in its ecosystem, but many projects have fled and migrated to Polygon, Arbitrum, etc.
Aura Network is a Cosmos ecosystem NFT blockchain aimed at accelerating the adoption of NFTs globally.
In February 2023, Aura Network completed a $4 million Pre-A round of financing, led by Hashed and Coin98. This round of financing will be used for the expansion of the Aura Network ecosystem.
Injective was originally a decentralized derivatives protocol and in July launched its smart contract layer, becoming a smart contract platform focused on DeFi.
Infrastructure
API3 is a first-party oracle solution, and dAPIs are API3's first-party price reference data sources, allowing DApps on 10 networks to connect to over 100 real-time asset price data, including cryptocurrency and forex prices, without intermediaries.
Hyperithm is a digital asset gateway for institutions and high-net-worth individuals. It has obtained a VASP license from the Korean Financial Intelligence Unit and has completed the declaration to the Japanese Financial Services Agency as an operator of the SPBQII (Specially Permitted Business for Qualified Institutional Investors).
Dapp.com is a DApp distribution platform that provides display distribution and data analysis for over 2,200 applications on multiple public chains including Ethereum, EOS, Tron, Steem, Tomochain, IOST, and Blockstack. Its goal is to build a data-driven blockchain application ecosystem framework, allowing users to discover and use all decentralized applications without barriers.
CryptoQuant is a cryptocurrency data analytics platform.
Dfns is a keyless cryptocurrency wallet that aims to encrypt wallet private keys through sharding and distribute these fragments in a peer-to-peer network to protect digital assets.
Dune is a community-based blockchain data analytics platform that initially opens self-service queries to users, has the largest analyst community and user community, and analysts with PostgreSQL writing capabilities can freely use on-chain data to write custom queries, analysis, and visualization. At this stage, Dune supports data queries for Ethereum, Polygon, BNB Chain, Solana, Optimism, and Gnosis Chain.
Satellite.im is a decentralized communication platform, and Warp is a service that can run as a single binary file, providing interfaces for the core technology of running Satellite and using technologies such as IPFS/libp2p and public key encryption. The encrypted chat software Uplink, owned by Satellite.im, is built on Warp.
In August 2022, Satellite IM completed a $10.5 million seed round of financing, led by Framework Ventures and Multicoin Capital, with participation from Solana Ventures, IDEO CoLab, Hashed, and Pioneer Square Labs Ventures, among others.
Quantstamp is a company that conducts smart contract, off-chain, network, and front-end audits.
Ramper is a Web3 social login solution, and its first product is an SDK/API that helps DApps quickly log in users without encryption knowledge. Users can log in with their email (or any other familiar login method, such as FaceID) without having to download a wallet, install a browser extension, or store private keys. Users can use Ramper for identity verification, key management, and purchasing cryptocurrencies or NFTs.
In March 2022, Ramper completed a $3 million seed round of financing, led by Hashed.
Notifi is a Web3 communication protocol that allows Web3 developers to integrate communication into their applications without building infrastructure themselves. Notify has now launched the Web3 inbox Notifi Hub, which aggregates cross-chain notifications and messages into a single center. Notifi now supports Ethereum, Solana, Sui, Polygon, Arbitrum, Aptos, and Acala.
In March 2022, Notifi completed a $2.5 million pre-seed round of financing, led by Race Capital and Hashed. The funds raised will be used for team development and infrastructure construction. In November 2022, Notifi completed a $10 million seed round of financing, co-led by Hashed and Race Capital.
HUMAN Protocol is an on-chain jury protocol and blockchain coordination layer for mediating agreements between parties operating on the HUMAN Protocol.
Handshake is a decentralized, permissionless domain and certificate authority.
Airstack is a Web3 developer platform that allows developers to access and leverage Ethereum and Polygon on-chain data through AI-supported natural language requests. Airstack supports queries that combine on-chain and off-chain data from multiple sources into a single response.
In May 2023, Airstack completed a $7 million financing round, led by Superscrypt, with participation from Polygon, Hashed Emergent, NGC, Primal Capital, UOB Ventures, and Signum Capital, among others.
Liminal is a digital asset security custody wallet company founded by Mahin Gupta, co-founder of the Indian cryptocurrency exchange Zeb LianGuaiy. It provides a wallet architecture that utilizes secure multi-party computation (MPC) and multi-signature technology, requiring two or more private keys to sign and send transactions to protect digital assets on different blockchains. Liminal claims to have reduced manual operations by 90% and has processed over $2.5 billion worth of transactions, $400 million worth of automated trades, and collected approximately $50 million in protected assets in its one year of operation.
In June 2022, Liminal completed a $4.7 million financing round with participation from Hashed and LD Capital.
Web3Auth is a distributed hosted EOA (Externally Owned Account) wallet that supports social login and allows users to verify their identities across various applications through community accounts.
In January 2022, Web3Auth completed a $13 million Series A financing round with participation from Hashed and others.
Arda is an active and passive risk management platform designed for wallets, funds, protocols, and communities. Its products include security protection, real-time monitoring, and on-chain automation. Security protection involves detecting phishing attacks, wallet theft, rug pulls, and malicious domains before signing transactions. Real-time monitoring allows for receiving security and financial risk alerts for protocols and liquidity pools before and during security events. On-chain automation integrates with smart contracts to build custom strategies and rebalance positions, catering to the era of account abstraction. Currently, Arda has open-sourced an oracle tracker and a pre-transaction screening API. Arda has received investment support from Hashed Emergent.
Theya is a Bitcoin multi-signature self-custody application established in March 2023. It aims to provide storage, lending, investment, and payment products based on its self-custody platform. Theya adopts a 2-of-3 multi-signature approach, where two keys are required to approve transactions, and the third key held by Theya is only used for recovery in case a user loses one of their keys. However, the keys held by Theya can never be used for transfers. Theya allows users to set up the wallet using devices such as iPhone, Apple Watch, NFC cards, and hardware wallets, which can also be used as additional keys.
Theya has received support from Y Combinator W23 and Hashed Emergent investments.
Radius is a trustless shared sequencer solution that prevents MEV (Miner Extractable Value) harm to users by using Practical Verifiable Delay Encryption (PVDE) for shared sequencers. Radius aims to optimize block space, achieve Rollup ecosystem sustainability and interoperability, and ensure data availability on Rollup. Radius plans to launch a testnet in Q4 2023, launch the mainnet (Alpha) in Q1 2024 with sequencing capabilities on Rollup, and officially launch the mainnet with full cross-Rollup functionality in Q1 2025.
In June 2023, Radius completed a $1.7 million Pre-Seed financing round led by Hashed.
Currency
Worldcoin is a privacy-preserving protocol based on proof-of-personhood. Its founder, Sam Altman, the former president of Y Combinator, a top Silicon Valley incubator, is attempting to create a new global digital currency by solving the Sybil attack problem through the collection of user irises using a device called Orb.
Web3
FreshCut is a Web3 gaming community and content ecosystem built for creators and fans. The platform monetizes "free" content obtained from creators and the "free" participation of fans and users.
In May 2022, FreshCut completed a $15 million financing round led by Galaxy Interactive, Animoca Brands, and Republic Crypto, with participation from Hashed and others.
CodeStates established the first coding bootcamp in Korea and launched a course called Learn To Earn, which is specifically tailored to IT professions. The goal is to address the shortage of IT professionals and the issue of unequal educational opportunities.
RareCircles is a brand community and participation platform that enables businesses to use all the tools necessary to build and engage with brand communities, thereby increasing loyalty and revenue. RareCircles' mission is to establish deeper relationships with its community through NFTs and blockchain technology, allowing anyone to create, sell, and manage NFT memberships within the same operating system.
ATTA is a Web3 film community and movie studio that helps content creators continuously produce high-quality creativity while maximizing their commercial value through a DAO-empowered film community.
In October 2022, ATTA completed an additional $2 million financing round with participation from Hashed and others. Hashed will serve as a Web3 advisor for the ATTA project. This financing round will be used for the development and production of ATTA's next film works and the establishment of a Web3-empowered film and entertainment ecosystem.
a.live is a Web3 music platform targeting music lovers, super fans, and customers. It offers fans different versions of digital collectibles, exclusive editions, and auctioned rare items at different prices and quantities. It also hosts virtual release parties for songs. a.live has received investment from Hashed Emergent.
Modhaus is a Web3 K-Pop project aimed at promoting Korean popular culture through blockchain technology. It seeks to involve fans in the primary stages of production through an NFT-driven governance mechanism. Modhaus plans to launch the world's first Korean pop girl group tripleS and ARTMS produced and operated by its fans.
Kentin Creative is a Web3 video production studio focused on creative collaboration and exploration. It is responsible for all creative production of UNOPND and its partner projects.
Others
Medibloc is a decentralized healthcare ecosystem built on blockchain technology, serving patients, healthcare service providers, and researchers.
Republic is an investment platform that has been investing in the blockchain field since 2017.
Block Odyssey is an enterprise-level blockchain solution provider that offers anti-counterfeiting, SCM management, and financial infrastructure through the construction of logistics blockchain infrastructure, and also innovates in the second-hand market.
Pundi X is a blockchain retail solution that includes XPOS and XWallet. Its payment terminal XPOS allows blockchain developers, token holders, merchants, and consumers to use digital currency for transactions in physical stores. In addition, Pundi X has launched the Function X network.
Builders Tribe is a Web3 native incubator in India. Its product is Buidl.so, which is currently in the Alpha stage. Startups can apply for funding within buidl.so. Builders Tribe has received investment from Hashed Emergent.
KaliDAO is a platform that allows users to launch legal DAOs and resolve legal disputes. Anyone can deploy a DAO in a matter of seconds and design a legal structure that suits their needs. In February 2022, KALI completed testing and went live on Ethereum, Arbitrum, and other networks. In September, Kali launched Wrapper, a platform for launching and minting legal NFTs. The core of Wrapper is to solve the legal role problem between DAOs and other internet natives, reducing the steps to provide legal protection for online entities. Wrapper allows users to launch entities such as LLCs (limited liability companies) or UNAs (non-profit organizations). The Wrapper can also optimize legal claims related to tax jurisdiction, RWA ownership, software licenses, and IP. Delaware and Wyoming provide online legal services for LLCs and DAOs. Wrapper has been deployed on Ethereum, Arbitrum (including Nova), Optimism, Polygon, Gnosis, Fantom, Avalanche, Binance Smart Chain, and Goerli. In March 2023, Kali launched the V2 version of the Keep ownership application at ETHDenver 2023.
KaliDAO has received investment from Hashed Emergent.
Nestcoin is an African Web3 startup and venture capital firm based in Nigeria that is dedicated to building, operating, and investing in native crypto products. Its products include the Onboard wallet and the African chain game guild Metaverse Magna (MVM). Nestcoin has received investment from Hashed Emergent.
Persona is a Web3 advertising platform that provides Web3 user analysis, growth, and retention services. Persona has received investment from Hashed Emergent.
QuestBook is a cryptocurrency donation platform that connects project owners and developers, allowing project owners to provide grants to developers and invest in an efficient and transparent manner. In addition, QuestBook is committed to helping companies create small funds globally, expanding opportunities for developers to find job opportunities. In August 2022, QuestBook launched the public beta of QuestBook v2, embedding a browser-based application-specific wallet called Zero Wallet. Users can directly back up their private keys to create a wallet and log in to QuestBook. Users can set new domain names, create grants and bounties, review and evaluate applications, invite team members, make payments, and more on the chain without paying gas fees. Users also do not need to choose or switch between different blockchains, but the data will still be recorded on networks such as Polygon, Optimism, Gnosis, Celo, and Solana.
In May 2022, QuestBook completed a Series A financing of $8.3 million, with Lemniscap leading the round and participation from Hashed, Coinbase Ventures, Alameda Research, Dragonfly, Polygon, Balaji Srinivasan, and others.
Like what you're reading? Subscribe to our top stories.
We will continue to update Gambling Chain; if you have any questions or suggestions, please contact us!