Author: BlockingBitpushNews Mary Liu
On June 5, 2023, the US Securities and Exchange Commission (SEC) filed 13 charges against Binance and its founder, Changpeng Zhao (CZ), including operating an illegal trading platform in the United States; operating unregistered exchanges, broker-dealers, and clearing agencies; misusing customer funds; and issuing and selling unregistered securities.
In a 136-page lawsuit filed with the federal court in Columbia, the SEC detailed the illegal details of Binance and Zhao Changpeng. SEC Chairman Gary Gensler said in a statement: "Through 13 charges, we accuse Zhao and Binance entities of widespread deception, conflicts of interest, lack of disclosure, and intentional evasion of the law, and the public should be careful not to invest any hard-earned assets in these illegal platforms."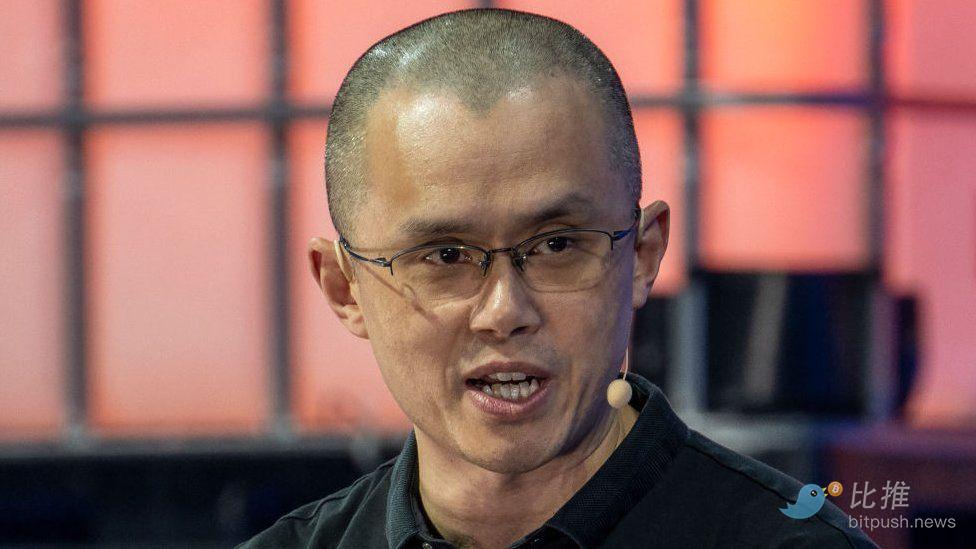 Mixed customer funds, laundering transactions of hundreds of millions of dollars
Similar to the charges against FTX and its founder Sam Bankman-Fried, the SEC accused CZ and Binance of controlling customer assets, allowing them to mix or transfer customer assets at will, including transferring them to Sigma Chain, an entity owned and controlled by CZ.
The document further alleges that BAM Trading and BAM Management US Holdings, Inc. (BAM Management) misled investors about the lack of trading controls on the Binance.US platform, and that Sigma Chain manipulated trades, artificially inflating the platform's trading volume. During the period from January 1, 2022 to June 23, 2022, Sigma Chain's account laundered 48 of the 51 newly listed cryptocurrencies.
In addition, the complaint alleges that the defendants mixed billions of dollars in investor assets and sent them to another company, Merit Peak Limited, controlled by Binance founder Zhao Changpeng, apparently for the trading of cryptocurrencies.
CZ and its holding company are said to control 100% of the various entities of Binance and Binance US. The following is a chart of the equity structure of Binance entities.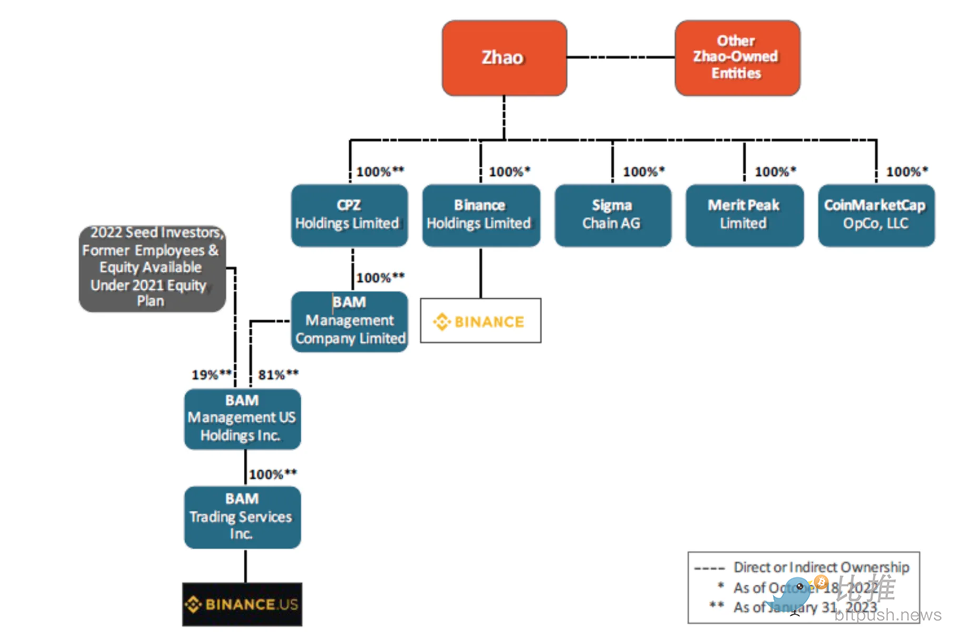 The SEC also alleges that at least $145 million was transferred from Binance.US to Sigma Chain accounts by 2021. Another $45 million was deposited into the account from a Nevada trust company related to Binance.US, and Sigma Chain used $11 million from the account to purchase a yacht.
Also noteworthy, similar to the opaque structure of FTX and FTX.US, the SEC says that Binance has access to Binance.US wallets and assets, as well as the US entity's custody tools and private keys. At least until December 2022, Binance is also the designated custodian of crypto assets held, traded, and/or accrued on the Binance.US platform. Zhao Changpeng signed multiple decisions related to trading services on the Binance.US platform, including customer account opening processes, front-end access development, and the creation of reserve funds to pay ACH deposits.
The SEC is asking the court to immediately order a "verification" accounting, asset freeze and return, document preservation, and the appointment of a receiver for Binance assets.
Binance operates as an unregistered exchange
The SEC said: "As for the Binance.US platform, Binance and BAM Trading acted as exchanges together, BAM Trading acted as a broker, and Binance and BAM Trading each acted as clearing agencies, without registration."
CZ was also accused of violating the Exchange Act as the "controlling person" of Binance and BAM Trading. The document states: "Under Zhao Changpeng's leadership and control, Binance and BAM Trading illegally provided three basic securities market functions on the Binance platform – exchanges, broker-dealers, and clearing agencies – without registering with the SEC. The defendants were keenly aware that US law required registration of these functions, but chose not to register, so they could evade critical regulatory oversight intended to protect investors and the market."
According to the document, Binance's chief compliance officer told a colleague in 2018, "Brother, we are an unlicensed securities exchange in the United States."
Evading regulation, soliciting US customers
Part of the SEC lawsuit refers to so-called "Tai Chi" documents, which Forbes first reported on in 2020. These documents appear to be Binance's plan to formally exit the US market while still maintaining a presence through subsidiaries. Binance initially sued Forbes over the report in November 2020, then dropped the case in February 2021.
The lawsuit cites the words of Binance's internal staff, who have discussed ways to allow US customers to trade on binance.com. The document quotes Binance's CCO as saying, "On the surface, we don't have US users, but in fact, we should attract them through other creative means."
The US Securities and Exchange Commission said: "In fact, Binance has implemented most of the Tai Chi plan, with Zhao and Binance maintaining substantial participation and control over US entities, and behind the scenes, Zhao instructed Binance to allow and cover up many high-value US customers who continued to access Binance.com."
The complaint alleges that from June 2018 to July 2021, Binance's revenue was $11.6 billion, most of which came from transaction fees. Binance.US operates its own OTC trading desk, which for two years had only one trading partner, Alameda Research, founded by FTX founder Sam Bankman-Fried.
Selling unregistered securities, at least 12 tokens are securities
The SEC considers the staking investment products available on BNB, BUSD, and Binance.US to be unregistered securities. It also stated that BAM Trading's staking program is an investment contract and falls under its definition of a security.
The document alleges that Binance and BAM Trading engaged in the illegal offering and sale of unregistered cryptocurrency securities, including Binance's own BNB and BUSD, as well as Binance's profit plan BNB Vault and Simple Earn, and so-called "staking" investment plans available on the Binance.US platform.
In the lawsuit, the SEC refers to 12 tokens as securities, namely BNB, BUSD, Solana (SOL), Cardano (ADA), Polygon (MATIC), Filecoin (FIL), Cosmos Hub (ATOM), The Sandbox (SAND), Decentraland (MANA), Algorand (ALGO), Axie Infinity (AXS), and Coti (COTI).
The SEC said the list was not exhaustive: "Since the launch of the Binance platform, defendants have been able to trade cryptocurrency assets on these platforms, which are offered and sold as investment contracts, and therefore securities."
It is worth noting that the SEC did not list Ethereum as a security in the lawsuit. As reported by Blocking, SEC Chairman Gary Gensler refused to indicate whether ETH is a security during a nearly five-hour hearing in April.
What is the SEC's goal?
Binance was founded in 2017 and quickly grew into a leading company in the cryptocurrency field. According to data provider CCData, as of last month, over 40% of cryptocurrency transactions were conducted on the Binance platform. This case has broad implications and could reshape the power and wealth structure of the cryptocurrency field.
The SEC and CFTC have been engaged in a territorial battle to determine who will be the primary regulatory agency for cryptocurrency trading. The CFTC filed charges in March of this year accusing Binance and its founder, Changpeng Zhao, of violating federal law by offering unregistered cryptocurrency derivatives. Many of the allegations in the SEC lawsuit are similar to those in the CFTC's complaint, and for the SEC, this lawsuit is another major bet that US courts will agree that it has jurisdiction over the cryptocurrency industry.
In the lawsuit, the SEC seeks to prevent Binance, Binance.US, and "their respective agents" from continuing to violate federal law, and demands that the defendants pay "all ill-gotten gains" as well as pre-judgment interest. Some optimists believe that the charges are civil, and Binance may ultimately settle for a sizable fine.
But some believe that Binance could be permanently banned from the US market. The SEC mentioned in the filing that it hopes to prohibit CZ from serving as a senior officer or director of any issuer of securities, and to prevent Binance, Binance.US, and CZ from participating in or trading any securities, including cryptocurrency securities. The lawsuit also seeks to prevent the defendants from acting as unregistered brokers, clearing agencies, or trading any cryptocurrency securities.
Both the CFTC and the SEC accuse Binance of failing to comply with US anti-money laundering laws, and the US Treasury, which is responsible for overseeing most of the US anti-money laundering system, has not yet responded. If Binance is suspected of violating sanctions, much of the evidence contained in the civil lawsuit could be used to support separate enforcement actions by the Treasury and the Justice Department.
Whether Binance can survive this crisis remains to be seen. It has said that it hopes the US Congress will intervene and pass bipartisan legislation to establish a workable regulatory framework for digital assets to prevent the cryptocurrency industry from becoming a "victim of bureaucratic overreach."
Aaron Kaplan, co-founder of Prometheum, a digital asset securities trading platform registered with the SEC and FINRA, tweeted: "This significant action by the SEC marks a turning point for the US towards regulated cryptocurrency market infrastructure, which should ultimately help the industry move forward. I expect this will result in net gains for US investors and should foster innovation."
Like what you're reading? Subscribe to our top stories.
We will continue to update Gambling Chain; if you have any questions or suggestions, please contact us!