On Friday, the US Labor Department reported that seasonally adjusted nonfarm payrolls rose by 339,000 in May, well above the economists' expected 190,000 in a Wall Street Journal survey, marking the 29th consecutive month of gains. While the job market is hot, other indicators in the report, including a rise in the unemployment rate and a slowdown in wage growth, make it difficult to determine a signal for interest rate hikes.
The report showed the unemployment rate rising to 3.7% in May, above the expected 3.5%. The unemployment rate is the highest level since October 2022, but still close to the lowest level since 1969.
The main reason for the rise in unemployment was a sharp drop of 369,000 in the self-employed. This was part of a 310,000 decrease in employment in the household survey, which is used to calculate the unemployment rate and is often seen as more volatile than the establishment survey used for overall employment figures.
Meanwhile, the overall employment data growth was driven by increases in the service sector, whose staffing levels still seem below pre-Covid-19 standards. The leisure and hospitality industry added 48,000 jobs, while the healthcare sector added 52,400. Employment in the goods-producing sector continued to hold steady: manufacturing lost 2,000 jobs, while construction added 25,000.
The average hourly wage, a key inflation measure, rose 0.3% this month, in line with expectations. Wages increased 4.3% year-on-year, 0.1 percentage point lower than expected. The average weekly working hours decreased by 0.1 hour to 34.3 hours.
One message conveyed by the report is that the banking problems sparked by the Silicon Valley Bank collapse in March appear to have had little effect on the job market. While the decline in self-employed numbers may suggest people are finding it harder to get loans to start their own businesses, older companies do not appear to be laying off workers.
After the employment report was released, the probability of an interest rate hike in June increased slightly. According to CME Group data, traders briefly increased their bets on a 25-basis-point rate hike to 38%, falling back to below 30% at the time of writing.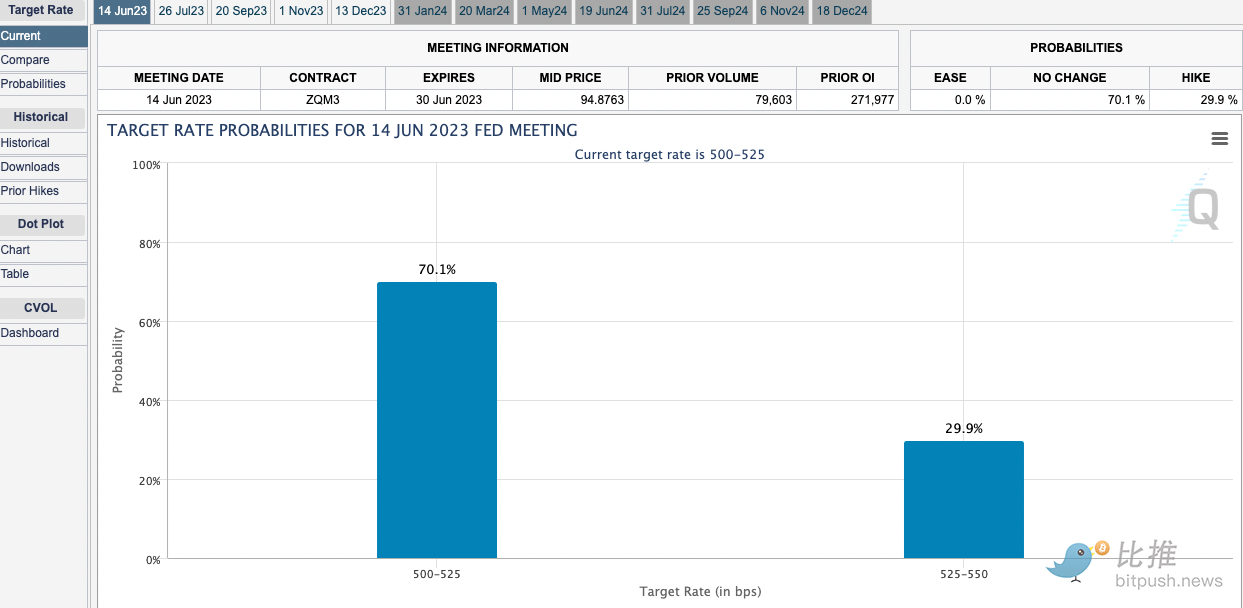 June Standstill
In recent weeks, Federal Reserve policy makers have been working hard to maintain their options, with some seeing inflation as still the main risk and others seeing the economy on the brink of recession.
Some Fed officials have said or suggested that they may keep rates unchanged at the June 13-14 meeting. Earlier, Patrick T. Harker, president of the Federal Reserve Bank of Philadelphia, said this week that he "definitely supports considering no rate hike at this meeting."
Philip Jefferson, nominated as Vice Chairman of the Fed, said on May 31 that the central bank is inclined to keep rates stable at the June 13-14 meeting so that policy makers have more time to assess the economic outlook.
Nationwide chief economist Kathy Bostjancic said in her report that the Fed seems "inclined to skip tightening policy in June, but could resume tightening policy in July. Today's strong employment data supports this action."
In addition, before the report came out, some forecasters believed that May's data could be affected by temporary factors.
According to the Wall Street Journal, Goldman Sachs economists believe that companies that increase employment in the summer will have difficulty recruiting people because of tight labor markets and many young people still in school. Morgan Stanley economists believe that factors used by the Labor Department to smooth seasonal fluctuations will push down employment. Despite these obstacles, the May employment report still showed such strong growth that the June employment report may also be very strong.
Half-Point Rate Hike in July?
With concerns about the U.S. debt ceiling and banking risks easing, the central bank's focus will be entirely on still high inflation and a much stronger than expected job market, with policy makers possibly raising rates again in July.
Former U.S. Treasury Secretary Lawrence Summers said Friday in an interview with Bloomberg that if the Fed chooses to postpone credit tightening this month, it should be open to a half-point rate hike in July.
Summers pointed out that economic forecasting organizations have underestimated the strength of job growth for 14 consecutive months, and the US labor market is still hot. This indicates that they have exaggerated the impact of monetary policy on the economy. He said, "I believe the Fed will eventually take sufficient measures to curb inflation, which will mean that the economy will be quite weak at some point in 2024."
Like what you're reading? Subscribe to our top stories.
We will continue to update Gambling Chain; if you have any questions or suggestions, please contact us!