Author: Karen, Foresight News
In the competitive and upcoming Layer2 race, Base, a Layer2 scaling solution built by Coinbase based on the OP Stack, was opened to developers in mid-July and officially released on August 10th.
Technology, killer apps, ecosystem, and incentives (expected) are necessary conditions for the long-term sustainable development of a Layer2 solution, and they are interconnected.
In terms of technology, Base relies on the open-source modular toolkit OP Stack, which is currently a leading Layer2 Optimism. OP Stack allows developers and projects to customize Layer2 networks according to their own requirements and access the Ethereum network to share security and resources.
As for killer apps, after experiencing the overnight myth of the Meme token BALD in the ecosystem, Base has attracted a lot of wealth effect. Although it suffered a sudden collapse shortly after, the high level of popularity can be seen from the fact that Base TVL exceeded $100 million before the official release of the mainnet. After the mainnet launch, the social application friend.tech, as the first viral social DApp on the Base chain, promotes the idea that "your social network is your net asset." It became popular on Twitter and in the crypto field overnight, and it greatly enhanced the influence of Base through social proliferation.
In addition, the expectation of potential airdrops has triggered a frenzy of interaction with Base. As a Layer2 solution that has been launched for a month and fully open for less than two weeks, the Base TVL data is very impressive. According to L2BEAT data, the current Base TVL has reached $240 million, ranking fifth in Layer2.
This article will summarize the Base ecosystem for readers. According to incomplete statistics, the number of projects in the Base ecosystem has exceeded 100, and the scale is relatively complete. Infrastructure occupies a large share, including but not limited to bridges, On-Ramps, wallets, oracles, and node providers. Base native DeFi projects also account for a large lock-up volume and trading volume, and many multi-chain DeFi projects such as Uniswap and Sushi have expanded to Base. Currently, mainstream NFT markets and minting tools such as OpenSea and ZORA have also integrated with the Base mainnet.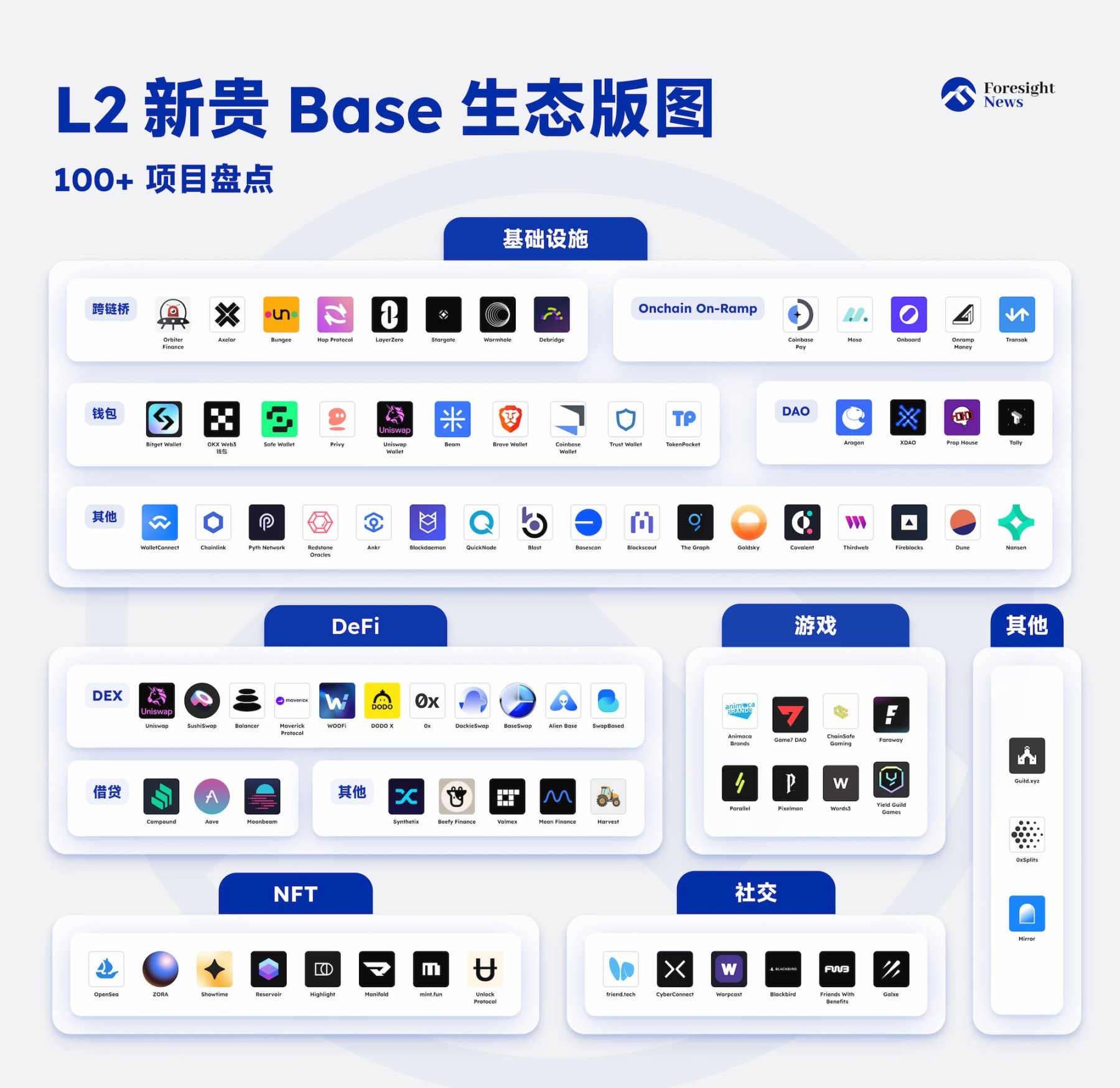 Infrastructure
Cross-Chain Bridges
In addition to the official Base bridge (only supports cross-chain ETH between Ethereum and Base), the Base ecosystem includes Orbiter Finance, Axelar, Bungee, Hop Protocol, LayerZero, Stargate, Wormhole, Debridge. The cross-chain bridges listed in the Base ecosystem portal, Across Protocol, Celer, do not currently support the Base mainnet.
Onchain On-Ramps: On-Ramps are considered important channels for fiat-to-crypto conversion or transfer to on-chain wallets. The current Base ecosystem On-Ramp projects include:
Coinbase LianGuaiy: Supports over 60 fiat currencies and more than 100 cryptocurrencies.
Moso: is a Web3 shopping assistant that rewards users for online shopping in the form of cryptocurrency. Moso states that the integration of Moso with Base's Layer 2 blockchain technology will enhance the entire shopping experience. Every transaction made through Moso at supported online merchants will be securely recorded on the Base blockchain.
Onboard: allows for the conversion of digital assets into local fiat currency, supporting Nigerian currency as well as bank transfers and mobile wallet payments. More currencies and payment methods will be added in the coming weeks.
Onramp Money: has integrated with Base, allowing the purchase of cryptocurrencies such as the Indian Rupee, Turkish Lira, Mexican Peso, and Dirham through instant bank transfers and local payment methods.
Transak: enables users to buy/sell cryptocurrencies in applications, websites, or web plugins, supporting 170 cryptocurrencies across 75+ blockchains through cards, bank transfers, and other payment methods in 155 countries/regions.
Wallets
OKX Web3 Wallet has added support for Layer 2 network Base and synchronously supports Base ecosystem DApps in the Discover section. Users can switch to the Base network with one click without manual configuration, seamlessly trade, store, and manage Base ecosystem assets, and explore Base ecosystem DApps using the OKX Web3 Wallet.
Privy brings Web2-level user experience (e.g., using email and social login) to Web3 products and allows users to link an unlimited number of external wallets, as well as providing out-of-the-box integration tools. The social app friend.tech uses Privy's MPC wallet.
Uniswap Wallet now supports Coinbase L2 network Base, allowing users to swap tokens and connect to Base DApps on the Base network.
The team behind decentralized cryptocurrency project Eco Protocol, Eco, has launched an encrypted wallet called Beam, which enables users to make payments on Layer 2 networks such as Optimism and Base. Beam incorporates account abstraction (EIP-4884) and other features, allowing the wallet to act as a smart contract and support functionalities like multi-factor authentication and wallet social recovery.
Other wallets that support Base include Bitget Wallet, Brave Wallet, Coinbase Wallet, Safe Wallet, Trust Wallet, TokenPocket, etc.
DAO
DAO solution providers Aragon and XDAO, community fundraising infrastructure built by Nouns DAO Prop House, and DAO exploration and support protocol Tally have all supported Base.
Other
WalletConnect, a communication protocol that enables wallets and applications to securely connect and interact, has also supported Base.
In terms of oracles, Chainlink, Pyth Network, and RedStone Oracles have integrated with Base, supporting Base developers' access to relevant sources and other Web3 services.
Tools and infrastructure that have gone live on the Base mainnet include node providers such as Ankr, Blockdaemon, QuickNode, and Blast, blockchain explorers like Basescan and Blockscout, data indexers such as The Graph, Goldsky, and Covalent, developer tools from Thirdweb, and cryptocurrency custody technology provider Fireblocks. Additionally, blockchain data analysis platforms Dune and Nansen have also supported Base.
DeFi
According to DefiLlama, as of the time of writing, the current TVL (Total Value Locked) on Base in DeFi is $170 million, with several native DeFi projects dominating the TVL, including BaseSwap ($54.57 million) and Alien Base ($24.10 million).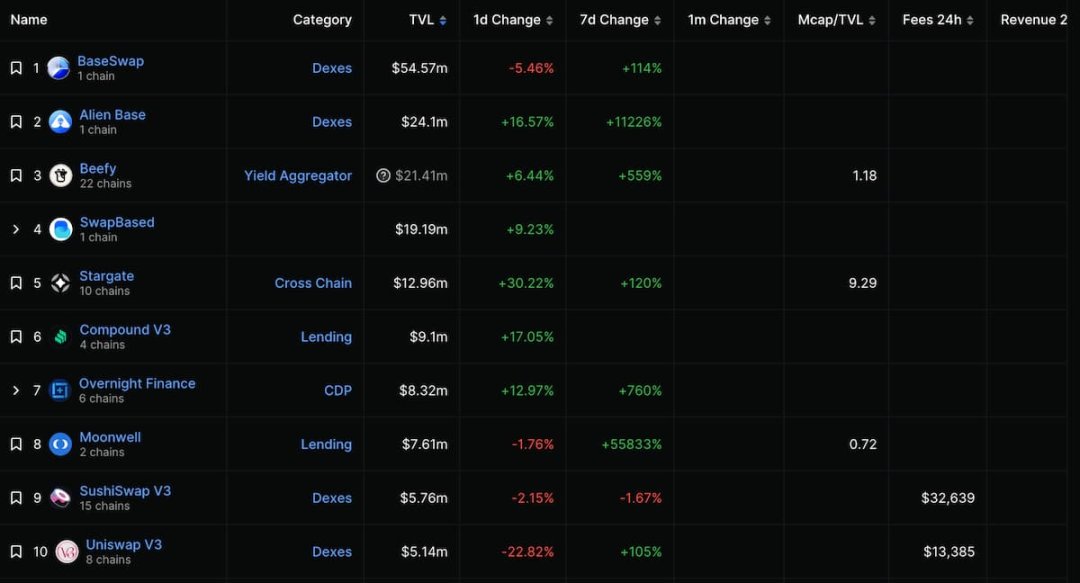 Source: DefiLlama
In terms of trading volume, in the past 7 days, the trading volume in the Base ecosystem has exceeded $400 million, with DackieSwap leading the way with a trading volume of $300 million in the past 7 days, followed by Sushi and Uniswap, both with trading volumes of over $40 million in the past 7 days.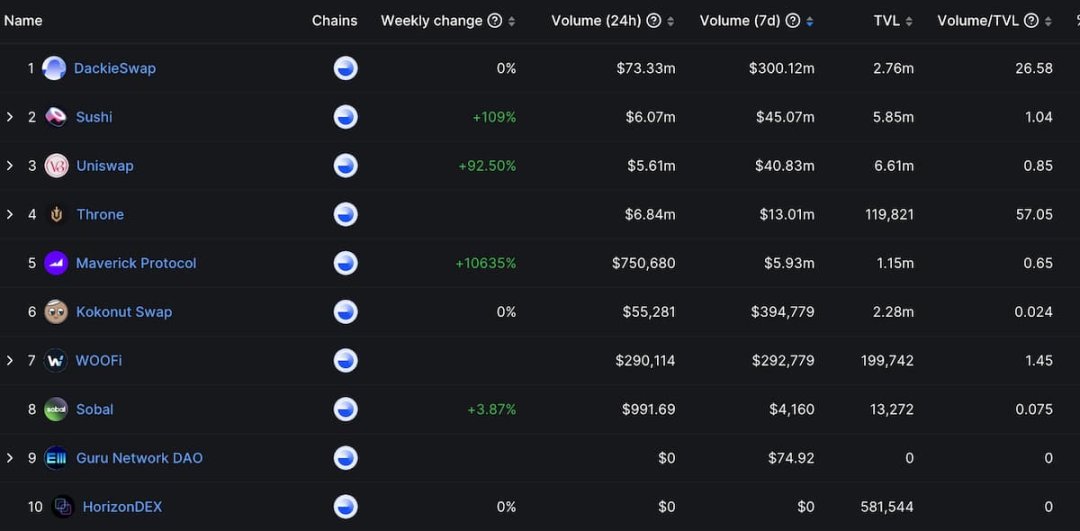 Source: DefiLlama
DEX
Uniswap, SushiSwap, Balancer, AMM protocol Maverick Protocol, WOOFi, and cross-chain aggregator DODO X have integrated with Base. DEX infrastructure 0x has also announced that the 0x Swap API is now live on Base, initially aggregating liquidity between Uniswap, Balancer, and Baseswap, with integration to additional liquidity sources coming soon. Other DEXs that have gone live on Base include:
DackieSwap
DackieSwap is a fork of Uniswap V3 and is the native DEX of the Base ecosystem, offering swapping and LaunchLianGuaid services, as well as allowing users to earn additional rewards through centralized liquidity market makers (CLMM). The founder of DackieSwap is Andrew Eddison (Twitter account: @BaseOnAndrew).
DackieSwap has been listed on DefiLlama, but has not yet appeared on the official Base website ecosystem portal. According to DefiLlama data, DackieSwap's trading volume in the past week has reached $300 million, with the main trading pair being WETH/USDbC ($280 million), but the locked value is only $1.7 million.
Considering that DackieSwap has already started conducting IDOs (Initial DEX Offerings), combined with Base just launching on the mainnet, users are reminded to pay attention to security.
BaseSwap
According to DefiLlama data, BaseSwap is currently the DEX with the highest locked value on Base, with a TVL of over $50 million as of the time of writing, accounting for nearly 42% of the $126 million locked value on Base.
BaseSwap allows for asset swapping, liquidity provision, mining, and also provides an NFT marketplace. However, BaseSwap has not yet been listed on the official Base ecosystem portal, so users are reminded to pay attention to security.
Alien Base
Alien Base is currently the second-highest TVL DEX on Base, with a current TVL of over $21 million. Alien Base's liquidity mining program allows users to provide liquidity and stake LP tokens to earn ALB tokens. In addition, staking ALB tokens also earns rewards and platform revenue, with up to 50% of platform fees going to the DAO. The following image is Alien Base's roadmap.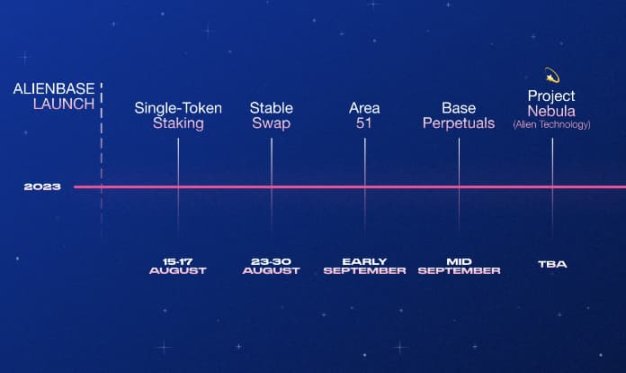 Alien Base is not included in the official ecosystem portal of Base.
SwapBased
SwapBased is also a native DEX protocol on Base, with a locked value of $19.31 million according to DefiLlama data.
In addition to providing liquidity (0.25% trading fee) and single-sided staking services, SwapBased also provides perpetual contract trading services. SwapBased is also not included in the official ecosystem portal of Base.
Lending
In mid-August, Compound, a lending protocol, has launched on Coinbase L2 network Base, supporting collateralized ETH and cbETH to borrow cross-chain USDC (USDbC on Base).
The proposal for "Deploying Aave V3 on Base" in the Aave community has been approved, and the relevant activation proposal will end on August 19th.
Other lending protocols that have been launched or will be launched on Base include Moonwell on Moonbeam, leverage yield strategy and lending protocol Extra, cross-chain lending protocol Pike Finance, etc.
Others
Beefy Finance is a multi-chain yield optimizer that currently supports 17 networks including Ethereum, Polygon, BNB Chain, Arbitrum, Optimism, Base, etc. Beefy's Vault investment strategy helps users unlock more yield through automatic compounding (auto-claiming, swapping, and reinvesting rewards).
Other DeFi projects such as synthetic asset protocol Synthetix, volatility protocol Volmex, dollar-cost averaging tool MeanFinance, yield aggregator protocol Harvest, etc., will also be launched on Base.
NFT
NFT marketplaces OpenSea, ZORA, Showtime, Reservoir, art generation platform Highlight, NFT minting platform and tools Manifold, mint.fun have supported Base. In addition, the NFT open-source protocol Unlock Protocol, designed for membership and subscriptions, has also integrated with the Base mainnet.
In addition, Coca-Cola has launched Masterpiece art collectibles on Base, bringing together iconic artworks and emerging works, all intertwined with Coca-Cola bottles.
Social
friend.tech
friend.tech is the first viral social DApp on Base, emphasizing "Your social network is your net asset". Using Privy's MPC wallet, users can purchase shares of any user on friend.tech through binding their user X (formerly Twitter) account, allowing them to have direct private conversations and potentially gain returns from it.
It is worth mentioning that friend.tech will start airdropping reward points to application testers from this Friday, planning to distribute 100 million points over 6 months (every Friday). The points are collected off-chain during the testing period and will have special purposes when the application is officially released.
At the time of writing, friend.tech has surpassed 68,000 independent users and has accumulated over 1.1 million transactions and nearly 30,000 ETH in total transaction volume within less than 10 days of launching the test version on Base.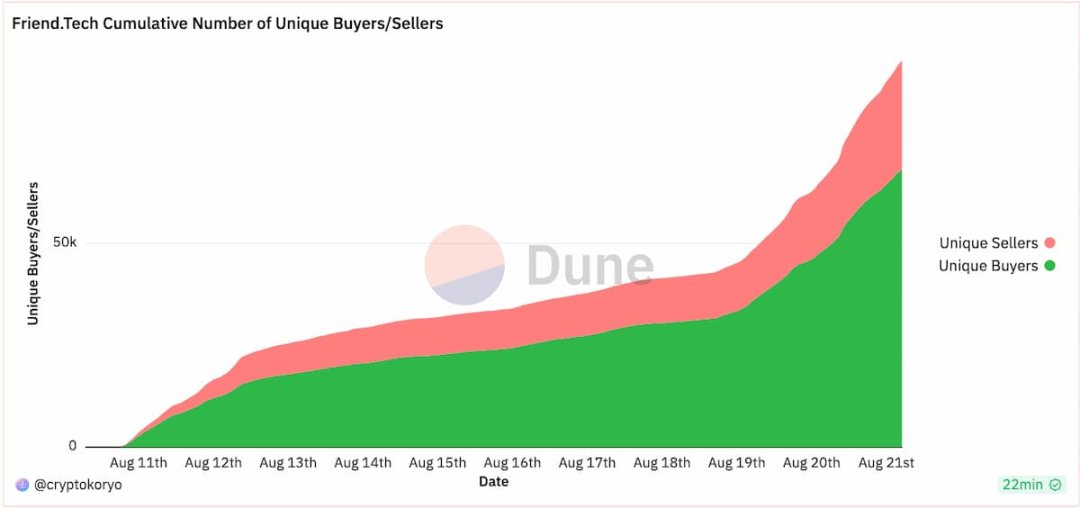 Source: Dune, cumulative number of buyers and sellers on friend.tech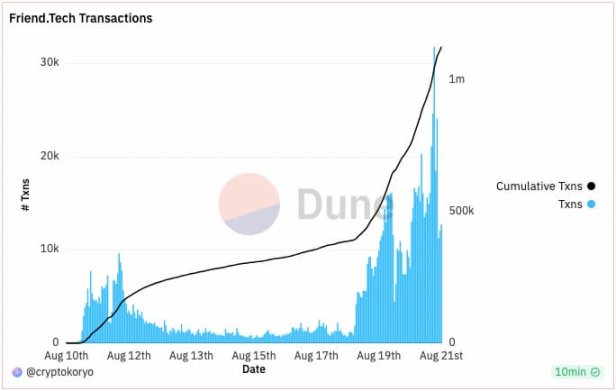 Source: Dune, transaction volume on friend.tech
CyberConnect
Web3 social layer CyberConnect announced this month that CyberAccount has been launched on CoinbaseL2 network Base, introducing smart accounts supported by ERCC-4337 to Base.
Warpcast
Warpcast is the client for the decentralized social protocol Farcaster, and NFTs on Warpcast now support display on Ethereum, Base, and ZORA.
Blackbird
Blackbird is a Web3 platform built for the hotel industry, focusing on establishing direct connections with its guests through loyalty and membership services.
In October 2022, Blackbird completed a $11 million seed round of financing, led by Union Square Ventures, Shine Capital, and Multicoin Capital, with participation from Variant, Circle Ventures, IAC, and others.
Other social networks that support Base include Friends With Benefits (FWB) and Web3 community event platform Galxe.
Games
According to Base's official website, AnimocaBrands, Game7 DAO, Web3 gaming solution provider ChainSafe Gaming, blockchain game company Faraway, NFT sci-fi card game LianGuairallel, adventure and competitive game Pixelmon, word puzzle game Words3, Yield Guild Games, and others are also part of its ecosystem as companies or projects.
Other
Guild.xyz is a management infrastructure that allows for automatic membership management for platforms already used by communities. Guild.xyz is introducing the Guild model into projects built on Base.
The 0xSplits modular smart contract enables secure and efficient on-chain payments, allowing users to split NFT sales revenue, recoup costs, diversify income sources, and withhold taxes, among other things.
Other platforms that support Base include decentralized content publishing platform Mirror.
It should be emphasized that the Base ecosystem is still in its early stages, and most projects have not disclosed security reports or team information publicly. Users are advised to exercise caution when participating.
Reference links: https://base.org/ecosystem https://defillama.com/chain/Base
Like what you're reading? Subscribe to our top stories.
We will continue to update Gambling Chain; if you have any questions or suggestions, please contact us!