Author: TOM MITCHELHILL, COINTELEGRAPH; Translation: Song Xue, LianGuai
The team behind decentralized social media platform friend.tech has refuted a report claiming that personal information of over 100,000 users has been "leaked."
The modified report, originally published by The Block, alleged that data released by Banteg, a pseudonymous developer of Yearn Finance, was "leaked" from friend.tech.
However, the friend.tech team clarified that this information came from scraping their public API.
"It's like saying someone attacked you by looking at your public Twitter information," argued the official friend.tech account.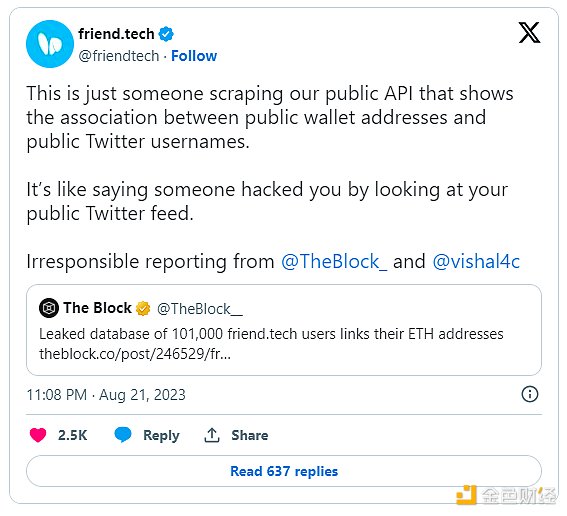 The post also received input from community contributors of X (previously known as Twitter).
"The basic data is public and anyone can calculate by reading the blockchain explorer: if you buy a share, 5% will go into the creator's wallet to provide funding for his wallet. The database only deletes this public information," the community statement explained.
Banteg initially released a publicly available repository of scraped data, which included detailed information of users on the friend.tech platform on GitHub.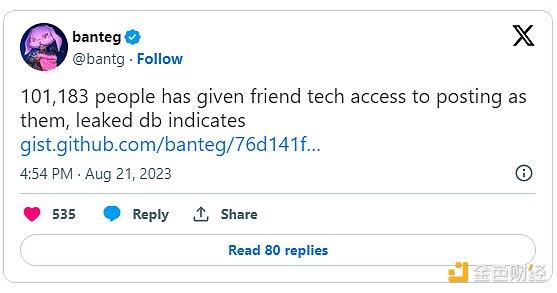 This data includes wallet addresses on Base linked to respective Twitter usernames of over 101,000 users.
"According to the leaked db (database), 101,183 people have granted friend.tech posting permissions," wrote Banteg.
Banteg also criticized the inaccurate interpretation of their initial post.
Meanwhile, a user named Satsdart shared a link to an Ethereum blockchain explorer, humorously claiming to have found "a leaked database showing all transactions on ETH."
It is worth noting that before Banteg released the data, blockchain analytics service Spot On Chain published an article that found friend.tech's API revealed specific sets of information that everyday users of the app cannot immediately access.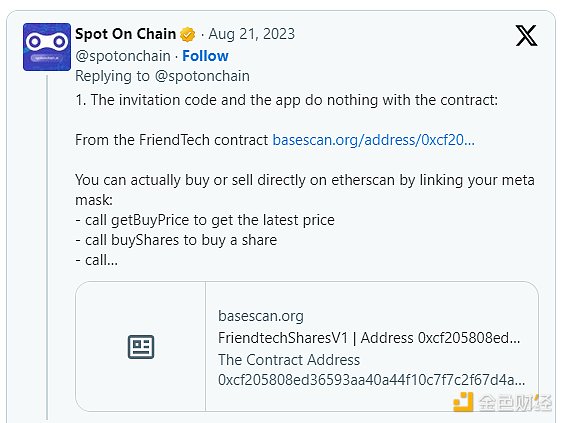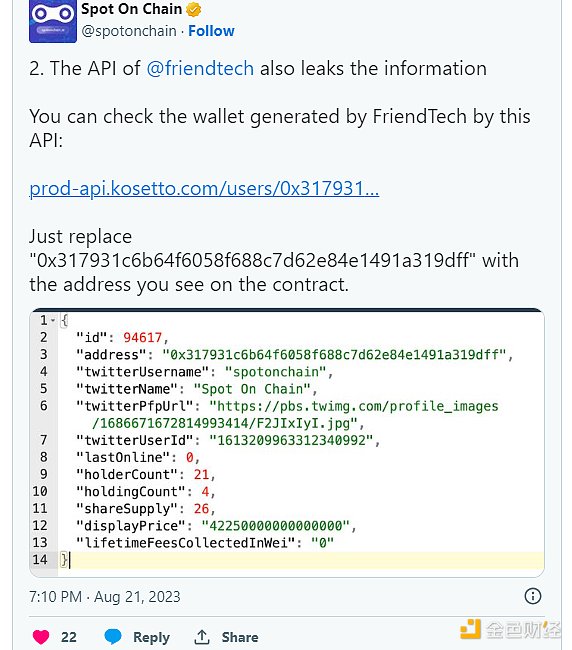 The most prominent example is that certain user-created wallets can be viewed through the API.
When asked about how this information can be used, Spot On Chain stated that it can be used to deceive the system, allowing bots to almost immediately purchase shares after registering as friend.tech.
"Many bots have taken advantage of this. It monitors contracts, finds big KOLs (Key Opinion Leaders), and buys shares before others," Spot On Chain wrote.
Since its beta launch on August 11th, friend.tech users have conducted over 934,000 independent transactions, with a trading volume of a staggering 34,320 ETH, equivalent to $57,101,116 at current prices.
Like what you're reading? Subscribe to our top stories.
We will continue to update Gambling Chain; if you have any questions or suggestions, please contact us!