Original author: Loopy Lu
Original source: Odaily Star Daily
On August 1st, Binance announced that Binance Launchpool will launch CyberConnect's token CYBER on August 15th. Since its launch, CYBER has become the market focus in ways that people never imagined.
CYBER first set a record high price of $36 on the Korean CEX, with a premium of up to 120% compared to other mainstream trading platforms. It then quickly passed the "rogue proposal" to unlock the token's super-circulating supply in just 12 hours. At one point, there was even the presence of the leading market maker DWF. In the following article, Odaily Star Daily will review together with you the absurd drama that happened over the weekend.
120% Premium, Controversy over Low Circulating Supply
The token economics of CYBER announced by Binance shows that the total supply of CYBER is 100 million, with 9% used for community rewards, 34% for ecological development, 25.12% allocated to private investors, 15% allocated to the team and advisors, and 10.88% included in the community treasury. CoinList's public sale and Binance Launchpool each allocate 3% of the tokens.
The initial circulating supply is very small compared to the total supply, with only 11,038,000 CYBER tokens, accounting for 11.04% of the total token supply.
At the beginning of Launchpool, the launch of this token did not attract much attention from the market. However, about a week after its launch, the listing of CYBER on Upbit made the project instantly "exciting".
On August 22nd, Upbit started trading CYBER. According to Coingecko data, Upbit's CYBER/BTC trading pair currently accounts for more than one-tenth of the market share of CYBER and is the second largest trading pair by volume. Yesterday, this data even exceeded 20% at one point.

The price of CYBER also soared with the active trading enthusiasm of Korean investors. At its peak, the price of CYBER was about four times its current price.
However, this price exists only in the Korean market. The "kimchi premium" once again brought some small shocks to the market.
On Upbit, CYBER reached a peak of about $36. On Binance, the highest price of CYBER was only $16.2. The premium rate on Upbit is about 120%.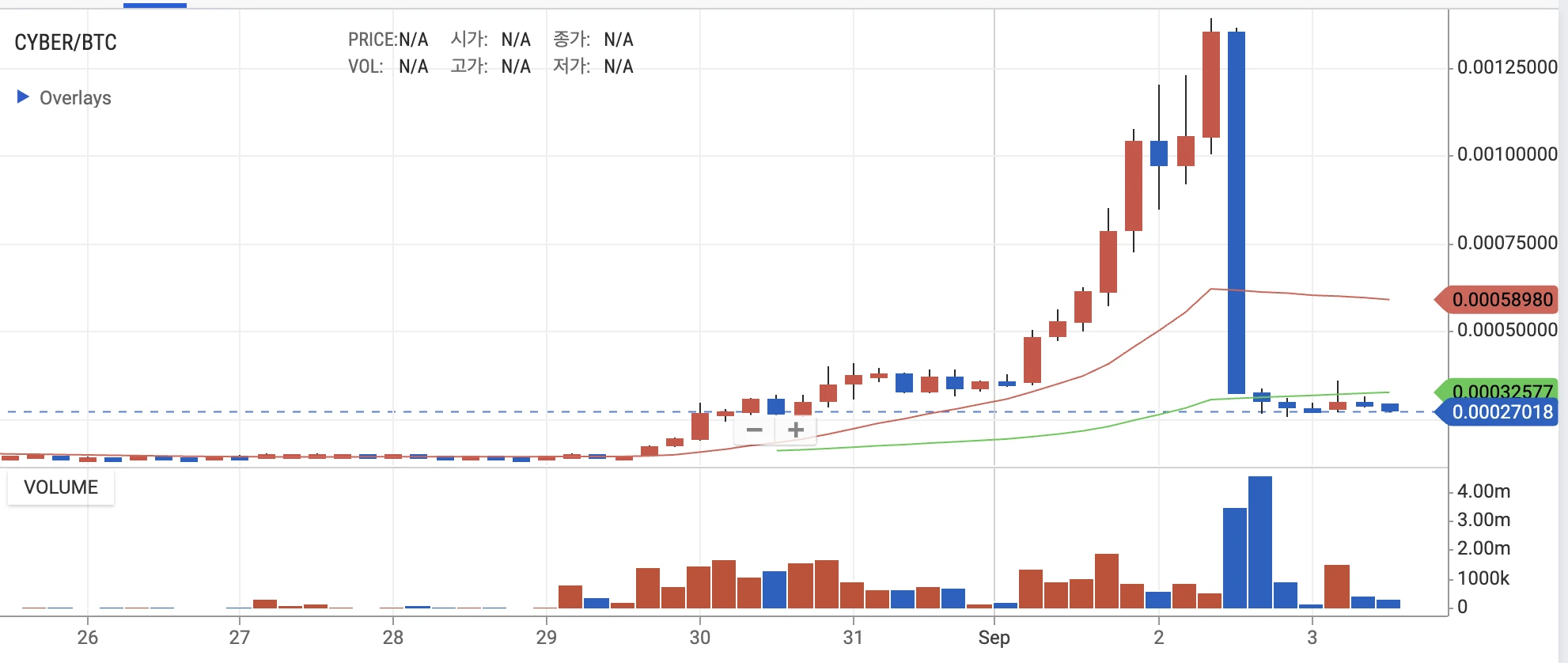 CYBER/BTC trading pair on Upbit
According to CyberConnect's official explanation, major Korean trading platforms only support CYBER deposits and withdrawals on Ethereum. Due to the lack of liquidity for CYBER on Ethereum, this has led to price differences.
However, an interesting fact is that at the time of the proposal release, the circulating tokens of CYBER include approximately 5.64 million CYBER-ETH, 2.4 million CYBER-OP, and 3 million CYBER-BSC.
Despite more than half of the circulation being dominated by the Ethereum network, the high premium is still puzzling. Is there no other reason for the strong premium of CYBER?
Upbit's large holdings may be a possible explanation. According to monitoring by 0xScope, on-chain data shows that Upbit's wallet address holds over 3.6 million CYBER tokens. This number accounts for 33% of the circulating supply.
As the largest holder of CYBER tokens, Upbit's holdings exceed those of Binance.
On the one hand, this reflects the enthusiasm of Korean traders for CYBER. On the other hand, CYBER also carries the risk of concentrated holdings and high control.
Another revealed action further strengthens this hidden concern. On August 31, the well-known crypto market maker DWF Labs deposited 40,000 CYBER tokens into the leading Korean market CEXBithumb, valued at approximately $360,000 at the time. If calculated at the historical high of $36, it would be worth over $1.44 million.
Coincidentally, within 24 hours after DWF entered the market, CYBER experienced a rapid rise and reached its historical high within 48 hours.
Unlocking more than 100% of token circulation: A misunderstanding
Early yesterday morning, a governance proposal from CyberConnect quickly extinguished the just-started frenzy.
CyberConnect issued an emergency proposal "CP-1". CyberConnect believes that due to the lack of CYBER cross-chain bridges on multiple chains, CYBER lacks multi-chain liquidity and therefore causes the high premium on CEX.
To solve this problem, token unlocking will be used to balance liquidity and solve the liquidity balance issue of CYBER between Ethereum, Optimism, and BNBChain networks.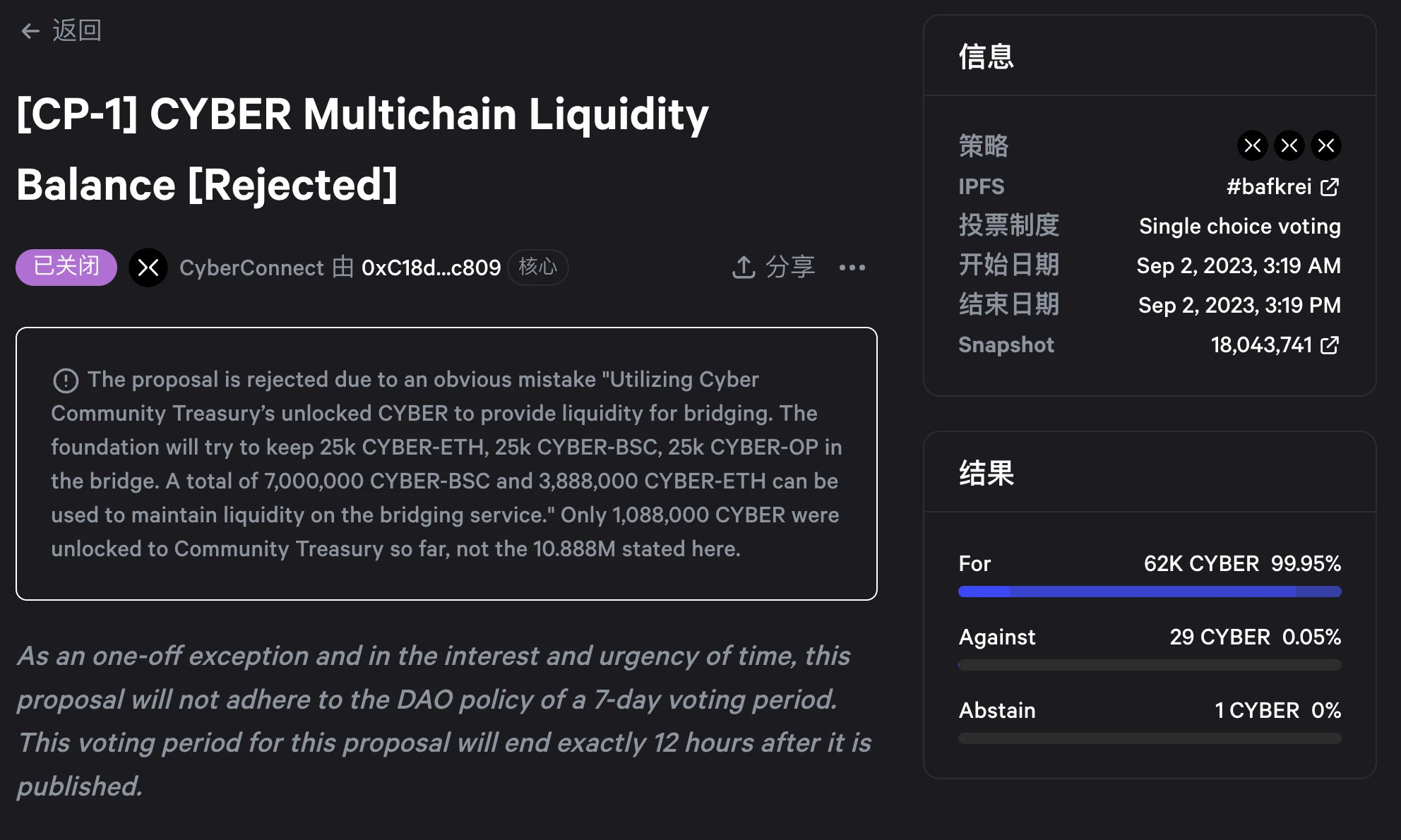 Specifically, it will be implemented in three steps:
Deploy CYBER-ETH, CYBER-BSC, CYBER-OP bridges supported by LayerZero's ProxyOFT.
Cyber DAO treasury will unlock CYBER and use it to provide liquidity for these bridges. The unlocked CYBER in the treasury is used to maintain the liquidity of the bridging service. Providing bridging services will not affect the total supply of CYBER.
A total of 7,000,000 CYBER-BSC and 3,888,000 CYBER-ETH will be unlocked.
Balance liquidity on each chain through token burning and minting. For example, when the CYBER-ETH in the treasury is depleted, new CYBER-ETH will be minted and an equivalent amount of CYBER-BSC or CYBER-OP will be burned.
As soon as the proposal came out, CYBER plummeted.
Coingecko data shows that the total circulating supply of CYBER is only about 11 million tokens, and this unlocking will unlock 10.88 million tokens at once, which is equivalent to the entire circulating supply, shocking CYBER investors.
After the proposal was released, CYBER plummeted by 67% on Upbit within an hour, and the decline on Binance was 26%.
After the plunge, a reversal occurred. The astronomically large token unlock turned out to be a mistake.
After confirming with CyberConnect, the official personnel stated that the unlock quantity of CYBER treasury should only be 1.08 million tokens. The description of 10.88 million tokens in the Snapshot is a typo. Although the on-chain vote has been approved, it will temporarily not be executed due to data errors.
Subsequently, CyberConnect issued a public statement stating that there was an error in the quantity of CYBER tokens unlocked in the proposal. The proposal has been declared invalid. It was also announced that a new proposal will be launched to address the previously mentioned liquidity issue.
"Centralized" Community Voting Farce
CYBER pointed out in the announcement that "although the official quickly abolished the proposal, it did not prevent rumors in the market, causing panic, uncertainty, and doubt about CYBER."
At the same time, they responded to the most concerned questions from the community: they "assured the community" that "there is no basis for market manipulation of CYBER tokens."
However, this proposal has further caused dissatisfaction within the community. Despite the assurance that market manipulation is baseless rumors, this proposal undoubtedly reinforces the "centralized" impression of CYBER for crypto projects.
For a crypto project, "decentralization" is the stance of every project (as advertised). However, on CyberConnect, we witnessed a ridiculous scene:
A user named "cybergov.eth" (cyber governance) initiated a vote with a validity period of only 12 hours. Only one user cast a decisive vote, accounting for 87% of the total votes.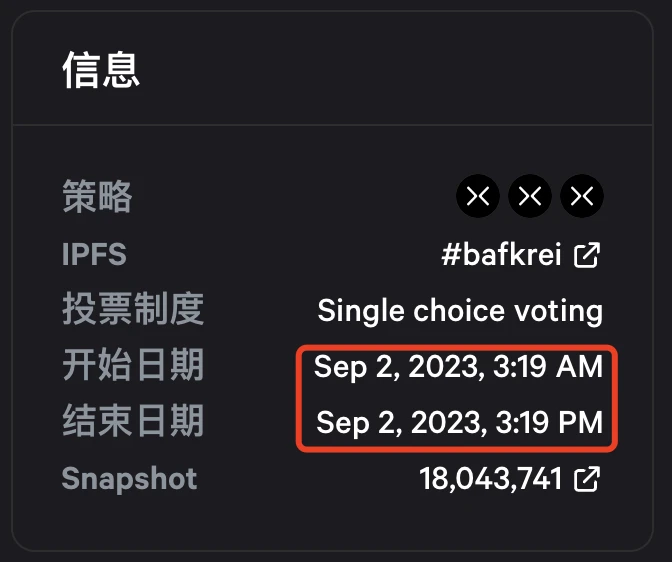 With the support of an overwhelmingly dominant user's vote, the proposal was quickly passed, but was then rejected by the official due to a writing error in the proposal.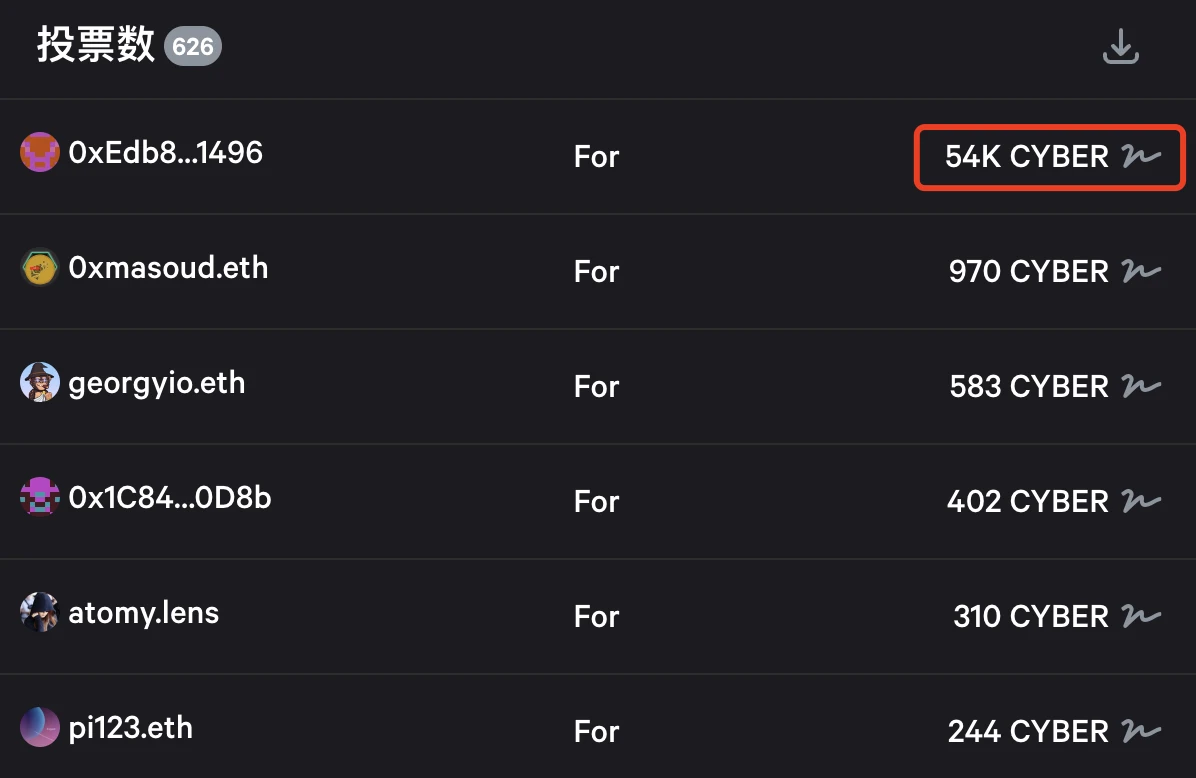 Indeed, such an absurd vote ultimately failed. But if the governance proposal had been successful, wouldn't it have become a "self-made, self-directed, self-performed" farce?
In the current on-chain world, "centralized" governance is still a common choice for the majority of projects.
What's next?
On-chain analyst Yu Jin monitored that starting from August 29th (when CYBER was priced at $7), the number of CYBER holdings in the Upbit wallet address continued to rise until noon on September 2nd (when CYBER was priced at $13), and the CYBER quantity held by the Up< <>.bit wallet address reached its peak at approximately 3.947 million tokens. This period of time coincided with the price surge of CYBER.
Now, the pressure has been put on Binance – Upbit's CYBER has flowed out 3.6 million tokens, with most of them flowing into Binance. It is hard not to suspect that it is a script for price manipulation. Will it be replayed on another CEX?
Like what you're reading? Subscribe to our top stories.
We will continue to update Gambling Chain; if you have any questions or suggestions, please contact us!