1. General Information
Official website: https://stargate.finance/
Twitter: https://twitter.com/StargateFinance
1. Stargate is a native asset cross-chain bridge built on LayerZero, solving the three difficulties that existing cross-chain bridges have not been able to solve, and currently supports 13 public chains.
2. Stargate currently has a TVL of $355 million, ranking first among cross-chain bridges. The most supported chains are Arbitrum, ETH, and Avalanche, and the largest tokens are USDT, USDC, and ETH. It may have benefited from the interaction of LayerZero airdrops, with protocol revenue in the past three months being more than 10 times that of the beginning of the year.
3. The circulating supply of STG is 204 million, with a market value of $110 million. Among them, 43 million coins are locked, with 25 million coins locked in January. This represents a 72% increase. For STG treasury chips, only 5.6 million STG has been used in the past year, which can be considered quite conservative.
4. The team and investor chips of STG have been unlocked, with a monthly unlocking amount of 6 million coins. Currently, a total of 15.89 million coins are held, with a reduction of 14 million coins. From this perspective, it is neither good nor bad.
2. Introduction to StarGate
Stargate is a fully composable native asset cross-chain bridge built on LayerZero. Users and dApps can transfer native assets across chains, while accessing the protocol's unified liquidity pool with instant guarantee of finality. Stargate runs on LayerZero's cross-chain protocol, which is a protocol that enables asset transfers between multiple blockchains. Stargate's vision is to make cross-chain liquidity transfers a seamless single transaction process.
Stargate currently supports Ethereum, BNB, Avalanche, Polygon, Fantom, Arbitrum, Optimism, Metis, zkEVM, zkSync, Base, Linea, and Kava.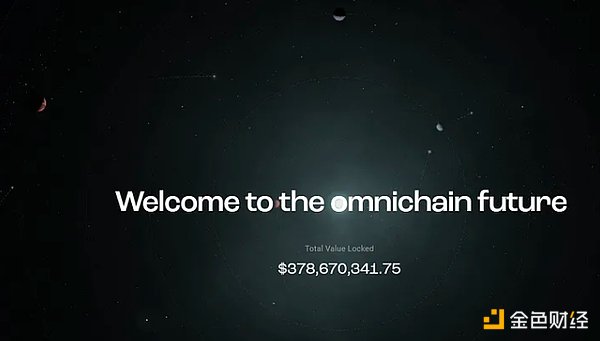 Advantages of Stargate
Compared to the difficulties triangle of other cross-chain bridges, Stargate is the first cross-chain bridge that satisfies all three. 1. Instant guarantee of finality: Users and applications can trust that when they successfully submit a transaction on the source chain, the transaction will reach the target chain. 2. Native assets: Users and applications exchange native assets, without the need to exchange additional wrapped assets to obtain the desired assets and corresponding fees. 3. Unified liquidity: Sharing access to a single liquidity pool across multiple chains can create deeper liquidity for users and applications in terms of trust bridge reliability.
Features of Stargate
DeFi users can cross-chain exchange native assets on Stargate in a single transaction. For example, users can swap USDC on Ethereum for USDT on BNB.

Applications can compose Stargate to create native cross-chain transactions at the application level. For example:

Your favorite DEX can compose Stargate to perform cross-chain swaps in a single transaction (i.e., exchanging AVAX with ETH in a single transaction, all within your favorite DEX's user interface.)

Your favorite yield aggregator can compose Stargate to cross-chain deploy assets and open up new APY opportunities.

These cross-chain swaps are supported by the community-owned Stargate unified liquidity pool.
Based on LayerZero
LayerZero is a cross-chain interoperability protocol designed for lightweight message passing. LayerZero provides real and secure message delivery through configurable trustlessness. It enables the sending of messages between blockchains, connecting assets, information, data, and contracts across different blockchains. This breaks the isolated state between blockchains. LayerZero provides a powerful underlying communication network structure on which various cross-chain applications can be built. With LayerZero, seamless interchain applications can be implemented, such as cross-chain DEX or multi-chain yield aggregators, without relying on trusted custodians or intermediaries.
Compared to other cross-chain bridges, LayerZero has the advantage of enabling direct transactions of native assets on different chains. Existing cross-chain solutions require an intermediate medium to complete transactions, while LayerZero enables efficient cross-chain communication without the need for intermediary coins and chains. The design of LayerZero terminals can easily be expanded to support any chain. In addition, the node design is lightweight enough to run on Layer1 (such as Ethereum) at a low cost.
III. StarGate Status

According to DefiLlama data, StarGate has a TVL of 353 million USD within cross-chain bridges, which is much higher than other cross-chain bridges. Compared to itself, the TVL in January this year was 380 million USD, with little change. The second-ranked is Hop protocol, with a TVL of 60 million USD.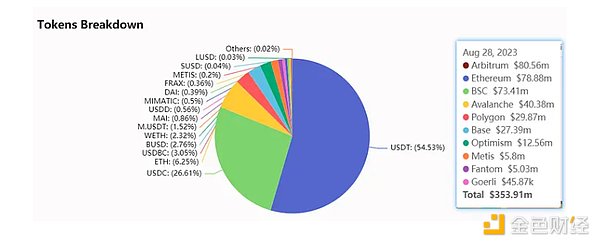 Looking at specific data, the chains with the highest TVL are Arbitrum, ETH, and Avalanche, with 80 million, 78 million, and 40 million respectively. In terms of specific tokens, the main ones are USDT, USDC, and ETH, with stablecoins USDT and USDC accounting for the majority.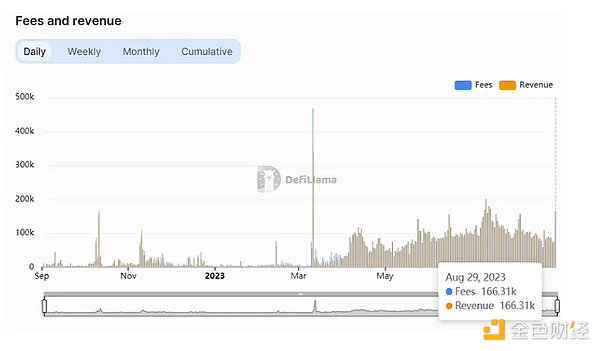 Although StarGate's TVL has remained basically unchanged in 2023, even decreasing slightly, its revenue has increased significantly. From January to March 2023, daily revenue fluctuated around 5,000 USD, and after April, daily revenue increased by about 10 times. Yesterday's revenue has already exceeded 166,000 USD. Since there have been no changes in fees for StarGate, the increase in revenue mainly comes from an increase in users.
However, this growth still needs to be observed, especially after the arb airdrop in March. The expectation of the LayerZero airdrop has attracted a large number of studios to enter. And StarGate is what they will generally use in their interactions.
IV. Token Economy
4.1 Token Distribution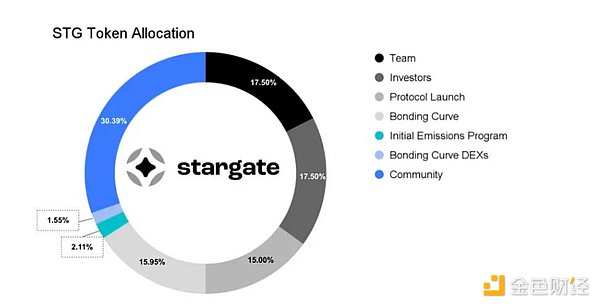 The initial supply of STG is 1 billion tokens, with the TGE (Token Generation Event) taking place on March 18th, 2022.
1) 17.50% – Stargate Core Contributors (1-year lockup, followed by 2-year linear unlocking).
2) 17.50% – Investors (1-year lockup, followed by 2-year linear unlocking).
3)65.00% — Stargate community allocation, dedicated to realizing the vision of the protocol: making cross-chain liquidity transfer a seamless single transaction process. Here are the details of the community allocation:
15.00% — Stargate protocol launch.

10.00% to STG auction buyers. Priced at 0.25U, locked for 1 year, bought by Alameda

5.00% to the STG-USDC pool on Curve.fi.

15.95% — Initial joint curve sale on various chains, with STG sold immediately unlocked.

2.11% — Initial mining. (Completed, all in circulation)

1.55% — Used for DEX on BNB, Avalanche, Polygon, Arbitrum, Optimism, and Fantom.

30.39% — Used for future community incentives and long-term development of Stargate.
Note:
1) The joint curve sale of 15.95% of STG ends when it reaches a 3x price and may not be completely sold, so the exact amount in circulation is unknown. It starts at 0.5U and ends at 3U, with a cost of 1.5U.
2) After the project starts, a community auction is initiated, with an allocation of 2% of STG, locked for 1 year and linearly unlocked over 6 months. The 2% tokens are not mentioned in the whitepaper and may be the unsold portion of the 15.95% joint curve sale.
4.2 Circulation and Unlocking
As we cannot access the actual sale information from the joint launch, we cannot calculate the circulation of STG ourselves. According to the official data, as of August 30, 2023, the circulating supply of STG was 204 million tokens, accounting for 20.43% of the total supply.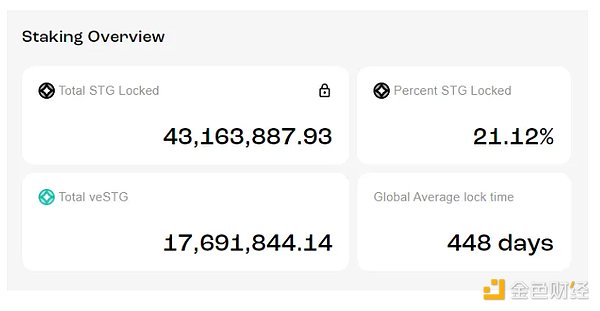 Currently, 43.16 million STG is staked, accounting for 21.12% of the circulating supply. This ratio is considered moderate. However, the average staking period is as long as 448 days, which is a concerning figure and indicates that these STG stakers have high expectations for the project's future.
4.3 Token Functions
Users can stake STG to obtain veSTG, with the weight of veSTG allocated based on the lock-up period. veSTG can be used for:
1) Governance: veSTG can be used for voting governance.
2) Fee distribution: Each non-STG transfer through the Stargate protocol generates a fee of 6 basis points. The fee distribution breakdown is as follows:
Treasury: 4 basis points

veSTG holders: 1 basis point

Liquidity providers: 1 basis point
Five, On-chain Analysis
5.1 Holdings Address Distribution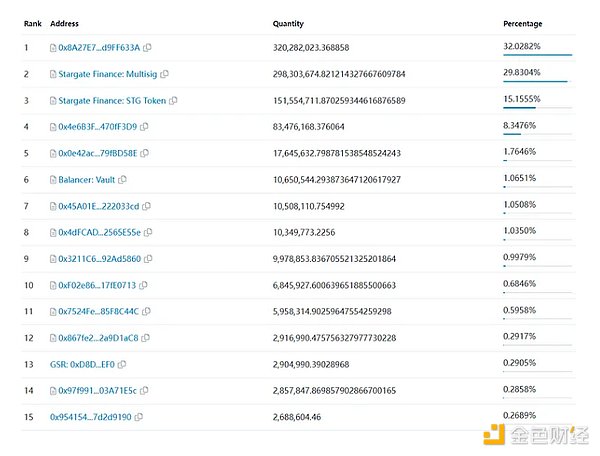 Holder Address 1: Locked for 1 year for core contributors and investors, initially allocated 35%. Unlocking started on April 18, 2023. 29.72 million tokens have been unlocked, with an average monthly unlocking of approximately 6 million tokens.
Holder Address 2: Corresponds to community incentives and long-term development of Stargate, initially allocated 30.39%. Now 29.83%. Used for over a year.
Holder Address 3: STG tokens on other chains.
Holder Address 4: Alameda Research, unlocked from Holder Address 7.
Holder Address 5: Locked address.
Holder Address 7: Auction chips, locked for 1 year, initially allocated 10%. 900 million unlocked and transferred to Holder Address 4.
Holder Address 8: 2% from community auction, locked for 1 year. 10 million unlocked, 10 million remaining locked.
Holder Address 9: Curve: STG-USDC.
Holder Address 10: Alameda Research.
Holder Address 14: Reflects FTX, presumably originally for market-making STG tokens on FTX.
5.2 Analysis of Main Addresses
0x65bb797c2b9830d891d87288f029ed8dacc19705
This address is the second largest holder address, used for community incentives and long-term development of Stargate, initially allocated 30.39%, now 29.83%. In other words, it has only used 0.56% since launch, which can be considered very frugal.
We analyzed the flow of STG from this wallet in the past six months and found that it mainly flowed to two places. The first is Balancer: Vault, and the second is used for LP mining rewards. The third is a wallet used for community incentives.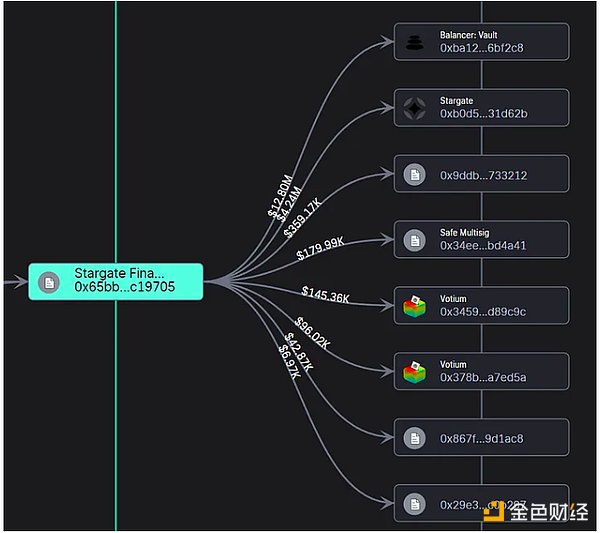 5.3 Analysis of Investor and Team Unlocks

According to the token whitepaper, the shares of team and investor are 17.5% + 17.5%, totaling 35%. After launch, they are locked for 1 year, and according to on-chain queries, unlocking started on April 18, 2023. 29.72 million tokens have been unlocked, with an average monthly unlocking of about 6 million tokens.
The author tracked the on-chain addresses and found a total of 98 outgoing addresses. Currently, they hold a total of 15.89 million tokens. They have sold 14 million STG tokens, some of which were transferred to other addresses and some were staked.
Among them, there are 12 addresses that unlock 100,000 STG tokens per month. It can be seen that 4 of these addresses have not been used at all. 6 addresses have sold tokens, and 2 addresses have emptied their balance.
Overall, from the analysis of the unlocked tokens by investors and the team, it can be considered neither good nor bad.
Like what you're reading? Subscribe to our top stories.
We will continue to update Gambling Chain; if you have any questions or suggestions, please contact us!