Author: Colin Harper, Content Manager at Luxor Technologies
Translation: Luffy, Foresight News
Original Source: Forbes
The Bitcoin industry, especially the mining industry, is no stranger to hype. And now, a new technology has emerged: artificial intelligence.
ChatGPT and other large-scale language model programs (commonly referred to as AI) have made waves in the workplace and online world this year. Consequently, references to artificial intelligence have naturally appeared in cryptocurrency news.
For example, some Bitcoin miners have openly stated that they are seizing opportunities in the field of artificial intelligence, trying to make outdated hardware useful. However, this does not mean that every company is executing the same functions as AI data centers or achieving the same scale. In fact, the tasks performed by this outdated hardware are very different from those required for typical AI services, and some miners are simply profiting from chasing the trend.
Can Bitcoin miners provide AI services? The situation is complex
In the past few months, HIVE, Hut 8, and other Bitcoin mining companies have announced new high-performance computing (HPC)/artificial intelligence strategies. Most of the computer hardware they own has been phased out due to Ethereum's transition to a proof-of-stake consensus mechanism, which ended the era of Ethereum mining. Some miners claim that they can rent out their computing power for high-performance computing (although Hut 8 has been doing so since 2022).
High-performance computing is a general term for any number of data center tasks. However, when miners talk about HPC, they specifically refer to cloud computing or graphic rendering. Hut 8 earned $4.5 million from such services in the first quarter and $4.3 million in the second quarter, while HIVE's pilot project earned $200,000 in the first quarter. However, the mining company did not mention any HPC revenue in its filings with the SEC for the second quarter. Hut 8 has signed a contract with Interior Health in British Columbia to provide high-performance computing services until 2028. The company acquired a 6 MW facility that provides these services when it acquired Toronto TeraGo's data center business in 2022.
These types of computations are different from training AI models or providing support for ChatGPT. Miners do not have the appropriate computing devices to support such work, nor do they have the necessary power and network infrastructure (AI computations require at least 1 TB of network bandwidth per second, which industrial-scale mining facilities cannot meet as their bandwidth is typically 1 GB per second).
The cost of a true AI data center could be 10 to 20 times the price per megawatt of a Bitcoin mining facility (according to data from the ERCOT, one megawatt can power about 200 homes in Texas). Additionally, the power cost of such facilities would be double that of miners' current costs, potentially reaching 15 cents per kilowatt-hour. In the United States, Bitcoin miners typically pay 5-8 cents per kilowatt-hour.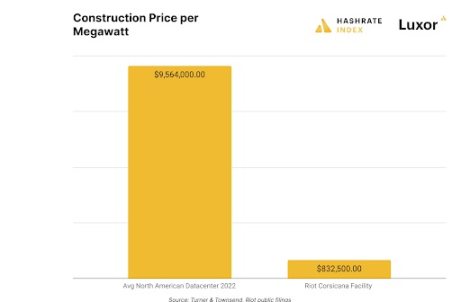 The cost of running HPC facilities is much higher than that of Bitcoin miners
Riot Platforms estimates that the cost per megawatt of power capacity for the Bitcoin mining facility it is about to build near Corsicana, Texas, is $833,000, with an initial construction capacity of 400 megawatts.
In contrast, the average cost of North American HPC data centers is $9.5 million per megawatt (according to Turner & Townsend's 2022 Data Center Cost Index).
The high cost is due to the complexity of these data centers. They require higher-quality power infrastructure and network equipment, not to mention they need more space, better cooling, and more powerful backup generators to ensure 99.99% uptime in the event of a power outage. In short, these miners do not have the funds or market capabilities to build artificial intelligence systems, let alone the ability to build a traditional data center.
This cost applies only to traditional high-performance data centers and may not apply to data centers with driving engine features such as Open AI's ChatGPT and Microsoft's Bard.
Miners may try high-performance computing, but not AI
Many Bitcoin mining companies were born out of a sudden shift in business lines, but at this stage of development, these companies should be cautious in trying to contain the hype of technologies such as HPC/AI.
The two largest publicly traded Bitcoin miners, Riot Platforms and Marathon Digital, announced their Bitcoin mining businesses in 2017, but these companies were already listed before entering the cryptocurrency market. Marathon Digital's predecessor was Marathon LianGuaitent Co., which profited from buying and selling various technology patents, while Riot was a pharmaceutical company.
Both companies have become among the world's largest Bitcoin miners, so this transformation has paid off.
However, for a major Bitcoin miner, transforming its mining facility into an AI data center would be extremely difficult and costly. It is also worth noting that in the traditional data center market, miners will compete with the world's most powerful tech companies such as Google, Amazon, and Microsoft.
Applied Digital is an exception: it is a data center company that also helps clients host Bitcoin mining equipment. This distinction is important because traditional data center operators find it easier to deploy Bitcoin mining equipment on-site than miners starting from scratch to build a data center. The AI hype wave of 2023 pushed Applied Digital's stock price up to $10.24, but as of the writing of this article, the stock has fallen significantly to $5.68. As shown in the graph below, Applied Digital and mining stocks are currently hot, so we advise investors considering these stocks to proceed with caution.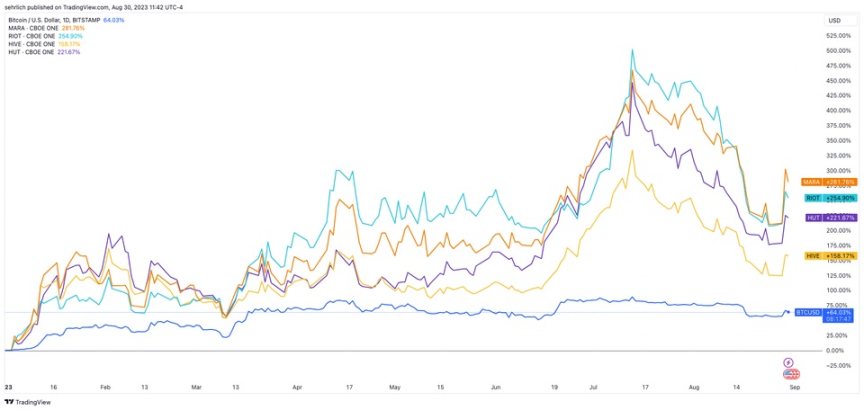 This year, Bitcoin mining stocks have soared along with related assets, but many hope that artificial intelligence can regain its bullish momentum.
Summary
When the hype subsides, the market will tell us which companies are in a favorable position to seize the wave of artificial intelligence.
For miners, they can provide graphic rendering services, but they do not use their mining hardware for ChatGPT. So when you see artificial intelligence in a press release, don't be confused, it may not be what you imagine.
Like what you're reading? Subscribe to our top stories.
We will continue to update Gambling Chain; if you have any questions or suggestions, please contact us!