Author: Ignas, Crypto KOL
Translation: Felix, BlockingNews
On May 24th, according to reports from multiple community and social media users, there were abnormal delays in the arrival of Multichain cross-chain funds. Subsequently, Multichain tweeted that although most cross-chain routing of the Multichain protocol was running normally, due to force majeure, some cross-chain routing could not be used, and the time of service restoration was unknown. After the service is restored, pending transactions will be automatically deposited. BlockingNews has learned from multiple sources that Zhao Jun, co-founder and CEO of Multichain, is currently missing. Chandler Guo, founder of the Fusion Foundation and former co-founder of Multichain, also tweeted that he has not been able to contact Zhao Jun yet.
For a time, various speculations arose, and there were even rumors that the Multichain team had been arrested. Due to the fearful, hesitant, and suspicious market sentiment, the daily trading volume of cross-chain bridges increased fivefold. Some people assert that Multichain has fallen, but Crypto KOL Ignas disagrees and, based on on-chain data indicators, believes that the suspension of Multichain did not cause a large outflow of funds.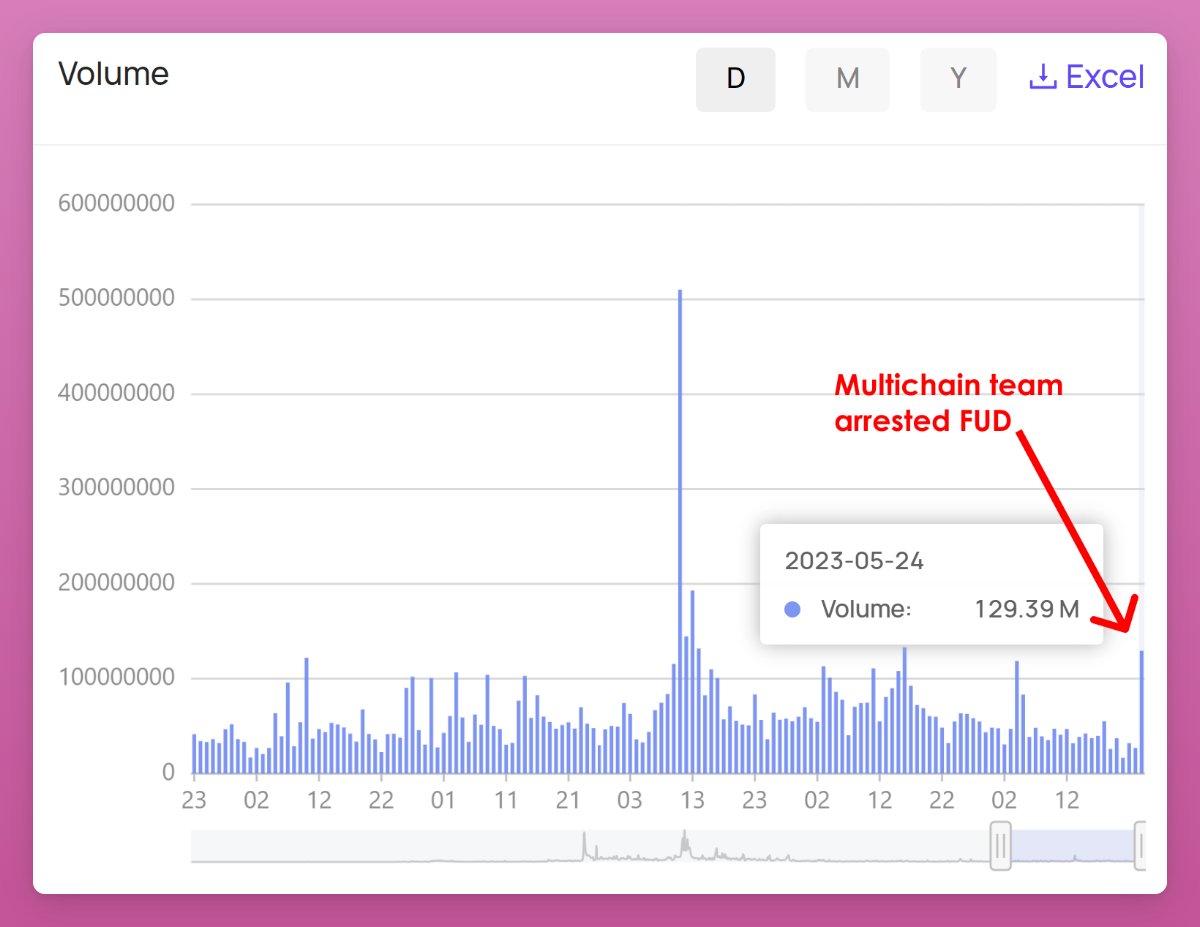 The transaction volume of Multichain is $129 million, second only to Stargate. However, if the scope is narrowed, the trading volume of cross-chain bridges does not show clear signs of panic.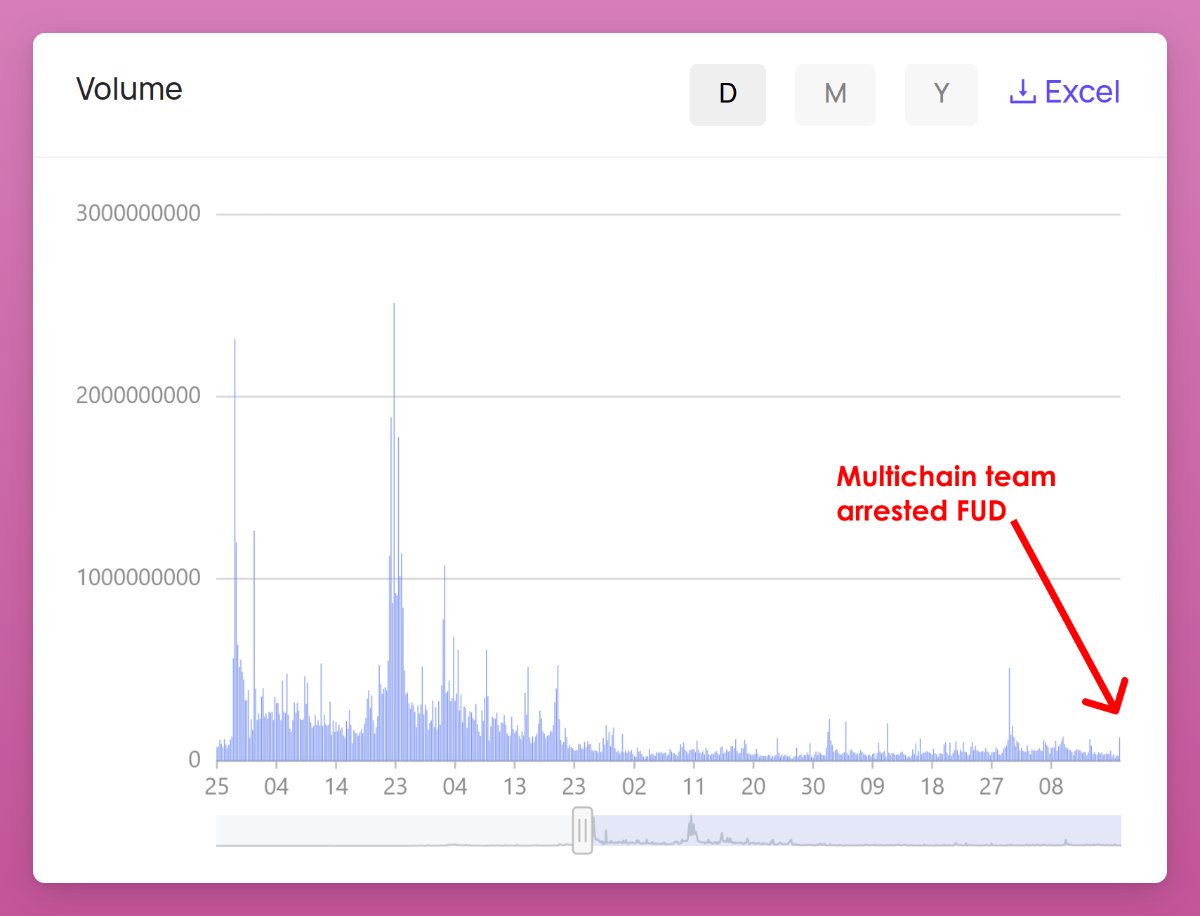 Thane Field Capital's research department An Ape's Prologue tweeted that the Fantom series has the largest risk exposure to Multichain:
First, 35% of the total lock-up volume (TVL) is locked on Multichain, and a large part of the assets on that chain are issued by Multichain.
Second, Multichain issued 40% of the Fantom assets, not including its native token FTM. These assets (mainly wrapped assets) total $650 million, indicating a serious dependence on Multichain.
Third, in terms of stablecoins, Multichain's stablecoin issuance in the Fantom ecosystem is worth $458 million, accounting for 81% of the total stablecoin market value ($567 million) in the Fantom ecosystem, with USDC leading at $194 million.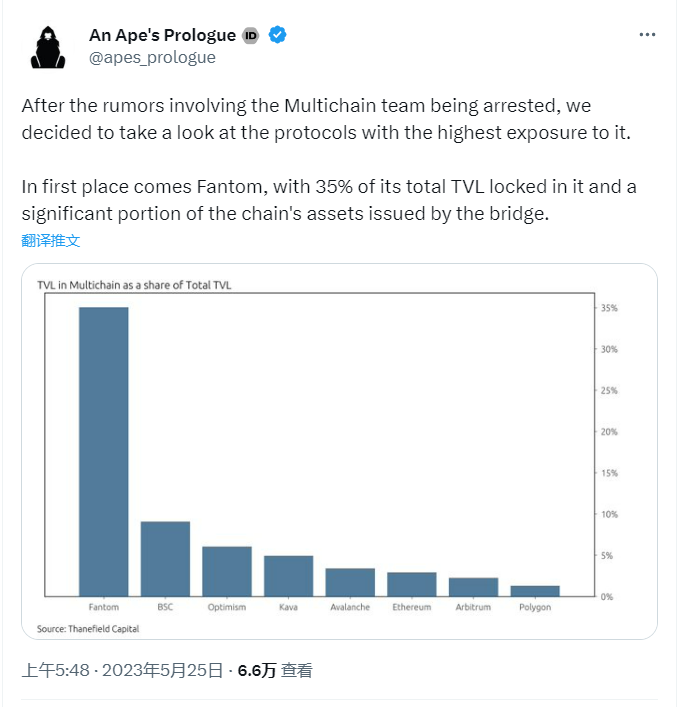 It can be inferred that a large amount of market funds should flow out, but in fact, the amount of funds extracted is only $18 million more than the amount deposited. This is only 1% of its total TVL of $1.78 billion, so there is not much panic here.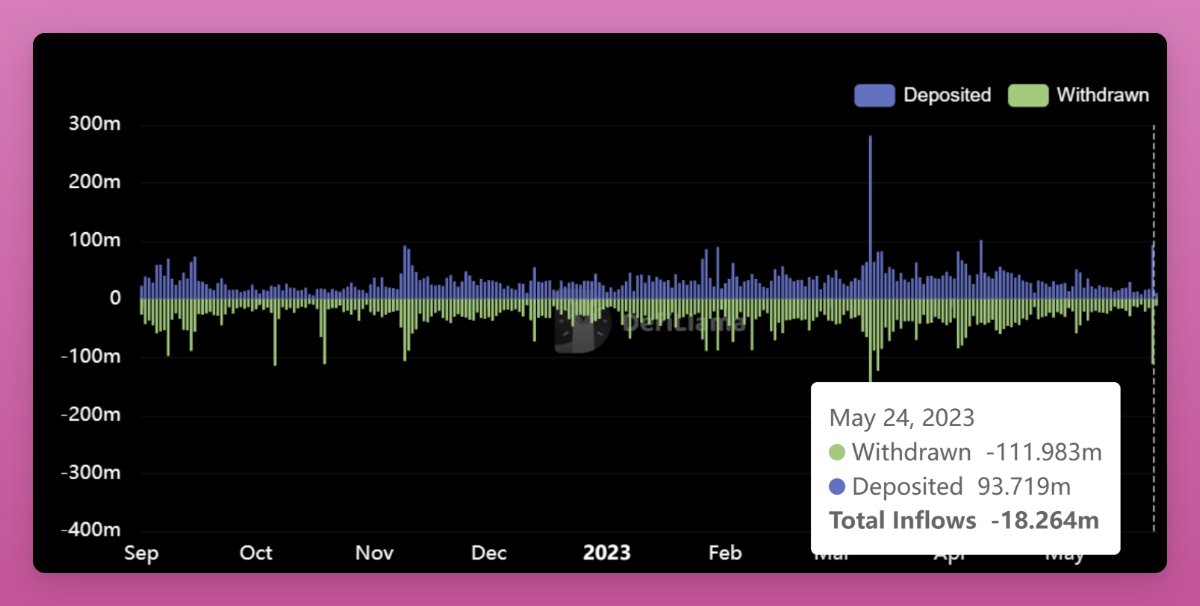 Due to its dependence on Multichain, Fantom should have experienced a large outflow of TVL. Although TVL has fallen by 9.55% in dollar terms, the data shows no significant outflow of funds.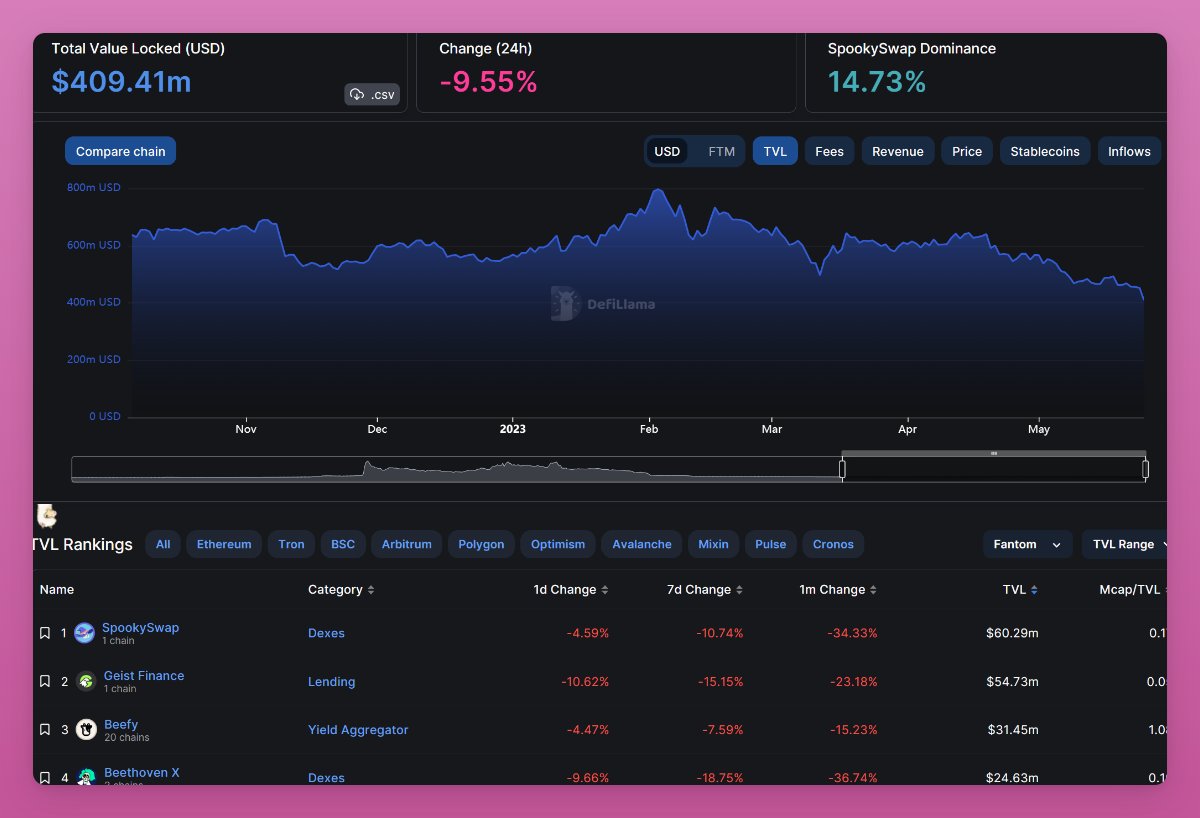 The most obvious sign of panic was the Multichain LPs on Fantom. LPs withdrew a total of $33 million from Fantom, while deposits were only $1.7 million.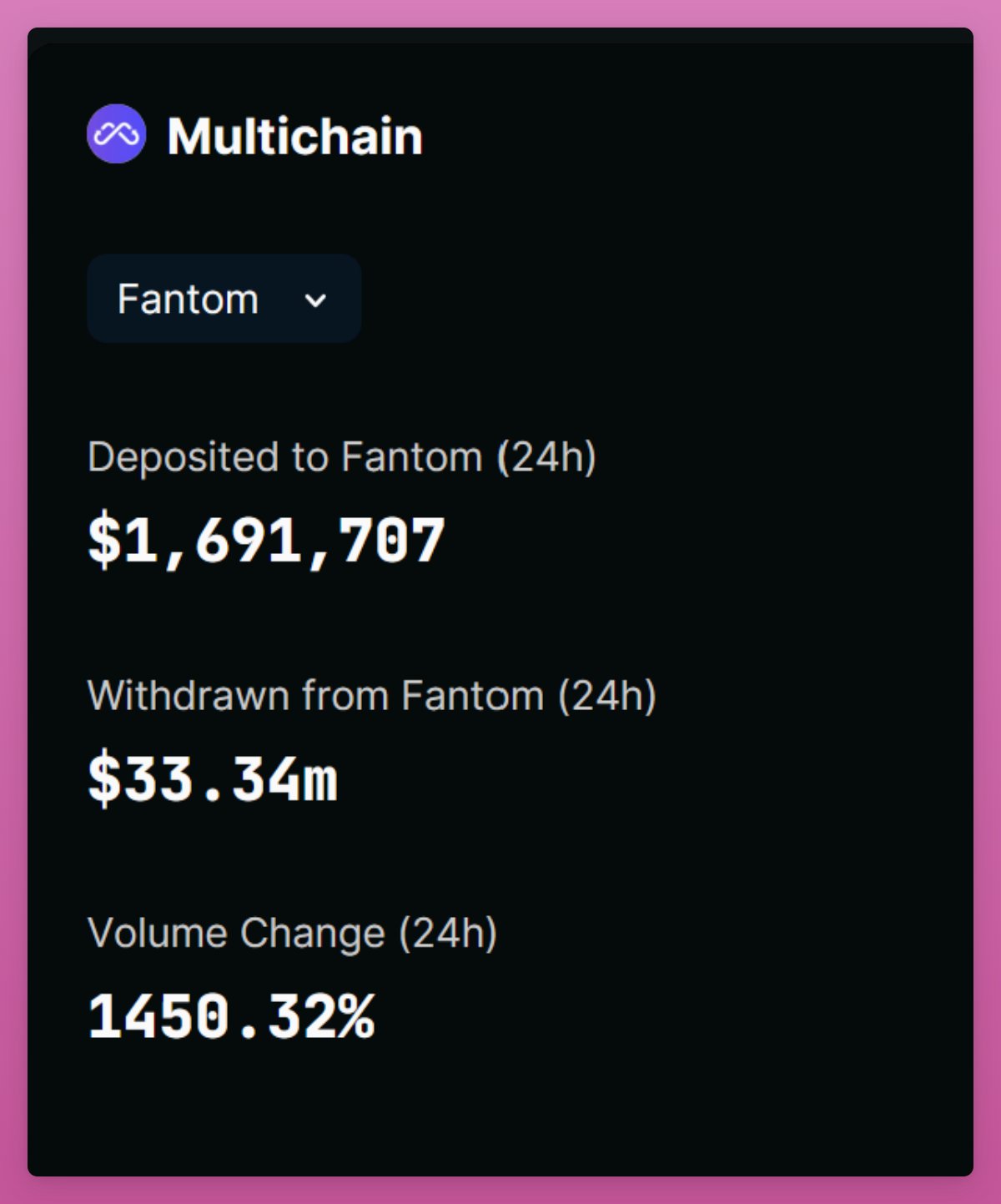 According to Multichain officials, "some cross-chain routing is temporarily unavailable due to force majeure," and Kava, zkSync, and Polygon zkEVM routing are temporarily suspended. There are 83 transactions waiting to be processed for more than one day.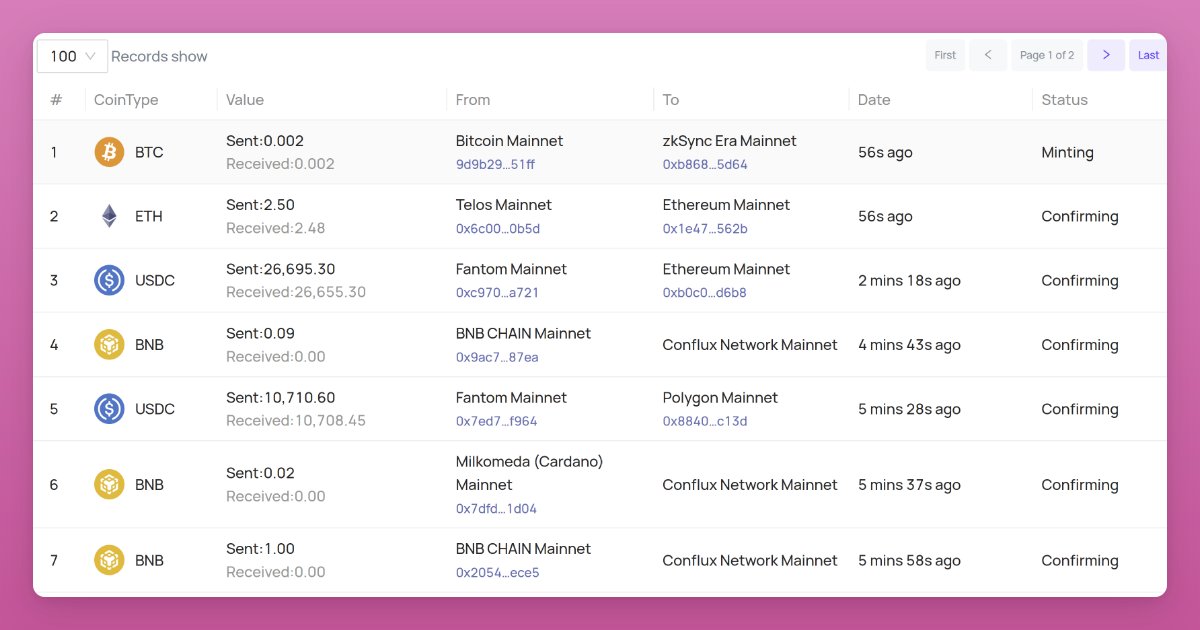 Perhaps the worst is yet to come, but on-chain data does not show a large outflow of funds. However, it is worrying that there is a lack of communication between teams.
Finally, quoting Vitalik's view on cross-chain bridges:
"Try to minimize reliance on cross-chain bridges."
If you are concerned about asset security, it is best to leave tokens on their native blockchains. The future direction of the event may change quickly, and BlockingNews reminds users to pay attention to asset security.
Related reading: Why Are Cross-Chain Bridge Accidents Frequent?
Like what you're reading? Subscribe to our top stories.
We will continue to update Gambling Chain; if you have any questions or suggestions, please contact us!