Author: BEN STRACK, compiled by blockworks: Blocking, Shanyouba
Volatility Shares will launch its first product providing leverage exposure to CME traded futures after the latest wave of physical Bitcoin ETF applications. The firm plans to launch its 2x Bitcoin Strategy ETF (BITX) for the first time this Tuesday, according to a spokesperson who spoke to Blockworks. The fund aims to track twice the excess return of the S&P CME Bitcoin Futures Daily Rolling Index over one day. The company spokesperson said in an email to Blockworks, "Now, US crypto traders will be able to conveniently and liquidly gain leveraged Bitcoin exposure via traditional brokerage accounts without needing to use crypto exchange accounts in the legal uncertainty."
Journey of Approval
The US Securities and Exchange Commission (SEC) allowed Bitcoin futures ETFs to be listed in October 2021. The first ETF asset launched by issuer ProShares quickly grew to $1 billion. The assets it manages still remain at around that level.
Although the US Securities and Exchange Commission approved Bitcoin futures contract products traded on the Chicago Mercantile Exchange (CME), the agency appeared to question leveraged products at the time. Valkyrie introduced its own Bitcoin futures ETF in October 2021 and detailed plans for a leveraged BTC futures ETF a few days later, aimed at providing 1.25 times Bitcoin reference rate exposure through holdings of futures, swaps, options and forwards. The firm withdrew the application a few days later. A source familiar with the matter told Blockworks at the time that the SEC had asked Valkyrie to withdraw the filing. It is not clear what has happened since, including any apparent shift by the US Securities and Exchange Commission on the matter. Volatility Shares declined to comment on specific interactions with the SEC.
"We do not comment on individual investment products," an SEC representative told Blockworks in an email. Financial futurist Dave Nadig of data firm VettaFi told Blockworks last month that he "doesn't believe" leveraged Bitcoin futures ETFs will ultimately launch. "If they do, I suspect their lifespan will be short, and they will be used only for the narrowest retail use cases," he said at the time.
Is the SEC letting go of Bitcoin?
The launch of Volatility Shares comes after a wave of applications for Bitcoin ETFs from fund issuers and exchanges in recent weeks, marking the latest round of bidding for ETFs that directly hold Bitcoin.
Despite attempts by fund issuers for nearly a decade, the US Securities and Exchange Commission (SEC) still does not allow so-called spot Bitcoin ETFs to be listed.
But Bloomberg intelligence analyst James Seyffart and Eric Balchunas said last week on Twitter that the SEC's willingness to allow leveraged Bitcoin futures ETFs may indicate a general "reduction" in Bitcoin products.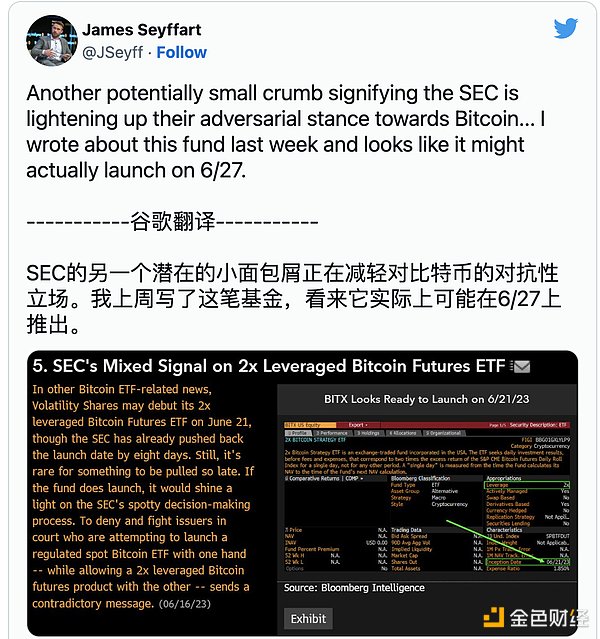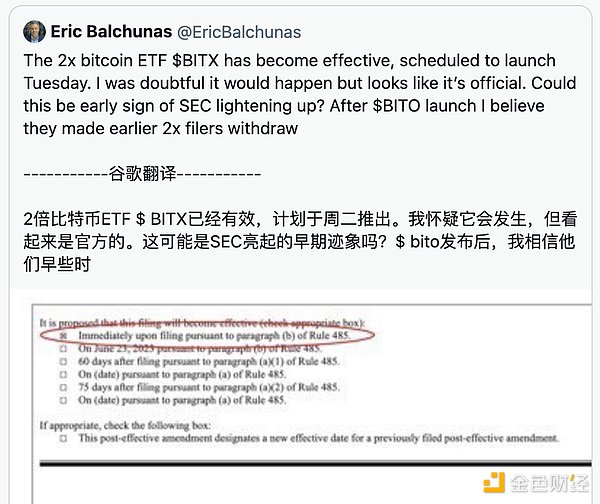 However, James Butterfill, research head at CoinShares, told Blockworks that the supervision of Bitcoin futures contracts by the CME was a "key reason" for the approval of the Volatility Shares proposal.
He added that the SEC's main hesitation in approving spot Bitcoin ETFs was whether spot exchanges were being properly regulated.
Butterfill said, "If BlackRock can meet the regulatory requirements for proper oversight of spot exchanges, then a spot ETF is likely to be approved." "In any case, I expect the approval process to take some time."
Like what you're reading? Subscribe to our top stories.
We will continue to update Gambling Chain; if you have any questions or suggestions, please contact us!