Author: Blocking, Climber
On July 11th, Alluviall, the developer of the Liquid Collective liquidity collateral protocol for institutional clients, announced the completion of a $12 million Series A financing, led by Ethereal Ventures and Variant, with participation from Brevan Howard Digital, Avon Ventures under Fidelity, IOBC Capital and other institutions.
Last May, Alluviall received support from Coinbase and cryptocurrency collateral project Figment, with Coinbase Cloud and Figment becoming validators for Alluvial's new protocol. In addition, Alluvial also raised $6.2 million in seed funding from strategic participants such as Coinbase Ventures, Kraken, Figment, and Kiln.
As an LSD track project targeting enterprises and institutions, what is Alluvial and the Liquid Collective protocol it developed? Why can it receive capital support of $12 million in the A round? Blocking will explain this potential rising star in detail.
Alluvial
Alluviall is a remote software development company registered in Delaware, and the Liquid Collective Foundation is registered in the Cayman Islands. The team is mainly distributed in the United States, Europe and Dubai.
Specifically, Alluvial is a software development company that supports the enterprise-level liquidity collateral protocol Liquid Collective, mainly supporting the adoption of Liquid Collective through an API-first product approach, which simplifies the integration of liquidity collateral for digital asset exchanges, custody institutions, and other enterprises.
The team's goal is to make it easy for marginalized participants who are marginalized by existing liquidity collateral options to obtain enterprise-level liquidity collateral across multiple blockchains.
There are two major problems in the current liquidity collateral market. First, decentralized protocols built on encrypted native solutions have already created innovative solutions, but from the perspective of compliance and security, such protocols cannot meet the needs of institutions. Second, large custody institutions and exchanges have "liquidity" collateral, but the capital efficiency is not high, and the collateral is concentrated in a single entity.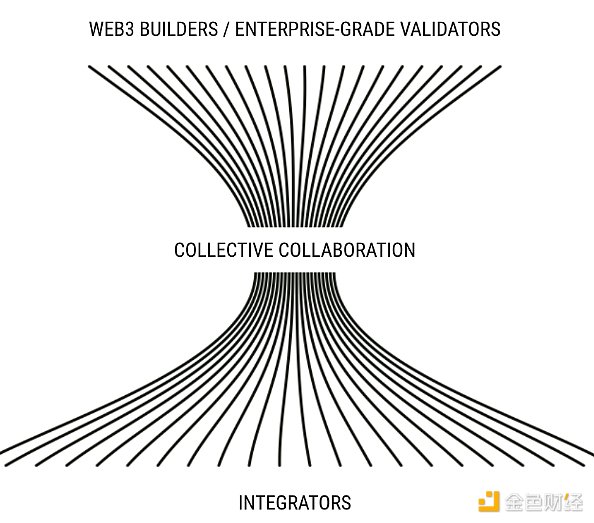 Therefore, by working with Web3 builders, enterprise partners, and leading validators, Alluvial creates new standards for institutional liquidity collateral, thereby solving the above problems. The Liquid Collective protocol can provide functions that meet the needs of mature enterprises, such as KYC/AML checks, enterprise-level security, and powerful monitoring and reporting.
Liquid Collective
Liquid Collective is a protocol developed in collaboration with leaders from different industries to meet the demand for enterprise-level liquidity collateral standards. Once this standard is widely adopted, it will be able to improve the liquidity and composability of the web3 economy while meeting the highest levels of security and compliance requirements for enterprises and institutions.
Liquid Collective is managed by an independent industry alliance, with initial members including the Liquid Foundation and other web3 industry participants. The protocol will eventually offer multi-chain functionality and will be managed in a decentralized manner by a broad and decentralized community of industry participants.
When users deposit into the Liquid Collective protocol, they receive an equivalent Token. This is primarily used to demonstrate their legal and ownership rights to the underlying collateral assets and any network rewards generated, including penalties for protocol service fees and network fines.
Features:
Security and compliance: Verification technology from enterprise-grade infrastructure is used to support secure pledging; mandatory KYC/AML for users and operators contributes to compliance.
Cross-protocol: Collaborate with top teams on other blockchains to provide native liquidity rights solutions on each network.
Loss protection: The protocol provides significant loss protection to each participant.
Focus on providing liquidity: Industry-leading integrators (i.e. exchanges and custodians) are used to support liquidity.
Ecosystem Composition:
Liquid Collective is an ecosystem composed of software components and service providers.
1. Software components:
The core components of the protocol are a set of Ethereum-based smart contracts that support institutional liquidity collateral, including:
▪ ERC20 cToken contracts for LsETH.
▪ Allowlist contract containing a list of addresses of whitelisted users who can deposit and withdraw.
▪ Operator Manager allows node operators to manage validator keys.
▪ Oracle contract allows arbitration reports from Oracle operators to consensus layer data.
Off-chain components:
▪ CLI command-line tools that can be used by node operators.
▪ Daemon service for Oracle operators.
▪ Various APIs to facilitate access by whitelisted users to the protocol, monitor various data related to the protocol and notify agents, etc.
Conclusion
Due to multiple cryptocurrency company defaults in 2022, the credibility of CEX and CeFi lending services are at an all-time low. Market participants are becoming more cautious and prefer conservative financial products with principal protection. Therefore, crypto financial services need to release more structured products with principal protection to meet these needs and maintain their current operational level.
LSD is a good option, especially with the development and release of more enterprise-level liquidity staking protocols in 2023. Alluvial, the developer of the enterprise-level LSD protocol, has taken advantage of this trend and raised a total of 18.2 million USD in seed and Series A funding for protocol development and team expansion.
Furthermore, the rapid growth of cbETH and rETH this year indicates that there is huge growth potential in liquidity staking business, and Liquid Collective, a new enterprise-level protocol, may also share a piece of the pie from Lido.
Like what you're reading? Subscribe to our top stories.
We will continue to update Gambling Chain; if you have any questions or suggestions, please contact us!