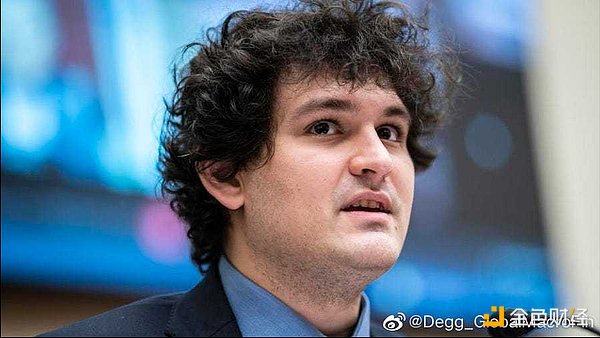 1. SBF (full name Sam Bankman-Fried, also known as "exploding head", Figure 1) should be said to be a famous person in the crypto circle. When he was just 30 years old, he was on the Forbes list because of his total assets of 17 billion US dollars. Some people called him a currency together with Ethereum founder Vitalik, Binance founder Zhao Changpeng CZ, and TRON founder Justin Sun (Justin Sun) Circle "Four Heavenly Kings". SBF resigned from the famous hedge fund Jane Street in 2017 and joined the currency circle. The earliest Bitcoin arbitrage trading in Japan and the United States was established, and then the quantitative cryptocurrency fund Alameda Research (hereinafter referred to as Alameda) was founded, focusing on crypto asset market making and start-ups. Crypto asset company venture capital.
2. The protagonist of this story, the FTX exchange, was established by SBF in 2019. The reason for its establishment is simple: SBF was not satisfied with the exchanges on the market, so it decided to set up one of its own. Naturally, Alameda became FTX's earliest and most important market maker, providing a lot of liquidity to FTX. FTX's slogan is "for traders, by traders". With its good infrastructure and user experience, FTX has rapidly grown into one of the top five exchanges in the world in three years, and has broken arms with the old exchanges such as Binance.
3. The market's evaluation of SBF is mixed. What is ruined is that SBF often sells its crypto assets quietly and in large quantities in the secondary market, causing heavy losses to retail investors who followed the trend in the early stage. It is known that SBF has repeatedly rescued institutions in the currency circle that have fallen into financial difficulties this year, such as the Three Arrows Capital (3AC), which rescued the thunderstorm, was once regarded as JP Morgan in the world of encrypted assets.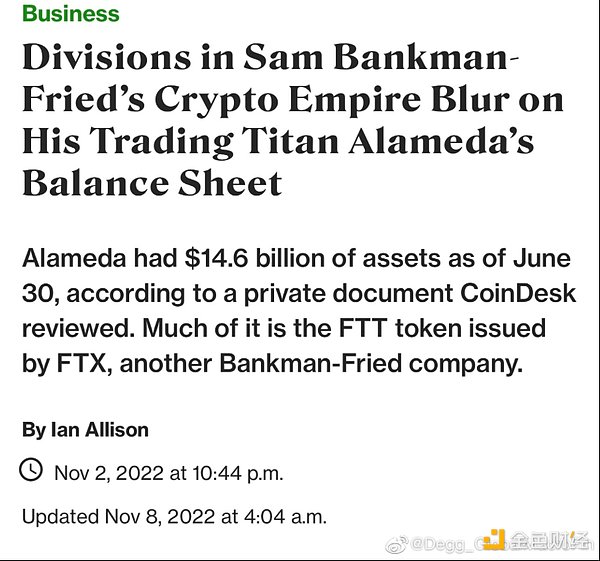 4. The origin of the whole story is a report published by Coindesk on November 2 (Figure 2). According to the report, it obtained Alameda's balance sheet and found that there was an "excessively tight" link between Alameda and FTX – Alameda held a large amount of FTX's token FTT. Specifically, as of June 30, 2022, 3.7 billion of Alameda's cumulative $14.6 billion in total assets are unlocked FTT, and 2 billion are FTT collateral. In addition, there is more than 1 billion US dollars of SOL (the token of another major encrypted asset project invested by Alameda, the representative of the new generation of smart public chain), while the cash and cash equivalents are only 130 million US dollars. The liability side includes more than $7.4 billion in dollar-denominated (rather than currency-based) loans.
5. FTT is the management token of FTX. If market makers hold FTT, they can enjoy more favorable transaction rates and earn higher referral commissions. FTX also uses 1/3 of its own profits to continuously repurchase FTT, which is similar to the repurchase of shares by listed companies, which is essentially equivalent to stock dividends.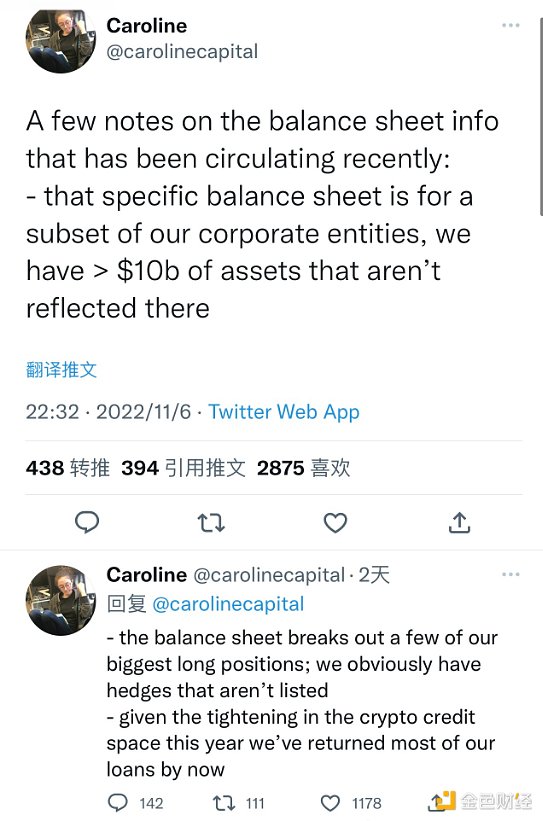 6. Alameda CEO Caroline Ellison subsequently confirmed the content of the report (Figure 3), but she also stated that (1) these assets are only a part of Alameda's total assets, and its other assets of more than 10 billion US dollars are not reflected. (2) Alameda apparently hedged these long positions, but again it was not shown. (3) Due to the credit crunch across the market, Alameda has repaid most of its borrowings.
7. Although SBF announced in May this year that it would withdraw from the management of the Alameda fund, saying that it would focus on the development of FTX, the market generally believes that the business connection between Alameda and FTX is still continuing. The prevailing view was that FTX would give Alameda a higher priority order flow, allowing the latter to trade earlier than other traders to earn higher profits. But Coindesk's report made people understand that FTX is not only Alameda's data source, but also Alameda's "piggy bank". Alameda has a good investment strategy but lacks capital, which is why SBF desperately needs an exchange that can take in a lot of money from cryptocurrency traders. This is the fundamental purpose of FTX's establishment.
8. With the source of funds, Alameda is only one step away from making more money: finding a "legitimate" path to lend users' funds. And this "legal path" is a mortgage loan, or more precisely, borrowing money from FTX with a large amount of FTT held on hand as collateral. Now Alameda's story is much simpler:
(1) FTX creates FTT;
(2) Alameda buys FTT at a low price;
(3) Alameda pushes up the market price of FTT by holding a large number of FTT control disks;
(4) Alameda uses high-priced but illiquid FTT as collateral to lend customers' real money from FTX;
(5) Alameda uses high leverage to multiply its trading profits.
9. Do you think of any similar stories? Yes, isn't this the story of an entity in the traditional financial market that directly controls a bank in order to obtain bank loans more easily, then manipulates the bank's stock price and pledges to lend itself to it?
10. Obviously, the entire circular transaction with leverage depends on whether the price of FTT created out of thin air by FTX can be stabilized at a certain level. Once the price of FTT plummets, the demand for repayment of collateral will cause Alameda to have a liquidity crisis. And FTX itself suffers from depositor runs as it manages the drop in token prices.
11. It must be admitted that despite the frequent thunderstorms in the crypto asset market this year, this set of revolving lending has been playing well. With SBF's strong financial strength and personal background, even after Coindesk released relevant reports, the market only increased the discussion of FTX and alameda, but there was no panic.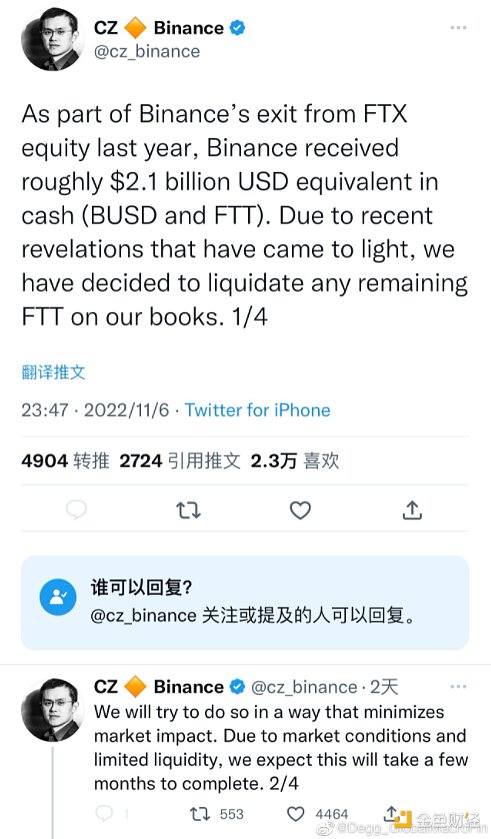 12. The real turning point came on November 6th. On the evening of November 6, Binance CEO Changpeng Zhao (CZ) posted a tweet saying that after revaluing the FTT held by Binance, Binance decided to "gradually empty" the approximately $500 million in FTT it held (Figure 4). . This statement seems very strange, because any institution that is preparing to sell a financial asset in large quantities is most afraid of being frontrunned by others, so either sell it quietly, or directly use a large transaction once. Sexual sell. CZ's statement seems to mean "Come on, come and snatch us away".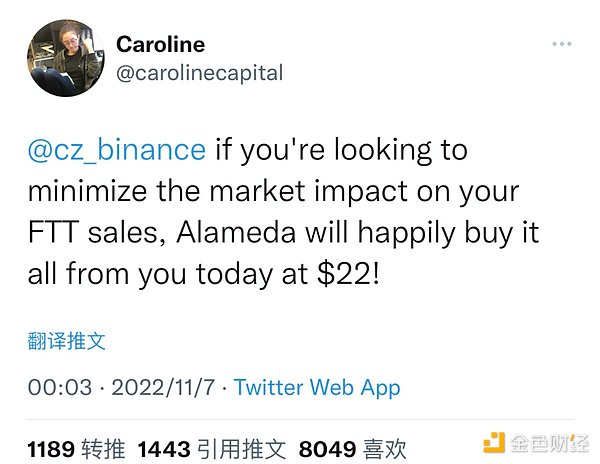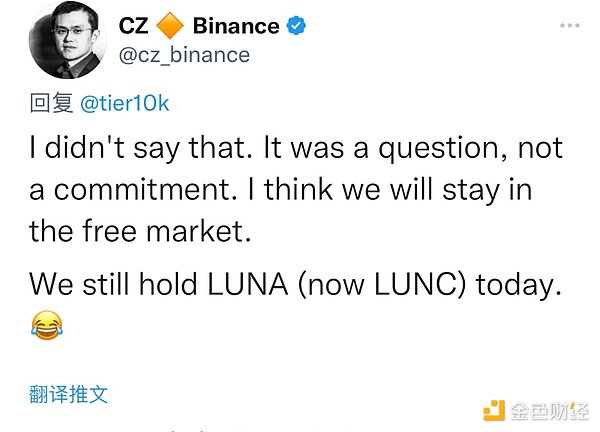 13. What's even more strange is that Alameda CEO Caroline then issued a repurchase offer to Binance, expressing his willingness to repurchase all the FTT he held at a price of $22 (Figure 5), but was rejected by CZ (Figure 5). 6). CZ said that he prefers to sell through the open market (smashing). In other words, CZ clearly wants to beat the price of FTT for some reason, even if it suffers a temporary loss.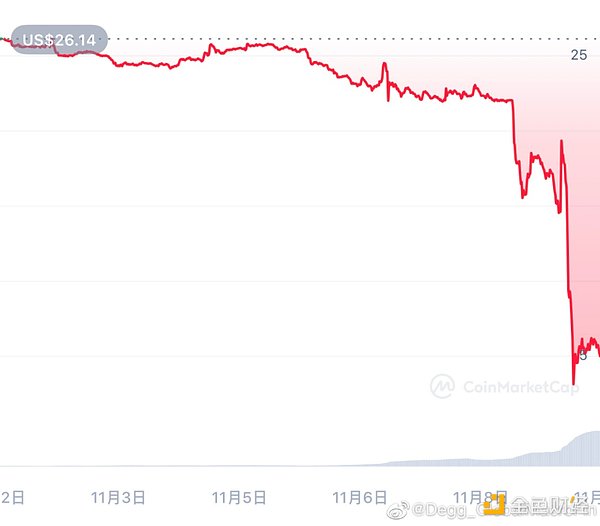 14. From November 7th, the price of FTT began to fall rapidly, from 22 to $3, and the total market value shrank by nearly 90% (Figure 7). Users have also started to withdraw crypto assets and fiat funds in large quantities from FTX. The run has begun, and yesterday FTX announced a suspension of user withdrawals. And last night, there were new rumors that FTX had a liquidity gap of up to $6 billion. This triggered a slump across crypto assets including BTC and ETH. According to reports, more than $1 billion in assets flowed out of FTX and Alameda-related addresses, and U.S. stocks were also affected by crypto asset market sentiment during the session.
15. Some pessimistic traders believe that once FTX collapses, it will not only affect Alameda's important holding assets such as Sol, but also many Alameda's creditors, including even traditional financial institutions such as Blackrock. Some people believe that once SBF, the currency circle "JP Morgan", goes bankrupt, there will be no one to sell to save the future crisis in the field of encrypted assets.
16. Just when the market believed that FTX was doomed, CZ and SBF suddenly issued their own statements, saying that Binance was conducting due diligence on FTX, and would likely acquire FTX and undertake all debts. As soon as this news came out, market sentiment improved, and crypto assets including FTT stopped falling. However, there are still many worries in the market, and the market does not know how big CZ's acquisition determination and FTX's financial hole are.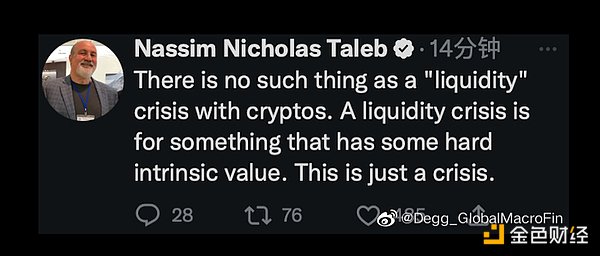 17. Taleb, the author of "Black Swan", mocked the whole incident on Twitter this morning, saying that "there is no liquidity crisis in the crypto-asset circle – a liquidity crisis only occurs in those financial assets with solid intrinsic value, and this It's just a crisis."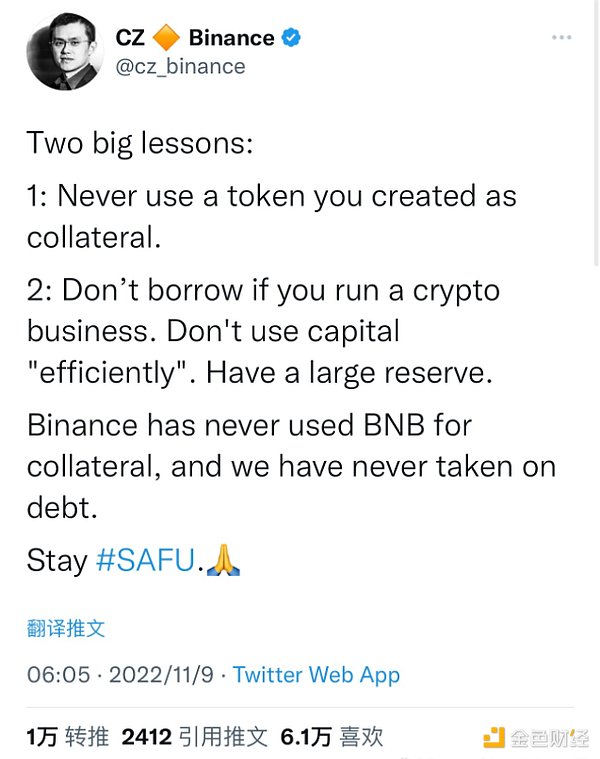 18. And I prefer the two guidelines issued by CZ this morning for people in the field of encrypted assets: "Never use the tokens you created as collateral", "Never pursue the efficient use of capital, but should reserve enough. reserve". I think this is probably the best footnote to the whole thing.
Like what you're reading? Subscribe to our top stories.
We will continue to update Gambling Chain; if you have any questions or suggestions, please contact us!