Author: Karen, Foresight News
Following Haru Invest's suspension of platform deposits and withdrawals, Delio announced yesterday that it is suspending withdrawals due to increased market volatility. Many users are concerned about the possibility of panic and a run on the bank due to Delio's alleged depositing of customer funds into Haru Invest.
Yesterday afternoon, Haru Invest stated that its operating company, B&S Holdings, provided fraudulent management reports containing false information. Haru Invest has brought criminal charges against B&S Holdings and plans to bring civil charges as well. According to News1, B&S Holdings is a Korean company that has used FTX.
In addition, @ErgoBTC tweeted that "Haru Invest's BTC balance has never been particularly high, with the highest trading volume occurring in the summer of 2022, and the two largest outflow transactions from Haru Invest's bitcoin address were detected when it transferred funds to FTX."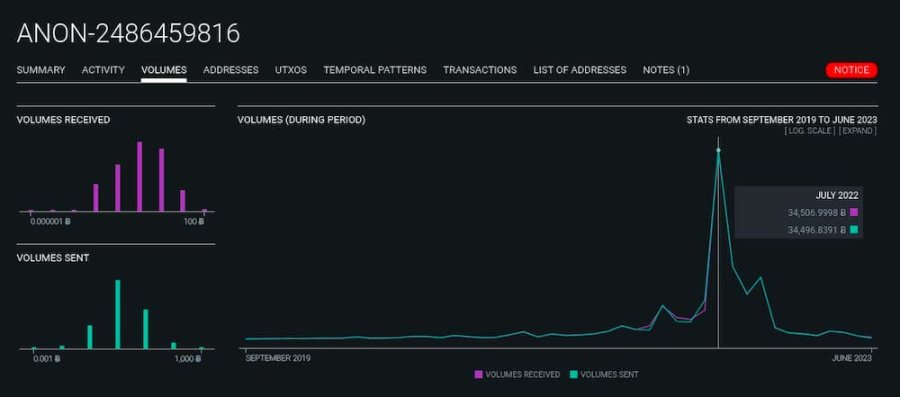 However, in November of last year, Haru Invest responded to FTX issues by stating that "it detected risks before FTX's risk diffusion and withdrew all assets managed on FTX without any losses, without being affected by the price drops of FTX and FTT, and promised to redistribute assets only to exchanges that have reserve proof or release guidelines on reserve proof."
We do not yet know whether Haru Invest's response to the FTX issue is true, or whether Haru Invest and its operating company B&S Holdings were affected by FTX and only recently responded.
So what has happened with Delio and Haru Invest in recent days? Who are the entities behind the two companies? What services do they provide? What business dealings do they have? How do regulatory officials view this event? Let's take a closer look.
Who is Haru Invest?
Haru Invest is headquartered in Singapore, but has mainly operated in South Korea, providing products or services such as Earn products (flexible savings and time deposits), cryptocurrency exchanges, and using some trading strategies to generate income from assets deposited by users. As previously discussed in Foresight News' article "We Revealed the 'Can't Withdraw Money' Haru Invest," Haru Invest claims to provide over 10% annualized returns for deposits of cryptocurrencies such as Bitcoin through trading strategies such as arbitrage.
Haru Invest was founded in 2019 by Block Crafters, a digital asset investment firm. In 2020, Block Crafters completed a strategic round of financing, one of the investors being Chun Yang-Hyun, the CEO of Web3 avatar and digital company Cocone Corporation and former president of LINE JaBlockingn, and other investors included DTN Investment and T Investment. In September 2022, Haru Invest completed a $4 million strategic financing round at a valuation of $284 million, again led by Chun Yang-Hyun.
According to the Haru Invest website, Haru Invest currently has over 80,000 members in more than 140 countries/regions, with a total trading volume of over $2.27 billion and assets under management of less than $1 billion.
Who is Delio?
Founded in 2018, Delio is a cryptocurrency financial company that previously completed a virtual asset business declaration under Korea's "Special Financial Law" in 2022 and obtained a US currency service business (MSB) license. According to the official website, Delio provides deposit (earn interest on deposited assets), lending, pledging, and exchange services, as well as asset custody services for enterprises, institutions, and large accounts. The asset custody service can provide an annual yield of up to 12%, according to Delio's official website.
It is worth mentioning that in early June 2022, according to Edaily, Delio signed a contract to supply assets worth about $600 million with BlockFi and Three Arrows Capital. Delio will receive $600 million worth of Bitcoin, Ethereum, and USDT assets from the two companies, and plans to use the collateral to expand its current loan services and increase loan amounts. In addition, Delio is also discussing ways to cooperate with BlockFi in the cryptocurrency finance business.
Unfortunately, Three Arrows Capital suffered significant losses due to market sell-offs that month and was ordered to liquidate by a court in the British Virgin Islands (BVI) in mid-June. It then filed for bankruptcy. BlockFi, which provided loans of about $1 billion to Three Arrows Capital, was also impacted by the FTX crash and filed for bankruptcy in November last year. Of course, it is currently unclear what progress has been made between Delio and BlockFi and Three Arrows Capital since the signing of the contract.
According to the official website, Delio's current total value utilized is 41,740 BTC (approximately USD 1.084 billion), 118,033 ETH (USD 206 million), and nearly USD 6.45 million worth of altcoins.
What happened?
June 13
Haru Invest announced that due to recent issues with a service partner, they are further investigating the matter and seeking emergency plans to correct it. Deposits and withdrawals are temporarily suspended to protect the assets of custodial users.
According to Yonhap News, Haru Invest's office seems to be closed, and social media accounts on Instagram, LinkedIn, and others have been deleted.
Many Korean exchanges, including Upbit, restricted withdrawals to Haru Invest.
Haru Invest tweeted that "Haru Invest's office is operating continuously, and the so-called 'Rug Pull controversy' mentioned in some articles is completely untrue. Haru Invest is working hard to conduct a real-time investigation and response work and will also make every effort to protect investors."
Haru Invest explained and updated the suspension of deposit and withdrawal services, saying, "Recently, we discovered through internal inspection that a consignment operator provided suspected false information. To protect investors, it is necessary to immediately suspend trading. At present, we are investigating the operator involved and plan to take necessary measures."
Delio stated that Haru Invest's suspension of deposit and withdrawal services was not related to the company.
June 14
Delio issued a notice that all employees will work from home from June 15th (Delio representative said until the end of June).
Delio issued a notice that the customer service center will only provide email and chat channels from June 15th to June 30th, canceling telephone communication channels during this period.
Delio announced that withdrawals will be temporarily suspended from 6:30 pm local time today. Delio stated that this was due to increased market volatility after Haru Invest suspended deposits and withdrawals.
Subsequently, many Korean cryptocurrency exchanges announced that they will restrict withdrawals of assets to Delio.
Haru Invest issued another announcement stating that "its consignment operator B&S Holdings (formerly Aventus) provided management reports containing false information in a fraudulent manner, thereby deceiving the company and user's judgment. Therefore, we have decided to take legal action immediately. In addition, Haru Invest has filed a criminal lawsuit against B&S Holdings today and plans to file a civil lawsuit."
However, Foresight News has not found any information about B&S Holdings. According to News1, B&S Holdings is a South Korean company that used the now-bankrupt exchange FTX in November of last year, as stated on its website. Currently, BNS Holdings is deleting information listed on its homepage in real time. In a Korean Telegram group, some users have speculated that the website for B&S Holdings is http://bangnsong.com/, but the information on that website has already been deleted.
Haru Invest and Delio Have Business Dealings
Regarding the connection between Haru Invest and Delio, although Delio clarified on June 13 that Haru Invest's suspension of deposits and withdrawals was not related to the company, there have been ongoing allegations that Delio had placed customer funds into Haru Invest. In response to Block Media's inquiries, a Delio representative stated, "Delio has business dealings with Haru Invest, but we cannot disclose the specific amount. The suspension of withdrawals was due to an increase in withdrawal requests after the Haru Invest incident. There are multiple wallets within the company, and transferring funds between wallets is common."
According to a Bloomingbit report, in conjunction with Delio's suspension of customer asset withdrawals, South Korean financial regulatory authorities stated that they will work with financial regulatory authorities to discuss countermeasures due to a large number of embezzlement and breach of trust issues. A representative of the Financial Intelligence Unit (FIU) of the Korea Financial Services Commission's financial intelligence department stated, "Delio has indeed completed the Virtual Asset Service Provider (VASP) declaration. However, after investigation, we found that the main issue seems to be embezzlement and dereliction of duty. The focus of the FIU's investigation is money laundering and suspicious transactions."
An official from the FIU explained, "If that is the case, we will eventually have to cooperate with investigative authorities to understand the situation regarding criminal penalties. We will discuss how to address this issue together. There are also rumors that the Delio incident is related to Haru Invest, which did not file a declaration, but there is nothing certain at the moment, so we are still observing. Delio's business dealings with Haru Invest, which did not file a declaration, is not itself a problem. What is more important is whether Haru Invest has committed any illegal acts. If this also involves embezzlement and fraud, not just money laundering, then it should be investigated together with investigative authorities."
Many users are concerned that panic and a chain reaction of withdrawals may occur. According to Edaily, currently, about 300 domestic users gather in a chat room initiated by Haru Invest-related victims every day to discuss countermeasures. On June 14, when Edaily visited Haru Invest Korea and Block Crafters in Gangnam-gu, Seoul, there was no one in the office. A victim who visited the office said, "I have about 20 million won inside, but I feel like I cannot get it back."
Reference links:
https://bloomingbit.io/news/7074697531690582080
https://www.edaily.co.kr/news/read?newsId=03286566635641720&mediaCodeNo=257&OutLnkChk=Y
Like what you're reading? Subscribe to our top stories.
We will continue to update Gambling Chain; if you have any questions or suggestions, please contact us!