Author: Nancy, LianGuaiNews
As one of the few blue-chip NFTs that have shown strong performance in the bear market, the recent migration of y00ts, the second-generation project of DeGods, to Ethereum has caused its trading volume to skyrocket. However, at the same time, the positive news of the release of the third season of NFTs has encountered sell-offs in the community, including large-scale selling by whales. What has happened to DeGods? This article from LianGuaiNews will explore the truth.
Pay-to-upgrade for the new season of NFTs, massive sell-offs lead to floor price collapse
As a blue-chip stock on Solana, DeGods has caused a buying frenzy, with a total trading volume of over $100 million. In December 2022, DeGods announced that it would release new roadmaps for two projects this year, and the community's expectations for its potential have reached their peak.
At the beginning of August, DeGods founder Frank took to Twitter to give the community a "vaccine". He revealed that although the content of the third season of DeGods would have the same characteristics as the current series, the style/aesthetics have been redesigned and there will not be a situation where the original DeGods is too similar. The art style of the original DeGods is more "violent and gory", but the art style of the third season is expected to be more popular with the masses. At the same time, he emphasized that the third season will adopt a non-random "reveal" mode to avoid the situation of a large number of low-rarity NFTs being sold off after the reveal, which was common in the past.
Frank's statement also alleviated the community's concerns about content homogeneity. It should be noted that before this, the blue-chip PFP NFT project Azuki had a major setback due to the high similarity of the new series Elementals. However, many community members expressed their dissatisfaction with Frank's "spoilers". Many community members commented that they prefer dark art. In response, Frank said that the original version was his and co-founder Jonny's favorite version, but the project itself is meant to serve the community, not themselves.
However, as the details of the third season update were officially announced, DeGods faced criticism from the community.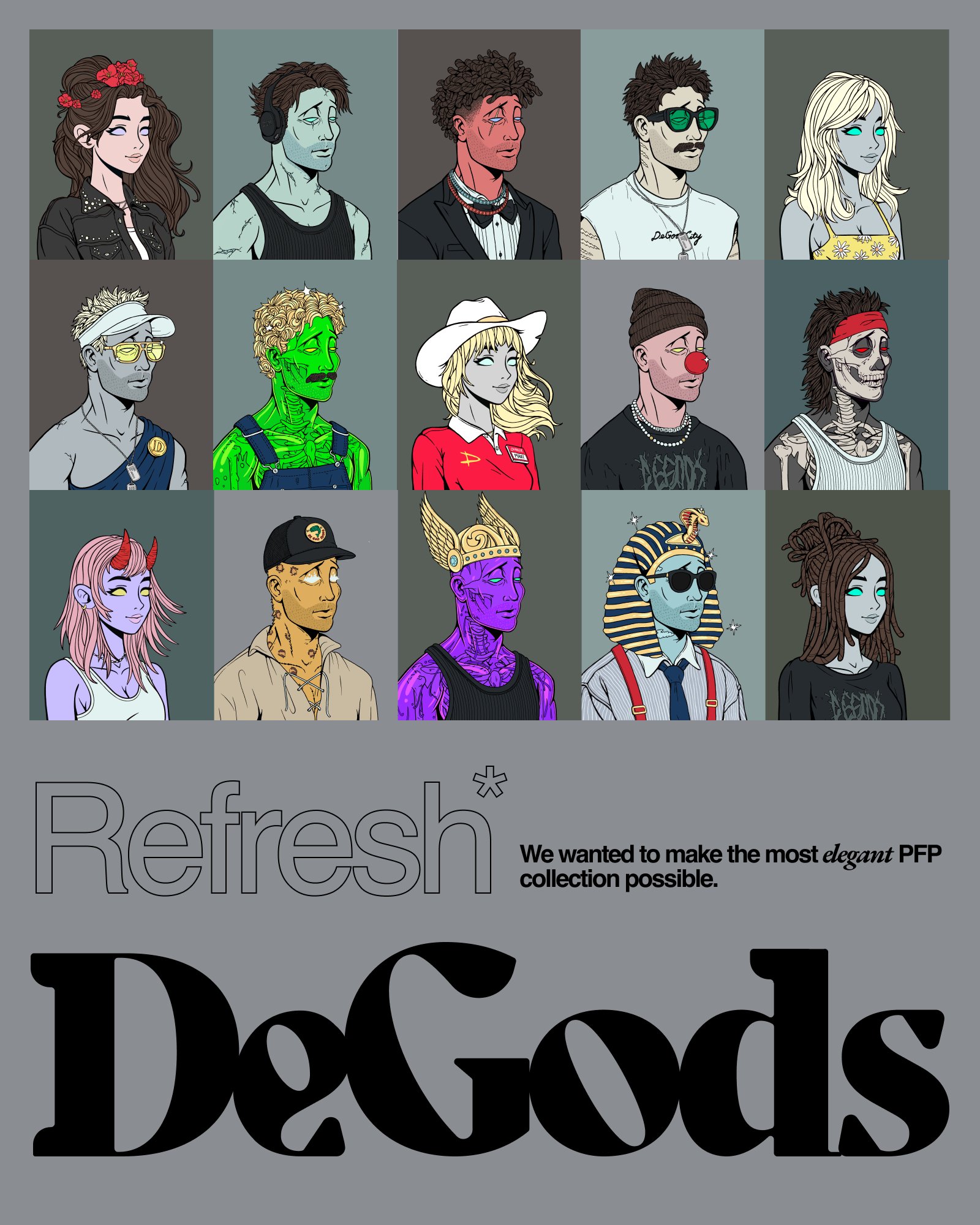 According to the official introduction, the third season will add 20,000 new artworks, including 1 DeGod NFT that contains 4 generated artworks. The team will replace some unpopular NFT features and provide 4 styles for holders to choose from. Moreover, DeGods has also introduced female characters, and holders can freely choose the gender of the NFT.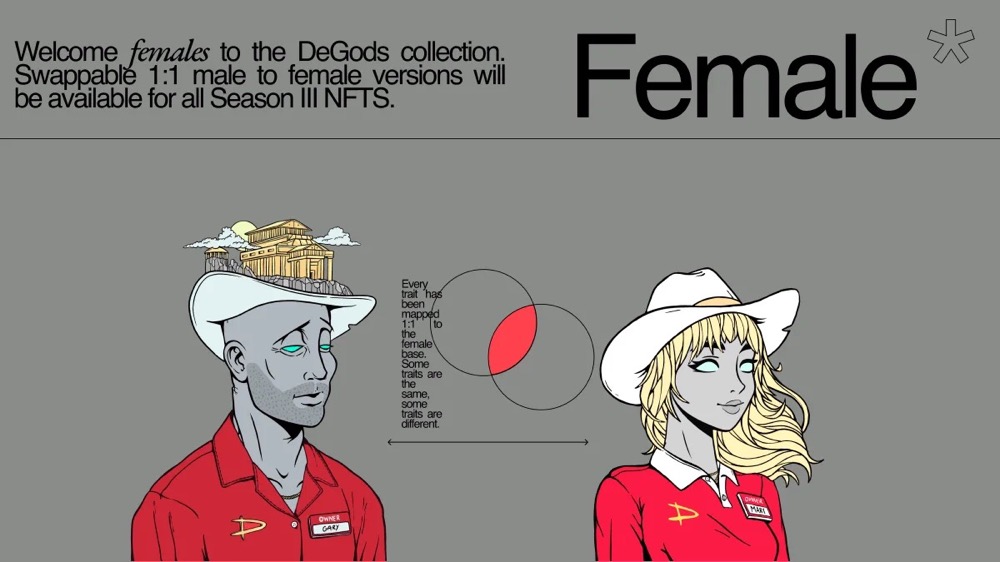 In addition, DeGods has launched the Points LianGuairlor, a staking points appreciation function for the third season series. Users can stake DeGods to earn points and unlock rewards such as Uber Eats gift cards, MacBook Pro, Tesla, and collect $DUST. Currently, in addition to supporting Season III DeGods NFT, it has also partnered with Kraken NFT, Mintify, Wreck League, and Floor.
What angers the community is that in the third season of DeGods, it adopts a pay-to-play system, where holders have to spend 333 DUST (currently valued at $352) to generate more variable NFTs. $DUST is the native utility token of DeGods, which can be obtained through burning NFTs or staking DeGods. Many community members believe that the third season not only fails to empower the original DeGos, fails to achieve value upgrading, but also hurts loyal users.
In response to community questioning, Frank apologized to the community and stated that he would adjust the strategy. According to recent official tweets from DeGods, besides delaying the gender conversion feature to September, DeGods also acknowledges that 333 $DUST is indeed expensive for holders, and the team will implement a 33.3% price drop every 30 days.
However, these measures seem to have failed to regain the confidence of holders. DeGods has been sold off in large quantities, including a whale that sold about 200 DeGods in one go, causing the floor price to collapse. According to Blur data, as of August 16th, the floor price of DeGods has fallen to 4.27 ETH, a decrease of about 52.1% in the past 7 days. Moreover, the price of $DUST has also plummeted. CoinGecko data shows that in the past 7 days, the price of $DUST has fallen by more than 56.8%. This further confirms the community's dissatisfaction.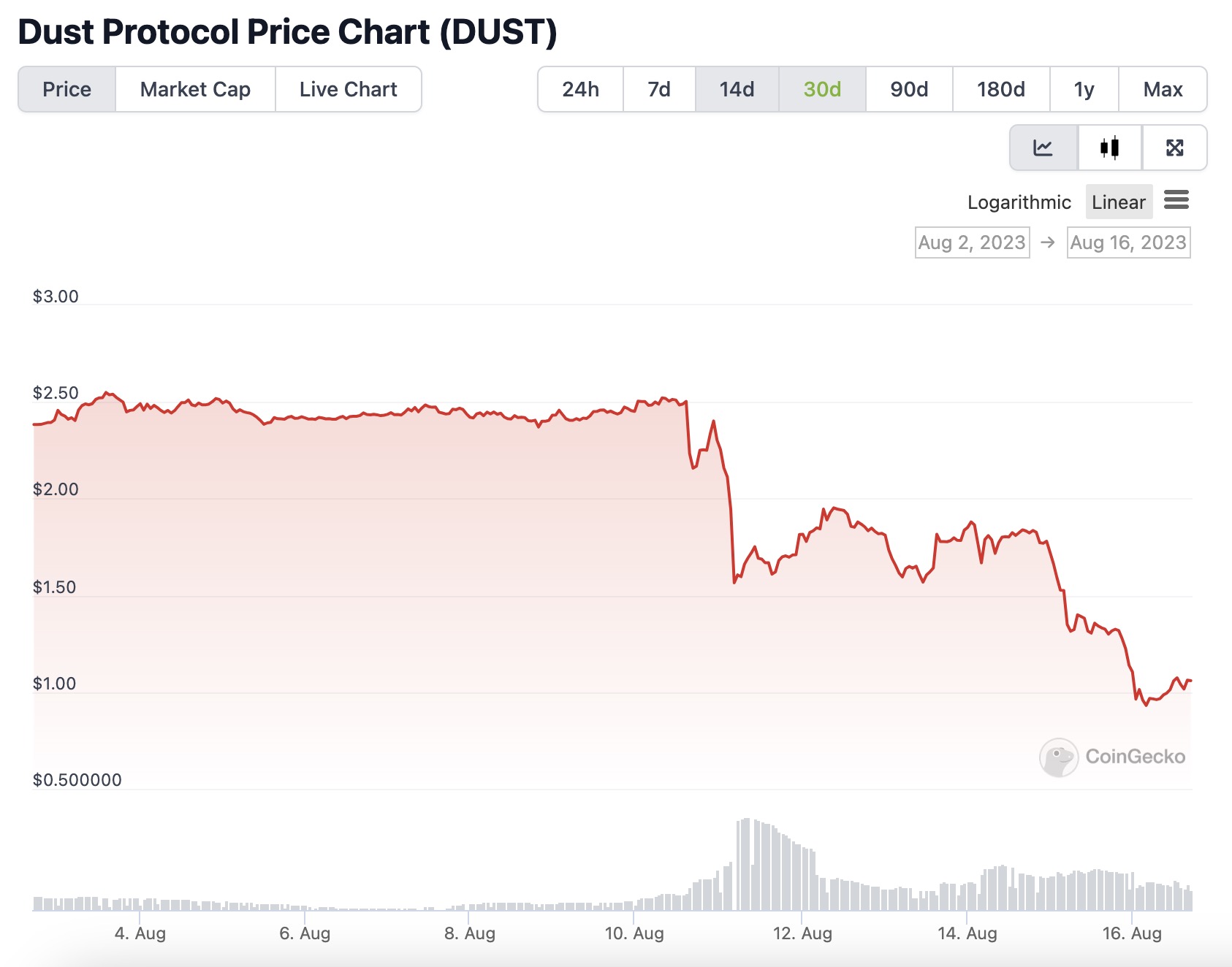 Successive migration from Solana and Polygon to Ethereum stimulates trading volume surge
In addition to the controversial new season of the NFT community, the multiple on-chain migrations of DeGods and its second series project y00ts have also attracted attention.
At the end of 2022, DeGods and y00ts announced their migration from Solana to Ethereum and Polygon, respectively, which brought about a surge in price and trading volume. Interestingly, the DeGods team once asked the Solana Foundation for a $5 million grant as a condition for staying in the Solana ecosystem.
Then, in August, y00ts announced its migration to Ethereum, less than five months after announcing its move to Polygon. At that time, y00ts also received a $3 million donation for its migration to Polygon, stating that the funds would be used for team expansion, business development, graphic design, content creation, and event coordination, among other things. However, due to y00ts' decision to leave the Polygon ecosystem, the sponsorship fee was fully refunded. In response, Polygon Labs stated that $1 million of the refunded funds would be used to support "Polygon native builders and creators."
It is worth mentioning that since April this year, after DeGods opened up migration to the Ethereum network for DeGods NFT holders, the team will collect a 33.3% royalty fee on all remaining DeGods and y00ts. So, after y00ts migrates again, if fees are collected again, will it cause community dissatisfaction?
Regarding y00ts' move to a "new home" again, Frank explained that it was to bring together the communities of its two series of NFTs. In the eyes of NFT collector Lamboland, it is commendable that y00ts, despite spending millions of dollars, chose to transform after encountering difficulties. The main reasons for y00ts' withdrawal from the Polygon ecosystem are: first, Polygon has lower liquidity and too much transaction friction compared to Ethereum; second, y00ts focuses on luxury brand marketing, while Polygon is positioned as a low-cost NFT public chain, which is inconsistent with its positioning.
In fact, although the NFT market of Polygon has grown rapidly this year, it still lags behind Ethereum in general. Compared to other chains, Ethereum has an absolute advantage in terms of user base, transaction volume, and liquidity. Therefore, influenced by the announcement of y00ts migrating to Ethereum, both DeGods and y00ts have seen a surge in trading volume. According to data from The Block, the weekly trading volume of DeGods before the new announcement was $2.54 million, and it increased by about 6.2 times in the following week, reaching approximately $15.83 million. This to some extent indicates that the community is optimistic about the migration of y00ts to Ethereum. OpenSea data shows that y00ts' sales in the past seven days have increased by 260%, and the trading volume has soared by 413%, of course, this is also affected by large-scale selling.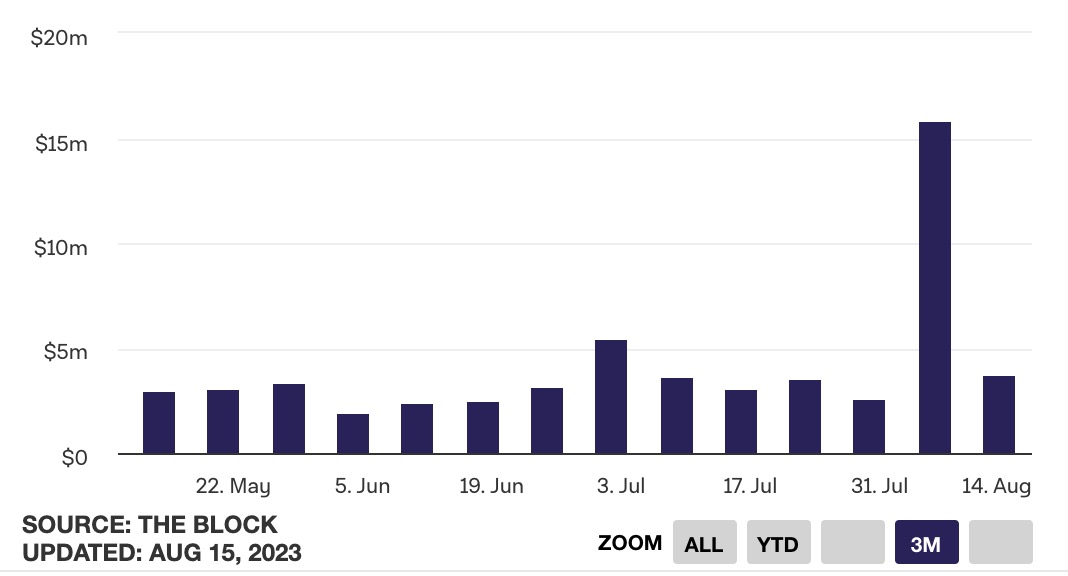 Overall, looking at the market performance of DeGods, the development dilemma faced by PFP NFTs due to the lack of new narratives is becoming more prominent.
Like what you're reading? Subscribe to our top stories.
We will continue to update Gambling Chain; if you have any questions or suggestions, please contact us!