On February 18, 2022, NFT artist Pplpleasr announced on ETH Denver that she is launching a decentralized video platform called Shibuya.
On March 1st, Shibuya.xyz released a white paper on medium.
Cai Chongxin, executive vice chairman of Alibaba, has also recently taken a lot of interest in Web3.
On December 8, 2022, Shibuya (Japanese surname: Shibuya), a Web3 video platform that Cai Chongxin invested in, received a seed round of US$6.9 million. This is also the first Web3 entrepreneurial project that Cai Chongxin publicly invested in. Understand what Shibuya.xyz is and how it works.
What is Shibuya.xyz
Shibuya.xyz is not a PFP project, but a web3 video platform that allows users to participate, fund, decide the outcome and become the owner of long-form video content.
What is White Rabbit?
White Rabbit is the first content on the Shibuya platform, and each episode will present an optional ending. User voting/staking will determine where the story goes.
What are Producer Passes?
"Producer Pass" is an ERC1155 NFT that allows users to participate in web3 experiences. Users can mint Producer Passes, which can be used to vote on which alternative endings they want. (If you have more than 1 pass, you can vote for both options).
Producer passes are episode-specific and represent an on-chain track record of user engagement. A Producer Pass is not required to view.
NOTE: The primary purpose of the Producer Pass is to represent a track record of early involvement and shaping film outcomes, the web3 equivalent of souvenirs/tickets.
Become a "Producer"
Producer Passes are ERC1155 NFTs, and owners will be credited as "producers" of the show and will be allowed to stake and vote on the direction of the show using their pass.
subsequent episodes
After a sufficient number of Producer Passes have been minted, the continuation of the story is determined by user participation. Once the threshold is reached, the next episode will be started (Green Lit).
Vote/Stake
Producer passes can be used to vote on the direction of the White Rabbit story. Voting closes 7 days from the moment the next episode can begin (or sufficient Producer Pass credits have been cast). Producers will be notified if the show starts the next episode via the official Discord/Announcements channel and the official Shibuya.xyz Twitter.
WRAB Token
WRAB aka White Rabbit is an ERC20 token that represents fractional ownership of the series. Every time a user stakes a Producer Pass to vote, they are rewarded with WRAB.
WRAB is minted by creating a fragmented treasury with a fixed supply of tokens that are distributed to the community as the movie progresses.
At the end of the film, we mint the final film as a video NFT on a decentralized storage solution and transfer it to a vault, thereby granting the community with fragmented WRAB tokens full control and rights over the film.
Token Economics
Producers can unstake their Producer Pass (which will be returned to their wallet as an NFT) once the voting is over. Users who vote for the popular side will be rewarded with WRAB tokens.
Additionally, early voting will reward additional WRAB tokens in order to prevent voting hesitation. Early Vote Bonus > Winning Vote Bonus. The goal is to reward early voting and participation.
The current setup is 70% base rewards, 20% early stake rewards and 10% winning rewards.
Base Reward: Minimum WRAB tokens everyone gets from staking
Early staking rewards: Early staking is rewarded according to a linear bonding curve
Winning Bonuses: Winning bonuses are distributed equally among everyone who voted for the winning side.
For the total distribution of WRAB tokens, 50% is reserved for the producer, 40% for the artist, 5% for the platform, and 5% for the team. Everyone has the opportunity to participate in the game, hoping to create the best performance experience.
The same amount of WRAB is allotted each season, while the supply of Producer Passes increases each season to reward early backers. (e.g. ep1 has a supply of 5000, ep2 may have 5500)
DAOs
The Shibuya team admits that it is not known how the future holds, but Shibuya is a fairly new idea/experiment. Hopefully whatever happens to the film's IP (gets bought out, or generates royalties…etc), the benefits are shared with the entire community that helped make this film possible. In a way, users can imagine each movie having its own DAO to help fund (both financially and directionally), create, watch, build and share its results.
What's next?
White Rabbit is Shibuya's proof of concept, where fans and Shibuya users determine the validity of assumptions about the future of filmmaking, funding of feature-length content, and content ownership. Our goal is to change the way film projects like White Rabbit are funded, owned and consumed. If we're right, it means a win for creatives and audiences, and subsequently more innovative experiences from great minds around the world.
Pplpleasr issued an article explaining why Shibuya was launched
I dabble in NFTs, DAOs and web3 in general. Before getting into crypto, I worked in Hollywood Visual Effects and Blizzard Films. I'm here to introduce you to my latest project, Shibuya, what it is, and why we built it.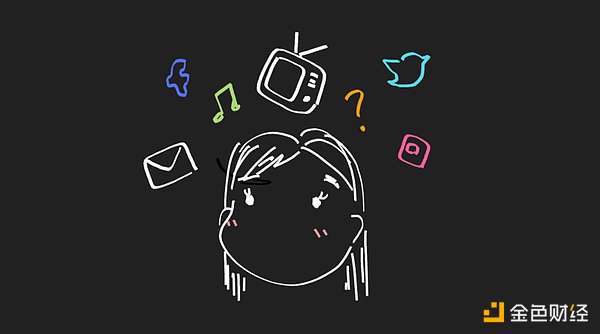 pppleasr graffiti
In the attention economy, I often think that despite our hectic lives, rising self-esteem, and shortened attention spans, many of us are still engrossed in long-form content, whether it be short films or movies or series. How incredible. The problem is, this type of content is expensive and time-consuming to create.
In the NFT world, we already have enough PFP, jpeg and micro content (micro content, such as 4 second animation loop) and occupy the market. While content may be of high quality, its value is often determined by a speculative market that arbitrarily values ​​works in the hundreds of thousands of dollars. It's unsustainable and a game that benefits very little.
Speculative and absurd valuations will always exist, even in web3, as in traditional art markets. But one thing is for sure, the wonderful technology behind NFTs can be used for so much more! A longing for the long-form content industry on the blockchain was formed in me. This is where the idea for Shibuya came in, a web 3 experiment that would make long-form content free to watch, but monetized on the blockchain to allow viewers to participate in the creative process and share ownership.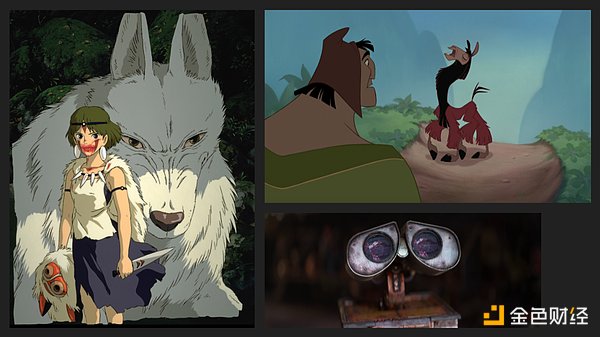 Image courtesy of Disney Studios Ghibli
My love for art and great stories stems from watching anime and Disney/Pixar movies as a child. I found a career and wanted to be a part of these epic creations – though I quickly learned that Hollywood funding is very political and Vfx careers are very precarious. In fact, this question resulted in me being out of a job in 2020 and thus going down the crypto rabbit hole that summer and animating my own DeFi protocols.
When one of my animations went viral and spawned PleasrDAO, the NFT creator-first economic model quickly boosted my career. This led me to help crowdfund an Ethereum documentary through a series of NFTs . These events later became pillars of inspiration for Shibuya.
"Shibuya is a web3 video platform that allows users to participate, fund, vote results and become owners of long-form content."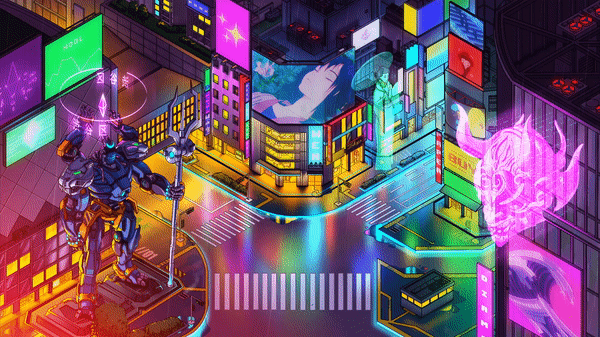 Shibuya is named after a crossroads, a place where cultures and ideas meet. It's designed to have many screens and content that everyone can see. Artwork by fungusamongus and spazdotjay
White Rabbit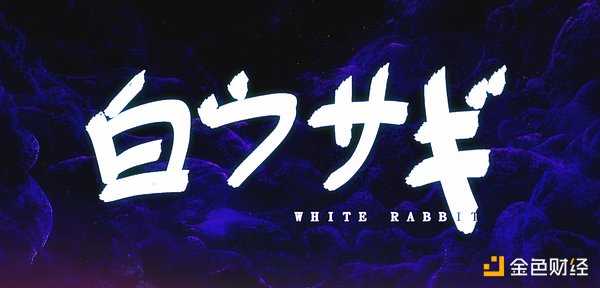 For this idea to work, the content has to be really good too. In this regard, there is no better collaborator than legendary artist and director Maciej Kuciara. If you've seen his short film Showtime, you'll understand why. He has also produced concept art for Marvel, The Last of Us, live-action Ghost in the Shell, and more.
White Rabbit will be the first web drama to launch in Shibuya.
It's a labor of love that combines our passions for Anime, Black Mirror, Love, Death & Robots, and web3. When users watch for free and pledge to choose the direction of online dramas, we are also experiencing encryption rabbit holes. I'm referring to myself, Maciej and the gigabrain developers, aka PleasrDevs (taipeicity.eth: from ex-Instagram, metagee: from ex-major and alex: from ex-Stripe/YC), the team that is bringing Shibuya to life.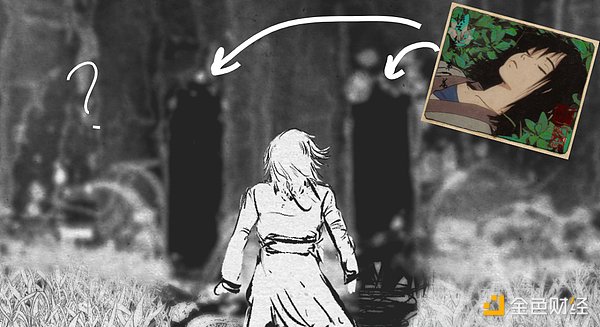 The concept of the pilot is simple: our protagonist encounters two doors, and behind each door is an alternate ending for the pilot. To watch/vote for the finale, users need to mint a producer pass (ERC1155 NFT) and stake it on the door of their choice. It also helps to raise funds for the production of a film when users buy a producer pass. For the "White Rabbit" pilot, the majority vote will determine the future fate of our protagonist and her development in the plot.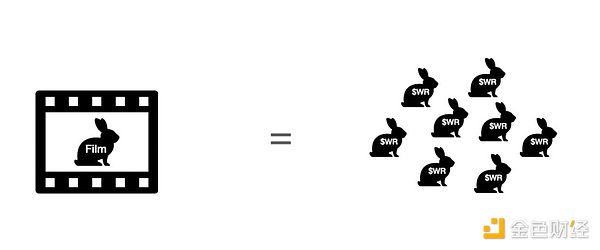 Graffiti by taipeicity.eth
When users vote by staking their Producer Pass, they will earn WRAB tokens, an ERC20 token that represents fractional ownership of White Rabbit. WRAB is minted by creating a Fragment Vault that is minted and distributed to the community as the movie progresses.
Producer Pass art is inspired by traditional Japanese woodblock prints. Each chapter has its own unique producer pass. When voting for a chapter ends, users will be able to unstake the NFT and keep it in their wallet as a memento. Since each chapter will lead to a new chapter, users will have a "paper" record of all chapters they have participated in in their wallets. It's also useful for other people looking for fashionistas in the future.
Web 3 native media
This medium exists on web 3, so why not make it interactive and fun? Besides the fact that you choose your own path storyline, there are many ways to gamify the voting mechanism. First, users who vote on the popular side will be rewarded with WRAB tokens. In addition, in order to prevent voting hesitation, early voting will also reward WRAB tokens. Early voting rewards > winning voting rewards. (The goal is to reward early voting and participation.) We are also actively working with the geniuses at DegenScore to customize the viewing experience based on wallet history/on-chain activity (for future chapters).
We're also really excited about building what we're calling "Dynamic Credits," which is essentially a leaderboard that updates top producers in real time, and would love to explore top producer cameos in future chapters. The sky is the limit 🙂
producer room
Thanks to DegenScore, we will be launching a Producer Pass telegram group soon. Those who hold the pass will be able to read, and those who have staked will also be able to write in the channel. As Shibuya develops (hopefully), we can imagine each IP as their own little DAO/community with closed channels for chapter discussions.
Summarize
Movies (especially animation) are very expensive to produce. By providing the infrastructure and platform, Shibuya offers digital creators the opportunity to turn passive audiences into active participants and seek funding directly from fans.
Imagine being able to prove the fact that you "watched the squid game before everyone else". With Producer Passes, not only can you say that, but you can also say that you contributed to the final story.
True to the spirit of web 3, we are building a new age "D2C" – a direct to community platform that provides an easy way for digital creators to rely on their community instead of traditional Agencies are supported in a fun and interactive way.
Less talk, more action; come & see White Rabbit by yourself.
Like what you're reading? Subscribe to our top stories.
We will continue to update Gambling Chain; if you have any questions or suggestions, please contact us!