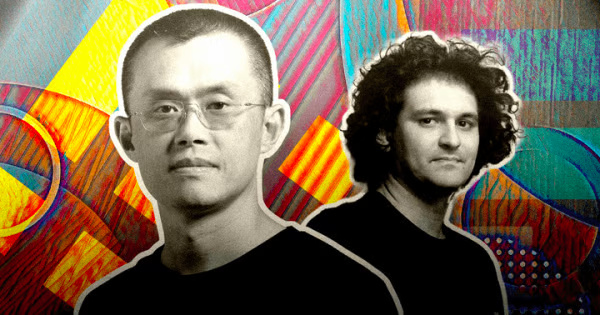 At 0:00 Beijing time today, FTX founder Sam Bankman-Fried and founder Sam founder Changpeng Zhao (CZ) successively issued documents announcing "reconciliation". The dispute, which lasted for two days and caused turmoil in the entire crypto market, finally drew a short "comma" with " Binance intends to completely acquire FTX"; considering regulatory issues, it is unclear how this doomed complex acquisition will be completed.
At 03:00, SBF was the first to post, saying that Binance had once again become an FTX investor . "Things are back to square one, the first and last investor in FTX is the same: we have reached an agreement with Binance on a strategic deal for FTX."
SBF also explained that FTX's recent liquidity crisis is an important reason for it to invite Binance to continue to join. "Our team is working hard to clear the current withdrawal backlog, which will eliminate the liquidity crisis; all assets will be paid out 1:1. This is one of the main reasons we invited Binance to join. This may take a while to resolve , we apologize for this, but it is important that users are protected."
At the same time, SBF stated that FTX.US and Binance.US are two independent companies, which are not currently affected by this, and FTX.US withdrawals are normal.
Finally, SBF would like to thank Binance for their help. "A huge thank you to CZ, Binance, and all of our supporters. This is a user-centric development that benefits the entire industry. CZ has and will continue to do in building a global crypto ecosystem and creating a freer economic world. More great work. I know there have been rumors in the media of a conflict between our two exchanges , but Binance has repeatedly shown that they are committed to a more decentralized global economy while working to improve the industry with regulators Relationship. We'll take care of everything."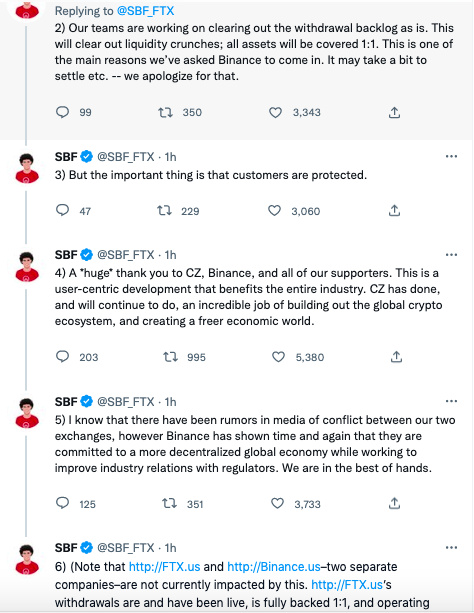 CZ retweeted SBF's tweet and said: "FTX approached us this afternoon for help this afternoon due to a severe lack of liquidity . To protect users, we have signed a non-binding letter of intent to acquire FTX outright and help with liquidity Sexual austerity issues."
Of course, CZ also stated that the specific acquisition details are currently being discussed, and at the same time reminded users to pay attention to the short-term fluctuation risk of FTT. "There is a lot to cover, and it will take some time. This is a highly dynamic situation and we are assessing the situation in real time. Binance reserves the right to withdraw from trading at any time. As events unfold, we expect FTT to be highly volatile in the coming days. "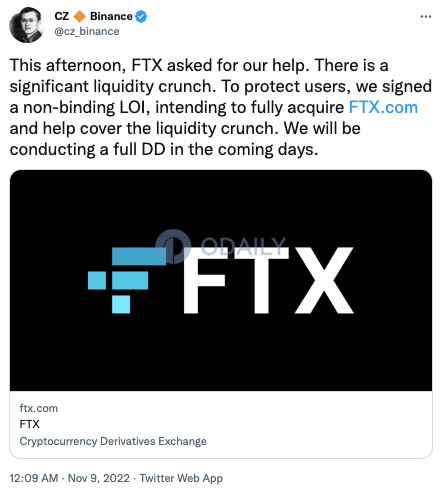 As soon as the news came out, the crypto market quickly reversed from the slump in the past three days, and the mainstream cryptocurrencies rose to varying degrees. BTC returned to more than $20,000, and ETH rebounded to more than $1,550. Among them, the platform coins of two platforms ( BNB and FTT) is a short-term explosion: BNB once rose to $398, with a maximum increase of over 20% in 1 hour; FTT once rebounded from $14.5 to $21.2, with a maximum increase of 46%.
Earlier news, on the evening of November 6, CZ tweeted that it would liquidate and sell FTT assets on Binance accounts. "Binance received approximately $2.1 billion worth of cryptocurrencies (BUSD and FTT) as part of Binance's exit from FTX last year. Due to the recent exposure, we have decided to liquidate any remaining FTT on the account. We will try to The way to do this with minimal market impact. We expect this to take several months to complete due to market conditions and limited liquidity ." Affected by this news, FTT fell to $22.6 in a short time on that day, a drop of 12%.
Caroline Ellison, co-CEO of Alameda Research , later responded to Changpeng Zhao on Twitter that he was willing to redeem FTT in Binance at a price of $22. "If you want to minimize the impact of the market on your FTT sales, Alameda is happy to buy all of your FTT from you today for $22."
In the past two days, panic in the crypto market has spread, and the price of FTT has continued to fall, once falling to US$14.3. Many users have withdrawn from FTX, which has further triggered its liquidity crisis, and the speed of withdrawal is relatively slow.
Since then, all parties have also spoken out one after another, calling on FTX to negotiate with Binance to solve the problem. Xu Mingxing , founder of OKGroup, posted on social media: "Decentralization is the foundation of the crypto industry. If Binance gains 100% market share and BNB's market cap exceeds BTC, the industry will fail and CZ will lose everything. Help FTX from the current The rumored recovery is CZ's best option."
Like what you're reading? Subscribe to our top stories.
We will continue to update Gambling Chain; if you have any questions or suggestions, please contact us!