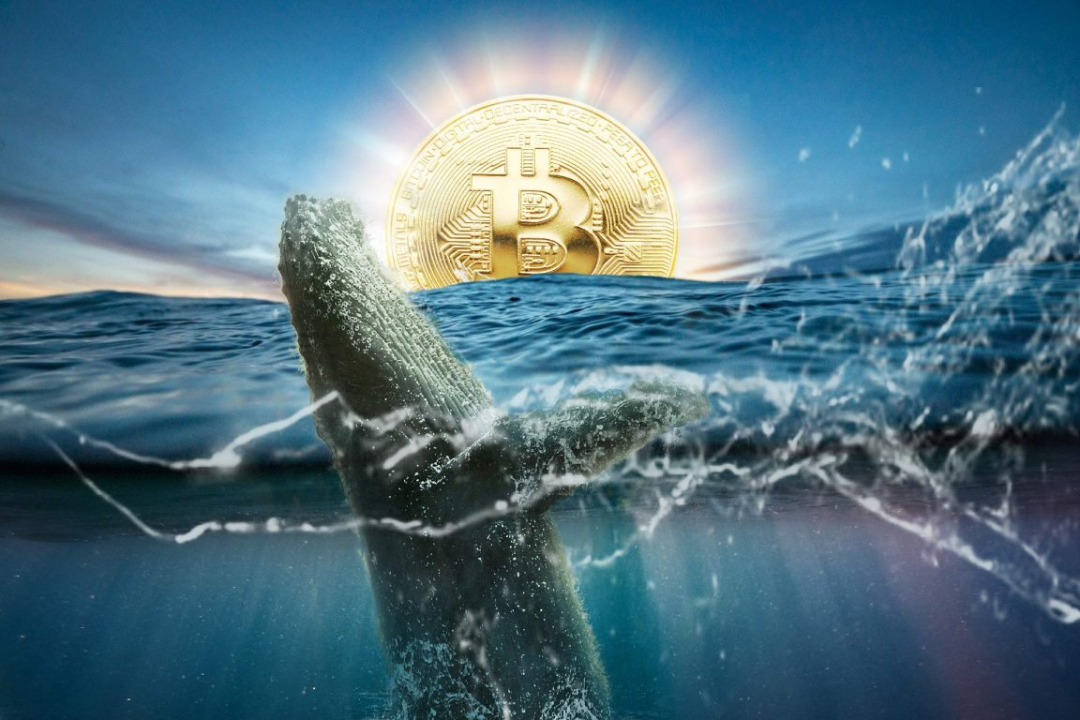 Author: Huohuo
We know that whales are the largest creatures in the ocean, and when they surface, they often cause huge waves. Users who hold a large amount of encrypted assets can cause market fluctuations when transferring, so the community refers to holders of encrypted assets exceeding a certain amount as "cryptocurrency whales" or "crypto whales".
Among cryptocurrency whales, Bitcoin whales are particularly noteworthy. The term "Bitcoin whale" refers to users who hold a large amount of Bitcoin, including individuals, Bitcoin funds, and investment institutions. It usually refers to those who hold at least 1000 BTC or the equivalent value in US dollars or more.
Because these whales hold a huge amount of Bitcoin, each of their buying and selling actions may have a profound impact on the market.
Therefore, paying close attention to the behavior of cryptocurrency whales is of great significance.
01. Who are the top Bitcoin whales?
People have always been concerned about the movements of Bitcoin whales in the holdings ranking, but in fact, we can only count some named whales, because BTC whales usually do not put all their assets in the same address, and mysterious whales also do not disclose their Bitcoin addresses to the public. We can only try to sort and analyze them through public data.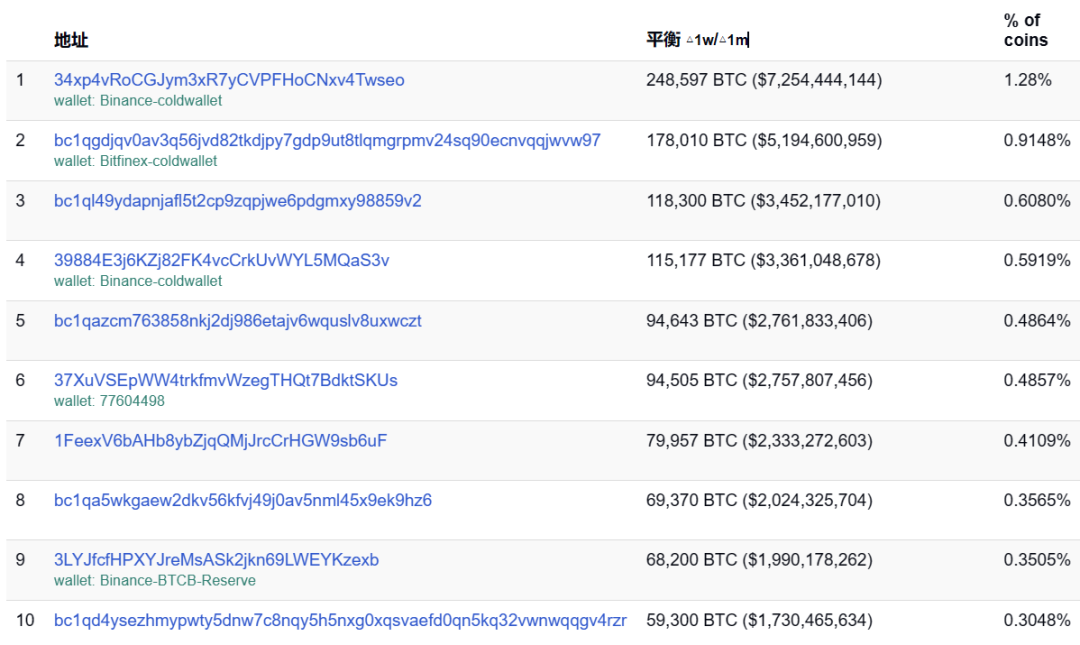 bitinfocharts Top 10 Bitcoin Addresses
1) Grayscale Bitcoin Trust: 654,885 coins
Grayscale Bitcoin Trust, abbreviated as GBTC, was established in 2013 by Barry Silbert, who is also the founder and CEO of Digital Currency Group (DCG), an investment company in Bitcoin and blockchain. Grayscale Bitcoin Trust was sponsored by Grayscale Investments, LLC, a subsidiary of the group.
Grayscale, the holding company of Grayscale Bitcoin Trust, is the largest digital asset management company in the market and one of the largest Bitcoin buyers in the world. It launched the trust fund in September 2013, with the trading code "GBTC", and GBTC is one of its largest products. It is mainly designed for investors who want to invest in Bitcoin but are concerned about risks. Investors give cash or Bitcoin to Grayscale in exchange for GBTC shares, so they don't have to worry about how to store Bitcoin, legal issues, and taxation. These shares are backed by a certain amount of Bitcoin and have an annual fee deduction of 2%. They can be traded on the secondary market.
For many years, Grayscale has been one of the largest holders of Bitcoin. Currently, Grayscale Bitcoin Trust holds 654,885 BTC, with a value of over 17 billion US dollars, ranking first.
2) Top CEXs: Approximately 2.5 million BTC
Top CEXs, as the most concentrated liquidity hub, usually hold the BTC belonging to the platform itself and a large number of user deposits in their cold wallet addresses. These BTC can be freely moved by centralized CEXs without restrictions, which is why they are listed as whale entities. The BTC wallets of these top CEXs have also been closely monitored. Any large inflows or outflows (transfers or theft) can have a significant impact on the market.
3) United States Government: 164,004 BTC
The United States government holds a total of 164,004 BTC, divided between two addresses. According to relevant information, the BTC held by the U.S. authorities mainly come from three events:
– 69,369 BTC seized from the largest darknet marketplace Silk Road in November 2020;
– 94,643 BTC seized from the Bitfinex hacker in January 2022;
– 51,326 BTC seized from Silk Road hacker James Zhong in March 2022.
In March of this year, 9,861 BTC were sold at a price of $21,877, generating revenue of $215.5 million after deducting fees. Due to the large quantity of BTC held by the United States, many market investors are concerned about whether the United States will plan to sell BTC. After all, such a large amount of BTC could potentially cause significant market fluctuations.
4) Block.one: 164,000 BTC
Block.one is a blockchain technology development company established in 2017, dedicated to building decentralized applications (DApps) and blockchain solutions. One of their most famous products is the EOS.IO domain. According to relevant sources, from June 2017 to June 2018, they raised $4 billion in funding through a year-long sale, which was then converted into Bitcoin and U.S. Treasury bonds.
In addition to EOS.IO, Block.one has also ventured into other areas related to blockchain and digital assets, including digital identity verification, financial services, and data privacy.
According to Bloomberg, the CEO of Block.one mentioned in an email to shareholders on March 19, 2019, that the company holds 140,000 BTC.

5) MicroStrategy: 152,333 BTC
MicroStrategy Incorporated is a publicly traded U.S. company that provides business intelligence, mobile software, and cloud-based services. The company was founded by Michael J. Saylor and Sanju Bansal in 1989, developing software for analyzing internal and external data to make business decisions and develop mobile applications.
In August 2020, MicroStrategy announced the purchase of $250 million worth of Bitcoin, followed by an additional $175 million investment in Bitcoin.
According to MicroStrategy's second-quarter financial report, as of July 31, 2023, MicroStrategy holds a total of 152,800 BTC, with a total cost of $4.53 billion, resulting in an average cost per BTC of $29,672. They also added 12,333 BTC to their holdings in the second quarter. Their BTC holdings have increased from 129,699 BTC in 2021 to the current 152,333 BTC, ranking fourth. Their holdings have increased by 17.45% in the past two years.
So far, assets have only been sold once, on December 22, 2022, when 704 bitcoins were sold at an average price of $16,776 per BTC to obtain tax benefits.
6) MTGOX K.K.: 141,686 BTC
Mt. Gox K.K. (株式会社エムティーゴックス) was a well-known platform that closed down due to a hacker attack. It was headquartered in Tokyo, Japan. It used to be one of the largest bitcoin trading platforms globally and was established in 2010. "Mt. Gox" is short for "Magic: The Gathering Online eXchange" and was initially an online trading platform for buying and selling virtual magic cards.
However, over time, Mt. Gox gradually transformed into a BTC-focused CEX and became a hub for thousands of bitcoin transactions and trades worldwide. However, in 2014, it was hacked, leading to the suspension of trading and the announcement of a substantial loss of bitcoins in the attack. This resulted in its users losing billions of dollars, triggering a severe financial and legal crisis. Subsequently, Mt. Gox's bankruptcy application and liquidation process lasted for several years.
Although the collapse of Mt. Gox caused significant losses and chaos, it also prompted the cryptocurrency industry to pay more attention to security, regulatory compliance, and user protection, thus having a profound impact on the industry.
However, the BTC balance in the MTGOX K.K. account still qualifies as a large holding, with a total of 141,686 BTC.
7) Marathon Digital Holdings: 12,964 BTC
Marathon Digital Holdings is a US-based digital asset technology company specializing in bitcoin block production and blockchain technology. The company's mission is to support the security and reliability of the bitcoin network by producing blocks and seek growth and innovation in the digital asset field.
As a publicly listed company, Marathon Digital Holdings has a professional team dedicated to leveraging blockchain and bitcoin technology for innovation in the digital asset field.
Currently, they have the highest unrealized profit (profit held unrealized) in terms of bitcoin holdings, at 106.3%. This is because of the nature of their block production business, where their entry price is effectively $0 per bitcoin, although this does not include costs such as labor, facilities, and electricity involved in bitcoin mining.
Their bitcoin holdings have grown from approximately $1.9 billion in entry price in 2021 to $3.9 billion today. Their total bitcoin holdings have also increased by 28.94%, from 10,054 BTC to 12,964 BTC, currently ranking seventh.
8) Tesla: 10,800 BTC
In the past two years, Tesla's cryptocurrency holdings have experienced significant fluctuations. In February 2021, Musk's innovative car company purchased approximately $1.5 billion worth of bitcoin at an average price of $36,000 per BTC. Shortly after adding bitcoin to its balance sheet, Tesla announced the option to accept cryptocurrency payments, including bitcoin and Dogecoin, for certain products. However, they later removed bitcoin as an approved payment method.
Then in the financial statements for the second quarter of 2022, the company announced that it had sold 75% of its total holdings, citing environmental concerns and the need for asset rebalancing. Since then, they have retained the remaining 25% (approximately 10,800 BTC) and have not made any further transactions.
According to the latest news from yesterday (August 17th), the Wall Street Journal revealed that Tesla's sister company, SLianGuaiceX, sold a total of $373 million worth of Bitcoin last year and in 2021, but did not specify the quantity or timing. Musk mentioned in a speech in 2021 that SLianGuaiceX owns Bitcoin, but the amount has not been disclosed as the company is privately held.
Perhaps influenced by this news, the price of Bitcoin plummeted by more than 8% this morning, falling to $25,409 at one point. The price of Bitcoin on Bitfinex was even lower, reaching a low of $24,715, before rebounding to $26,000. This decline marks the lowest point for Bitcoin since June 20th.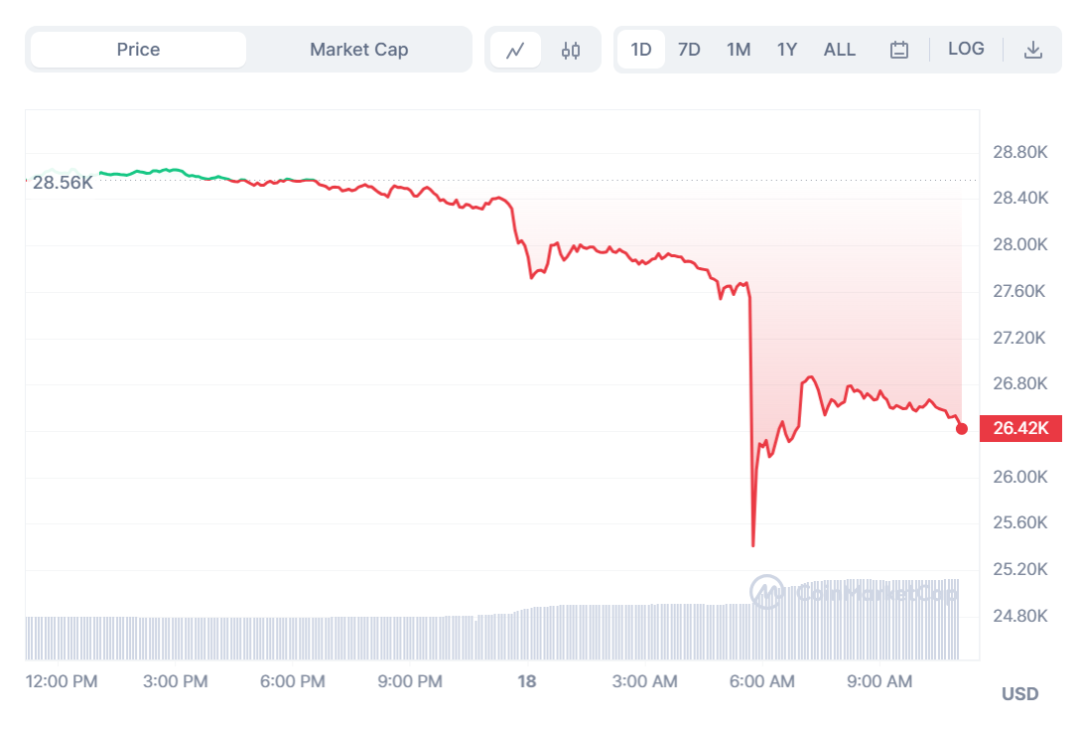 9) Hut 8 Mining Corp: 9,152 BTC
Hut 8 Mining is a Canadian Bitcoin mining company that focuses on block production of Bitcoin and the management of digital assets.
The company was founded in 2017 and is one of the largest publicly traded Bitcoin block production companies in North America. It has mining facilities in multiple locations in Canada and earns Bitcoin as a reward by solving complex algorithmic problems to validate and record transactions on the Bitcoin blockchain. On average, it is able to mine around 300 Bitcoins per month based on its three main mining centers.
As a publicly traded company, Hut 8 Mining is listed on the Toronto Stock Exchange, allowing investors to participate in its Bitcoin block business by purchasing company stocks. The company aims to provide investors with the opportunity to directly participate in Bitcoin by offering efficient block production services.
Since 2021, the company has increased its total holdings of Bitcoin by adding 10,766 BTC, bringing the total to 9,152 BTC.
The company has maintained its long-term "HODL strategy" in the face of market volatility, with all the BTC being stored in a trust. It currently holds 9,152 BTC.
However, as the difficulty of producing blocks through Bitcoin halving increases, Hut 8 Mining Corp's profitability in the second quarter of 2023 has not met expectations, leading to a decline in the price of HUT shares.
In addition, according to a report from the Block on August 6th, stablecoin issuer Tether disclosed in its quarterly report that it holds approximately $1.67 billion worth of Bitcoin. This makes Tether the top holder of this asset. Although Tether has not officially disclosed its Bitcoin addresses, it is likely to hold multiple Bitcoin wallets.
02. Whale Tracking
In addition, the top 200 Bitcoin addresses own approximately 20% of the total circulating Bitcoin supply. There are also many individuals or entities holding large amounts of Bitcoin, many of whom are in anonymous status.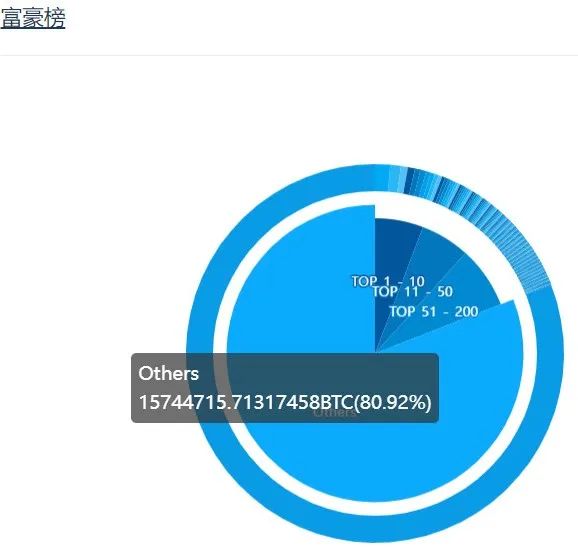 Source: Tokenview
According to Glassnode data, since the most recent Bitcoin halving in 2020, the number of Bitcoin whales reached a peak of about 2,500 in February 2021 and has been declining ever since, with only a rebound occurring between February and March 2022, reaching the lowest point on February 19, 2023, with only 2,027 wallet addresses holding more than 1,000 Bitcoin (or above). The last lowest point occurred on August 5, 2019, with 2,023 addresses.
The total balance of whale entities has also been declining. According to the chart below, whale entities this year account for 46% of the total supply, lower than the 63% at the beginning of 2021.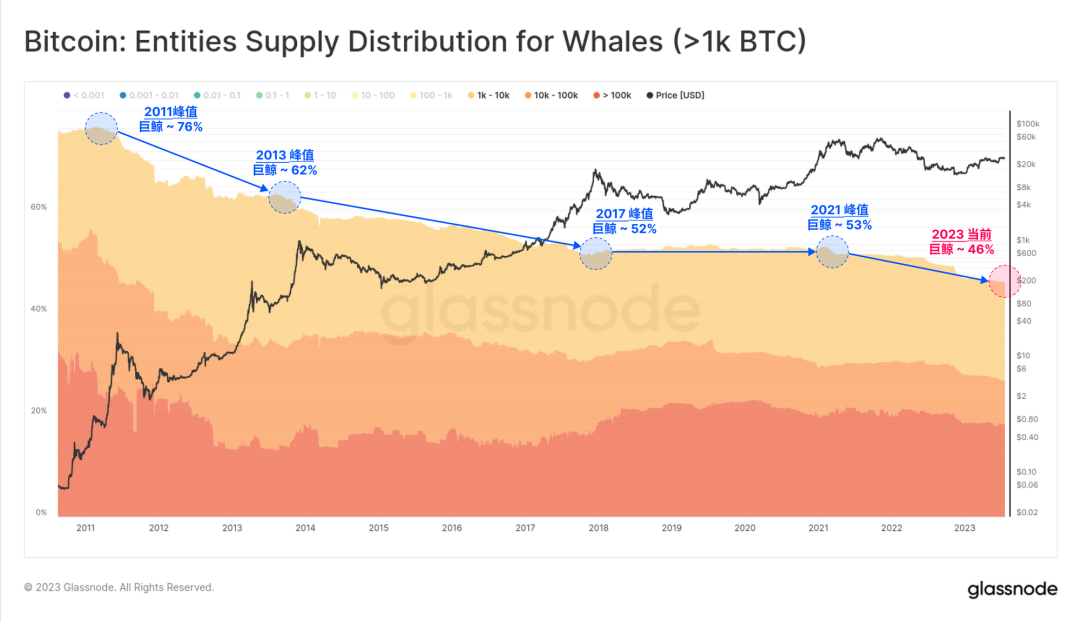 Specifically, since May 30, the total balance held by Bitcoin whale addresses has decreased by about 255,000 Bitcoin, representing the largest monthly balance drop in history, reaching 148,000 Bitcoin.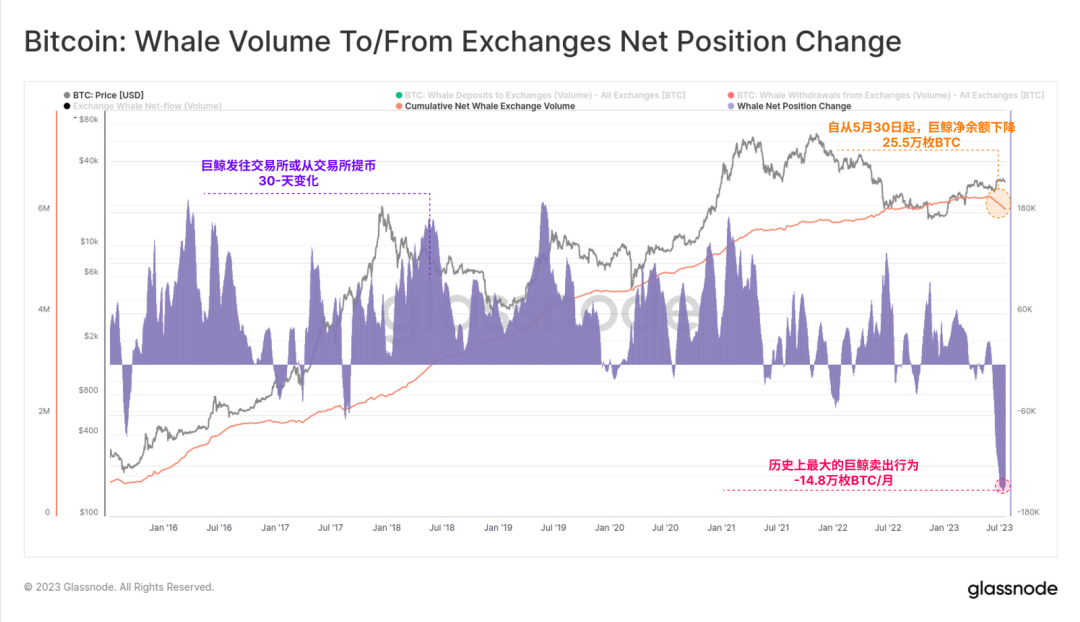 On August 3rd, according to Santiment market news, the number of Bitcoin addresses holding at least 100 BTC is close to 16,000 (15,870). These whale addresses hold a total of 11.5 million BTC, accounting for over half (59.2%) of the existing total supply. In the past 12 weeks, the total holdings of these addresses have increased by nearly 28.7755 million BTC.
Many traders see this as a bearish signal and may have concerns about an upcoming price drop. Although there has been a large amount of capital flow from Bitcoin whales recently, the price of Bitcoin has still not surpassed $30,000. However, for smaller investors, this may mean new opportunities.
Similarly, the net position change of Bitcoin holders has recently reached a low point for the past month, indicating a decline in bullish sentiment. This indicator measures the change in positions of long-term investors on a monthly basis, showing whether investors are increasing or decreasing their Bitcoin positions.
According to data provided by Glassnode, this indicator has just reached a monthly low of 17,604.723. This indicates that in the past few weeks, more holders have closed their Bitcoin positions to take profits rather than opening new positions. This also indicates that whales are temporarily active and then return to a wait-and-see state.
From a broader perspective, people may be more concerned about the global economic downturn and the lack of motivation for investors to increase their positions in the risk market. In addition, the possibility of the approval of Bitcoin spot ETF has not been determined for a long time, which has caused a lack of further confidence in the market. At the same time, there is still some pessimism about the regulation faced by cryptocurrencies.
We can see a glimpse from the Bitcoin futures market. The Bitcoin futures market plays a very important role in the trading field, and futures contracts are financial agreements between two parties, where the actual BTC does not change hands. However, in the past seven months, the trading volume related to Bitcoin futures has been declining.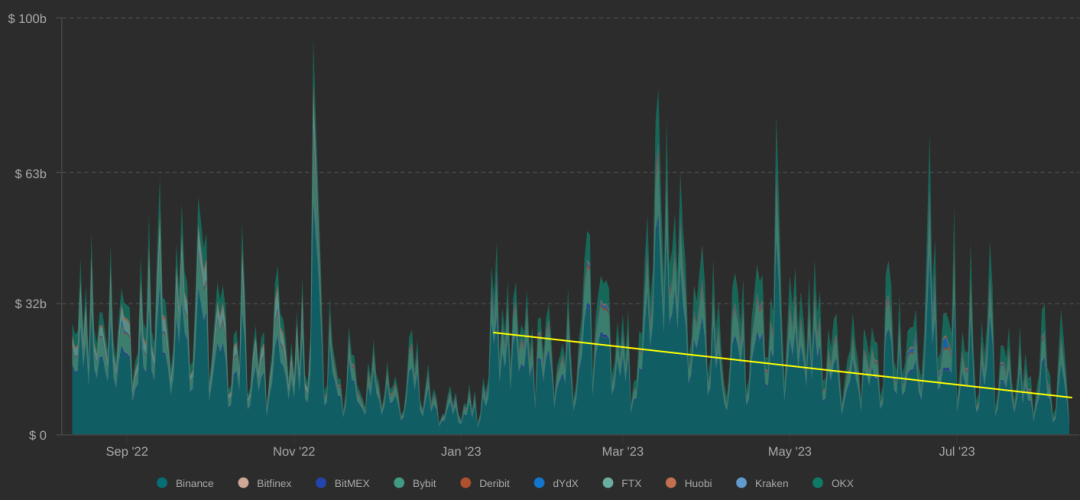 The latest data shows that the trading volume of BTC futures has dropped to the lowest level since December 2022, averaging less than 7 billion US dollars per day. This indicates that traders are either unwilling to take further action at the current price level, or they have shifted their attention to other markets with higher volatility or greater potential for significant changes.
Overall, there is suspicion of shuffling among individual whales, and the activities and adjustments of some whales are mainly driven by short-term holders. Most whales hold Bitcoin as an asset and take a wait-and-see attitude while maintaining unrealized profits.
03. Summary
It can be seen that the largest Bitcoin holders currently are Grayscale, top CEX, and the US government. In addition, stablecoin issuer Tether has also become one of the whale holders.
Since 2021, the number of super whales has decreased, but there have also been rebounds and an increase in retail investors during specific time periods. This may be caused by the boom in applications for US institutional Bitcoin ETFs, resulting in some short-term fluctuations. Most corporate whale holders of Bitcoin still hold their assets and have not sold large amounts, and they are mostly in a wait-and-see state.
Like what you're reading? Subscribe to our top stories.
We will continue to update Gambling Chain; if you have any questions or suggestions, please contact us!