Author: Jiang Haibo, LianGuaiNews
On July 26th, Binance announced that it will list First Digital USD (FDUSD). For most people, it may be the first time they have heard of this stablecoin project. According to observations by LianGuaiNews, FDUSD is a centralized stablecoin similar to USDT and USDC, which means there is no room for speculation on the appreciation of governance tokens. In this article, we will provide a brief introduction to FDUSD.
What is FDUSD?
FDUSD is a stablecoin issued by FD121 Limited, a subsidiary of First Digital Limited, a custodian company based in Hong Kong. It is pegged to the US dollar at a 1:1 ratio. First Digital Trust was formerly a digital asset custodian under Legacy Trust, a Hong Kong financial services company. It became a completely independent public trust company in 2019 and announced a $20 million financing in May 2022, with investments from Nogle and Kenetic Capital, who are investors in Telegram.
According to First Digital, FDUSD is a programmable stablecoin that can execute financial contracts, custody services, and insurance without the involvement of third parties. The establishment of FDUSD aims to reduce volatility in the cryptocurrency market, lower transaction costs, improve financial efficiency, and provide faster and more secure transactions.
The release of FDUSD coincided with the launch of Hong Kong's new virtual asset service provider licensing regime on June 1st. On June 1st of this year, Binance founder CZ announced that First Digital would issue stablecoins on the BNB Smart Chain. Therefore, FDUSD may have a strong "Hong Kong" label and may also have support from Binance. There have even been previous reports of FDUSD potentially being listed on major exchanges.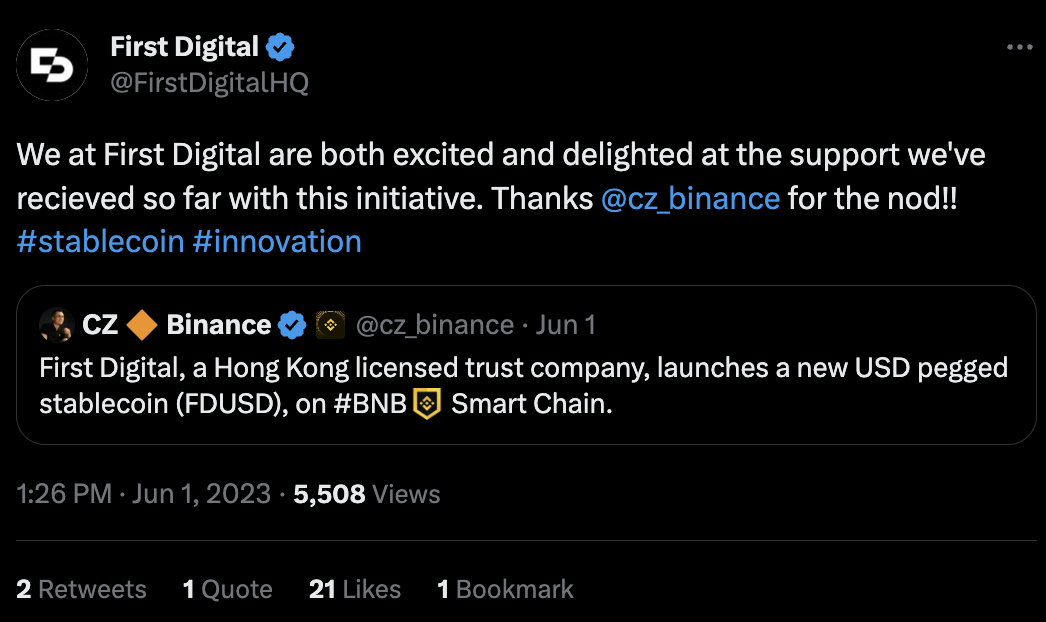 As this is issued by traditional financial institutions in a centralized manner, there is no governance token.
Reserves and Audit of FDUSD
According to the whitepaper, the advantages of FDUSD include: transferable, redeemable, programmable, low fees, running on decentralized networks, and bankruptcy independence from banking institutions. The whitepaper states that the reserve funds of FDUSD are held by the designated custodian company First Digital Trust Limited. The reserve account and the operational account of the custodian company are separate, so even if the custodian company goes bankrupt, the reserve funds of FDUSD will be protected independently from the custodian company's other assets. The project is audited by security company PeckShield.

First Digital Labs claims that each issued FDUSD is backed by $1 or an equivalent amount of assets, which are held by qualified custodians in regulated deposit-taking institutions. FDUSD will regularly issue reserve account reports. The information displayed on the official website includes reserve reports issued on June 23rd and June 30th, which were provided by Prescient Assurance.
The reports show that on June 23rd, a total of 532.52 FDUSD was issued on Ethereum and BNB Smart Chain, and on June 30th, a total of 1070.8 FDUSD was issued on Ethereum and BNB Smart Chain. The reports state that on these two dates, the balance of the reserve account was at least equal to or higher than $532.52 and $1070.8, but the specific reserve amounts were not disclosed.
Purchase and Redemption of FDUSD
First Digital Labs only sells stablecoins to industry key participants, financial intermediaries, or professional investors with certain status, and they must meet necessary conditions. For retail investors, they can only purchase directly from the secondary market. After being listed on Binance, FDUSD should also have sufficient liquidity under normal circumstances.
In addition, according to previous reports, although the company is headquartered in Hong Kong, FDUSD cannot be used by retail investors in Hong Kong temporarily because the stablecoin regulations in Hong Kong have not been officially launched.
To redeem FDUSD, you first need to register as a client of First Digital Labs and meet specific requirements including anti-money laundering (AML) and counter-terrorism financing (CTF) checks, and then you can exchange FDUSD for an equivalent amount of fiat currency.
The documentation describing the risk factors also points out that due to various uncontrollable factors, the price of stablecoins may fluctuate around $1 and there is no guarantee that the price of stablecoins will always be equal to $1.
On-chain Data: Issued amount is 10.11 million, mostly held by Binance addresses
FDUSD has been issued on Ethereum and Binance Smart Chain, with the contract addresses on Ethereum and Binance Smart Chain being 0xc5f0f7b66764F6ec8C8Dff7BA683102295E16409 and 0xc5f0f7b66764F6ec8C8Dff7BA683102295E16409 respectively.
According to the blockchain browser, as of July 26th, 13:00, the total issuance of FDUSD on Ethereum and Binance Smart Chain is approximately 10.11 million. The issuance on Ethereum is 1.114 million, with 4 holding addresses, among which Binance 14 holds 99.8565% of the supply; The issuance on Binance Smart Chain is 8.996 million, also with 4 holding addresses, among which Binance: Hot Wallet 6 holds 99.9992% of the supply. It can be seen that currently, FDUSD is mostly held by Binance wallets.

Binance offers zero transaction fee promotion for FDUSD and has listed three trading pairs: BNB/FDUSD, FDUSD/BUSD, and FDUSD/USDT.
In conclusion, FDUSD is likely a USD-backed stablecoin issued by the subsidiary of First Digital, a traditional custodian institution, after the new virtual asset service provider licensing regime takes effect in Hong Kong. Considering Binance's support and on-chain data, this could be a centralized stablecoin alternative that Binance chose to support after BUSD was prohibited from being issued by regulatory agencies. In the future, Binance may provide more support, such as listing more trading pairs and participating in Launchpool offerings.
Like what you're reading? Subscribe to our top stories.
We will continue to update Gambling Chain; if you have any questions or suggestions, please contact us!