Since BlackRock submitted its spot bitcoin ETF application on June 15, according to WEEX data, bitcoin has risen 19.06% from June 16 to 23 (during which time there were other positive factors such as EDX Markets' launch).
BlackRock's spot bitcoin ETF application has attracted a lot of attention, not only because the world's largest asset management firm manages about $8.59 trillion in assets (as of December 31, 2022), but also because BlackRock has a perfect record of 575/576 ETF applications.
However, facing the strict scrutiny of the U.S. Securities and Exchange Commission (SEC) — 28 applications have been rejected 28 times — BlackRock is also unsure this time. On July 1, The Wall Street Journal cited sources as saying that the SEC told Nasdaq and Cboe Global Markets that BlackRock and Fidelity Investments' spot bitcoin ETF applications lacked clarity and necessary information. As a result, BlackRock resubmitted the filing through Nasdaq on Monday (July 3), with market monitoring support provided by Coinbase.
What are BlackRock's chances of success this time? While the whole industry is waiting with bated breath for progress, on July 5, BlackRock founder and CEO Larry Fink appeared on the Fox Business Channel's "The Claman Countdown" program to talk about BlackRock's application for a spot bitcoin ETF, as well as market hot topics such as the Fed's interest rate hike forecast.
Fink did not reveal much substantive information about the iShares Bitcoin Trust that BlackRock is applying for, only saying that BlackRock will work closely with regulators, hoping to hear from regulators and then provide feedback to resolve issues and eliminate regulatory doubts. He hopes that BlackRock's application will be approved, just as BlackRock has had a good track record of working with regulators in the past, but he does not know when that day will come.
01 ETF will promote the democratization of cryptocurrency investment
It is reported that BlackRock manages $2.4 trillion of ETF products. Historically, it has submitted 576 ETF applications, of which 575 were approved and only 1 was rejected.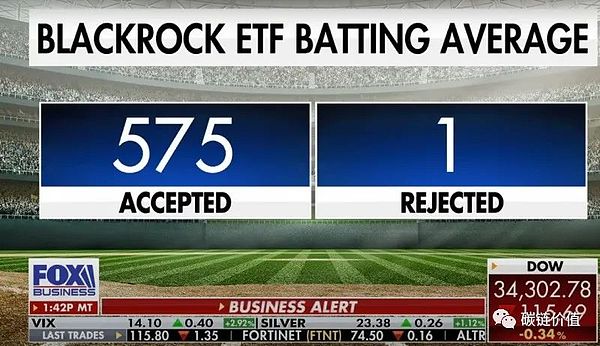 Although BlackRock has an almost perfect record of obtaining ETF approval, it is not guaranteed to be successful this time. It should be noted that BlackRock has invested in traditional fields such as real estate, energy, and technology in the past, while spot Bitcoin ETFs, as a new type of product, have not yet been approved by the SEC. According to incomplete statistics, as of now, the SEC has rejected 28 applications for Bitcoin spot ETFs.
Therefore, the host Liz Claman also criticized the SEC in the program, saying that from Ark to Instress Eco, Vanek, Grayscale, these fund companies are eager to do the same thing, but they are all rejected by the SEC's "bodyguard", namely "Chief Bodyguard" Gary Gensler (SEC Chairman).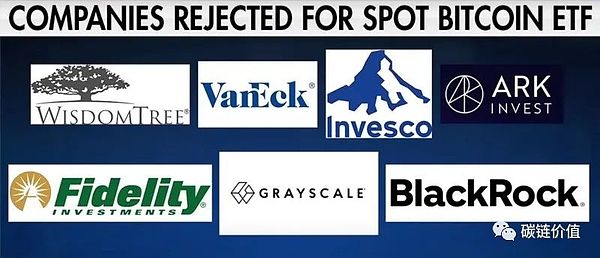 According to the official process, the SEC's filing notice for spot Bitcoin ETFs must be published in the Federal Register before it officially enters the countdown of the longest 240-day review period, with intervals of 45 days, 45 days, 90 days, and 60 days (in order) for the reply deadline.
Before making the final decision to approve, the SEC can make 3 postponements, solicit opinions, or request the applicant to provide supplementary information. However, the bad news is that historically, all applications, including spot ETFs, have gone through most of the 240-day process before being finally rejected. That is to say, if the SEC makes a postponement decision on BlackRock's first reply deadline (which has not yet been determined), the probability of being finally rejected will increase significantly.
Looking at the above historical experience, "Wood Sister" is a bit hanging, because the Ark 21Shares Bitcoin ETF she cooperated with 21Shares to submit has been postponed once by the SEC, on the same day as BlackRock submitted the application on June 15. Of course, there are exceptions. Teucrium's Bitcoin futures ETF has gone through nearly 240 days of the entire process, including 3 postponements, but it still passed in the end.
According to Fink, ETFs are a major revolution for the mutual fund industry and are taking over the entire mutual fund industry, and BlackRock is a follower of the ETF product. BlackRock sees this physical bitcoin ETF as an opportunity to further serve investors, democratize investment costs, and reduce the threshold and investment costs of cryptocurrency investment. He said that in the past 10 years, BlackRock has reduced the investment cost of iShares ETFs by 30%.
"Therefore, we hope that regulators will consider these (ETF application) documents as a way of democratizing cryptocurrencies, and we will see its effects in the future." Fink said.
Fink believes that Bitcoin was widely used for illegal activities in its early days, but with the lowering of the investment threshold, it is believed to have value as "digital gold." He emphasized that Bitcoin is a global asset, not just a tool for fighting inflation or hedging against the depreciation of any country's currency. It is the culmination of all investment alternatives.
He also emphasized that the underlying technology of blockchain is great because it helps us simplify transaction processes and improve transaction efficiency by decentralization. It should be noted that some intermediaries in the entire financial process are very bad.
02 The Fed is expected to raise interest rates up to 4 more times or 100 basis points
After replenishing his faith, Fink immediately poured cold water on it. He believes that the Federal Reserve will have to continue to raise interest rates, up to 4 times, 25 basis points each time, or a cumulative 100 basis points. The reason is that inflation has strong stickiness and repeatability.
According to previous media reports, historically, during the inflation period from the 1970s to the early 1980s, inflation remained high until it was contained after two rounds of interest rate hikes. Therefore, it is not ruled out that the Federal Reserve will slow down its pace of interest rate hikes this time, but find that inflation is still stubborn and have to start a second round of interest rate hikes.
Fink pointed out that higher interest rates will bring greater pressure on real estate, and commodity housing is the largest asset category for regional banks. Therefore, it is not ruled out that there will be a new round of credit crises, and other small banks will collapse. The United States has more than 4,400 banks, more than any other country in the world, and perhaps we will see some of them disappear in a few years.
However, Fink said that this does not mean that there will be a systemic crisis. On the contrary, the economy is strong now and the future prospects are even stronger. The big banks have no problems. He pointed out that the United States has injected $1 trillion in stimulus measures and last year issued three large-scale stimulus plans-the infrastructure bill, the chip bill, and the investment bill. "Think about how many jobs are needed to rebuild airports, highways, and ports? The employment prospects brought about by these bills will be huge, and companies involved in infrastructure reconstruction will be good long-term holdings."
WEEX Blog believes that Fink's optimism about the prospects of the US economy is somewhat "decided by the butt" and has a suspicion of promoting its own products. After all, BlackRock has an asset management scale of about 8.59 trillion US dollars, covering stocks, fixed-income investments, cash management, alternative investments, and consulting strategies. In fact, there are also many critics who believe that the above-mentioned US stimulus measures are too strong, and the consequences are the interest rate hikes and anti-inflation processes that we are currently experiencing.
Like what you're reading? Subscribe to our top stories.
We will continue to update Gambling Chain; if you have any questions or suggestions, please contact us!