DeFi Data
1. Total market capitalization of DeFi tokens: $46.695 billion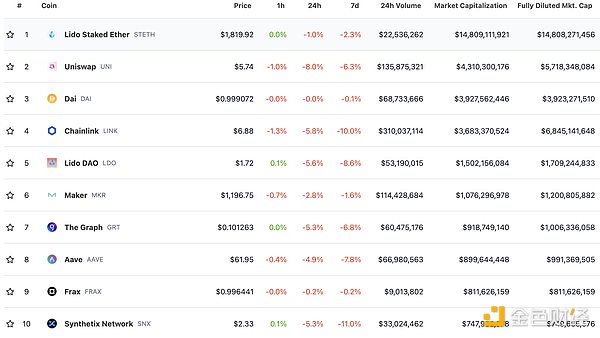 Data source: Coingecko
2. Trading volume of decentralized exchanges in the past 24 hours: $3.872 billion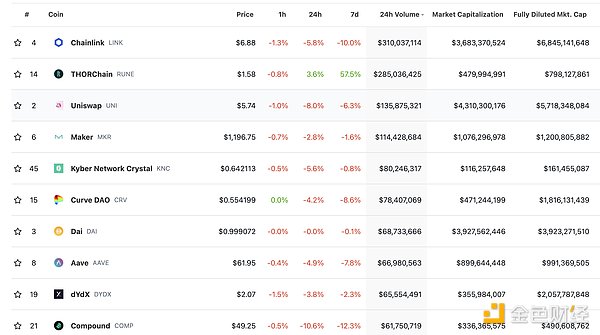 Data source: Coingecko
3. Total locked assets in DeFi: $41.082 billion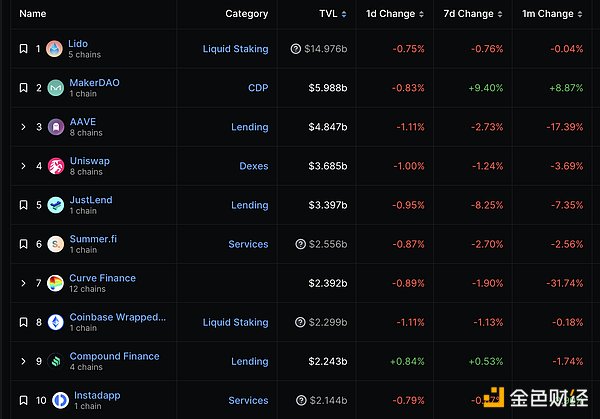 Data source: Defillama
NFT Data
1. Total market capitalization of NFTs: $15.796 billion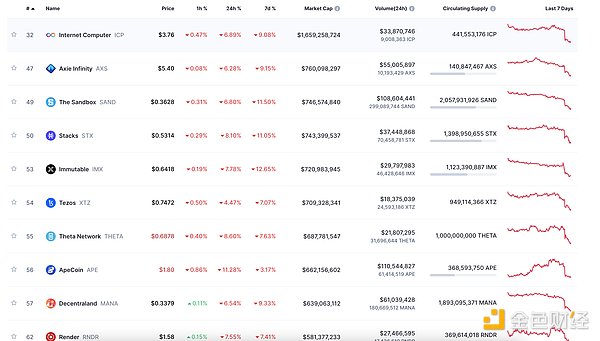 Data source: Coinmarketcap
2. 24-hour trading volume of NFTs: $1.558 billion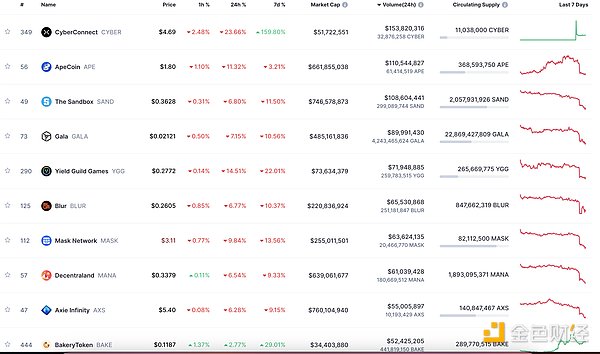 Data source: Coinmarketcap
3. Top 10 NFTs sold in the past 24 hours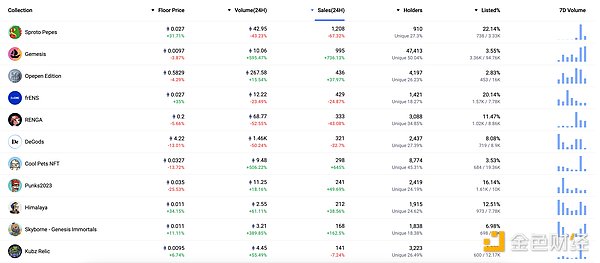 Data source: NFTGO
Headlines
Binance Connect to Shut Down on August 16
LianGuai reported that Binance Connect, a regulated cryptocurrency trading service provider owned by Binance, will shut down on August 16. On the same day, the decentralized exchange BSwap on BNB Chain tweeted that "Binance Connect will be disabled on August 15 due to the closure of supported card payment services by its provider."
A Binance spokesperson stated, "At Binance, we regularly review our products and services to ensure our resources continue to focus on core work that aligns with our long-term strategies. Over the past six years, Binance has evolved from an exchange to a global blockchain ecosystem with multiple business lines. We constantly adjust and modify our business approaches to adapt to the ever-changing market and user demands."
It is reported that Binance Connect was launched on March 7, 2022, under the name Bifinity at that time. It is a fiat-to-cryptocurrency payment provider that connects cryptocurrency companies with traditional financial systems. The platform initially supported 50 cryptocurrencies and legal payment methods such as Visa and Mastercard. Binance Connect served as the fiat-to-cryptocurrency gateway for the company's self-custody Trust Wallet.
NFT/Collectibles Highlights
1. CoinGecko: 10 out of the top 25 largest NFT liquidations were loans collateralized by Bored Ape Yacht Club (BAYC)
According to data from CoinGecko, borrowing against NFTs as collateral can come with risks, including liquidation. Let's analyze some notable instances of NFT liquidations and their trends.
Out of the top 25 largest NFT liquidations, 10 of them were loans collateralized by Bored Ape Yacht Club (BAYC). The total loss for the borrowers of these 10 loans amounted to $754,000.
Autoglyphs ranked second in terms of liquidation volume among NFT collections. Out of the top 25 loan liquidations, Autoglyphs accounted for 4 of the highest loan liquidations, which translates to a total loss of $372,000 (22.6%) for the borrowers.
Wrapped Crypto Punks also accounted for 4 out of the top 25 worst loan liquidations, but with a lower loss of $177,000 (10.8%) for the borrowers. ArtBlocks followed closely behind, with loans supported by its curated projects recording losses of $164,000 (10.0%) in the most severe liquidations.
This study examined the worst Ethereum NFT loan liquidations based on borrower losses. The borrower losses were calculated based on the difference between the loan debt amount and the liquidation floor price, using data from SnowGenesis, CoinGecko NFT, and NFT price lower limits.
2. McDonald's Singapore introduces classic milkshake NFT series "Grimace Digital Collectible"
McDonald's Singapore announced on its official Instagram account that it has partnered with Bandwagon Labs to launch an exclusive digital collectible NFT series called "Grimace Digital Collectible" based on the McDonald's classic milkshake character Grimace. The series, designed by artist Hidden Walls, will be minted and provided through the McDonald's Singapore app (expected to launch on August 21), with each account limited to one free redemption, and the NFT cannot be transferred or traded.
3. AI Meta Club's EntryLianGuaiss NFT Mint burns over 2 million AMC tokens
According to official sources, AI Meta Club has burned over 2 million AMC tokens by using AMC EntryLianGuaiss (AMCEP) to mint new AMCEP tokens, thus expanding the entire ecosystem.
The team will continuously optimize the product and strive to promote the development of the AMC Club, while adhering to the spirit of DAO governance, providing a valuable platform for global explorers of AI and the Metaverse.
4. Adidas collaborates with BAPE to release NFT version of sneakers
Adidas Originals and BAPE, the clothing brand, have launched a limited edition collaboration sneaker called Triple-White Forum 84 BAPE Low, which will be auctioned off along with a "Digital Twin" NFT version of the sneakers that can be worn in the virtual universe.
With the support of Adidas///Studio, the auction will take place on the Adidas Collect platform centered around redeemable NFTs. The sneakers showcase BAPE's logo through a meteor pattern on the outer side of the shoe and a raised "ABathing Ape" emblem in metallic silver foil. Each pair of shoes comes with an NFC chip placed in the left tongue, allowing owners to obtain an NFT-based authenticity certificate by scanning it with a smartphone.
DeFi Hot Topics
1. Scopescan adds Polygon network
On August 16th, Scopescan announced that it has launched the Polygon network, which supports address tracking, transaction signal retrieval, entity tracking, and other functions.
2. Solana Foundation's strategic director: Solana's MEV is more like high-frequency trading
In an interview with Bankless, Austin Federa, the strategic director of the Solana Foundation, analyzed Solana's design concepts and technical features. He stated that Solana aims to create a global state machine that is as fast as traditional financial markets. Solana adopts a single-layer network architecture, which enables higher speed and lower fees compared to Ethereum's multi-layer architecture. Solana uses proof-of-stake mechanism. SOL is used for network staking and transaction fees, similar to Ethereum. Solana's inflation rate decreases year by year to balance inflation pressure and reward incentives. Solana achieves high throughput and low latency through technologies such as QUIC and local fee markets. Solana's MEV is more like high-frequency trading, with strong timeliness. Ethereum's MEV, on the other hand, is more persistent and involves larger amounts. The equity-weighted mechanism and JudoSoul token allow Solana users to share MEV rewards.
3. Paishield: SwirlLend deployer address transfers funds to Ethereum mainnet
On August 16th, according to Paishield's monitoring, the SwirlLend deployer address transferred tokens worth $289,000 from Base to the Ethereum mainnet. In addition, the SwirlLend protocol was also exploited on the Linea network, and 94 ETH was transferred to the Ethereum mainnet. As of the time of writing, the balance of funds in the deployer address on Ethereum is 165.6 ETH and 32,641 USDC. Earlier, it was reported that SwirlLend, a lending protocol in the Base ecosystem, was suspected of exiting, with TVL dropping from $784,000 to $492,000. The official Twitter account of the protocol has also been deactivated.
4. BNB Chain: opBNB mainnet opens to infrastructure providers
According to BNB Chain, the opBNB mainnet has opened to infrastructure providers, bringing the public launch of the opBNB mainnet one step closer.
5. Base lending protocol SwirlLend suspected to have exited, protocol token and TVL nearing zero
On August 16th, according to DefiLlama data, the TVL of the Base lending protocol SwirlLend dropped from $784,000 to $492,000. Additionally, the official Twitter account of the protocol has been deactivated. On-chain information shows that the price of the SwirlLend protocol token SWI also dropped close to zero at 10 am this morning.
Metaverse Hot Topics
1. Qingtian County in Zhejiang Province introduces new policies for the development of county-level metaverse industry
According to reports from LianGuai, Qingtian County in Zhejiang Province has issued "Several Opinions on Accelerating the Development of the Metaverse Industry." The ten policies cover aspects such as rent support, computing power cooperation, project introduction, entrepreneurial settlement, technological innovation, financial support, application scenarios, etc. According to the opinions, Qingtian will provide rental subsidies of 100%, 70%, 60%, and 50% to metaverse companies that settle in platforms such as the Overseas Chinese Headquarters Building, Qingchuang Building, and Qingtian's foreign enclaves, based on a tiered policy. Metaverse companies (excluding trading companies) that achieve annual sales revenue exceeding RMB 30 million, 50 million, 100 million, and 300 million for the first time will receive one-time subsidies of RMB 200,000, RMB 600,000, RMB 1.5 million, and RMB 3 million, respectively. Qingtian will also distribute a total of no more than RMB 10 million in computing power vouchers each year to support companies conducting computing power cooperation in Qingtian.
Disclaimer: LianGuai, as a blockchain information platform, publishes articles for informational purposes only and does not constitute actual investment advice. Please establish correct investment concepts and be sure to increase risk awareness.
Like what you're reading? Subscribe to our top stories.
We will continue to update Gambling Chain; if you have any questions or suggestions, please contact us!