Author: Nancy, LianGuaiNews
Although movies like "All In" have deepened the "cryptocurrency = scam" label to some extent, an increasing number of real-world use cases in Web3 are starting to change the outside world's stereotypical negative impression of cryptocurrencies. For example, Margot Robbie, the star of the recent movie "Barbie," has expressed that Bitcoin is also a form of "Big Ken Energy" (referring to inclusive diverse values).
This is also the mission of Web3 incubator Hourglass. Hourglass is incubating multiple crypto projects and tightly connecting them with mainstream entertainment, popular applications, major retail brands, and large-scale real-life events, in order to create a more positive perception of Web3 among the general public.
The first season of a crypto reality show is about to air, focusing on educational concepts
As the frequency of crypto-related plots in daily TV shows and movies increases, crypto culture is entering the public's vision in various forms. "The Next Crypto Gem" is the first incubation project of Hourglass Collective and has been completed in collaboration with US TV channel Bspoketv and NEFT Entertainment. This show aims to educate and entertain through dramatic and interesting characters and captivating stories, while providing a platform for ambitious crypto startups.
"The Next Crypto Gem" is a competition reality show similar to "Shark Tank," "The Voice," and "The Apprentice." It will invite 16 crypto enthusiasts to compete for a $150,000 prize. The show is expected to have two seasons, with the first season already completed and set to premiere on Insight TV on September 7th. It will also be available on major distribution platforms such as Amazon Prime, Pluto TV, and hardware platforms like Samsung, Vizio, and LG.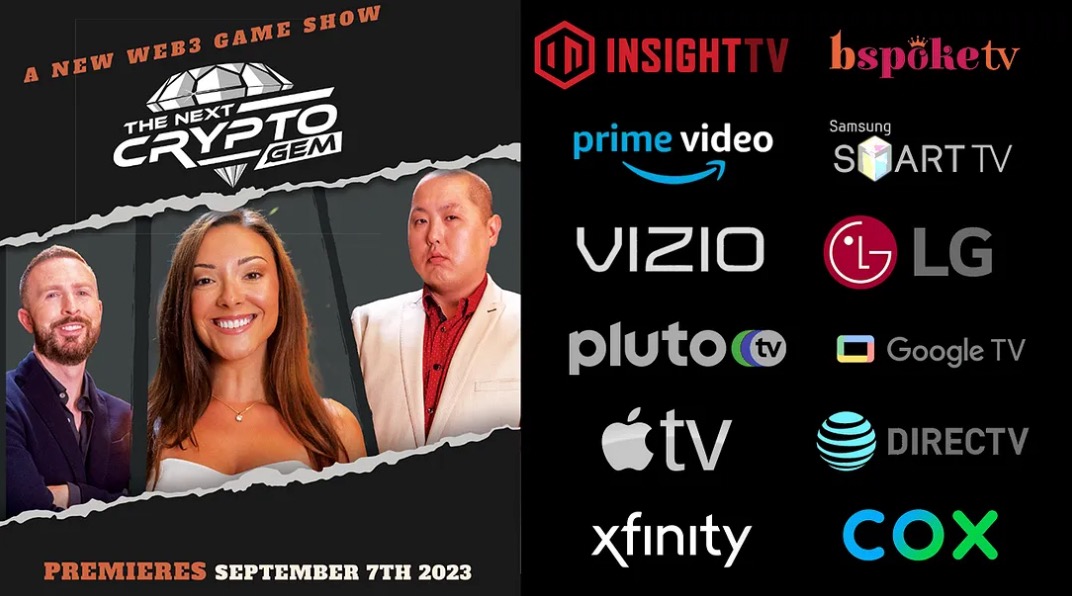 Jett Tang, Co-Chairman and Executive Producer of Hourglass, introduced that the focus of the first season is on educational concepts, challenging the knowledge gap among groups who don't understand or are not friendly towards cryptocurrencies. Participants are composed of 1 to 2 founders/leaders of crypto or NFT projects, and applicants must be at least 21 years old. They will be divided into four groups and need to explain the basics of blockchain to people who do not hold any cryptocurrencies in order to win the challenge. Of course, during the six-week challenge, the judges will intervene to explain key cryptocurrency terms or concepts. Crypto influencers Brian D. Evans, Layah Heilpern, and George Tung serve as judges for this season.
In addition to winning the prize money and the title of "The Next Crypto Gem," the winner will also receive an exclusive membership to Affinity Collective, a community composed of crypto elites, including American entrepreneur Brian D. Evans and fund manager Sami Rusani, among others. Furthermore, multiple sponsors such as Hourglass, Ben Coin, Club 3, LCX, Affinity, and NEFT Entertainment will provide token rewards, lifetime membership NFTs, and other rewards.
In addition to these crypto personalities, many well-known figures outside the crypto community will also appear, including "Shark Tank" actor Kevin Harrington, Emmy award-winning producer Brandon T. Adams, comedian Anna Roisman, and American professional poker player Tom Dwan.
"The Next Crypto Gem" may bring cryptocurrencies to the "mainstream audience" for the first time, due to the strong external traffic brought by its partners. On the one hand, the show's producers Michael Dutcher and Shawn Sanford have ample experience in content acquisition and marketing activities. Dutcher is the CEO of Bspoketv and the former Executive Vice President of Subscription Television Service Platform WhereverTV, while Sanford has worked at Microsoft, helping to launch Windows 98, Windows Me, and Windows XP. On the other hand, the show will be broadcasted on nearly 200 platforms, including Bspoketv, which reaches over 25 million households and has 2.2 billion content creator views. Insight TV is a broadcasting company specializing in providing content for Generation Z, covering 173 platforms, 53 countries, and 12 languages. DIRECTV is one of the largest satellite television providers in the United States and Latin America.
Launching community-driven tokens, with multiple projects yet to be released
As the soul of a blockchain project, a well-designed token economy is one of the key factors for long-term sustainable development. $WAIT is the utility token of the Hourglass ecosystem, a decentralized and community-driven tax-free token, which was launched on August 19, 2022.
The initial total supply of $WAIT was 100 million tokens, with over 2 million tokens already burned by the community, leaving the current supply at 97.96 million tokens. $WAIT has no VC, no ICO, and the team has no reserves, with 100% circulation. In order to truly belong to the community, the developers have abandoned token ownership at the code level and removed all "onlyowner" functions.
Currently, $WAIT has been integrated into the incubation projects of Hourglass, including the Web3 RPG game Alpha District and the self-publishing application Kosmos. $WAIT is the exclusive in-game token for Alpha District, and the team behind the game has participated in AAA games and entertainment projects such as "Star Trek," "Black Panther," "The Avengers," and "Assassin's Creed," having raised approximately $1 million so far. Kosmos is designed for creators who want readers to fully immerse themselves in unique story worlds, with partners including Neo Tokyo, NonFungibleArcade, Worlds Beyond, Alpha District, and The Kingdom. $WAIT is used to unlock premium features for readers and creators, such as point rewards, subscription fee discounts, animated PFPs, and expert consultations, depending on the specific level.
In addition to these projects, Hourglass Collective is also incubating Project Chronos, Project Pendulum, Project Future, and Project Hourglass.
The team's strength is undoubtedly tested behind the multi-field development. The projects incubated by Hourglass are self-financed by Hourglass Collective community members or external equity investors. For example, Hourglass Chairman Jeff Mahony and President Jett Tang funded the first season of "The Next Crypto Gem." Mahony is a billionaire and an investor and advisor for multiple companies in the financial, healthcare, and mining industries. He helped establish the financial services technology company SaveDaily, which was used by over 7,000 companies as a registered advisor for the U.S. SEC. Tang entered the cryptocurrency field as early as 2016 and facilitated transactions worth over $150 million while working with top private equity firms.
According to the official roadmap, Hourglass will continue with the pre-production of the second season of "The Next Crypto Gem", launch Project Chronos, integrate $WAIT into multiple mobile applications, and explore more TV shows with encryption as the theme.
"We hope to help introduce mainstream adoption of cryptocurrencies and show their true face, making this technology interesting and entertaining." As Jett Tang said, although Web3, a technology that is becoming increasingly sophisticated, is starting to enter the mainstream world and gradually being adopted, it is still on the eve of mass adoption. In a sense, the Web3 market urgently needs a user awareness revolution. Hourglass's popularization of encryption culture, while giving Crypto a good name, may also help further adoption of this technology.
Like what you're reading? Subscribe to our top stories.
We will continue to update Gambling Chain; if you have any questions or suggestions, please contact us!