Author: Valley Yu & Biscuit, RootData
The Asia-Pacific region is one of the most vibrant regions in the Web3 industry. This year, governments in Hong Kong, Japan, and other regions have launched proactive policies to support the development of the local Web3 industry and compete for the status of the Web3 center. Mainland China, South Korea, Vietnam, and other countries are also the birthplaces of many well-known Web3 projects.
Currently, more and more Web3 projects are shifting their focus to the Asia-Pacific region, which has attracted the attention and investment of many venture capital institutions. In the recent article "Top 10 Emerging Crypto Venture Capital Institutions" published by RootData, half of the institutions including No Limit Holdings, IOBC Capital, and Arcane Group are located in the Asia-Pacific region. In addition, many well-established Asia-Pacific institutions such as HashKey Capital, IOSG Ventures, Fenbushi Capital, and Hashed have also remained active recently.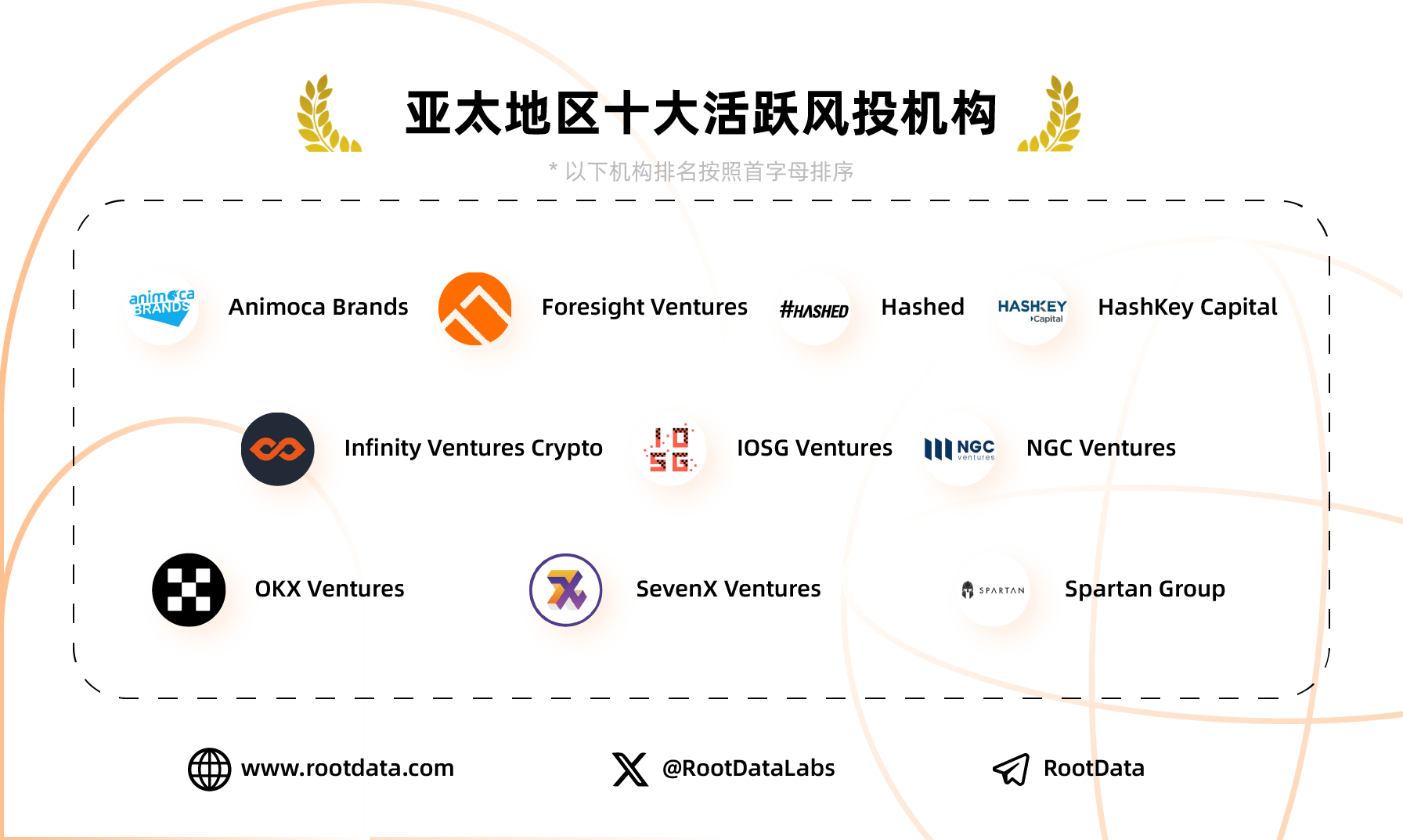 In this article, RootData combines its own investment and financing data statistics to analyze the major venture capital institutions located in the Asia-Pacific region based on factors such as investment frequency, lead investment times, and fund size. The following are specific introductions to these institutions:
Animoca Brands / Animoca Ventures
Animoca Brands is a Web3 gaming software company and venture capital firm founded by Yat Siu in 2014, headquartered in Hong Kong, China. Animoca Brands has long been one of the most active investors in the cryptocurrency industry, with a portfolio of over 400 companies and subsidiaries including The Sandbox and Quidd. In terms of tracks, Animoca Brands mainly invests in the gaming and NFT tracks.
In 2022, Animoca Brands established a separate venture capital department, Animoca Ventures, with an initial fundraising target of 2 billion US dollars. However, due to the downturn in the market and investor confidence, the fundraising target of the fund has been subsequently reduced to 1 billion US dollars and 800 million US dollars. Nevertheless, Animoca Ventures is still one of the funds with the most abundant cash on hand in the market. The two investment entities have made at least 37 moves in the past year, led at least 8 times, including projects such as Mythical Games, OP3N, and Xterio.
Foresight Ventures
Foresight Ventures is a venture capital firm focused on blockchain technology and the cryptocurrency industry, headquartered in Singapore. Foresight Ventures manages multiple funds with a total assets under management exceeding 400 million US dollars. The team consists of senior professionals from top financial and technology companies such as Sequoia Capital, CICC, Google, and Bitmain.
Foresight Ventures has received funding support from the exchange Bitget and uses an ecological combination to build its brand. Its ecosystem mainly includes the exchange Bitget, the wallet Bitkeep, the Chinese encryption media Foresight News, and the incubator Foresight X.
On June 16, 2022, Foresight Ventures launched a $200 million secondary fund, Foresight Secondary Fund I, which focuses on investing in cryptocurrency assets seeking liquidity in the private market (SAFT). According to official disclosure, the cryptocurrency exchange Bitget is the largest single LP of the fund.
According to data from Rootdata, Foresight Ventures has publicly disclosed investments in 56 projects. In the past year, they have made 25 investments, including well-known crypto projects such as Sei Network, Story Protocol, Ola, DappOS, and EthStorage.
HashKey Capital
The history of HashKey Capital can be traced back to 2015 when Dr. Xiao Feng from HashKey Group decided to bet on a relatively unknown project at that time – Ethereum. Today, Ethereum has grown into the most important platform-level infrastructure in the field.
In addition to venture capital business, HashKey Group has established HashKey Capital, HashKey Custody, HashKey DID, and other businesses. Recently, HashKey Group has also obtained approval from the Hong Kong Securities and Futures Commission to conduct over-the-counter (OTC) trading of virtual assets. It is currently one of the most influential crypto companies in the Asia-Pacific region.
In an interview earlier this year, HashKey Capital CEO Deng Chao stated that the team is currently distributed in Hong Kong, Singapore, and the San Francisco Bay Area, with over 1 billion USD in assets under management and investments in approximately 300 projects.
According to data from Rootdata, HashKey Capital has publicly disclosed investments in 224 projects. On January 17, 2023, the third fund under HashKey Capital completed a fundraising of 500 million USD. In the past year, HashKey Capital has made 55 investments, including well-known projects such as decentralized real-time rendering network Aethir, Web3 operational protocol dappOS, and Web3 interoperable infrastructure PolyHedra.
Hashed
Hashed is the most representative venture capital fund in Korea, co-founded by Ryan Sungho Kim and others in 2016. They have made early investments in many well-known projects in the Asia-Pacific region, such as Terra, Klaytn, and The Sandbox.
In December 2020, Hashed launched its first venture capital fund with a scale of 120 million USD. In December 2021, Hashed launched its second venture capital fund with a scale of 200 million USD. With these two funds, Hashed has gradually become one of the most active venture capital funds in the crypto market, with an average of nearly 10 investments per month in early 2021.
In an interview in the first half of 2022, Baek Kim, a partner at Hashed, revealed that without any LP, their assets under management have grown from an initial 700,000 USD to 4 billion USD, and the team has grown to 80 members, with 65% of the founders of invested projects located in Asia.
However, due to over-reliance on Terra and its ecosystem projects, Hashed was significantly affected by the collapse of the Terra ecosystem in May 2022. In addition, their preferred DeFi and gaming tracks performed poorly. Since then, Hashed has noticeably slowed down its investment frequency, with only 2-3 investments per month on average.
According to data from RootData, Hashed's main fund has made 16 external investments in the past year, with 7 of them being lead investments, including projects like Radius, Notifi, and Aura Network. In addition, Hashed also established a fund called Hashed Emergent at the beginning of 2022, dedicated to web3 investments in emerging markets such as India, with 4 investments recorded in the past year.
Infinity Ventures Crypto
Infinity Ventures Crypto (IVC) is headquartered in Taipei and is a crypto fund with resources from Japan, Taiwan, and mainland China. The mission of IVC is to support and invest in innovative startups in the fields of GameFi, DeFi, and Web3. IVC inherits the traditional entrepreneurial investment experience of its sister fund, Headline Asia, which has lasted for 13 years. Its global network covers blockchain companies from Southeast Asia, Taiwan, Japan, the United States, and other parts of the world.
In February 2022, IVC announced the completion of a $70 million fundraising round. Investment partners include Circle, Digital Currency Group, Animoca Brands, Hive Ventures, and Cherubic Ventures, among other heavyweight companies.
Co-founder Brian Lu stated that the fund has been oversubscribed and he does not want the fund to become too large, as Web 3 companies are seeking smaller financing rounds. Their average investment size may be around $250,000. The fund has deployed 30% and completed 80 transactions. 55% of these transactions are in Asia, and 35% are in the Americas.
According to the data compiled by Rootdata, Infinity Ventures Crypto has publicly disclosed a portfolio of 119 investments. In the past year, Infinity Ventures Crypto has made 21 transactions, with a focus on the metaverse and NFT tracks, including well-known crypto projects such as Tribe3, Fungify, MetaZone, and Aspecta.
IOSG Ventures
IOSG Ventures was established in 2017 and is a research-driven early-stage venture capital firm with a presence in China, the United States, and Singapore. It focuses on open finance, Web 3.0, and infrastructure in decentralized economies.
The four principles of investment for IOSG Ventures are: 1. Ambitious and resilient teams and founders; 2. Pioneering projects that add value to the entire Web3.0 ecosystem; 3. Excellent operational and delivery capabilities; 4. Focus on building strong communities with a large user base. IOSG pays particular attention to brand building and releases in-depth research reports on a weekly basis.
According to the data compiled by Rootdata, IOSG Ventures has publicly disclosed a portfolio of 141 investments. In the past year, IOSG Ventures has made 21 transactions, including well-known crypto projects such as EigenLayer, Scroll, Connext, and RISC Zero.
NGC Ventures
NGC Ventures is a venture capital firm that focuses on investing in blockchain and distributed ledger technology. Headquartered in Singapore, NGC Ventures established its first fund in 2017 and has invested in more than 50 projects to date, including Algorand, CoinFLEX, and DappReview. According to Jack Lu, Managing Director of NGC, the company has achieved approximately 5 times return from its first fund and currently manages around $400 million in assets.
In January 2020, NGC Ventures raised approximately $20 million for its Fund II. The fund will deploy a wide range of investment strategies, from purchasing tokens and structured products to quantitative trading, staking, and mining. NGC co-founder Tony Gu stated that NGC adopts an "all-weather investment strategy" based on different stages of the market cycle, such as accelerating growth, inflation, slowing growth, and deflation.
In May 2021, NGC Ventures announced the launch of a $20 million strategic investment fund for the development of the Solana ecosystem. In addition to investments, NGC Ventures plans to provide guidance in business development, recruitment, and financial management for ecosystem projects to contribute to the Solana ecosystem. This ecosystem fund is one of the five funds jointly investing $100 million in the Solana ecosystem. Contributors include NGC Ventures, Huobi, Gate.io, HashKey, and MATH (cross-chain wallet).
In May 2022, NGC Ventures launched the Web3 Ecosystem Fund III. This is the company's third blockchain fund, raising $100 million from investors such as Babel Finance, Huobi Ventures, Nexo Ventures, Altonomy, and GBIC. Roger Lim, General Partner of NGC Ventures, stated that the fund will allocate funds to "high-potential projects" in the Web3 economy.
According to data from Rootdata, NGC Ventures has a publicly disclosed investment portfolio of 246 projects. In the past year, NGC Ventures has made 33 investments, including well-known crypto projects such as LayerZero, Connext, and Opside.
OKX Ventures
OKX Ventures is the investment division of OKX, with an initial capital of $100 million, focusing on investments in blockchain infrastructure, Layer2, DeFi, NFT, Metaverse, and other areas.
OKX Ventures stated that it will provide comprehensive post-investment services to investment projects, whether in China, Silicon Valley, Japan, South Korea, or Southeast Asia. It has formed resource networks with local media and KOLs to help entrepreneurs from different perspectives. In addition, projects in which OKX Ventures is deeply involved and invested will be recommended to OKX and have the opportunity to access a wide range of OKX products, services, promotional resources, users, and brand endorsements.
According to data from Rootdata, OKX Ventures has a publicly disclosed investment portfolio of 130 projects. In the past year, OKX Ventures has made 19 investments, including well-known crypto projects such as LayerZero, Sei Network, Taiko, Berachain, Prisma Finance, and DappOS.
SLianGuairtan Group
SLianGuairtan Group is a leading blockchain investment and consulting firm based in Singapore and Hong Kong, characterized by long-term strategic and value investments. They are dedicated to finding blockchain projects with strong fundamentals, long-term growth potential, and innovation. The firm also pays attention to global market trends, macroeconomic factors, and policies and regulations that impact the blockchain industry.
In June 2021, SLianGuairtan Group announced the establishment of a $110 million DeFi fund. The fund focuses on the DeFi market, particularly the application layer, and will support projects on Ethereum, Solana, and other networks. This fundraising reflects professional investors' growing interest in the DeFi market, with LPs mainly consisting of high-net-worth investors and family offices that have recently entered the market. It is reported that the fund has invested in projects such as dYdX and Arbitrum and plans to invest in approximately 50 projects over five years.
In March 2022, SLianGuairtan Group announced the establishment of a $200 million metaverse fund, focusing on metaverse project construction, especially the virtual world of "digital ownership". The new fund of SLianGuairtan Group focuses on three different levels of the metaverse: infrastructure layer, experience layer, and value-add layer, with the third layer including game guilds and NFT trading platforms.
According to data compiled by Rootdata, SLianGuairtan Group has publicly disclosed a portfolio of 177 investments. In the past year, SLianGuairtan Group has made 36 moves, leaning towards identity privacy and AI directions, such as encrypted projects like Aspecta, Kaito, Anoma Network, and zkMe.
SevenX Ventures
Established in 2020, SevenX Ventures is a rapidly growing star crypto investment fund in the Asian region. Its three founding partners (Jon, FC, Eraser) and other team members are veterans with over 5 years of experience in the industry.
In terms of investment style, SevenX Ventures advocates "immersive investment" and provides comprehensive support to invested projects in terms of financing planning, product design, economic models, marketing, etc., in addition to financial support. The heavy involvement style of SevenX Ventures can be traced back to FC and Eraser's previous experience in Genesis Capital, where they deeply incubated multiple projects.
According to data compiled by Rootdata, SevenX Ventures has publicly disclosed a portfolio of 115 investments. In the past year, SevenX Ventures has made 23 moves, including well-known encrypted projects such as Manta Network, EthStorage, Lifeform, and Caldera.
Like what you're reading? Subscribe to our top stories.
We will continue to update Gambling Chain; if you have any questions or suggestions, please contact us!