The digital currency trading market is becoming increasingly prosperous, with a global market size of around 2 trillion USD. It is expected to reach several trillion USD in the future, making the digital currency sector worth studying and researching. Decentralized derivatives, as a new financial instrument, have become a popular trading method internationally. Due to the continuous focus on financial risks, there are numerous types and sizes of exchanges in the market, which often leaves investors stuck on the issue of how to choose a trading platform.
So, how do you choose a high-quality and suitable exchange? And from which indicators should you make the right judgments? These are the questions that experienced traders and beginners need to face together. It is recommended that investors consider the asset strength and technical team of the trading platform when choosing an exchange.
Kine Protocol has received a $24 million investment from top global investment institutions and investors
Introduction to three investment institutions of Kine Protocol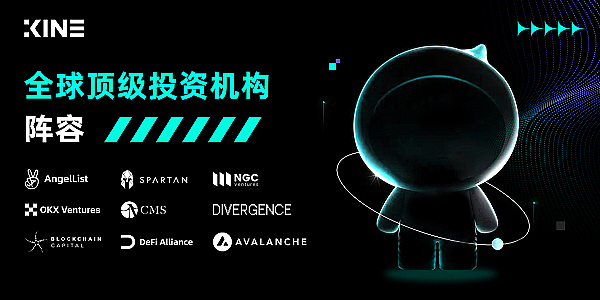 OKEx: One of the world's leading centralized cryptocurrency trading platforms, with investments in high-quality projects such as Sei Network, Arbitrum, and LayerZero. OKEx fully supports and invests in Kine Protocol. The platform token of Kine Protocol was launched on OKEx on March 14, 2021.
AngelList: Deservedly the leader in decentralized investment paradigms, AngelList has already produced dozens of different products, including AngelList Venture (equity investment), AngelList Talent (recruitment), AngelList India, Republic (equity crowdfunding), CoinList (token issuance), and Product Hunt. Silicon Valley is committed to connecting early-stage startups with angel investors through an online financing platform and has invested in well-known companies such as Twitter and Uber.
Blockchain Capital: A top-tier venture capital firm that invests in blockchain technology companies. Blockchain Capital's first fund was launched in 2013, making it the first venture capital fund dedicated to the Bitcoin/blockchain ecosystem and the first fund to respond to the demand for Bitcoin capital. Blockchain Capital is a sector-specific multi-stage venture capital firm aimed at gaining diverse exposure to the blockchain ecosystem while providing its investors with unique co-investment opportunities and proprietary transaction processes. The company was founded by Bart Stephens, Brad Stephens, and Brock Pierce.
Founder and investors of Kine Protocol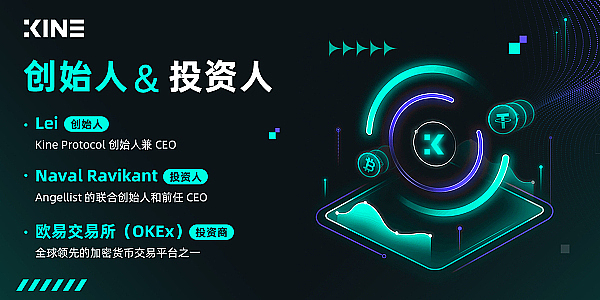 Lei, the founder of Kine, graduated from Imperial College London with a major in computer science and holds a CFA certification. With over 15 years of experience in traditional investment banks, including Merrill Lynch, HSBC, Standard Chartered, and Citigroup, he has rich experience in the digital currency trading market. According to Lei, the founding team of Kine consists of international teams from well-known traditional financial institutions such as Merrill Lynch, HSBC, Standard Chartered, and Citigroup, with an average of 7 years of research and development experience and more than 5 years of collaboration by the core team.
Kine investor Naval Ravikant is one of the famous angel investors in Silicon Valley. Naval Ravikant is the co-founder and former CEO of Angellist. He founded Angellist in 2010. Naval Ravikant is also one of the most well-known investors in the fintech field. He has invested in more than 10 unicorn companies, including Uber, Twitter, Notion, Clubhouse, and other well-known enterprises and projects.
Kine investor Alex LianGuaick is one of the earliest institutional investors in the cryptocurrency field. He has worked for Bain Capital Ventures and cryptocurrency investment fund Dragonfly Capital. He has been an early investor in many leading teams in the cryptocurrency field, including Compound Finance, MakerDAO, UMA Protocol, Amber Group, MatrixPort, Polychain Capital, Ethereum, and Cosmos. In October 2020, Alex LianGuaick was hired by Huobi as an investment advisor for Huobi's strategic investment department.
The comprehensive asset strength and the core technology team are the primary evaluation indicators for choosing a trading platform. Sufficient funds provide security for operations such as deposits, trades, and withdrawals on the exchange. Meanwhile, abundant funds represent the ability for long-term operation, and an excellent technical team can ensure the security of user assets and provide a smooth and convenient trading mechanism. In daily use, the platform should have simple operations, reasonable design, and supporting services to make your trading experience more enjoyable. A trading platform that can meet the above requirements can be considered as a high-quality exchange.
Kine perfectly meets the above conditions. Kine is committed to establishing user asset security and smooth trading as its philosophy. With continuous innovation and accumulation, Kine aims to become one of the most authoritative decentralized derivatives trading platforms.
Like what you're reading? Subscribe to our top stories.
We will continue to update Gambling Chain; if you have any questions or suggestions, please contact us!