Author | Cat Brother
Editor | Colin Wu
Process of being banned
On August 20th, when I logged into Opensea to check the NFT market, I found that I couldn't log into my account. It displayed that my account was banned due to activities that violated their terms of service, and I could no longer use Opensea for buying, selling, or transferring.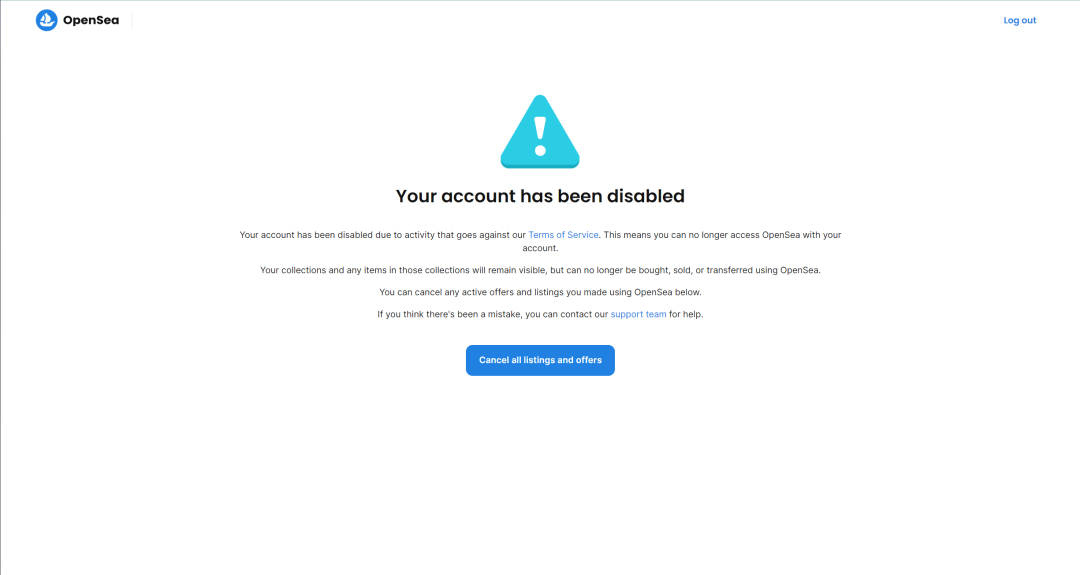 Since I hadn't used Opensea for NFT purchases or other activities for several months, I sent an email to Opensea to inquire about the specific reasons for the ban. Opensea's explanation was that I violated the sanctions implemented by the US government. As a US company, Opensea needs to comply with the US sanctions program managed by the Office of Foreign Assets Control (OFAC) of the US Treasury Department.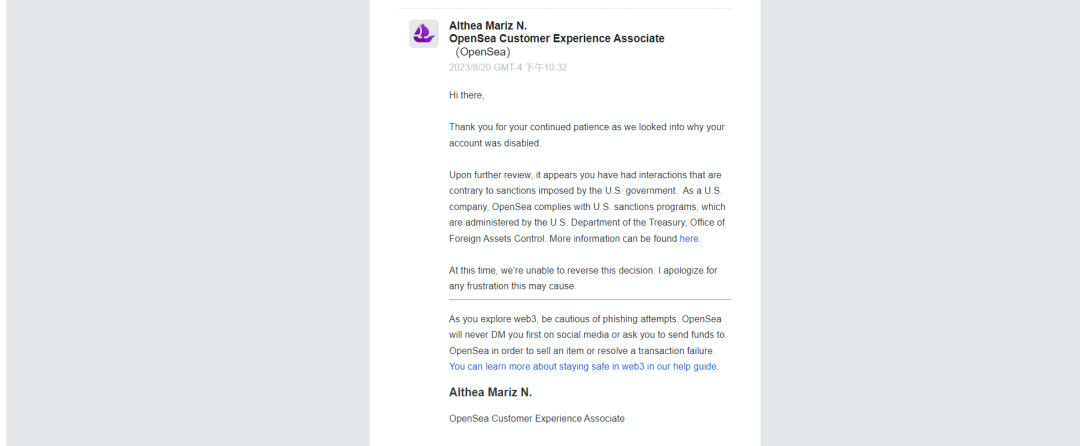 Possible reasons
First, based on Opensea's statement, I checked the SDN sanctions list published by OFAC and found that my name was not on the list.
Then, by reviewing Twitter and my transaction records, I speculated that my ban may have been caused by using Tornado.Cash in July, as other users on Twitter had similar experiences.

By reviewing Opensea's terms of service, I found the possible reason for the ban, which is: directly or indirectly using the service for, on behalf of, beneficial to, or associated with: (a) any sanctioned natural person or legal entity; (b) any natural person or legal entity located, ordinarily resident in, or organized under the laws of any embargoed jurisdiction; or (c) any legal entity directly or indirectly owned or controlled by natural persons or legal entities located, ordinarily resident in, or organized under the laws of an embargoed jurisdiction.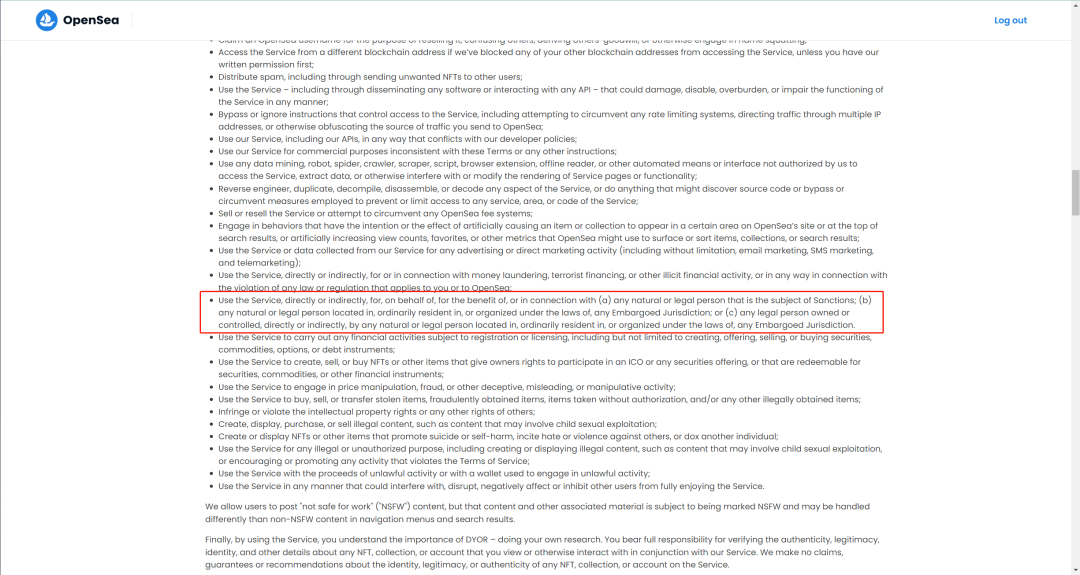 Background introduction
On August 8th, 2022, the US Treasury Department added Tornado Cash to the sanctions list, prohibiting all individuals and entities in the United States from interacting with Tornado Cash or any Ethereum wallet addresses related to the protocol.
Since then, major crypto entities in the United States have joined the sanctions against Tornado Cash. Circle has blacklisted the wallet addresses controlled by Tornado Cash, and wallets that participated in Tornado Cash mining have also been banned by Aave. Subsequently, the official website and Discord of Tornado Cash were closed, and the Github page disappeared. On August 10th, the Dutch Financial Intelligence and Investigation Service arrested Tornado Cash developer Alexey Pertse in Amsterdam.
The latest development in the Tornado Cash incident is that the US Department of the Treasury added Tornado Cash co-founder Roman Semenov to the SDN sanctions list on August 23. The other co-founder, Roman Storm, has also been arrested by the Federal Bureau of Investigation and the Internal Revenue Service, charged with conspiracy to launder money, conspiracy to operate an unlicensed money transmitting business, and conspiracy to violate sanctions regulations. Deputy Secretary of the Treasury Wally Adeyemo also stated that they will continue to investigate those who engage in reckless operations and support similar mixing services that threaten US national security.
However, the Tornado Cash case has not yet reached a final judgment, and there is also significant opposition within the United States to sanctions against Tornado Cash. Jake Chervinsky, Chief Policy Officer of the Blockchain Association, tweeted, "Privacy is universal, code is speech, and the right to anonymity is crucial for a free society. These principles are deeply ingrained in the US Constitution, and I believe that over time, even if they are ignored by the executive branch today, they will eventually be affirmed by the judicial branch." Hayden Adams, the founder of Uniswap, also expressed his views on the US Treasury's sanctions on Tornado Cash in a tweet, stating, "Privacy is crucial for a normal and secure society. Sanctioning an immutable smart contract, rather than an individual or organization, raises significant freedom of speech issues and sets a bad precedent. Sanctioning companies to make them comply with the law is usually less effective than implementing reasonable laws or policies."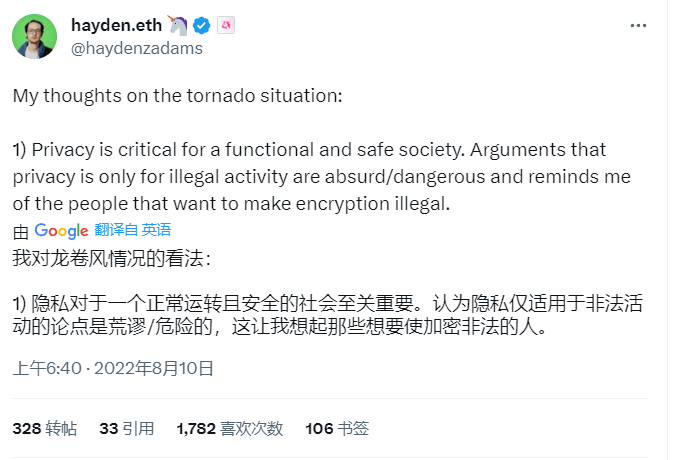 Actual Impact
Similar to Aave's ban on wallets involved in Tornado Cash mining, Opensea's ban on users who have used Tornado Cash is also frontend-based, and the ban measures also include Opensea Pro and other products under its umbrella.
On the other hand, other NFT markets such as Blur, X2Y2, and LooksRare have not banned the address in question and allow normal NFT trading. Other DeFi projects such as AAVE have also not banned the address and allow normal trading.
In summary, the ban is due to Opensea's proactive, strict control policy, which results in frontend bans on addresses that have used Tornado Cash. However, it does not affect the trading of the assets themselves or the use of other crypto applications. Although its actual impact is limited, users who are accustomed to using Opensea for NFT trading or wish to retain Opensea usage records for a particular address should avoid interacting with Tornado Cash using that address or using other mixing services.
Like what you're reading? Subscribe to our top stories.
We will continue to update Gambling Chain; if you have any questions or suggestions, please contact us!