Author: dLux; Compilation: Deep Tide TechFlow
Polychain Capital is a venture capital firm that can discover potential:
• Invested in MakerDAO in 2017;
• Invested in dydx in 2017;
• Invested in Starkware in 2018.
Want to know their 11 investments this year?
The company was founded by Olaf Carlson-Wee in 2016, who was formerly the risk manager of Coinbase. As you can see, Polychain Capital has been very active in the past year.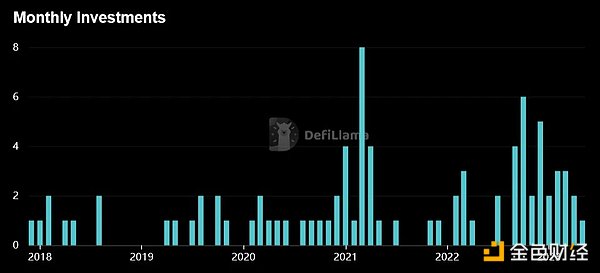 Polychain Capital's investors include some heavyweight companies:
• a16z (managing assets of $3.5 billion);
• Sequoia (managing assets of $8.5 billion);
• Usv (managing assets of $1 billion);
• Foundersfund (managing assets of $11 billion).
Since its first investment in 2017, they have made a total of 85 investments. Seed rounds and Series A investments account for the majority of their transactions (reaching 67%). As for the sector, they usually choose DeFi, infrastructure, and layer-one blockchain projects (accounting for 65%). Next, let's take a look at their investments this year.
Quasar is a decentralized application chain that supports cross-chain asset management of the Cosmos ecosystem. Quasar's universal asset management treasury can be customized according to different needs.
Nil is a project that aims to promote cryptography and database research and development. Their main product is Proof Market, which can make zkLLVM work together to simplify zk implementation for developers.
SBlockingCE ID is building a one-stop universal naming service network, whose infrastructure provides multi-chain naming services, enabling anyone to create Web3 identities.
Cysic is a zk hardware startup aimed at providing physical requirements for zk proof protocols.
Polyhedra Network is building infrastructure supported by zk technology. They designed zkBridge (a trustless infrastructure for L1 and L2 interoperability) and zkDID (a scalable and interoperable DID solution based on SBT).
Scrolls is a zkRollup based on zkEVM, built on top of ETH, allowing compatibility between off-chain applications. Scroll raised $50 million at a valuation of $1.8 billion.
Cubist is a project committed to providing two major advantages:
first-class security that can enhance developer productivity;

a low-threshold development environment that frees developers from being locked into a development environment.
EigenLayer is a protocol built on Ethereum that introduces a re-staking mechanism. This way, ETH can be reused at the consensus layer by providing pooled security, which reduces capital costs and significantly increases trustworthiness.
Berachain is an EVM-compatible L1 focused on DeFi, using a liquidity consensus proof algorithm and built on Cosmos. Their three-token model is quite novel and will be very interesting in practice.
Thetanuts Finance aims to provide fund management for DAOs and help retail traders earn organic returns from their assets by simplifying the trading process.
Webb has built the infrastructure for a zk technology-driven privacy protocol ecosystem that is applicable to a multi-chain world.
Which project do you think will perform best?
Like what you're reading? Subscribe to our top stories.
We will continue to update Gambling Chain; if you have any questions or suggestions, please contact us!