DeFi Data
1. Total Market Cap of DeFi Tokens: $48.104 billion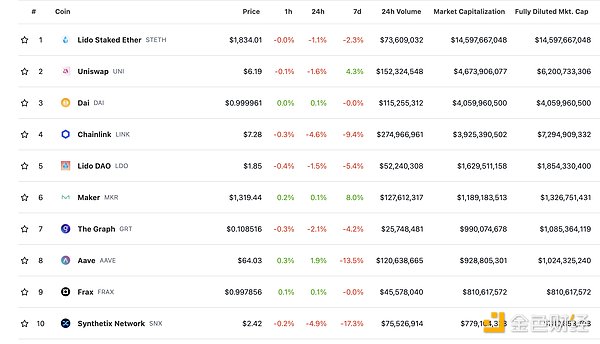 DeFi Total Market Cap and Top Ten Tokens Data Source: coingecko
2. Trading Volume of Decentralized Exchanges in the Past 24 Hours: $3.9065 billion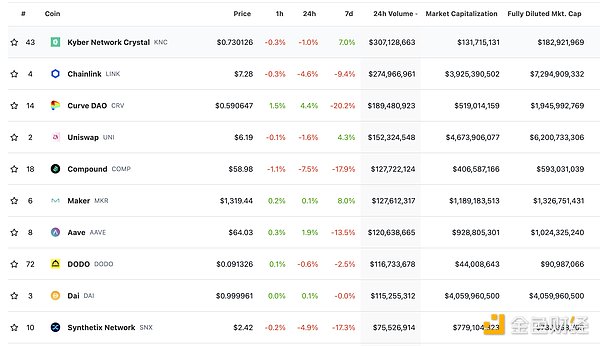 Trading Volume of Decentralized Exchanges in the Past 24 Hours Data Source: coingecko
3. Locked Assets in DeFi: $40.512 billion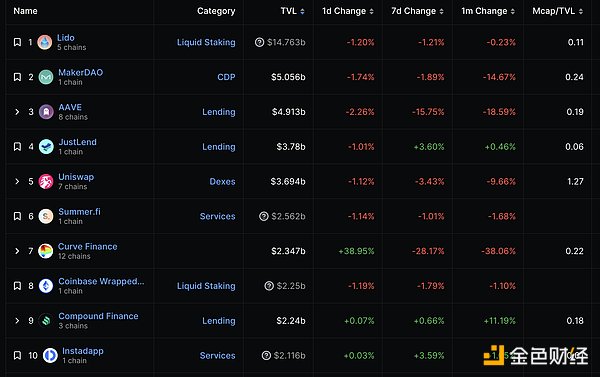 Data Source: defillama
NFT Data
1. Total Market Cap of NFTs: $16.413 billion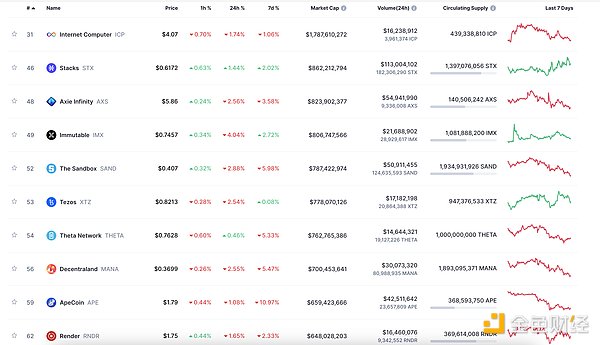 Total Market Cap of NFTs and Top Ten Projects Data Source: Coinmarketcap
2. 24-hour NFT Trading Volume: $1.079 billion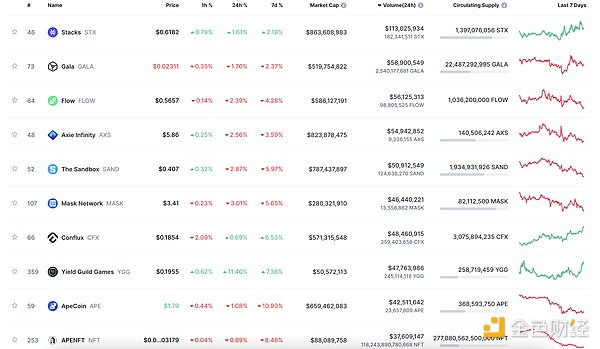 24-hour NFT Trading Volume and Top Ten Projects Data Source: Coinmarketcap
3. Top Ten NFTs Sold in the Past 24 Hours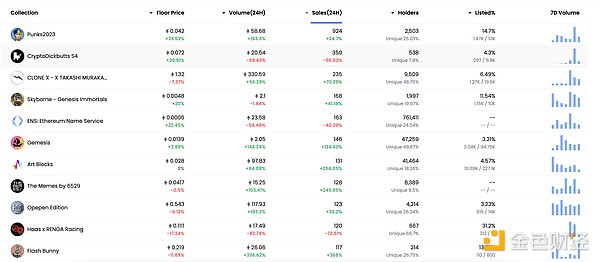 Top Ten NFTs Sold in the Past 24 Hours Data Source: NFTGO
Headlines
Hashkey Exchange may have obtained a new virtual asset license in Hong Kong
On August 3rd, Livio Weng, Chief Operating Officer of Hashkey Group, posted on social media saying "A 'good card' is coming soon" and attached a picture of Hashkey Exchange, suggesting that it may have obtained a new virtual asset license in Hong Kong. Last month, HashKey disclosed that it had received positive feedback during the license application process and plans to launch its virtual asset trading platform Omnibus service in the near future.
According to current regulations, virtual asset platforms must purchase insurance and provide 50% protection for "cold wallets" stored offline, while 100% protection is provided for "hot wallets" stored online. As for eligible cryptocurrencies for trading, they must belong to qualified large-scale virtual assets and obtain prior approval from the Securities and Futures Commission.
NFT/Digital Collectibles Highlights
1. 47 Azuki NFTs completed OTC transactions with an average transaction price of 5.1 ETH
On August 3rd, crypto KOL Yogi tweeted that NFT collector dingaling facilitated an OTC transaction of 47 Azuki NFTs.
On-chain data shows that these 47 Azuki NFTs are currently held by an address starting with 0x10C. This address transferred out 239.7 ETH 8 hours ago, which is inferred to be the transaction price, indicating an average Azuki transaction price of 5.1 ETH.
2.Security Company: ALianGuaiche NFT SalesRoom Experienced Rug Pull, Deployer Profits $680,000
LianGuai reports that according to Beosin Alert monitoring, the ALianGuaiche NFT SalesRoom (ASN) on the BNB Chain experienced a Rug Pull, with the deployer profiting approximately $680,000. The deployer transferred a large number of tokens to an address starting with 0xdc8, and now that address has sold 1 million ASN tokens at a price of $680,000 in BSC-USD.
3.Report: Global Food and Beverage NFT Market to Exceed $2 Billion by 2032
LianGuai reports that a report by Research and Market predicts that the global food and beverage NFT market will exceed $2 billion by 2032. The report states that key growth drivers include the adoption of blockchain and the food industry's demand for transparency and traceability in NFTs. Other factors expected to drive the market during the forecast period include unique ownership opportunities, the use of NFTs in virtual reality and video games, and promotions and advertisements by food companies and restaurants. Brands such as Pizza Hut and Papa John's have already entered this field after releasing NFT collections.
4.Yuga Labs' Royalty Revenue Accounts for Nearly 10% of the Current Ethereum NFT Royalty Revenue
On August 2nd, Nansen analysis stated that the incentive competition between the two major platforms, OpenSea and Blur, has had a significant impact on royalty payments in the NFT market, resulting in a sharp decline in royalty revenue this year and making it difficult to return to the market's peak in 2019.
According to Nansen's data on Ethereum's NFT royalty revenue, Yuga Labs' royalty revenue accounts for 9.35% of the total Ethereum NFT royalty revenue, Azuki accounts for 3.34%, and CloneX accounts for 2.82%.
DeFi Highlights
1.Astroport Plans to Launch Passive Concentrated Liquidity Pools on Terra Mainnet
On August 3rd, Terra's decentralized exchange platform Astroport announced that it had already released support for Passive Concentrated Liquidity (PCL) on the Terra testnet two months ago. This feature enhances liquidity around specific price points on Astroport's existing stablecoin pools, further improving the liquidity of stablecoin trading pairs through algorithmic enhancements. Specifically, a reanchoring algorithm checks ongoing transactions and rebalances liquidity and fees around the exponential moving average of these transactions.
Due to a small error discovered in the code prior to deployment, Astroport is expected to propose a new mainnet deployment proposal in the coming weeks.
2.BNB Chain Releases Mainnet v1.2.9, Introducing Plato and Hertz Hard Forks
On August 3rd, BNB Chain released Mainnet v1.2.9, which introduces the Plato and Hertz hard forks. These two hard forks have undergone comprehensive testing on the testnet and are ready for deployment on the mainnet. Plato is expected to be deployed on August 10th, and Hertz is expected to be deployed on August 30th.
BNB Chain states that all validator nodes and full node operators on the mainnet must switch their software versions to v1.2.9 by August 10th, 2023.
3. Infura: Network Interruption Yesterday Affects Optimism, Arbitrum, Base, and Other Networks, Now the Issue Has Been Resolved
On August 3rd, ConsenSys' blockchain development platform Infura stated on social media that it experienced network interruption and higher latency yesterday, affecting all networks. Optimism, Arbitrum, and Base all experienced service interruptions. The team has now identified and resolved the issue.
4. dYdX Launches MEV Dashboard, Publicly Displays Potential MEV Extraction Behavior of Each Validation Node
On August 3rd, dYdX tweeted that its trading research team collaborated with Skip Protocol to publicly display the potential MEV extraction behavior of each validation node through a dashboard. The goal is to prevent MEV extraction behavior and take action against bad actors. In addition, dYdX deployed a malicious validation node on the public test network, which maximizes profits by frontrunning all eligible orders.
5. OP Labs Launches Superchain Faucet
On August 3rd, OP Labs launched the Superchain Faucet for the superchain network, allowing users to obtain up to 1 ETH from the testnet funds using on-chain reputation data.
Game Highlights
1. NFT game Mojo Melee to Give Away NFTs and Game Tokens to Amazon Prime Subscribers
LianGuai reports that Mojo Melee, an NFT game built on the Ethereum scaling network Polygon, has partnered with retail giant Amazon to give away NFTs to Amazon Prime subscribers. The first product is now available through the Amazon Prime Gaming portal, offering a free bundle that includes NFTs and in-game currency for Prime subscribers to use in creating new player accounts for Mojo Melee. This includes the NFT of the champion character Gwyn Rockhopper and 885 Ore (a non-fungible in-game currency). Amazon's promotion will last for six months and includes monthly bonus free in-game NFTs and other content, providing Prime subscribers with ongoing gaming experiences and potential advantages over non-subscribers.
2. Game Giant Bandai Namco Launches AI Virtual Pet NFT Game
LianGuai reports that game giant Bandai Namco Research and its partners have launched a virtual pet game called RYZO, which is released on the Oasys blockchain in collaboration with publishers such as Ubisoft and Sega. The RYZO game was developed jointly by Bandai Namco Research and the Japanese startup Attructure, and is published by Double Jump.Tokyo, and was launched on Wednesday. Before the release, 10,000 digital NFTs were airdropped to holders of the first series of NFTs in the "Oasyx" project. After incubation, RYU will transform into a soul-bound token, which is locked in its original wallet and cannot be transferred or sold.
Disclaimer: LianGuai, as a blockchain information platform, provides articles for information reference only and does not serve as actual investment advice. Please establish the correct investment concept and be sure to enhance risk awareness.
Like what you're reading? Subscribe to our top stories.
We will continue to update Gambling Chain; if you have any questions or suggestions, please contact us!