DeFi Data
1. Total market value of DeFi tokens: $48.6 billion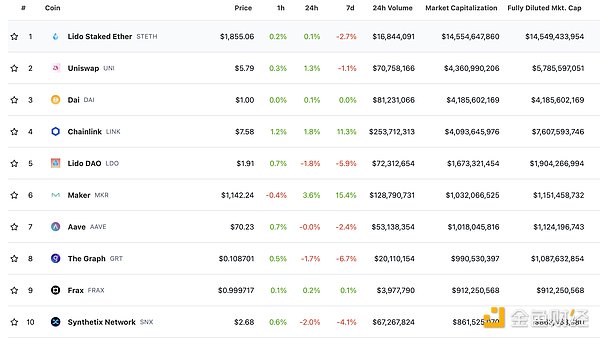 DeFi total market value and top ten tokens, data source: coingecko
2. Trading volume on decentralized exchanges in the past 24 hours: $3.751 billion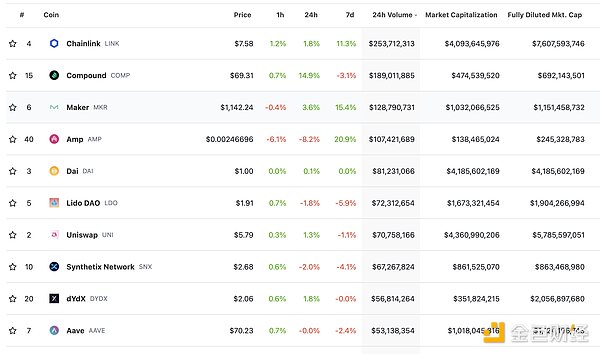 Trading volume on decentralized exchanges in the past 24 hours, data source: coingecko
3. Locked assets in DeFi: $42.911 billion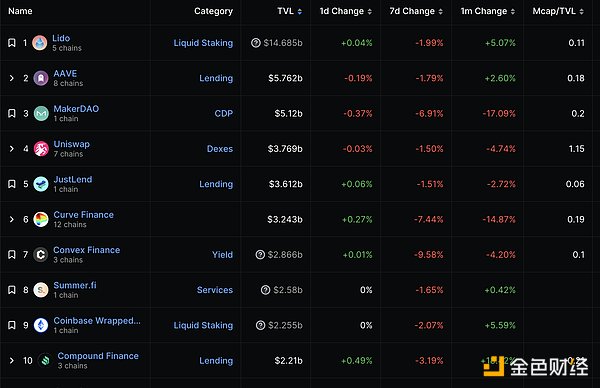 Data source: defillama
NFT Data
1. Total market value of NFTs: $16.461 billion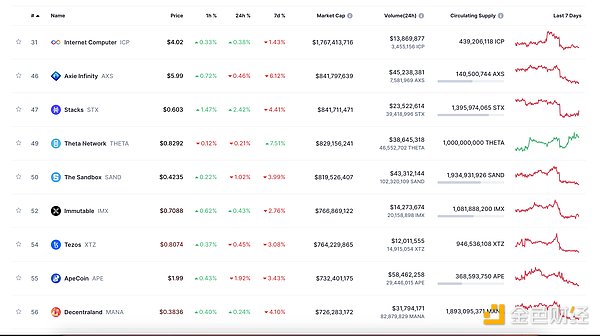 Total market value of NFTs and top ten projects, data source: Coinmarketcap
2. 24-hour NFT trading volume: $969 million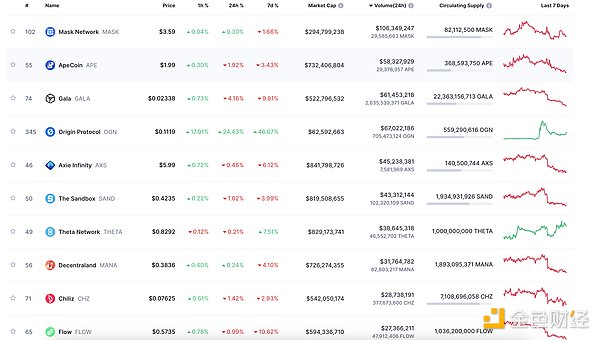 24-hour NFT trading volume and top ten projects, data source: Coinmarketcap
3. Top ten NFTs sold in the past 24 hours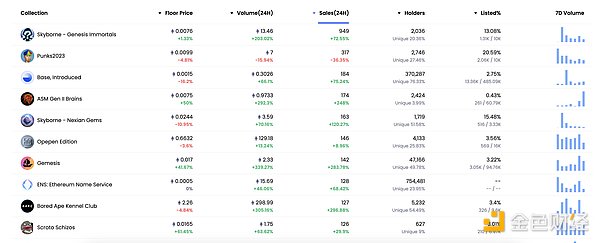 Top ten NFTs sold in the past 24 hours, data source: NFTGO
Headline
Cryptocurrency bill to be voted on in the US Congress this week
On July 26th, the House Financial Services Committee will vote on several bills to establish a regulatory framework for the cryptocurrency industry. This will be a milestone for Congress in compiling federal regulatory rules for the digital asset industry. The legislation under consideration by the committee includes a bill that will define when cryptocurrencies are considered securities or commodities, and another bill that will establish a regulatory framework for stablecoins. This will be the first time that cryptocurrency regulation bills are voted on in Congress and represents a victory for cryptocurrency lobbyists. However, whether these bills will receive support from the Democratic Party remains to be seen, as many believe that Democratic support is crucial for these bills to become law. These measures may also face obstacles in the Democratic-controlled Senate, as Senate Banking Committee Chairman Brown has expressed uncertainty about the need for additional legislation to regulate cryptocurrencies.
NFT/Digital Collectibles Highlights
1. Binance NFT Marketplace launches AI-powered NFT generator "Bixel" for KYC-verified users
On July 26th, it was announced that Binance NFT Marketplace has launched its artificial intelligence NFT generator called "Bixel" for permanent use by users. This tool allows users to create unique digital art and enter the world of NFTs. However, users need to complete the KYC identity verification process on the platform before using this tool.
Binance explained, "This crucial measure is to maintain a trusted and secure platform for all users, in compliance with best practices and regulatory requirements."
In addition, creating NFTs using this tool requires a minting fee of 0.008 BNB, which is approximately $1.9 at the time of writing. According to Binance, this fee ensures that the NFT creation process is properly executed on the BNB chain.
2. Reddit prepares to launch the 4th generation NFT avatars on Polygon
According to LianGuai, the social media platform Reddit continues to explore digital collectibles. According to an announcement on r/CollectibleAvatars, Reddit will launch the latest series of collectible avatars on July 26th. The new series of avatars on Reddit will be themed "Retro Reimagined," and this will be the 4th generation of collectible avatars launched by the platform since its initial launch in July 2022. Similar to the previous generations, the latest avatars will be issued on the Polygon blockchain and can be used for decentralized trading and third-party sales.
3. CoinGecko adds Bitcoin Ordinals NFT section
On July 26th, it was announced that the cryptocurrency data analysis website CoinGecko has added a Bitcoin Ordinals NFT section where users can view the floor price, trading volume, and market capitalization of the Bitcoin Ordinals NFT series.
4. Researchers propose building an intelligent education system using blockchain, DAO, NFT, and artificial intelligence
According to LianGuai, Mehmet Fırat, a researcher at Anadolu University in Turkey, recently published a study envisioning a multi-technology solution to address the challenges of traditional education systems called the "Smart Open Education Ecosystem" (SOEE). The study combines blockchain, decentralized autonomous organizations (DAO), NFT, multimodal learning analytics, and artificial intelligence (AI) to create an independent education ecosystem. This system uses generative AI systems like ChatGPT to interact with students and personalize learning experiences. Courses, learning resources, and certificates will be created as NFTs, and the entire process will be managed by DAO. Fırat believes that the ultimate goal of open education is not only to democratize learning and make education accessible but also to provide personalized learning experiences for everyone.
DeFi Highlights
1. BadgerDAO releases purple paper for eBTC protocol, introducing censorship-resistant synthetic Bitcoin to DeFi
On July 26th, BadgerDAO, a decentralized autonomous organization focused on bringing Bitcoin to DeFi, released the purple paper for its eBTC protocol, introducing a censorship-resistant synthetic Bitcoin to DeFi. Users can borrow eBTC using Lido's stETH with 0% interest, repayment fees, and initiation fees, aiming to provide users with an efficient and cost-effective way to access assets. The eBTC protocol generates income by obtaining a certain percentage of the protocol revenue share from the total system collateral. To ensure the solvency of the system, eBTC employs a liquidation mechanism where debt positions are eligible for liquidation if the collateralization ratio falls below the minimum of 110%. If the debt position is not liquidated but the collateralization ratio drops below 103%, the protocol considers it under-collateralized and implements debt redistribution.
2. Multi-chain liquidity protocol Symbiosis now supports Mantle Network
On July 26th, Symbiosis Finance, a multi-chain liquidity protocol, announced its support for the high-performance EVM modular L2 network, Mantle Network.
3. Wormhole Connect releases version 0.0.7
On July 26th, Wormhole, a cross-chain protocol, announced the release of version 0.0.7 of its cross-chain integration solution, Wormhole Connect. This version integrates with the Aptos network, allowing any Aptos developer to seamlessly add bridging functionality to their DApps with just 3 lines of code.
4. Cosmos EVM-compatible chain Evmos to launch Evmos 2.0 on August 2nd
On July 26th, Evmos, an EVM-compatible chain in the Cosmos ecosystem, announced the launch of Evmos 2.0 on August 2nd. This version includes updates such as enabling StakeFi and IBC composability through Evmos EVM extensions, Evmos v2 token economics, and ensuring value consistency with future Evmos SDK chains through software licensing.
5. Multiple Starknet ecosystem projects release teaser videos on July 28th, hinting at joint announcement
On July 26th, multiple projects in the Starknet ecosystem simultaneously released teaser videos on their official social platforms, suggesting that these projects may make important joint announcements on July 28th. The participating projects include: Starknet ecosystem wallet Braavos, Starknet liquidity protocol Nostra, Starknet AMM protocol Fibrous, mySwap, and more.
Game Highlights
1. Web3 gaming platform Aurory integrates with Arbitrum for cross-chain operability
LianGuai reports that the Web3 interoperable gaming world Aurory has announced its integration with Arbitrum to achieve cross-chain operability. Any Aurory assets on-chain can now exist in both the Arbitrum and Solana blockchain ecosystems. These assets include the AURY token, playable NFT characters, skins, and Neftie eggs, all of which currently or will play a role in the project's flagship games, "Adventures" (JRPG) and "Tactics" (timeline-based battle arena). Aurory joins many other well-known gaming projects in the Arbitrum ecosystem, including Pirate Nation, which migrated to Arbitrum earlier this year to leverage its scaling technology.
Disclaimer: LianGuai, as a blockchain information platform, publishes articles for informational purposes only and does not constitute actual investment advice. Please establish proper investment concepts and be sure to increase risk awareness.
Like what you're reading? Subscribe to our top stories.
We will continue to update Gambling Chain; if you have any questions or suggestions, please contact us!