Source: The Block
Translation: LianGuai BitpushNews Mary Liu
Bitcoin has historically performed poorly in September.
The recent victory in the ETF case by Grayscale is unlikely to prevent Bitcoin from ending August with negative returns. At the beginning of August, BTC was above $29,000, but now it is hovering above $27,000.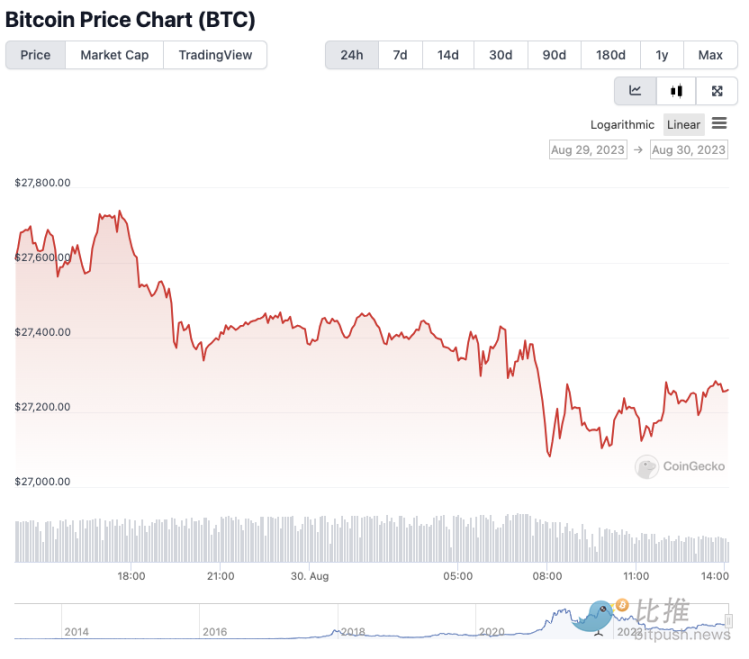 The performance in August has brought uncertainty to the upcoming September. The characteristics of August were historically low volatility, decreased trading volume, and a flash crash that led to BTC price dropping to the $25,000 region.
James Butterfill, Head of Research at CoinShares, stated that the price decline in August "highlighted the vulnerability of Bitcoin in larger trades, and the current low trading volume exacerbates this vulnerability."
Butterfill predicts that volatility will still dominate the market in early September. He expects traders to oscillate between excitement for ETF approvals and skepticism for SEC approval. Although the court's ruling on Wednesday favored Grayscale, Butterfill told The Block that "it is unlikely to accelerate the timeline for SEC approval as there is still the possibility of appeal."
Strong US Dollar Suppresses Risk Assets
In a recent report, Butterfill questioned whether the market conditions in September can sustain Bitcoin's current value. The key to his evaluation is "the rise in the US Dollar Index, which affects the entire risk assets."
After the Federal Reserve made more hawkish remarks last Friday, the US dollar has strengthened recently. A stronger US Dollar Index will lower the risk-adjusted returns associated with Bitcoin, making digital assets less attractive.
Butterfill also pointed out that Bitcoin's trading volume is lower than the same period last year, which is a negative signal. He added, "This is not just a seasonal effect." According to researchers, Bitcoin's average daily trading volume was $7.5 billion last summer, while this summer it is $4 billion.
Butterfill explained that multiple factors have contributed to the current inactivity of digital assets. On-chain data shows that investors are in a holding state, waiting for the SEC's decision on approving the US spot ETF. He emphasized that recent regulatory crackdowns have had an impact on trading volume in the US. He also pointed out that Binance's fee promotion "from March 2022 to March 2023 has led to a sharp drop in trading volume."
September Brings Market Uncertainty
Historically, Bitcoin has performed poorly in September.
Eric Crown of Krown Trading posted on X (formerly Twitter) that "out of the 13 September months before, 9 had negative returns from open to close, with an average loss return rate of -12.80%."
Therefore, investors remain cautious about additional downside pressure.
An analyst expects trading volume and volatility to increase in September. YouHodler risk manager Sergei Gorev told The Block: "We expect the volatility in September to not be as low as in August." He added that with the end of the fiscal year in the United States next month, traders will be liquidating more positions.
Gorev added: "The fact that fixed general portfolio profits may affect the sale of cryptocurrencies, especially in September, could lead to negative dynamics in the cryptocurrency market."
James Butterfill emphasized that September is "a period when fund managers reallocate after the end of the holidays, and hawkish comments may affect their investment decisions."
However, Butterfill has a more optimistic forecast for Bitcoin in October and November. He said, "I suspect that as macro data deteriorates, central banks may start to turn soon. This will be more favorable for Bitcoin. However, the timing is tricky, and we may have to wait until October and November to see this happen."
According to data from CoinGecko, as of Wednesday's close, Bitcoin's 24-hour volatility was less than 2%, with a trading price of $27,258.65.
Like what you're reading? Subscribe to our top stories.
We will continue to update Gambling Chain; if you have any questions or suggestions, please contact us!