As the 2022 World Cup in Qatar gets closer to its official opening on November 20, the underlying encryption is heating up.
As the 2022 World Cup in Qatar gets closer and closer on November 20th, the underlying encryption is heating up:
In March, FIFA announced Crypto.com as the World Cup's official sponsor;
In May, FIFA announced a sponsorship and strategic partnership agreement with Public Chain Project ALOGORAND, which will become the official blockchain sponsor of the World Cup;
Since July, sports fans Token, Sorare, and other football-related NFT and chain games have been performing well, with transaction volumes and market prices rising to varying degrees
In September, FIFA officially launched the Algorand-based NFT platform FIFA + Collect, FIFA + Collect, which allows fans to own and Collect digital collections of the FIFA World Cup and the FIFA Women's world cup "Bloom Moment", and has now publicly sold its genesis NFT series.
"It's not football that's rolling on the pitch, it's gold. As the saying goes, football is regarded as the"Number one sport in the world". The World Cup, as the world's top sport, has huge traffic and commercial value behind it. With the strength of good wind, FIFA has carried out many important cooperation in the field of encryption for this World Cup. Major institutions and projects are facing the tens of billions-level NFT market that is booming in various fields, the World Cup is their best chance to enter the NFT market.
So how big is this opportunity for encryption and NFT? What kind of impact will it have?
The World Cup has always been FIFA's money-printing machine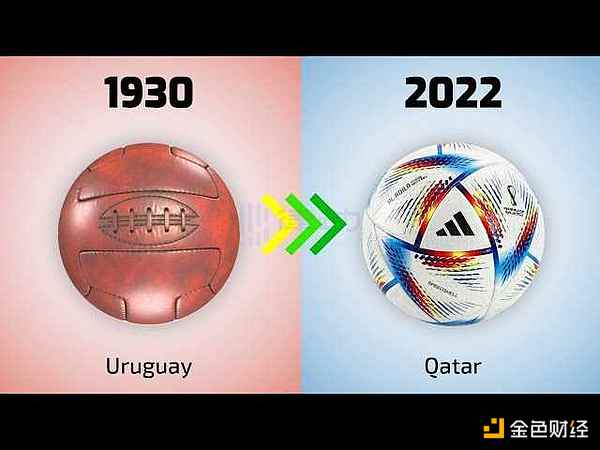 More than 90 years have passed since the World Cup
The full name of the"World Cup" is the FIFA World Cup, which is held every four years. It is attended by national teams from all over the World and represents the highest honor in football, and has the greatest visibility and influence of the football game. It is not difficult to see the close relationship between FIFA and the World Cup from the full title. FIFA, the World Cup host, has been making money on the sport.
Some 3.572 billion people, or 51.3 percent of the world's population, watched the 2018 World Cup in Russia, according to an audit of FIFA's official audience data, france's final against Croatia drew a global audience of 1.12 billion. With 64 games and an average attendance of 191 million, that means every game is a global event.


According to FIFA's 2018 financial report, the first three years of the four-year plan were lossmaking, but the World Cup year was a smooth turnaround
Top-notch attention pays top-notch dividends, as current Lists of presidents of FIFA Gianni Infantino continues to press ahead with reform measures and capitalise on the power of the World Cup year, according to FIFA's 2018 financial report, FIFA's revenue from broadcasting rights, marketing and ticket sales rose more than expected, reaching a total of US $4.641 billion, it turned a profit in its four-year plan for 2015-2018, with a net profit of $1.814 billion.
FIFA 2015-2018 revenue
From the data, compared with the host country's possible loss and loss-making situation, "Four years do not open, open to eat four years" is the best description of FIFA.
FIFA operates on a four-year cycle, and the vast majority (about 95 percent) of the organization's revenue comes from the television, marketing, hospitality and licensing sales associated with the FIFA World Cup. At the same time, FIFA spends most of its money on football development around the world.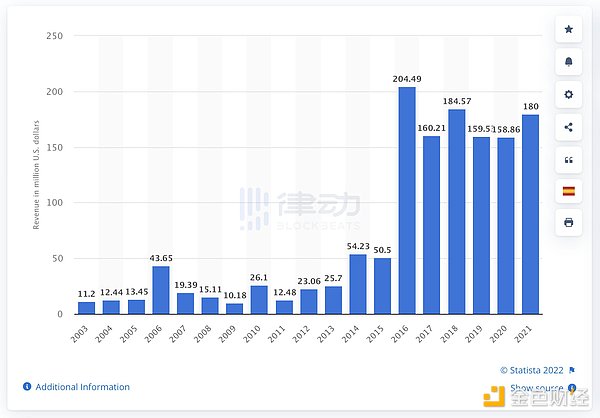 2003-2021 FIFA 2021(source: Statista)
In the 2015-2018 cycle, FIFA generated $600 million in revenue from licensing, or 9 percent of its total revenue, from sales of FIFA brand licenses, royalty payments and other similar sources. In the "New four years", the revenue was $159m in 2019, $158M in 2020 and $180m in 2021.
It should be noted that the vast majority of FIFA's licensing revenue (around $150 million per year on average) comes from EA Sports, which is about to end its 30-year partnership, it also set the stage for FIFA's entry into the cryptographic world and NFT.
Capitalists and big bureaucrats split the spoils unevenly, and partners who had made each other successful for 30 years went their separate ways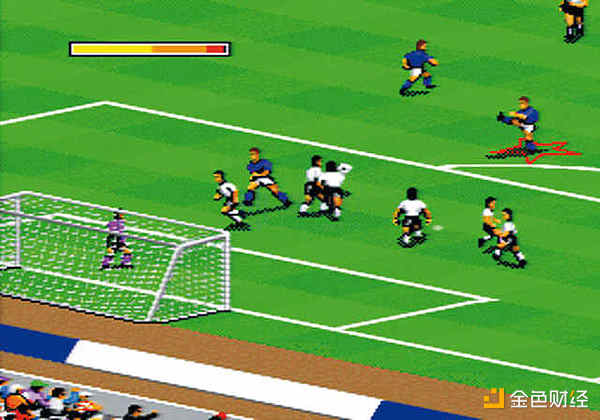 The first generation of FIFA in 1993
Then, in 1993, the first FIFA (then called FIFA International Soccer-RRB- SegasMDa MD, eclipsing all its rivals. Since then, FIFA has been releasing games under the name FIFA, starting a 30-year partnership. EA and FIFA have been at each other's throats. EA has made FIFA the world's most famous and best-selling series of football games, and its influence has long gone beyond games, taking football to new heights, fIFA has also benefited.
At this point, FIFA will no longer exist. On 10 May 2010, Electronic Arts (EA) confirmed in an official press release that it will drop the title "FIFA" football game series completely and launch a new "EA Sports FC" series from the 2023. This is the official announcement of EA's break with FIFA.
The reason, can not bypass a"Money" word.
FIFA: the epidemic has hit revenues, leaving the world hungry for FIFA's big profits
Licensing has always been a valuable source of revenue for the world's football governing bodies, and as mentioned above, FIFA has benefited handsomely from the sale of its licensing rights every year, especially in"Non-world Cup years". In 2020, for example, FIFA's revenues of $266.5 million were $158.9 million, or 60% , from licensing, and the vast majority of that was paid for by EA Sports, this is actually FIFA's passive income.
However, even FIFA is not satisfied with"Lying on its back". Back in October last year, according to a report in the New York Times, FIFA's 10-year contract with EA Sports, which began in 2013, was coming to an end. In the new negotiations, fIFA's desire to increase revenues from EA Sports' licensing sales from $150M a year to $1bn every four years has become a major point of disagreement between FIFA and EA Sports.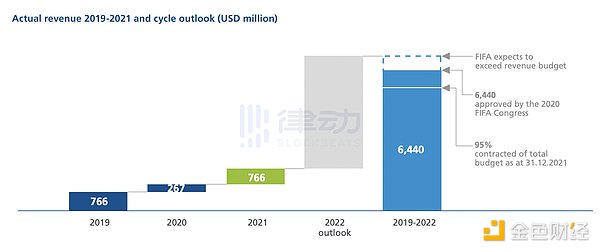 FIFA 20212019-2021
There is a reason for FIFA's price rise. FIFA's revenues have fallen sharply as a result of the epidemic, with FIFA's total revenues in 20202021 just $266.5 m, compared with 2015, the lowest of the previous "Four years", almost halved.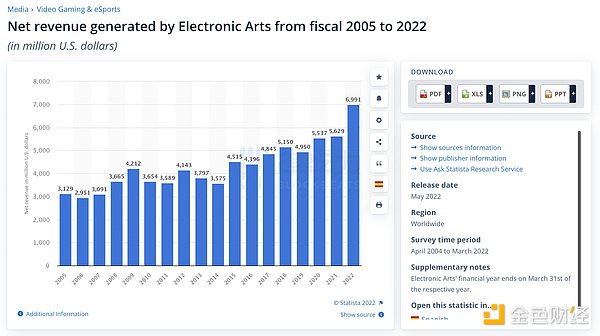 EA net income for fiscal year 2005-2022(source: Statista)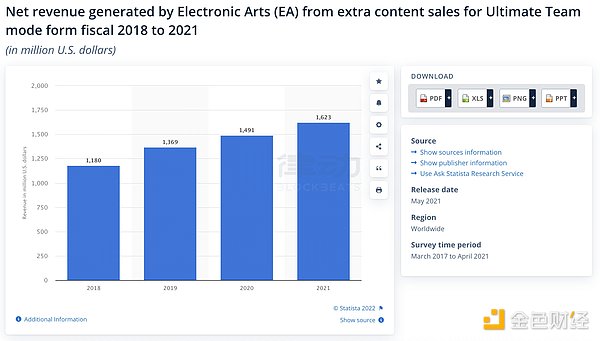 EA net revenue from additional content sales in the Ultimate Team model for fiscal year 2018-2021(source: Statista)
In contrast, its 30-year-old friend EA Sports has gone from strength to strength with FIFA:
Over the past two decades, the game has generated more than $20 billion in sales, according to the New York Times
According to EA's annual 2021 report, net revenue for fiscal 2021 was $5.629 billion. Ultimate Team's revenue was $1.623 billion, or 29 percent of the total, and most of that $1.623 billion came from FIFA
According to EA's 2021 annual report, games 2021 $1.6 billion in sales from April 2020 to March 2010. The annual report does not give an exact figure for each game, but it states that"FIFA 21 has more than 25 million console/PC players", "FIFA Ultimate Team players increased 16% year-on-year and FUT games increased 180% . "
According to Statista, EA's net revenue from additional content sales in the Ultimate Team model rose steadily in fiscal 2018-21, to $1.18 billion, $1.369 billion, $1.491 billion, and $1.623 billion over four years.
While there are no exact figures, it's not hard to see how EA can generate significant revenue from FIFA sales and the Ultimate Team model for additional content sales, perhaps FIFA is so hungry for these profits that, after a 10-year contract expires, it is asking EA for a licence fee of up to $1 billion over four years, it is also FIFA's biggest non-world cup earner, but it is hard for EA to accept.
EA Sports: FIFA wants more, but not more. World Cup IP exclusivity is important but not that important
From EA Sports' point of view, it's not that we don't have $250 million a year to spend, but are the letters"F-I-F-A" really worth that much?
FIFA's demand for official FIFA authorisations has fallen
"In non-world Cup years, all we get from FIFA are four letters on the front of the game box," EA CEO Andrew Wilson told an in-house company conference in November, according to the VGC.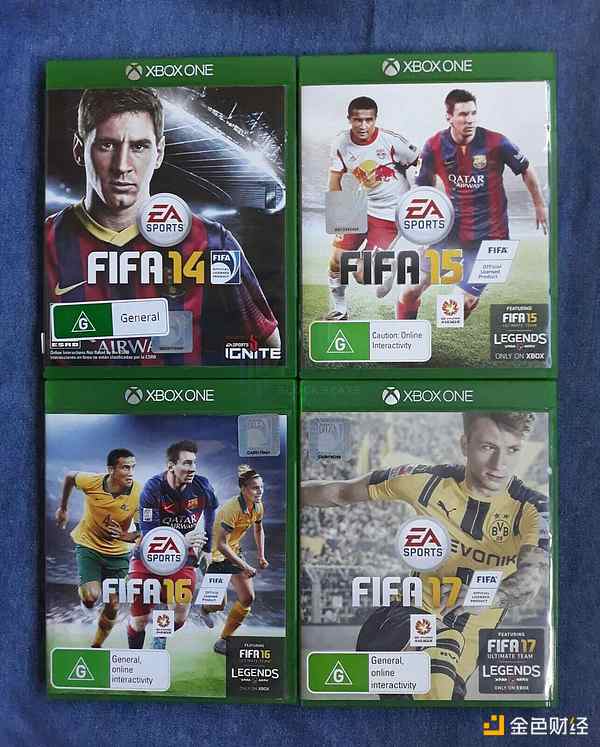 Physical game cassettes printed with"FIFA" will be a memory for a generation
His claim is not without merit. EA's financial statements show that digital sales of games now account for about 65% of the total, and most of the FIFA logo does not even have a chance to be printed on the game box.
In fact, FIFA does not control the Champions League, the Premier League and other games, nor does it have the rights to the portraits of the stars. In fact, the only real commercial value of the license that EA has purchased is the World Cup. In addition to the complex relationships between teams and the institutions and organizations involved in the game, EA also has to sign up FIFPRO, the International Federation of Professional Footballers, and contributing players for licensing fees, which is a big expense.
What's more, FIFA's biggest rival, Pro Evolution Soccer Football (renamed EFOOTBALL) , has lost ground to FIFA in terms of influence, sales and market share, eA Sports and FIFA have a near-monopoly on the circuit.
The World Cup is important, but it only happens once every four years, so FIFA's demand for FIFA has fallen in all of these respects, and EA can afford to pay for it, but FIFA is not worth it.
FIFA's conservative mandate limits the development and operation of EA Sports
According to VGC, Wilson also bluntly stated that"FIFA licensing is an obstacle to the long-term development of the EA football franchise," claiming that FIFA prevents EA from expanding FIFA into other areas of innovation, this is also a point of great disagreement between the two sides.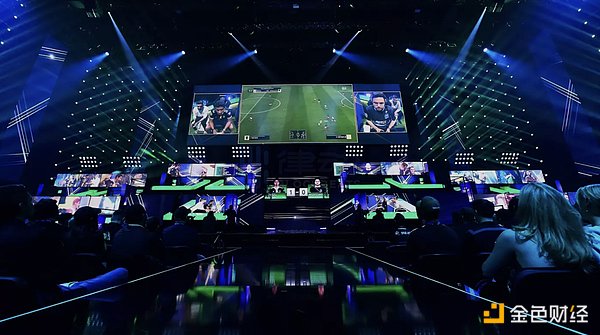 FIFA is actively promoting e-sports in football
FIFA wants the licensing of EA to cover only naming rights for teams, as well as various player parameters, and FIFA said in an article published last October called FIFA set to widen gaming and esports portfolio, fIFA is willing to reach out to developers, investors, analysts and others in different industries to establish a long-term strategy for games and esports products, finally, the company said that it might launch two games, the FIFA World Cup and the FIFA Women's World Cup.
Ea, on the other hand, wants to expand on the in-game playstyle and presentation of football games, by integrating bloom moments highlights from tournaments, and by developing NFT digital products, to create a complete football game industry ecosystem. FIFA's own game products are a bit of a bully, and FIFA wants to eliminate EA's exclusive right to use the word"FIFA" in video games, consider selling FIFA licenses to other games, such as night of the citadel, to increase revenue.
Years of hard work to build the"FIFA" IP scarcity will be diluted, FIFA's"Small profits, quick turnover" caused the EA high-level dissatisfaction.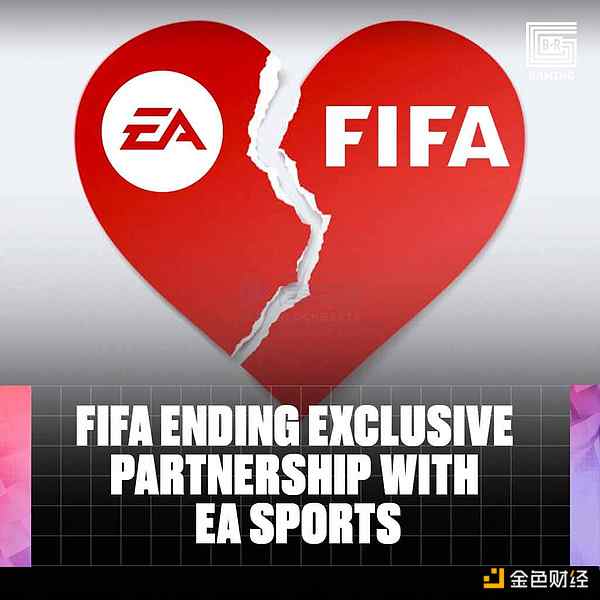 While FIFA Lion's Share $1 billion over four years, EA buys only a Four-character sticker, and its development and operations have been limited by FIFA's conservative licensing policies, which would eliminate exclusive IP. For all these reasons, the big differences between"The money didn't work out" and"Mutual constraints" have pushed them further and further away.
In the end, EA chose to break away from FIFA to regain its freedom, and FIFA, which had lost its financial backer, was in desperate need of another outlet.
Tens of billions of level market, sports NFT horse race enclosure
In December, the technology, media and Telecoms Industry Forecast 2022, published by Deloitte, one of the International Big Four, showed that sports memorabilia was entering a new digital era for the NFT, the value of NFT transactions related to sports media content is set to exceed $2bn this year, double last year's figure. By the end of this year, an estimated 4m-5m fans around the world will have bought or given away NFT sports collectibles.
In April, Crypto analyst Messari released The Next Great Crypto Onboarding Event: Sports NFTs, reporting that there is a $30 billion market opportunity for existing fantasy/Sports card players, sports NFT is the intersection of trading cards and fantasy sports, a sports NFT market that brings in hundreds of millions of participating users who spend ten billion million dollars a year. At the same time, sports NFT brings exciting value propositions to fans and teams compared to traditional systems.
In September, Market Decipher, a Market research and consulting firm, released a report predicting that the sports NFT Market will double to $2.6 billion by 2022. The sports NFT market will grow at a CAGR of 36.6 per cent between 2022 and 2032 to 2032 $41.6 bn.
All kinds of analysis shows that the sports NFT is a billion-level market, and facing the World Cup, this year's most eye-catching sports event, many giants have to run into the field, horse race.
FIFA and Algorand"Hand in hand" to build their own NFT platform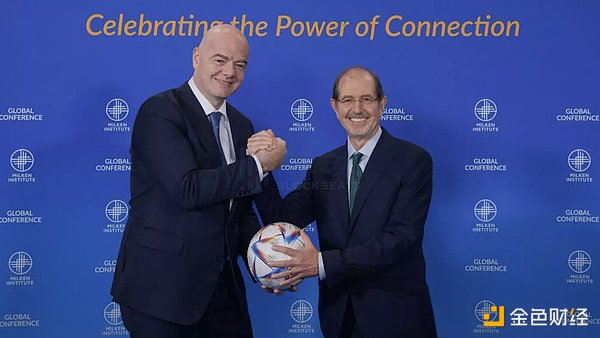 Lists of presidents of FIFA Gianni Infantino and Algorand founder Silvio Micali announced their partnership at the 2008 East West Bank Classic – Doubles
In May this year, FIFA and EA"Broke up", on the one hand, and public chain project Alogorand"Hand in hand success", on the other hand, both sides reached sponsorship agreements and technical cooperation agreements, it seemed to announce that FIFA had found its next growth point after losing its EA backer.
Algorand will become FIFA's official blockchain platform and offer official blockchain-supported wallet solutions, according to a FIFA announcement, algorand will also become a regional North n and European supporter of the 2022 Qatar World Cup and an official sponsor of the 2023 Australian and New Zealand women's World Cups. As part of the deal, Algorand will also help FIFA further develop its digital assets strategy.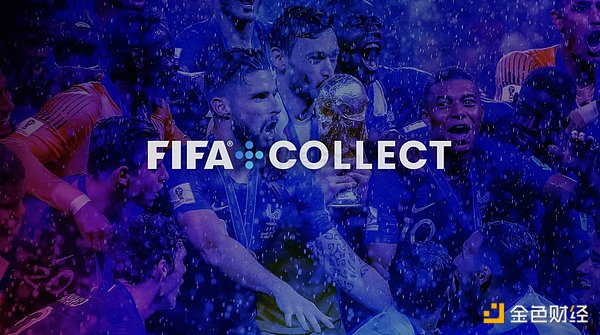 FIFA + Collet is the official FIFA Digital Collection platform
After a four-month hiatus, the two sides announced in September the launch of FIFA + Collect, a platform backed by Algorand. "The FIFA platform, built through a truly decentralized and scalable public blockchain, is the first tangible representation of the FIFA-Algorand technology partnership," said W. Sean Ford. "FIFA's link to Web3 via Algorand is a testament to their innovative spirit and desire to interact directly with fans around the world. "
How to play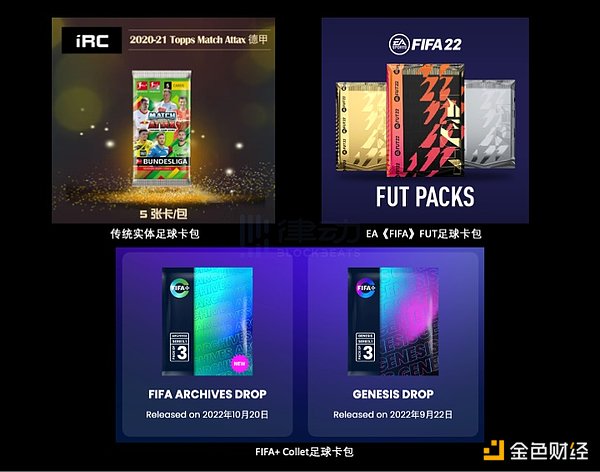 EA's FIFA and FIFA + Collet football card packs are both based on the traditional physical shape of a football card pack
The Ultimate Team model of EA Sports introduced earlier has become the most profitable weapon of FIFA and even EA Sports, it generated profits of $1.623 billion, or nearly 30% of EA's annual net revenue — a stunning report card for the UT model. UT mode of business model is very simple, easy to understand the explanation is"Kryptonite draw card", but EA Sports in the draw card on the basis of more derived from the game.
Despite all the hype, this time FIFA is actually targeting the EA-FIFA UT model and applying it to the NFT market.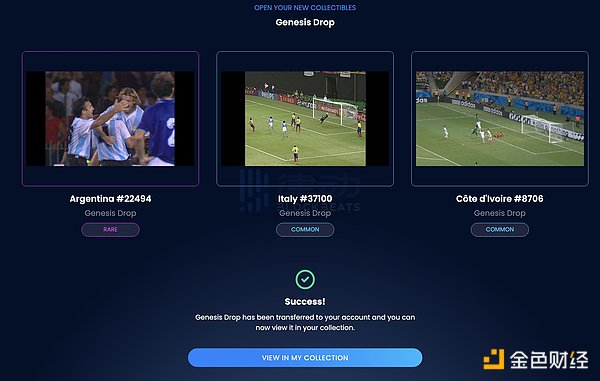 Each NFT card pack contains 3 nfts
At the end of September, FIFA + Collet launched the Genesis NFT card bag on the platform at the same time as the launch. The 532,980 bags, priced at $4.99 each, contain three nfts, it includes highlights from the FIFA World Cup and the FIFA Women's World Cup. And on October 20th a new set of"Archives" card packs was put on the shelves again.
The idea is to buy the cards from the official market for $4.99 each time you open them to get NFT, which has four rarities, from low to high are: ordinary, rare, Epic and iconic. FIFA + Collet has a"Little trick" in that it takes two weeks for a new account to put its NFT on the market. The minimum price for each NFT listing on the official secondary market can not be less than $5, "Prevent break-ins at the root", whatever the rarity, as long as it can sell, each package guaranteed to make $10(in fact, rarity ordinary liquidity is very low) .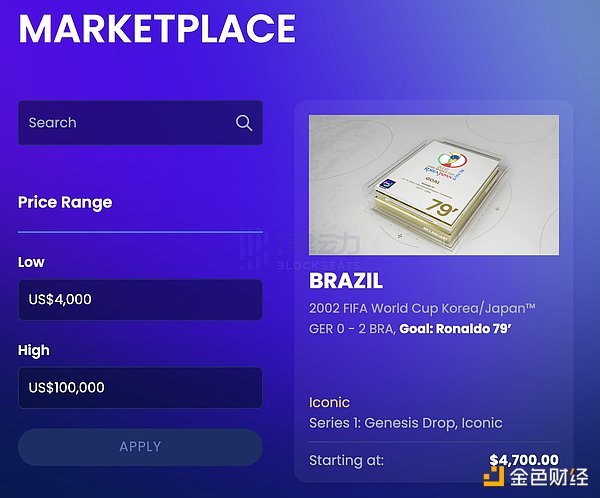 The most expensive Ronaldo goal NFT on the secondary market
The most expensive NFT on the secondary market today is the equivalent of Ronaldo's goal against Brazil at the 2002 World Cup, with a floor price of $4,700.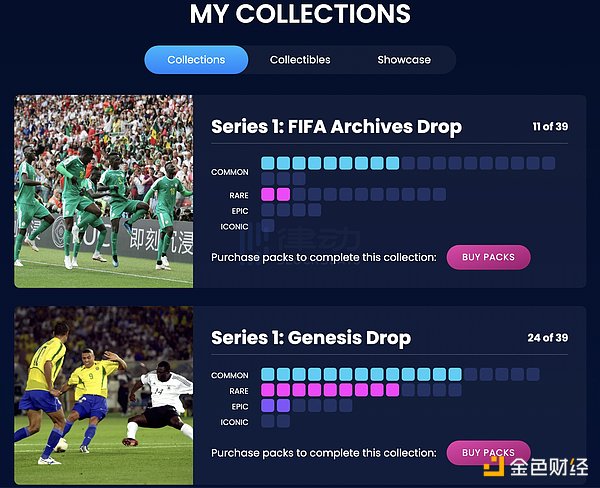 "Collations" achievement system
In addition, on 21 October, FIFA + Collet officially announced the roadmap and opened the"Collations" and curating competition functions of the achievement system.
"Collations" achievement system function:
According to the roadmap's description of"Collations," players will receive"Interesting rewards" by collecting the NFT and achieving the amount needed to match the rarity level. The more levels you complete, the more income you earn; the higher the rarity, the greater the reward. As far as possible before the start of the first match of the 2022 World Cup in Qatar (20 November) , rewards will be awarded subsequently and the cumulative rewards will be delivered in the final.
Curatorial competition functions:
Officials set up theme-specific challenges, where users compete with other fans and rise up the rankings to win. Each challenge has a specific completion requirement for a given topic. Place the most valuable digital items corresponding to the theme and players will be awarded points based on quality and rarity. Prestige Challenges is scheduled to be launched in December and will be open to the most competitive fans, with FIFA offering even bigger prizes.
Payment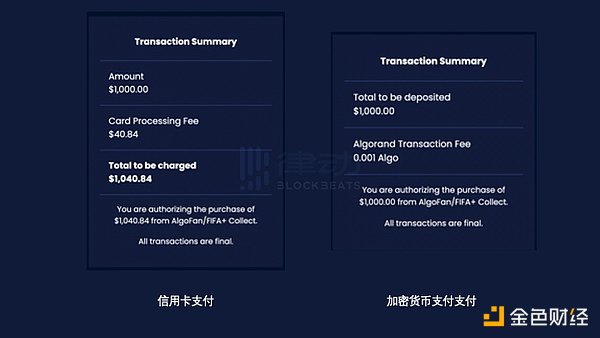 The use of credit card payment needs to pay a certain fee, the use of cryptocurrency payment fees can be almost negligible
FIFA + Collect provides two ways for users to top up their FIFA + Collect account and purchase a card packet using either Visa/Mastercard or USDC-A, with the option of using an Algorand wallet to pay with USDC-A. In addition, the use of credit card payment needs to pay a certain percentage of the amount of the top-up fee, to top-up $1,000 as an example, need to pay an additional $40.84 fee, using a cryptocurrency costs just 0.001 Algo, a negligible fee.
"I can assure you that only genuine, real games with FIFA titles," Lists of presidents of FIFA Gianni Infantino said in a strongly worded statement after a bitter disagreement between EA Sports and FIFA, is the best thing for gamers and fans. "
Now FIFA, which bills itself as"Decent", has arrived with FIFA + Collect, which, in its current form of functionality and creativity, can be described as"A bit interesting but not much". FIFA + Collet has sold 176,000 of its two NFT packages, with revenues of $880,000, as of press time. While current revenues are thin compared to EA's $150 million annual licensing fee, the Qatari World Cup is still a month away from being a major FIFA + Collet event, it remains to be seen whether FIFA's history of begging for money is long gone.
Sports NFT pioneer Sorare remains steady after a huge funding round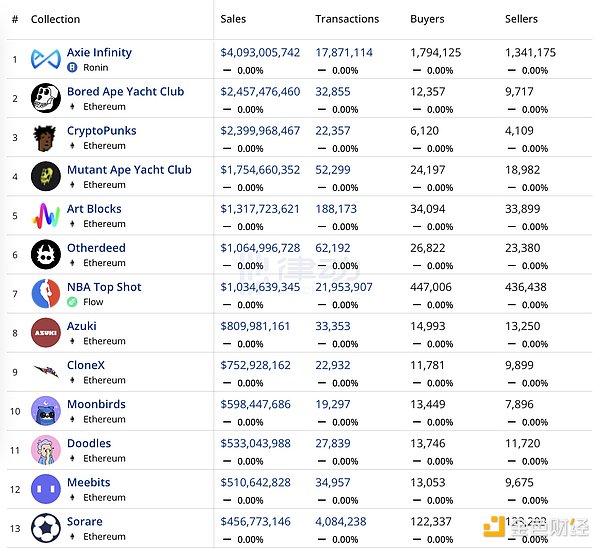 Sorare performs well in terms of market capitalization, trading volume, and number of traders
Sorare, founded in 2018, is an NFT chain game focused on soccer, baseball, and basketball on the StarkEx network at ether place Layer2. In terms of numbers, Sorare is a force to be reckoned with: with a total market capitalisation of more than $61M and cumulative trading volumes of $456m, it ranks 13th among all NFT projects. Its market performance makes it worth a good price, with Sorare reportedly raising $680m in a Series B funding round last September at a valuation of $4.3 bn, making it the track's powerhouse.
How to play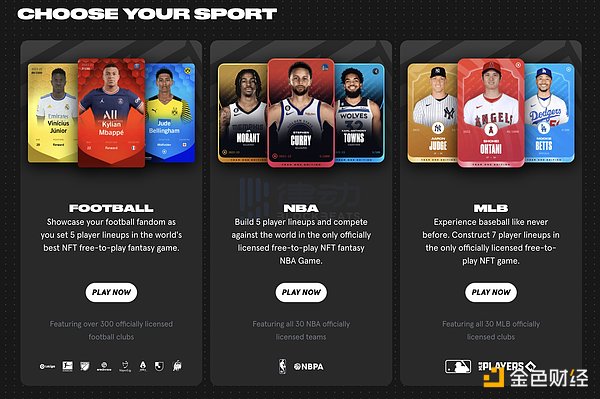 The overall structure and gameplay of the game is similar to FUT in football manager and FIFA. Players gather NFT Star cards and act as football managers, forming clubs and operating players to participate in the games, rank and generate revenue. Sorare, on the other hand, is not a fully virtual game. real-world players' real-world game stats directly affect the game's progress: NFT Players' real-world performance stats translate into in-game points, players participate in the game by configuring the team lineup, there will generally be two game cycle each week, the cycle by the score of the award, the score of their own placement of the total score of the five player cards.
The game will be tied to real game data-players on the cards that make up the team's real-world performances (goals, assists) will be converted into in-game points, so NFT owners need to focus on the players' real game. For example, a player who gets a red card or scores a goal in a real game will win or lose points accordingly.
Through this design, Sorare NFT has a strong relationship with real-world sports events, which in turn creates a corresponding liquidity market, the value of NFT star cards fluctuates with the game and market demand, as well as the players' real performance, in which many factors such as luck and strategy are combined to enhance the playability of the game through games.
Payment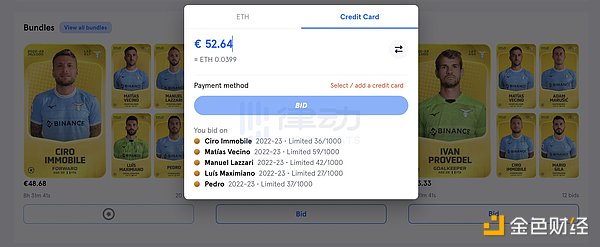 It is the same as FIFA + Collet in terms of payment, but also supports both credit cards and cryptocurrencies.
Licensed sporting goods giant Fanatics is making inroads in the NFT market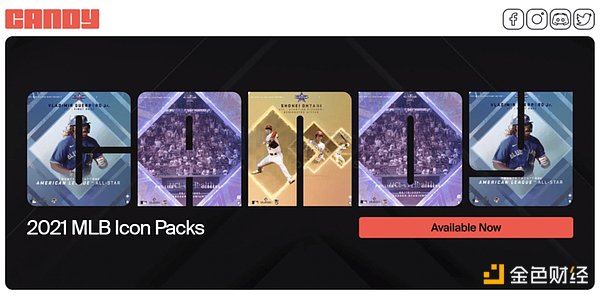 Fanatics, a company that started with sporting goods such as sweaters and other clothing, as well as sports-themed consumer products for the home, office and car, is now the world's largest retailer of licensed sporting goods. According to a CNBC report in March, Fanatics raised $1.5 bn in a new funding round, valuing it at $27bn.
In addition to sports, Fanatics is also branching out into other areas, including sports collectibles and NFT.
Last July Candy Digital, a Fanatics, Galaxy Digital and VAYNERX company, launched the NFT series with the same name.
Candy Digital reportedly raised $100m last October, valuing it at $1.5 bn. The company will focus on creating a market for sports fans to buy, sell and trade in NFT. "Candy's mission is to develop the next generation of sports and cultural digital assets that offer real-world goods and experiences, to deepen the involvement of the fans and connect people with their passions. "

Candy Digital is currently working with MLB, WWE, NASCAR and other well-known sporting events and brands, as well as building its own NFT trading platform for collectors to trade. It is backed by Fanatics, the world's largest retailer of licensed sporting goods, which owns the rights to the NBA, NBPA, MLB and MLBPA. Candy Digital has the potential to shine in the sports NFT market.
End of the Han Dynasty, is this good or bad for the encrypted world? The NFT of"Digital collectibles" is contrary to"Decentralisation"
In October 2020, NBA Top Shots officially launched, "10,000 times return" quickly out of the circle, in many ways to bring the concept of NFT into the mainstream. Since then, the sports NFT market has developed rapidly, but almost all of them lack an element-"Decentralisation".
Theo Beastly, CEO of Metanomic, a game economics and player analysis company, has a point when he describes FIFA + Collect as"A walled garden". After experiencing it in-platform, you can see that the nfts you buy can only circulate within FIFA + Collect, which also means that these nfts are still controlled by FIFA + Collect, rather than by the owner, and it is not"Anti-censorship". Purchases and secondary transactions on the platform can not be traced down the chain, and even FIFA + Collect's GENESIS series was not officially announced when it first hit shelves, you Can't look it up in a smart contract on the chain. It's not"Transparent.".
Play a single, 08 years of fried rice to now
The"Draw money" of the star cards was first introduced in 2008 by EA Sports' FIFA in the Ultimate Team, and 14 years have passed, fIFA + Collect, Sorare are the leading sports NFT projects are still using this set of play, innovation is only on this basis to make changes, play a single.
FIFA has always been built on orthodoxy, but it is not the only authority on the pitch. Sorare, for example, has licensed 280 football clubs, it covers well-known clubs in football leagues, including the Premier League, La Liga, Germany's Bundesliga, Italy's Serie A and the Champions League, liverpool, Real Madrid, Barcelona, Bayern Munich, Clube Atlético Juventus and more are among them.
It can be seen that the projects only authorized to do moat is not a long-term plan, play a single is their real key. The World Cup is a global event, but only once every four years, and FIFA's desire to run its NFT program solely through"Licensing" is indeed a"Game of chance." At the time of publication, the first"Genesis" series had only sold 170,000 units, or 32% of the total, a mixed result for a top-tier IP that had been on sale for a month.
NFT became a safe haven for trophy cases to evade gambling sanctions?
Back in 2018, the then Belgian justice minister, Koen Geens, wrote a statement defining the brand-new term"Game of chance": Gambling-style design that pays off as long as the odds are in the Game, and this payoff plays a role in the game, so it's an opportunity game.
Based on this theory, the Belgian government asked Overwatch, FIFA 18 and Cs: GO to remove their trophy case systems, or at least remove the option to buy the boxes with real money, otherwise, he could be sentenced to up to five years in prison.
In October 2020, the Dutch District Court in the Hague authorized the Dutch Gaming Authority to fine EA up to 500,000 Euros a week and up to 10 million euros, decided that the FUT"Paywall card draw" in the FIFA series was gambling, and ordered EA to immediately delete this mode.
Although EA has since won the case, these events have caused a lot of anxiety. EA's most recent financial report for 2022, which changed the previous year's clear announcement, glossed over FUT's revenue, so the"Trophy case" FUT model seems to be a concern for game companies. This may be one reason why these FUT-style projects are flooding the NFT market.
Low barriers to entry drain the NFT market, and the broader environment of encryption can benefit from this
FIFA + Collet, Sorare and Candy Digital have all lowered the barriers to participation in two main ways:
1. Registration. Just enter your e-mail, username and password, or log in using a third party such as Gmail or Facebook, and the bar is low for users who don't know their cryptocurrency wallets.
2. Payment. Most sports NFT programs offer both credit card and cryptocurrency payment channels, as well as convenience for players and fans unfamiliar with how to pay in cryptocurrency.
As sports and sports involve a wide range of user groups, how to lower the barriers to entry, so that fans and players without blockchain knowledge understand blockchain games, understand NFT, this is particularly important for these sports NFT platforms. To enable users to interact with WEB2 without foreign objects perception into Web3, and then gradually to retain the user cryptocurrency and NFT education, getting them over the hump seems to be the best solution to the current encryption world.
Conclusion
Qatar will spend more than $220 billion on the upcoming 2022 World Cup, more than 10 times the previous two, the most expensive World Cup in history. In the 30-day countdown, we can see a number of huge global sports brands and powerful institutions taking steps toward the crypto-world for a variety of reasons.
The reason why football is called the world's first sport is not only because of its high degree of complexity, but also because of its high degree of commercialization and professionalization. At a time when the football industry and the sports industry as a whole have billions of fans behind them, through the End of the Han Dynasty of sports NFT, they could easily become part of the world's Web3 Revolution.
Like what you're reading? Subscribe to our top stories.
We will continue to update Gambling Chain; if you have any questions or suggestions, please contact us!