With the popularity of Web3, P2E has developed all the way to X2E, no longer just a concept. Play has expanded to "X," and application scenarios are constantly being developed, and now everything can be "to Earn." The market's recognition, user participation, and the development trend and potential of X2E cannot be underestimated. Today, the protagonist of our event is Salad Ventures, which has received investment from star institutions such as Multicoin Capital and is about to undergo TGE. It has created a Web3 platform that combines games, learning, and work scenarios. Why is it highly favored by investors and how can it mobilize users' great enthusiasm for participation? In the eyes of Salad Ventures, what kind of Web3 vision does it want to achieve?
Today, we have invited three core members of the project: Felix Sim, Co-founder and Project Manager of Salad Ventures, Wesley Mathews, Co-founder and Community Manager, and Gabriel Matthias, Growth Manager to participate in our online sharing event! Let's explore together the Web3 digital world constructed by Salad Ventures! Let us welcome the three guests!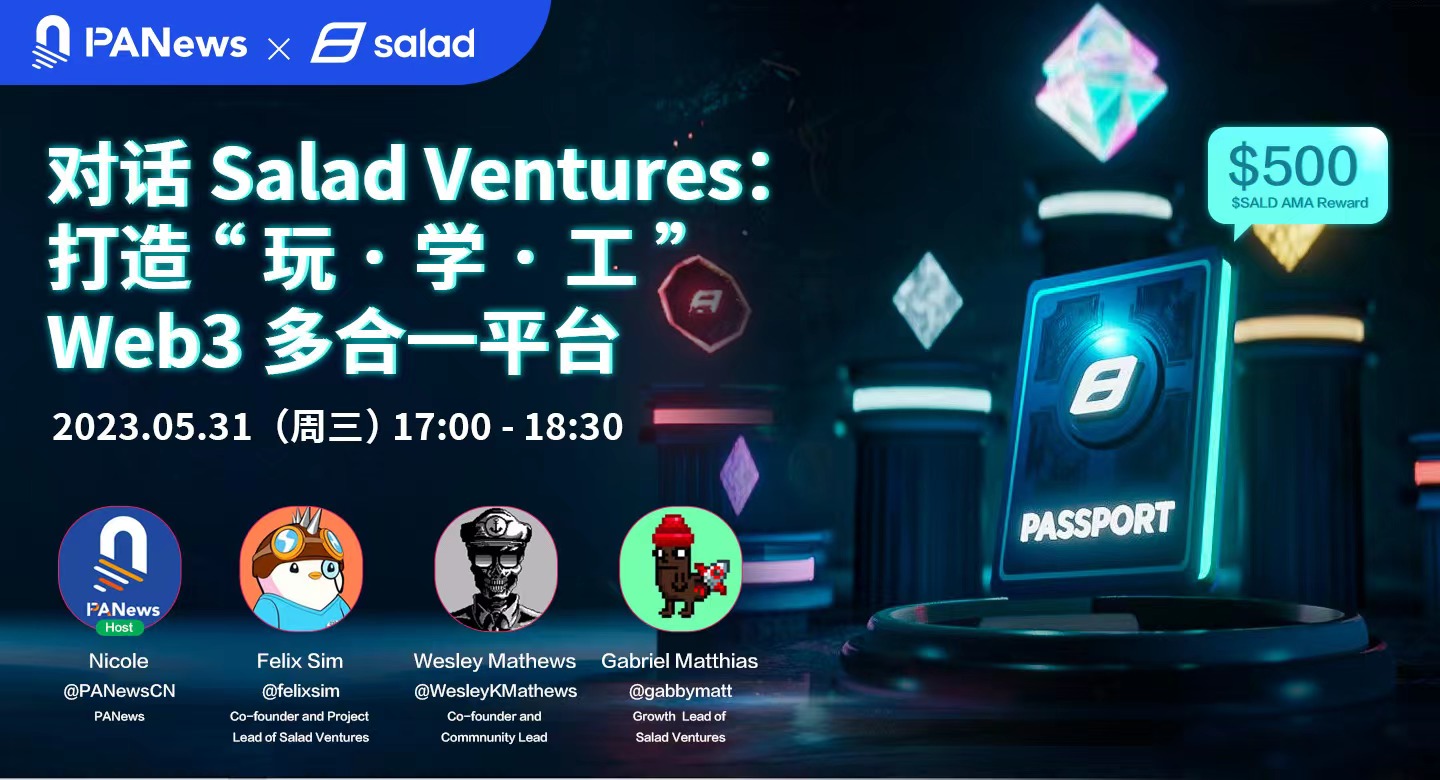 Below is a transcript of the live AMA:
Host: From P2E to X2E, the Web3 industry is constantly evolving, and so are the market players. Can you introduce yourself and briefly introduce the Salad Ventures project?
FELIX: Hello everyone! I'm Felix Sim, co-founder and project manager of Salad Ventures. Today I will be joined by my co-founder Wesley and growth manager Gabriel to participate in this sharing event. At Salad, our mission is to empower Web3 projects with innovative growth strategies and blockchain technology to achieve scalability. Through incentive activities on the platform and collaboration with other projects, we aim to provide equal opportunities for our community members to earn income while promoting the common development of our ecosystem partners.
As of May 2023, our community members have minted over 2.5 million NFT rewards. In addition, with the joint collaboration of partners, we have an amazing 6 million Web3-savvy users globally.
We are not just building an X-2-Earn ecosystem, we are laying the foundation for the innovation of the Web3 world. We are committed to developing blockchain-based incentive models that provide a reward-based model for games, learning, and work, and cultivate a fairer digital world. By advocating these incentive policies, we aim to redefine the future of all aspects of life.
Our vision is to use the power of blockchain technology to break down barriers and provide equal opportunities for everyone in the vast world of Web3. We envision a world where gaming, learning, and working are seamlessly connected, creating a balanced digital world. At Salad Ventures, our mission is to develop incentive models using blockchain to lead this transformation, ultimately shaping a more inclusive and rewarding future for everyone.
Host: What are the core products of Salad Ventures? How do community members participate and earn income through these products?
FELIX: The operations of Salad Ventures are based on three fundamental pillars: gaming, learning, and working. We offer a range of products, including Arcaden.com, Apollo.Academy, and Maslow.
Arcaden is an online casual gaming platform that supports X-To-Play-To-Win. The platform provides a new way to earn rewards by depositing our G3M NFT and redeeming points, playing games, and winning prizes such as rare NFTs.
It aims to reach a broader user base and provide an opportunity to earn rewards without significant investment or professional skills.
Apollo Academy is our Web3 education platform, with over 50,000 students and various media and learning topics, such as seminars involving industry KOLs. Our community members can join A2cademy to start their journey in the Web3 field, and we hope that the new knowledge they gain can help them find work in the Web3 field in the future.
Our third core product is Maslow, a decentralized labor exchange (DLX) planned to use NFTs as credentials to verify the abilities, reliability, and honesty of employees and employers on our platform. The platform will focus on three main markets: gig economy markets, freelance markets, and full-time/part-time employment markets brought by the former.
In its current form, the product is seen as an X2E job board that outputs services for Web3 projects and other employers seeking local Web3 labor. Eventually, Maslow will be launched as a two-way market, where both employers and employees can list information about the work and services they provide.
Host: It sounds like Apollo Academy and Maslow are both very interesting, aiming to shape the learning and working scenes in the future Web3 environment. In these two areas, what partnerships do you have if you use platform services? Do you charge?
GABRIEL: Using Apollo Academy is completely free, and users only need to register to access all of our content. We have nearly 100 partners on Apollo Academy, including Voyage Finance, Mintable, Ethlas, Polkastarter, SolanaFM, and others. Maslow is still in the development stage, and we will charge a certain platform fee as traditional work platforms do.
Host: I noticed that you partnered with Galxe and forged over 2 million G3M NFTs in just four months, attracting over 100,000 new users to Galxe. Can you share more details about this partnership? How does Salad Ventures serve and incentivize individual users and project partners?
GABRIEL: We launched the G3M NFTs series to attract and reward our loyal community members. We want to gamify, provide a reward system, and attract both Web2 and Web3 users. This event allowed us to reward the user base in our entire ecosystem and partner products. Salad's unique Play-To-Earn success can be attributed to our focus – incentivizing ecosystem partners to participate, which sets us apart from other similar projects. By incentivizing basic actions such as interaction on social media, Discord AMA, and registering for Web3 applications, Salad has created a highly engaged and active user community, which is beneficial for the community and ecosystem partners.
This approach has successfully brought traffic and actual value to Salad's partners, and built a self-sustaining ecosystem that incentivizes user participation. Our model rewards user participation through G3M NFTs, which can be used within our ecosystem to gain various benefits and opportunities. Focusing on NFTs sets us apart from other X-To-Earn projects that offer token rewards or use completely different models. Instead, we have created a thriving ecosystem with a highly engaged and active user group, and through focusing on incentivizing ecosystem partners to participate, brought traffic and real value to them, and built a self-sustaining ecosystem.
We recently launched the G3M leaderboard, which allows G3M collectors to compete with each other, climb the leaderboard, and win exclusive rewards. In the coming months, there will be many exciting updates according to our roadmap, such as NFT dynamic versions and more G3M NFT releases. Users can also expect G3Ms to be integrated with our projects and the entire ecosystem.
Host: What are the current and future utilities of the native token $SALD? Is there a limit to its issuance?
WESLEY: The maximum supply of $SALD is 1.68 billion tokens, and it will be used for voting, governance, and staking in the future.
Host: I noticed that you are about to hold a token generation event. Can you please tell us more about it and how our community members can participate?
WESLEY: Yes, we are very excited about the token generation event that is about to start. In fact, we are currently running an airdrop to attract attention and participation from our community members. The airdrop is also a way to expand our ecosystem and invite users from other communities to participate and share $SALD tokens.
BlockingNews community members can participate in this activity by checking our airdrop page to learn how to qualify, including collecting our G3M NFTs and ranking high on the G3M leaderboard. We will also reward points to users who actively participate in our main products, Arcaden and Apollo Academy. More participation criteria will be released in the next few days, but you can get a head start by collecting the G3M series on our Galxe space page.
Host: Are there any plans to list $SALD on more exchanges in the future? How can we get the latest information on projects and activities?
WESLEY: Of course! We are currently in talks with multiple exchanges, and the relevant news will be officially announced in the near future.
You can get the latest updates on our projects and activities in real time through our Twitter and Discord. Among the social media, we are most active on Discord, so community members should definitely join, ask about the airdrop or any questions, and interact with our other members.
Host: So far, you've completed two rounds of financing. Who are the investors and supporters of the Salad Ventures project?
FELIX : We are fortunate to have attracted very well-known and supportive investors, including Multicoin Capital, C Squared Ventures, Crossbeam Venture Blockingrtners, Foundation Capital, Gemini Frontier Fund, Winklevoss Capital, Polygon Studios, and more.
We remain open to strategic investors, especially those who can help us achieve a successful TGE and help our ecosystem partners grow.
Host: Building a project like Salad Ventures is not an easy task, and it covers much more than a typical Web 3 project. Our community members must be curious about the project team. Can you introduce the core team of the project for us?
FELIX : Of course, our core team members include the three of us participating in this AMA. For myself, as an entrepreneur, I am energetic, passionate, and loving as a husband and father of three children. With over 15 years of professional expertise in finance, including investment banking, hedge funds, and consulting, I bring rich knowledge to the Salad project as the project leader.
My other co-founder Wesley previously served as an Axie Infinity Guild Master and led the Apollo Squad to rank first on Axie.tech leaderboard. He is also known as Captain Aqua and can be seen in all of our social media videos.
Our Growth Director Gabriel is a growth expert with over 7 years of experience in marketing and business development across various industries. Born and raised in Singapore, with an entrepreneurial spirit, he founded a marketing agency that grew to a seven-figure business level within 5 years and was subsequently acquired. He recruited over 50,000 students for Salad's e-learning platform Apollo.Academy and successfully launched the NFT series – G3M NFT series, which minted over 800,000 in just 30 days and attracted 25,000 KYC-ed users.
We also have BD & Blockingrtnerships Manager Chloe, who is a successful digital marketer with rich experience in working with globally renowned brands. As the business development manager of Salad Ventures, Chloe has managed and organized more than 20 events aimed at connecting builders in the Web2.5 and Web3 fields.
Host: After TGE, what are the development plans for Salad Ventures? Can you reveal them?
WESLEY: After TGE, we will return to core product development.
First, building on the success of the G3M NFTs series, we will focus on releasing dynamic character NFT versions, providing users with accessories to personalize their own NFTs, and using their G3M weapon NFTs to equip their characters. We will also introduce new features in Arcaden.com, such as integrating $SALD into the application. Finally and importantly, our team will work to build Maslow, with plans to release a beta version next year.
Like what you're reading? Subscribe to our top stories.
We will continue to update Gambling Chain; if you have any questions or suggestions, please contact us!