At 8 o'clock tonight, the world's leading exchange Binance will launch two Launchpool projects that were announced at the beginning of the month, SEI and Cyber Connect.
With the launch imminent, which of these two projects, both of which have generated considerable interest, has more investment potential? Next, let me analyze it for you.
SEI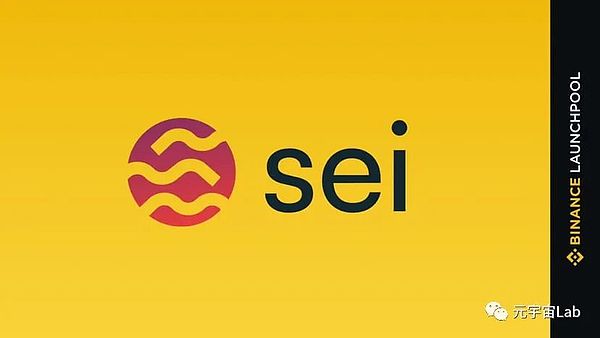 Official website:
https://www.sei.io
Twitter:
Sei is a Layer 1 blockchain based on the Cosmos SDK, dedicated to DeFi. It has made innovations in parallel processing and block broadcasting, improving network transaction confirmation speed. The ultimate goal is to surpass Solana's speed (APT and SUI also have the same goal). Sei also has a built-in order matching engine, which can achieve sub-second settlement speed and order parallel processing.
From one perspective, this positioning does not have as large an application scope as general-purpose public chains like Arbitrum and Aptos. However, from another perspective, it may become the preferred choice for more projects to enter the DeFi field.
SEI's seven main areas of innovation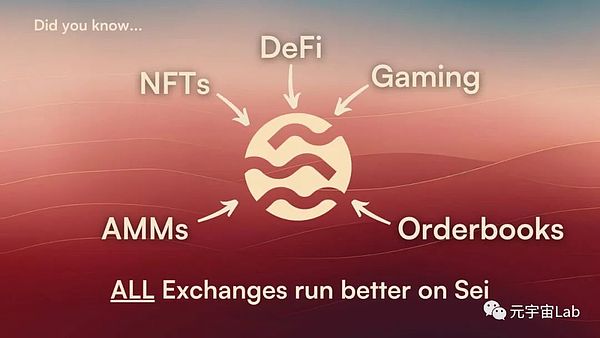 Smart block propagation: Sei sends transaction hashes in block proposals, allowing validators to reconstruct blocks from other mempools locally instead of waiting to receive them over the network.
Optimism block processing: Sei starts processing blocks after receiving them, instead of waiting for the end of voting.
DeliverTx parallelization: Sei knows which resources different types of transactions use and runs transactions that do not involve the same state simultaneously. Smart contract developers also list the resources they are using, which helps ensure parallel execution of transactions.
Endblock parallelization: Transactions related to order books are processed at the end of the block, and all independent markets are processed in parallel.
Local price oracle: Validators are required to submit price sources, and incorrect data/non-participation will result in validators being slashed.
Frequent batch auctions: Sei aggregates all orders and fills them at the end of the block with the same price, instead of processing orders in sequence. This helps ensure fair pricing and front-running prevention.
Transaction order bundling: Sei allows transactions to consist of multiple independent orders. This helps reduce the gas cost for market makers submitting transactions and improves block space utilization (eliminating overhead associated with submitting multiple transactions).
Everyone should know that current public chains can be divided into two types: public chains, such as Ethereum, Solana, and BNB Chain that we are familiar with; and application chains, such as DYDX. Application chains are essentially one chain per application, designed to meet the performance requirements of public chains.
Sei, on the other hand, can be considered a third type that has emerged unexpectedly, specifically targeting transactions. Through various innovations at the underlying level, Sei significantly improves the transaction performance on its chain. Because of this advantage, projects developed in the Sei ecosystem have much higher transaction performance than other public chains. Sei's transaction speed, in the best case scenario on the testnet, can reach 20,000 transactions per second, surpassing Solana directly.
Token Economic Model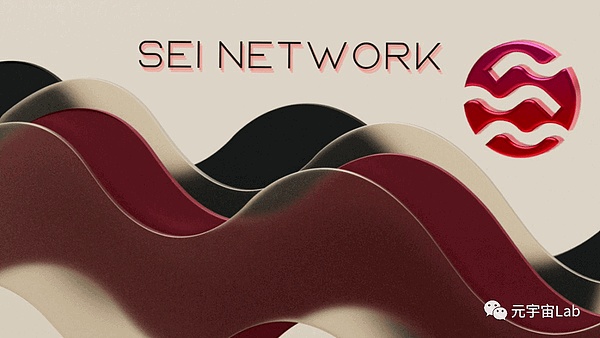 Sei, as a decentralized POS blockchain, is supported by SEI Token. SEI Token has the following capabilities in the network:
Network fees: Pay transaction fees on the Sei blockchain;
DPos validator staking: SEI holders can choose to delegate their assets to validators or stake SEI to run their own validators to protect the network;
Native collateral: SEI can be used as collateral for native asset liquidity or applications built on the Sei blockchain;
Fee market: Users can pay fees to validators to get their transactions processed with priority, and these fees can be shared with users who delegate to the validator;
Transaction fees: SEI can be used as transaction fees for exchanges based on the Sei blockchain.
The total supply of SEI is capped at 10 billion, with the majority allocated to the Sei community and projects, as detailed below: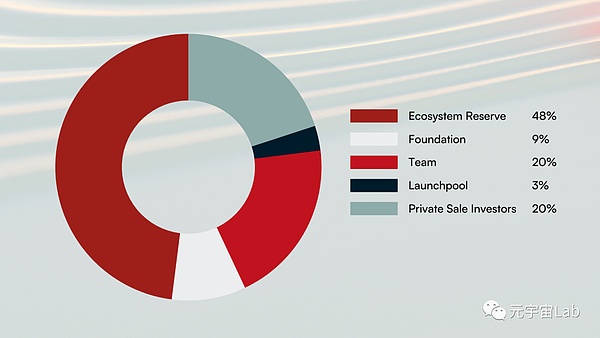 Financing Information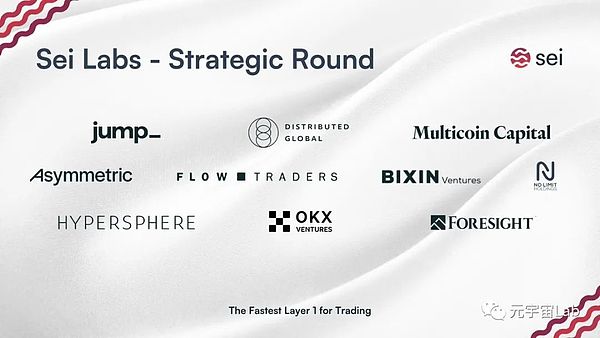 On August 31, 2022, Sei Labs completed a $5 million seed round financing, led by Multicoin Capital, with participation from Coinbase Ventures, GSR, Flow Traders, Hudson River Trading, Delphi Digital, Tangent, and others.
On April 11, 2023, Sei Network announced a $300 million financing at a valuation of $800 million, with participation from Jump Capital, Distributed Global, Multicoin Capital, Asymmetric Capital LianGuairtners, Flow Traders, Hypersphere Ventures, IOBC Capital, and Bixin Ventures.
On April 12, 2023, Sei Labs announced that its ecosystem fund had completed a new round of financing of $50 million, following a previous round of financing at a valuation of $800 million. Bitget and Foresight Ventures participated in this round. So far, the total financing amount of the company has reached $120 million.
Summary
In general, Sei's positioning is relatively clear compared to competing products like APT and SUI. It focuses on transactions. In Web3, "transactions" are the essence. Only by generating transactions and allowing the platform to make money can the story be bigger and the user's imagination richer. However, "transactions" alone are far from enough. FOMO is also needed, and the frequency of transactions can cause users to go crazy with FOMO. Take BASE as an example. Starting from the naturally FOMO-prone Chinese market, it brought in 205 million TVL, surpassing the equally popular Starknet. Conversely, without transactions and FOMO, it will be a failure.
With the launch approaching, those who have airdrops will benefit. It's best to sell when the project goes live. Because, in addition to the huge selling pressure from airdrops, based on the performance of previous Binance Launchpool projects like Maverick Protocol, Open Campus, and SUI, they have performed poorly after going live during this period. Basically, the launch is the peak, and then it has been declining.
The SEI price is referenced in two aspects. First, based on the market value of Injective, a DeFi public chain developed on the Cosmos network, which is valued at $620 million, we estimate that there are 10 billion SEI tokens, with an initial circulation of 1.8 billion tokens. Considering the current market conditions, the fully diluted valuation (FDV) should not be particularly high, and the price should be in the range of 0.2-0.5.
CyberConnect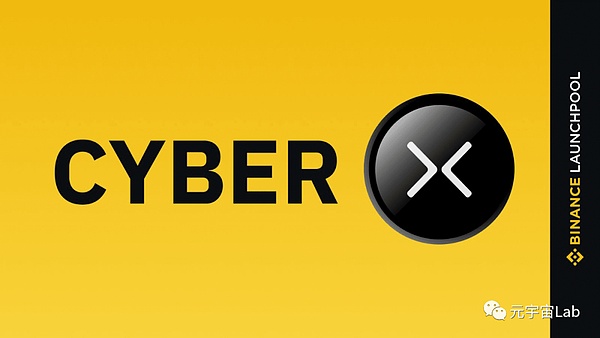 Official Website:
https://cyberconnect.me
Twitter:
CyberConnect is a decentralized social networking protocol deployed on multiple blockchains, including Ethereum, Polygon, Solana, and BNB Chain. It enables developers to create social applications and allows users to have their own digital identity, content, connections, and tokenized channels.
It mainly consists of three user-centric features: CyberProfile, a decentralized identity standard that provides access to Web 3; CyberConnect Social Graph, which links user digital identities, data, content, and friends; and CyberWallet, the smart contract wallet of the protocol that securely stores user assets.
Currently, more than 2500 projects are using the CyberConnect social graph, including in the areas of DAO, metaverse, and GameFi.
Main Products and Features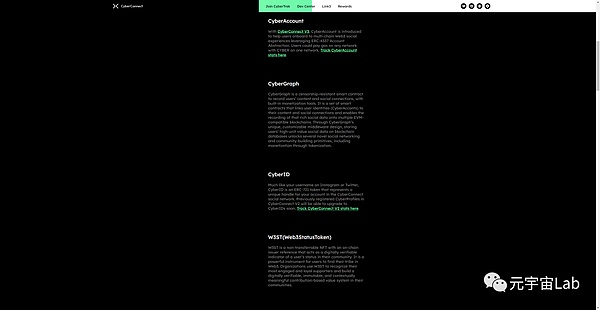 CyberConnect provides developers with a range of middleware for creating social dApps based on the protocol and offers solutions for DID, content, and tokens for users. Specifically, the main products include CyberAccount, CyberGraph, CyberID, and W3ST (Web3 StatusToken).
CyberAccount: This account product utilizes the features of ERC-4337 account abstraction. Users can pay gas fees on any network using CYBER on a single network, providing a more convenient multi-chain Web3 social experience.
As a Web3 account infrastructure, it consists of four key components: identity verification and authorization, ERC-4337 compatibility, personal Cyber ID, and corporate account setup.
CyberGraph: It is an uncensored smart contract used to record user content and social relationships, with built-in monetization tools. This product connects user identities (CyberAccounts) with their content and social connections through a set of smart contracts and records rich social data on multiple EVM-compatible blockchains.
Through customizable middleware design, CyberGraph stores users' high-value social data in a blockchain database. This product unlocks new social network use cases and community-building dynamics, allowing social interactions to be monetized through tokenization.
CyberID: It is an ERC-721 NFT that serves as a unique identifier for a user's account on the CyberConnect social network, similar to usernames on Instagram or Twitter.
W3ST (Web3 StatusToken): It is a non-transferable NFT that represents a digital verifiable indicator of a user's status within their community. This product can be used as an identification tool for user identities, and organizations can use W3ST to identify their loyal supporters and build a digital verifiable, immutable, and distinguishable value system based on contributions within their community.
Furthermore, in terms of community development, W3ST helps identify potential members with similar interests, affiliations, and past experiences.
Token Economy Model
CyberConnect has established the CyberDAO organization for protocol governance. The protocol governance token is CYBER, primarily used for protecting and managing DAO, which has the authority to control the use of treasury funds and propose core upgrades to the protocol infrastructure.
The total supply of CYBER tokens is 100 million, with an initial circulation of 11,038,000 tokens, accounting for 11.04% of the total token supply. The total mining supply is 3,000,000 tokens, accounting for 3% of the total supply. The token distribution standards and empowerment are as follows: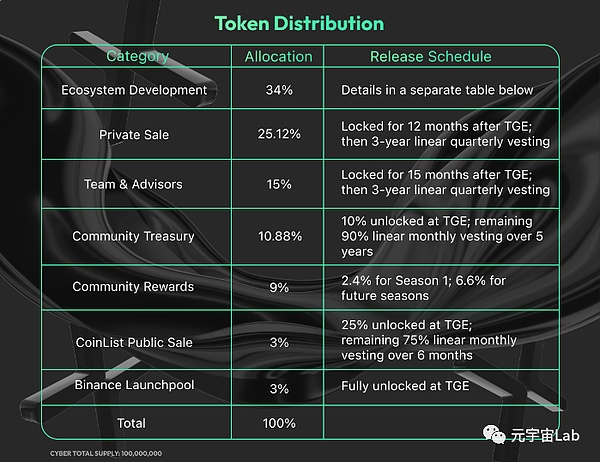 Out of the total supply of 100 million CYBER tokens, 9% is allocated for community rewards, 34% for ecosystem development, 25.12% for private investors, 15% for the team and advisors, 10.88% for the community treasury, and 3% each for CoinList public sale and Binance Launchpool.
Governance: CYBER token holders have voting rights and can delegate their voting rights to others. Protocol improvements are determined by voting rights;
CyberID Payment: CyberID is an ERC-721 token that represents the unique payment method for user accounts in the CyberConnect social network. CYBER is used for payment when purchasing CyberID.
Network Account Gas: CYBER is used as a price meter and gas payment method for all transactions within the CyberAccount across EVM-compatible chains.
Out of the total allocation of 34% for ecosystem development, 9% is allocated for ecosystem partners, 10% for user developer communities, 5% for early integration partners, and 10% for market development.
CyberConnect has raised $25 million through two rounds of private token sales, with 25,120,000 CYBER tokens sold. The project also conducted a public sale of 3 million tokens on Coinlist (3% of the total supply), raising $5.4 million at a price of $1.80 per CYBER token. The Binance Launchpool at the beginning of the month also accounted for 3%.
The airdrop rewards are divided into the first and second quarters, and the airdrop allocation for the first quarter can be claimed today, accounting for 2.4%, with 2.4 million tokens to be claimed. The second quarter has also begun. (For specific information and eligibility for the airdrop, please refer to the CyberConnect blog.)
Funding Information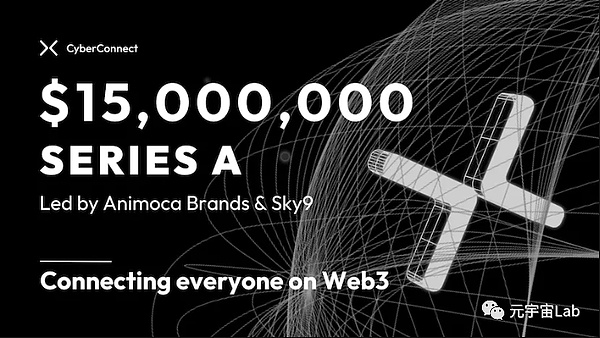 On November 17, 2021, CyberConnect, a cryptocurrency startup for Web3 social media, gaming, and metaverse application development tools, raised $10 million in a seed funding round. Multicoin Capital and Sky9 Capital co-led this round of funding. Investors such as Animoca Brands, Draper Dragon, Hashed, Zoo Capital, Smrti Lab, and Mask Network also participated in this round of funding.
On May 17, 2022, Web3 social graph protocol CyberConnect completed a $15 million Series A funding round, with lead investments from Animoca Brands and Sky9 Capital. CyberConnect plans to use this funding to continue building the protocol, expanding the team, and launching new Web 3 projects.
Summary
Overall, CyberConnect is a very high-quality project in the long run, with its own technical background and large financing, and the social track is also a very promising track.
As for the token price estimate, we still estimate it from two aspects. Currently, the number of CyberConnect's Mint is around 1.2 million, while the number of GAL (Galex) Mint, a benchmark project, is around 400,000. CyberConnect's activity is still increasing, and other data is also surging. The current circulating market value of GAL is $98 million, and the initial circulation of CyberConnect Token is around 11 million. Based on the valuation of GAL, the price is around $9. However, this is only a benchmark project. Looking at it from the perspective of financing, the first round of financing raised $10 million at a valuation of $50 million, so the cost is $0.5. When participating in the coinlist, the price was $1.8 per token. In the latest round of financing, the project's valuation reached $300 million, so the cost is $3, which is 60% higher than the public offering cost of $1.8. Therefore, we can finally infer that the price should be in the range of $3 to $9.
Like what you're reading? Subscribe to our top stories.
We will continue to update Gambling Chain; if you have any questions or suggestions, please contact us!