Author: 0xJeff, Crypto KOL; Translator: LianGuaixiaozou
Although Radiant Capital has been trading in the same price range since May, its metrics have been gradually improving over the past 30 days.
Will the Radiant ecosystem experience a significant increase like Pendle?
I am writing this article at this time because Radpie dLP Rush is ending in 4 days, and the dLP Rush event will bring you RDP airdrops and IDO allocations. The APR is based on the $20 million FDV of RDP, and if there is no demand for dLP, the APR is irrelevant.

Before we delve into it, let's review the overview of Radiant:
The first cross-chain money market (using LayerZero)

Borrow on one chain, lend on another

TVL exceeds $272 million

Protocol fees over $10 million

Currently deployed on Arbitrum and BNB chains

Radiant v2 introduces dynamic liquidity provision (dLP)

Better token flywheel, 80% RDNT / 20% ETH Balancer pool LP, requires 5% RDNT lock-up to receive distribution

New chains and asset collaterals are coming soon
Since March, Radiant has undergone the v2 upgrade…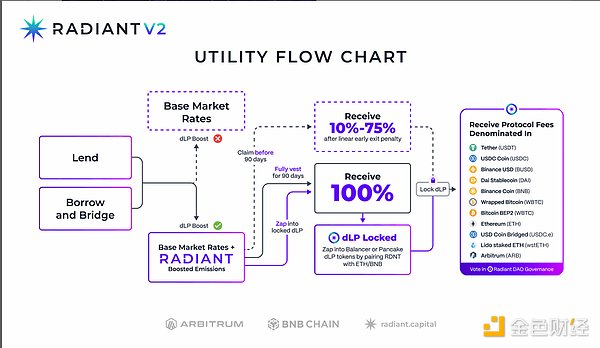 – Radiant has been listed on Binance
– Lido Staked ETH is listed as collateral
– RFP-18 has been approved – Airdrop 1.3 million ARB to dLP Lockers
There is more activity, but it is worth noting that the price peaked in March and then steadily declined to $0.28.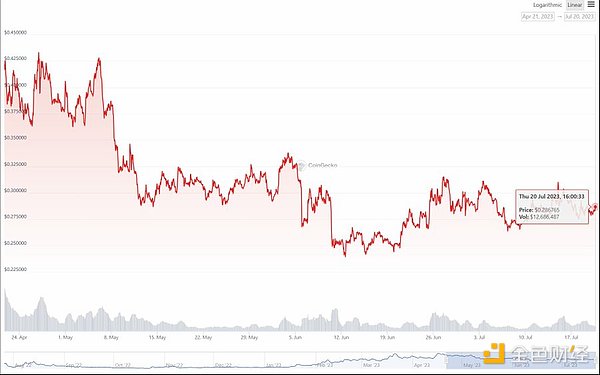 Although the price is declining, the metrics have been on an upward trend in the past 90 days.
– Fees increased by 37%
– dLP increased by approximately 10%
– 82% of RDNT/WETH dLP locked
– No major unlocks before Q1 2024
Here is the lending situation:
Total borrowed value reached an all-time high

Usage rates for BTC and ETH are still high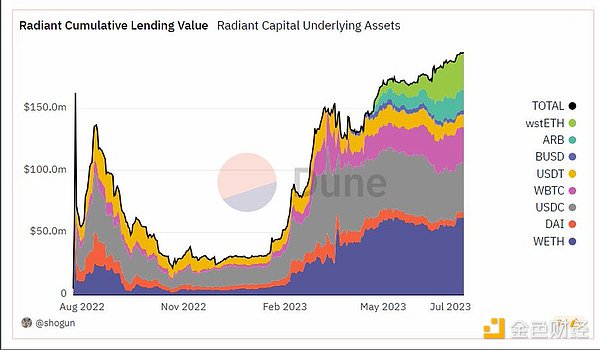 However, this situation may change quickly after the launch of the Ethereum mainnet and the start of the Radiant Battle.
Currently, there are two protocols based on Radiant:
Radpie is officially supported by Radiant and is ready to shine in this battle.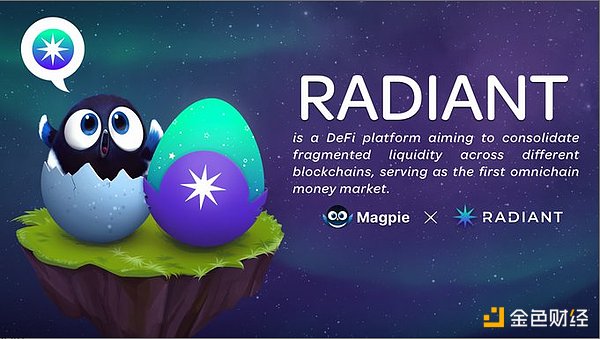 Radiate:
– dLP lockup for at least one month with an APY annualized return rate of 60%.
– Poor UI/UX.
– Unknown team.
Radpie:
– No lockup required; current APR annual interest rate is 18k%.

– Excellent UI/UX (observed from Magpie & Penpie Marketplaces).
– Team with a good performance record (nearly 60 million TVL from Magpie & Penpie).
– Radpie is undervalued compared to Radiate (10x vs. 11.5x FDV/TVL).
This is only for the current TVL situation of Radpie.

There are 4 days left until the end of the dLP Rush, and Radpie's TVL may double because:
                undefined A large portion (40%) of the IDO allocation goes to dLP Rush, and
                undefined RDP airdrop (3% of the supply).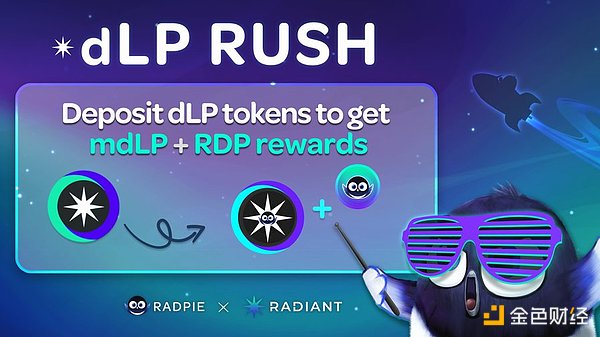 If you, like me, are optimistic about the Magpie ecosystem, vote to lock RDP. In addition to the yield sharing and governance value of Radiant, you will also receive IDO allocations for future high-quality projects.
Although Radpie has a higher probability of winning this Radiant battle, Radiate will also develop momentum and may experience a significant increase in value due to its undervaluation. Radpie's IDO will take place in August, so stay tuned and don't miss the next great opportunity.
Like what you're reading? Subscribe to our top stories.
We will continue to update Gambling Chain; if you have any questions or suggestions, please contact us!