DeFi Data
1. Total market capitalization of DeFi tokens: $47.805 billion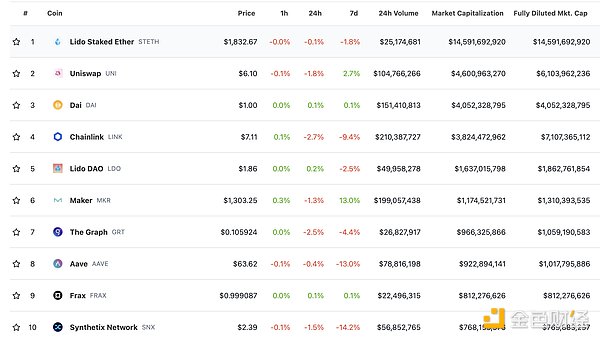 DeFi total market capitalization and top ten tokens data source: coingecko
2. Trading volume of decentralized exchanges in the past 24 hours: $3.8486 billion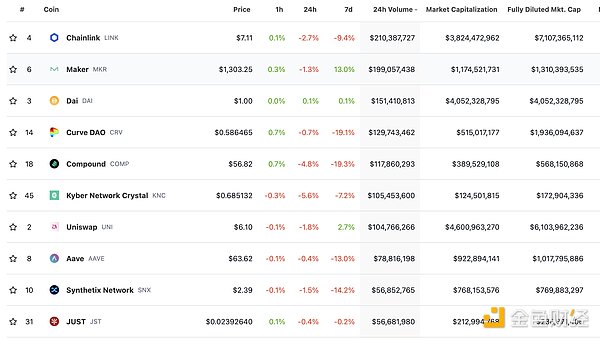 Trading volume of decentralized exchanges in the past 24 hours data source: coingecko
3. Locked assets in DeFi: $40.497 billion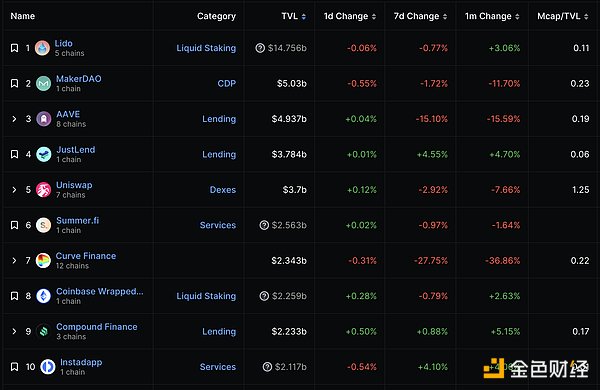 Data source: defillama
NFT Data
1. Total market capitalization of NFTs: $16.51 billion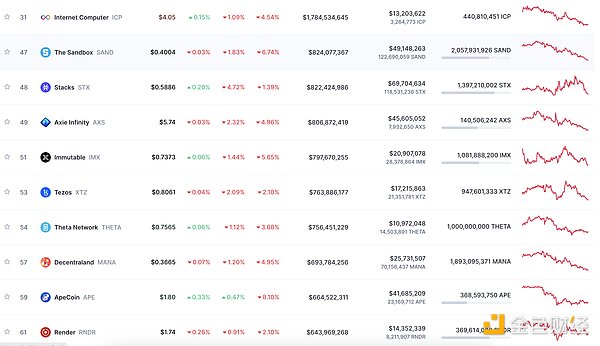 Total market capitalization of NFTs and top ten projects data source: Coinmarketcap
2. NFT trading volume in the past 24 hours: $1.089 billion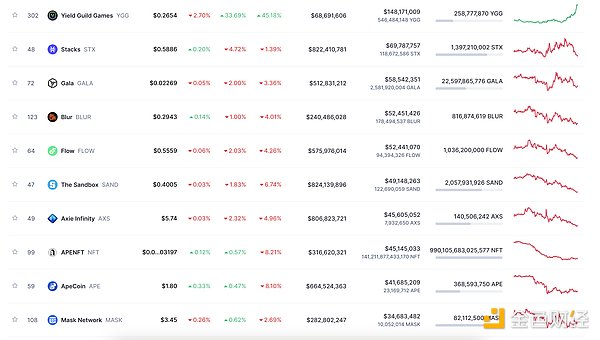 NFT trading volume in the past 24 hours and top ten projects data source: Coinmarketcap
3. Top ten NFTs sold in the past 24 hours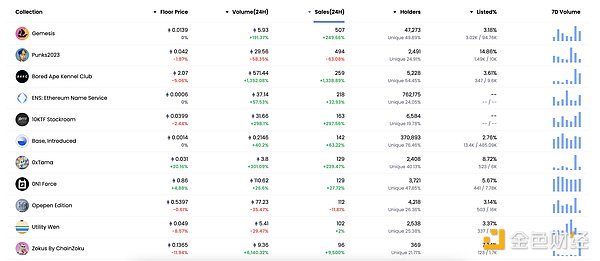 Top ten NFTs sold in the past 24 hours data source: NFTGO
Headlines
US President Biden shows off his "laser eyes" coffee cup
LianGuai reported that US President Biden posted on social media, stating that the taste of a cup of joe has never been so wonderful, and attached a video of himself drinking coffee from the cup. LianGuai found that the Biden's face printed on the coffee cup has the "laser eyes" symbol, which is a favorite element added by Bitcoin enthusiasts when designing personal photos.
It is reported that the "laser eyes" phenomenon is part of the movement on social media to push the Bitcoin price to $100,000 by the end of 2021, but this goal has not been achieved.
NFT/Digital Collectibles Hot Topics
1. CryptoPunk #3307 sold for 500 ETH
On August 4th, at 19:22, CryptoPunk #3307 was sold for 500 ETH, equivalent to approximately $916,000.
2. Insider: HashKey NFT team experiences multiple departures, suspected dissolution
On August 4th, an insider revealed that multiple employees of HashKey's NFT business team have left, suspected to be dissolved. According to insiders, HashKey's short-term mission is to focus on the trading platform business, and the NFT team has been adjusted due to profitability issues.
EtherPoap gained attention from the community due to the support of HashKey, but it failed due to operational issues. HashKey has previously stated that it is independent from EtherPoap. On August 3rd, HashKey Exchange announced that it has obtained the No. 1 and No. 7 licenses, officially upgrading to become the first licensed trading platform for retail users in Hong Kong.
3. The new collection "Qingwen" of the Twelve Handmaidens series of the original space Red Chamber will be released on August 5th
According to official sources, the domestic digital collection platform, the original space, will officially release the new collection "Qingwen" of the Twelve Handmaidens series of the Red Chamber on August 5th at 16:16. It is understood that this collection plans to issue a limited edition of 2 million copies, with an initial price of 1.10 yuan per copy. Each account ID is limited to purchasing 2 copies.
It is worth noting that recently, the original space first released the Qin Keqing series of the Twelve Beauties of Jinling collection, with an initial price of only 99 yuan, and within 24 hours, the highest transaction price rose to 700 yuan.
In addition, the original space also announced a collaboration with investment institution Horizon Harbor Capital to jointly promote the innovative development of blockchain technology and Web3 revolution, and build a new generation of digital residents' "redology metaverse".
4. NFT marketplace Zora introduces protocol rewards, creators and developers can receive minting fee rewards
On August 4th, NFT marketplace Zora introduced protocol rewards, and creators and developers can receive on-chain rewards on Zora. The protocol rewards are provided by the minting fees, which will now be automatically shared with creators and developers. Starting now, creators of free minting projects and developers who develop on Zora will receive a portion of the fees from each minting project. The minting fee is still 0.000777 ETH, ensuring that a significant portion will be reduced for Zora. The remaining portion will be provided to creators and developers for new experiences and tools.
5. OpenSea announces support for Base network
According to LianGuai, OpenSea announced on social media that it now supports Base, a Layer 2 blockchain built on the OP Stack by Coinbase.
DeFi Highlights
1. Coinbase: Regulatory agency's lawsuit goes far beyond its jurisdiction
According to LianGuai, Coinbase has submitted a motion for judgment in the case of its ongoing lawsuit by the U.S. Securities and Exchange Commission (SEC), stating that the regulatory agency has gone far beyond its jurisdiction in suing the cryptocurrency exchange.
2. Data: Aptos mainnet transaction volume surpasses 200 million
On August 4th, according to Aptos Explorer data, the total transaction volume on the Aptos mainnet has exceeded 200 million, reaching 209,026,304 transactions at the time of writing this article. The active staked amount is close to 900 million tokens, and there are 110 active validators. Historical data shows that the Aptos mainnet transaction volume surpassed 100 million transactions in March this year, which means that this indicator has doubled in the past 5 months.
3. DeFi investment management platform Notum completes Beta testing and officially launches
On August 4th, DeFi investment management platform Notum recently completed Beta testing and is now open to all cryptocurrency investors.
It is reported that Notum provides various functions such as smart wallet management tools, low fees, and advanced analytics.
4. Trader Joe has been deployed on the Ethereum mainnet
August 4th News: Trader Joe, a decentralized exchange that supports concentrated liquidity provision, has been deployed on the Ethereum mainnet. Previously, Trader Joe has been launched on networks such as Avalanche, Arbitrum, and BNB Chain.
5. dYdX: Public Testnet 2 to be launched on August 11th
August 4th News: dYdX announced that it will close the dYdX Chain Public Testnet 1 at UTC time 17:00 on August 7th (1:00 on August 8th Beijing time), and then reset and restart Public Testnet 2 at UTC time 17:00 on August 10th (1:00 on August 11th Beijing time).
Game Highlights
1. aelf launches aelevate program to support blockchain game development
LianGuai reports that aelf, a decentralized application Layer1 blockchain network, has announced the launch of the Aelevate program. Aelevate will support studio transformation and blockchain game development by providing up to $150,000 in funding to each studio to help developers integrate, build, and release their games on the aelf network.
Aelevate is open to all game developers, regardless of their level of experience. Successful applicants will receive end-to-end support in two main aspects: 1. Technical ecosystem, 2. Business ecosystem.
The application for the aelevate program is now open and will end on September 30, 2023. The first round of funding from Aelevate will be distributed in October 2023.
Disclaimer: LianGuai, as a blockchain information platform, publishes articles for informational purposes only and does not constitute actual investment advice. Please establish the correct investment concept and be sure to increase risk awareness.
Like what you're reading? Subscribe to our top stories.
We will continue to update Gambling Chain; if you have any questions or suggestions, please contact us!