DeFi Data
1. Total Market Cap of DeFi Tokens: $51.03 billion

DeFi Total Market Cap and Top Ten Tokens data source: coingecko
2. 24-hour Trading Volume on Decentralized Exchanges: $3.95 billion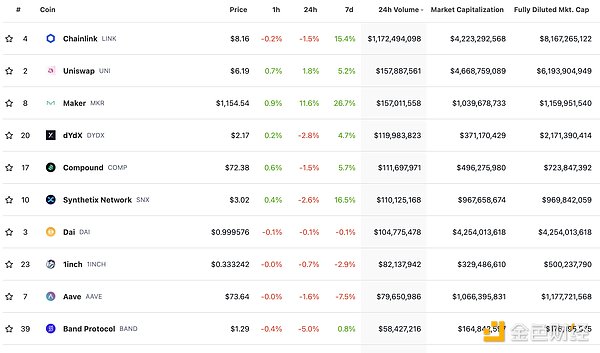 24-hour Trading Volume on Decentralized Exchanges data source: coingecko
3. Locked Assets in DeFi: $44.097 billion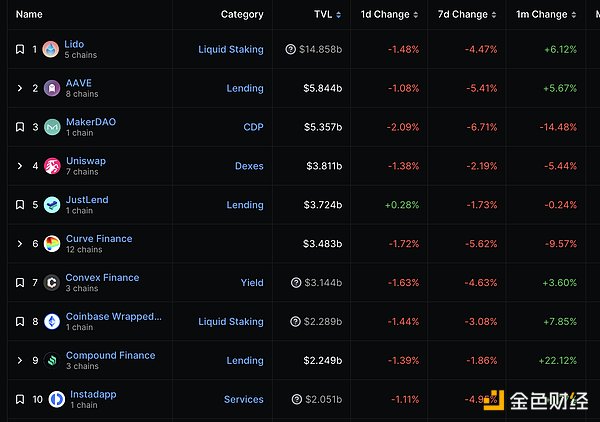 Data source: defillama
NFT Data
1. Total Market Cap of NFTs: $17.136 billion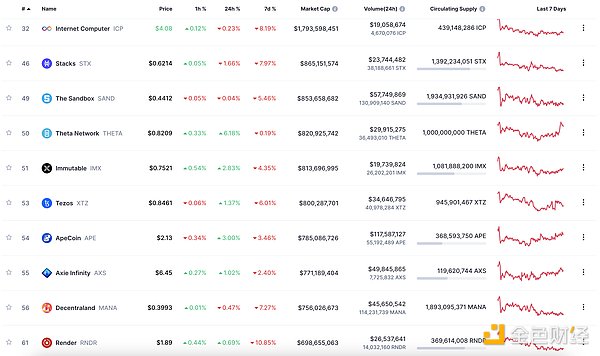 Total Market Cap of NFTs and Top Ten Projects data source: Coinmarketcap
2. 24-hour NFT Trading Volume: $1.172 billion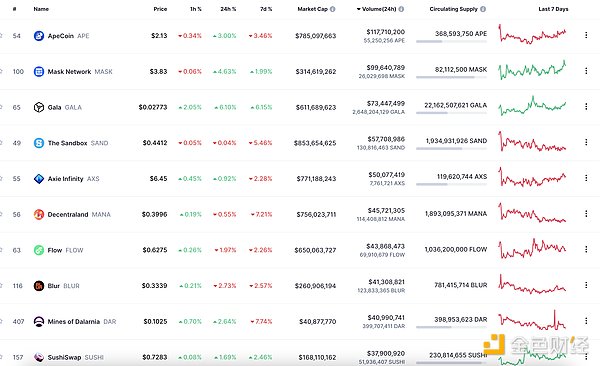 24-hour NFT Trading Volume and Top Ten Projects data source: Coinmarketcap
3. Top Ten NFTs in the Last 24 Hours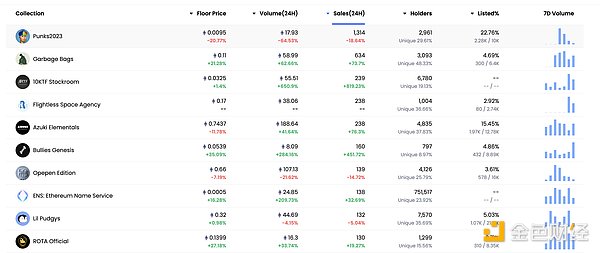 Top Ten NFTs Sold in the Last 24 Hours data source: NFTGO
Headlines
Tesla has removed "bitcoin" related source code from its payment page
On July 21st, it was reported that Tesla has removed the "bitcoin" related source code from its car purchase payment page. The last modification date of the JavaScript code file was July 21st, Beijing time.
NFT/Digital Collectibles Highlights
1. Bored Ape Yacht Club #7403 sold for 165 ETH
LianGuai reported that data shows Bored Ape Yacht Club #7403 was sold for 165 ETH.
2. NFT portfolio tracking platform Floor launches new service "Floor ICONS" supporting NFT purchases in compliance with Apple and Google policies
LianGuai reported that NFT portfolio tracking platform Floor announced the launch of a new service "Floor ICONS" that supports NFT purchases in compliance with Apple and Google policies. This service provides a mobile-first, fiat-first experience through in-app purchases. Floor will also launch an emerging creator platform within the app, allowing art enthusiasts to get closer to their favorite art and artists, and integrate NFT purchases into their mobile platform.
3. OpenSea launches peer-to-peer NFT exchange feature Deals
LianGuai reports that the NFT marketplace OpenSea has announced the launch of Deals, a peer-to-peer NFT trading feature that allows traders to add collections and interact directly with other collectors. Deals will allow collectors to trade NFTs with each other, including WETH, and this feature is supported by OpenSea's native NFT protocol Seaport. OpenSea also added that the goal of this product is to make the NFT exchange process trustworthy and to prevent users from being deceived by counterfeit third-party websites or links during transactions.
4. Seven Bank launches Soul-Bound NFT series
LianGuai reports that Japanese financial giant Seven Bank has announced a partnership with the Astar blockchain and the Tokyo NFT issuance platform Sushi Top Marketing to launch the Soul-Bound NFT series, consisting of unique and non-transferable tokens. From July 18th to October 16th, users can obtain free digital artworks by making donations through ATMs. After making a donation, they will receive a deposit receipt with a unique QR code. By scanning and setting up a Sushi Top Marketing wallet, they can claim the art tokens.
DeFi Highlights
1. Cross-chain protocol Wormhole launches Cosmos ecosystem application chain bridge
On July 21st, cross-chain protocol Wormhole announced the launch of an application chain bridge in the Cosmos ecosystem, aiming to make it easier for developers and users to access tokens on any Cosmos chain and promote liquidity to develop the Cosmos ecosystem.
2. Arbitrum Foundation launches ambassador program and grant program
LianGuai reports that Arbitrum Foundation has recently launched two programs, the ambassador program and the grant program. The ambassador program (currently in its first phase) targets students and university blockchain association groups. The grant program (currently in its first phase) targets dApps and infrastructures.
3. Data: Polygon's daily active users surpass Ethereum and Solana
LianGuai reports that according to DeFiLlama's data, the total number of active users on the Polygon blockchain in the past 24 hours was 405,084 people. In comparison, Ethereum had a total of 332,000 daily active users during the same period. This means that Polygon currently has over 50,000 more daily active users than Ethereum. It also surpasses competitors Arbitrum (with 172,968 users) and Solana (with 122,570 daily active users).
4. SLianGuaice Nation to be developed on Immutable zkEVM
On July 21st, the space-themed MMO game SLianGuaice Nation tweeted that it will be partnering with the Web3 game development platform Immutable to develop on Immutable zkEVM.
5. CoinCenter and other crypto advocacy groups condemn CANSEE bill for excessive intervention in DeFi
LianGuai reports that CoinCenter and other cryptocurrency advocacy groups have criticized the Senate's Cryptocurrency National Security Enforcement Act (CANSEE), which imposes strict regulations on individuals involved in decentralized finance (DeFi). CoinCenter and its executive director Jerry Brito criticized the proposal as "confusing, arbitrary, and unconstitutional" in a statement on July 20th. Kristin Smith, CEO of the Blockchain Association, stated that the bill is impractical and fundamentally incompatible with digital asset technology. This bipartisan bill was introduced on July 19th by Democratic Senators Jack Reed and Mark Warner, and Republican Senators Mike Rounds and Mitt Romney. If enacted into law, operators of DeFi platforms and major stakeholders will be held responsible for the platforms' illicit use.
Hot Topics in Gaming
1. Blockchain game developer Heynext completes $30 million financing
LianGuai reports that blockchain game developer Heynext has announced the completion of a $30 million new round of financing, with participation from institutions such as AirAsia. The new funds will be used to support the development of science fiction blockchain games. Heynext is building an immersive game virtual world based on the theme of interstellar conflict, aiming to inspire players to actively participate and think critically. AirAsia, the investor in this round of financing, renamed as "Capital A" in 2022 and has since expanded its business beyond aviation and diversified its investments.
2. ApeCoin community, through proposal AIP-280, makes Meta Merge the official cooperative mobile game of ApeCoin DAO
On July 20th, the ApeCoin community, through proposal AIP-280, made the AIGC game Meta Merge, incubated by the metaverse gaming platform Ultiverse, the official cooperative mobile game of ApeCoin DAO. The game will support APE as a payment method and has obtained the intellectual property authorization from jimbol's Bored Ape and Ultiverse's Electric Sheep NFT. The team plans to promote the game through Web2 channels.
Disclaimer: LianGuai, as a blockchain information platform, publishes articles for information reference only and does not provide actual investment advice. Please establish the correct investment concept and raise awareness of risks.
Like what you're reading? Subscribe to our top stories.
We will continue to update Gambling Chain; if you have any questions or suggestions, please contact us!