Looking back more than half a month ago, the opBNB testnet was launched on June 19. As soon as the testnet went live, major platforms began deploying tests, with MEKE becoming the first flagship application on its network.
Now, according to official sources, the opBNB mainnet will be launched in mid-August 2023, and the mainnet will be open to everyone from the end of August or early September. Since the launch of the opBNB testnet, the BNB Chain community has been continuously advancing this project and cultivating the ecosystem. After 1.5 months, it finally welcomes this critical moment – the launch of the opBNB mainnet.
What is opBNB?
opBNB is a Layer2 on the BSC built on OP Stack technology. Similar to Ethereum's Optimism Rollup, opBNB processes transaction data off-chain and packages it to be submitted to Layer1 to improve network performance, ultimately achieving high TPS, low gas fees, and the same level of security as Layer1.
The implementation principle of opBNB is to put some transaction processing off-chain and then publish the transaction data on-chain, compressing the on-chain data and improving overall scalability. Compared to other scaling solutions, opBNB demonstrates higher performance and scalability. Its block time is only 1 second, and the gas fees for transfers can be as low as $0.005. It can process more than 4000 transactions per second (TPS), surpassing existing scaling solutions. Furthermore, opBNB maintains compatibility with EVM, which means existing dApps and smart contracts can easily migrate to other EVM-compatible chains.
With the security and flexibility of BSC, opBNB can add custom features and provide more choices for decentralized application developers. At the same time, combining BSC's powerful products and community with low cost and high scalability, opBNB is expected to create new possibilities in the competition between Layer 1 and Layer 2.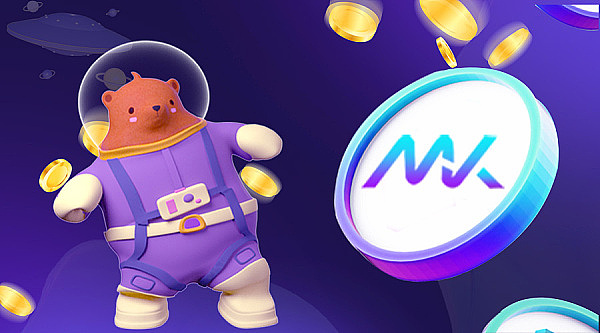 MEKE, a decentralized derivatives trading platform deployed on the opBNB testnet
MEKE is a project deployed on the OpBNB testnet and started its first public beta on July 31st, which will end in a short period of time. Participating in the MEKE public beta may have benefits comparable to early participation in dYdX, Optimism, and Arbtirum testing. Don't miss out.
MEKE is a decentralized derivatives trading platform developed by a US team since 2021. It can be used to trade perpetual contracts of mainstream cryptocurrencies such as BTC and ETH, and in the future, it may consider trading futures of physical assets such as foreign exchange, gold, oil, and US bonds.
With the launch of the opBNB mainnet, MEKE gains momentum
After the opBNB mainnet goes live, MEKE will migrate to the mainnet. This is undoubtedly an important opportunity for MEKE. Firstly, as a project in the opBNB ecosystem, MEKE users will have a better on-chain experience: faster speed and lower transaction fees. Secondly, MEKE can improve its brand awareness and market influence through collaboration with opBNB, attracting more market users. Finally, MEKE can expand its business scope and develop more decentralized derivatives trading tools and services through collaboration with opBNB.
In short, the upcoming launch of the OpBNB mainnet is an important event that holds significant meaning for the entire ecosystem. With the joint efforts of the OpBNB team and community, it is believed that OpBNB will become a high-performance Layer2 solution in the BSC ecosystem, bringing more value and opportunities to investors and the entire ecosystem. At the same time, MEKE will also migrate to the mainnet and become a part of the OpBNB ecosystem, contributing to the development of the entire ecosystem.
Seize the opportunity, as it may not come again.
The progress of the first phase of MEKE's public testing is in full swing. According to incomplete statistics, the number of interactive wallet addresses has surpassed tens of thousands. This is not only due to MEKE's market influence, but also the rewards it brings to users participating in the public testing. Like projects such as DYDX, Optimism, and Arbitrum, MEKE also provides rewards such as airdrops and fee dividends to users participating in the public testing, with more rewards for early participants. MEKE has a limited token issuance, and the platform has designed a unique issuance mechanism where early participants receive more benefits and later benefits gradually decrease. It is worth mentioning that opBNB, as the underlying blockchain system of MEKE, has not yet issued tokens. How much benefit will MEKE bring? It is worth looking forward to!
The first phase of MEKE's public testing will end on August 10th. For more information, please long-press to copy and enter the MEKE official community:
Official Website:
https://meke.io
Telegram:
https://t.me/MEKE_Club
Discord:
https://discord.gg/meke
Twitter: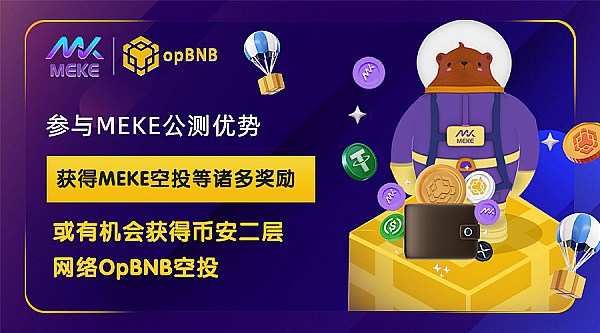 Like what you're reading? Subscribe to our top stories.
We will continue to update Gambling Chain; if you have any questions or suggestions, please contact us!