An NFT platform war is emerging.
According to the data, the lead of OpenSea, the market leader of NFT, continues to shrink. As of March this year, OpenSea had a market share of over 80% in the NFT market, but recently, with the rise of many competitors, the platform is losing market share.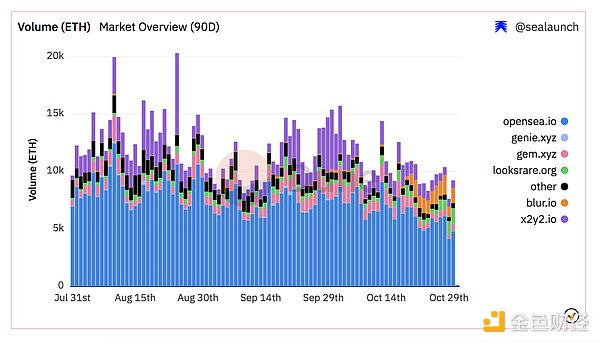 In the past week, OPENSEA's share of the overall ethereum NFT market has fallen to about 58 per cent, according to sealaunch, blur and lookrare have gained market share.
In this article, we'll take a brief look at the evolution of these NFT platforms.
X2Y2
X2Y2, an Ethereum NFT Marketplace launched this year, charges a relatively low transaction fee (0.5 per cent and is fully allocated to X2Y2 token guarantors) , and X2Y2 has introduced a 0% NFT lending service, which makes it somewhat competitive.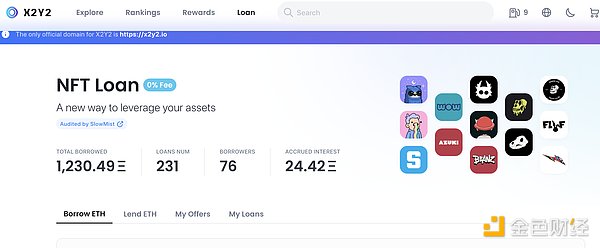 In the past week, X2Y2 ranked fourth in terms of number of unique users, number of transactions, and value of transactions in Ethereum's NFT market, behind OpenSea, Blur, and Gem.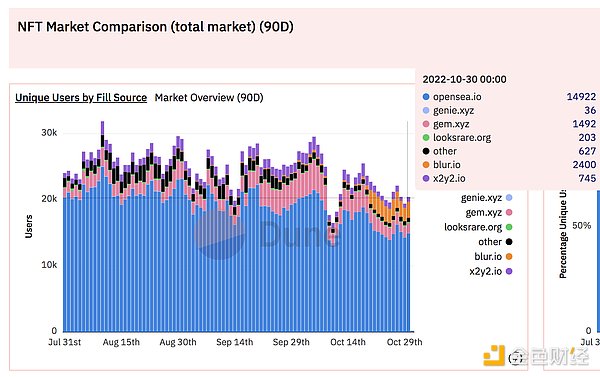 Two months ago, X2Y2 introduced a zero-royalty feature along with Sudo swap, which also raised concerns about royalty issues.
LookRare
Looksrare is a decentralized, community-first NFT marketplace that actively rewards traders, token pawns, creators, and collectors who participate in the platform, lookrare also announced the default elimination of NFT creator royalties, in line with market trends, and it also announced that it will share 25% of its agreement fees with creators and NFT collectors.
The following is a detailed description of the changed strategy:
Royalties: Lookrare will reward the Creator with a 25% contract fee and eliminate the standard creator royalties, giving the buyer the option to pay an optional royalty on payment.
Agreement fee: the total fee is still 2% , but now 1.5% of each transaction goes to LOOKS, if they set a recipient address, 0.5% goes to the payee (if they don't set it, the total cost is only 1.5%) .
Transaction rewards: 95% of transactions are awarded to the seller and 5% to the buyer.
Listing rewards: the listing rewards ranking is now only ranked by OpenSea's 24-hour rolling transaction volume.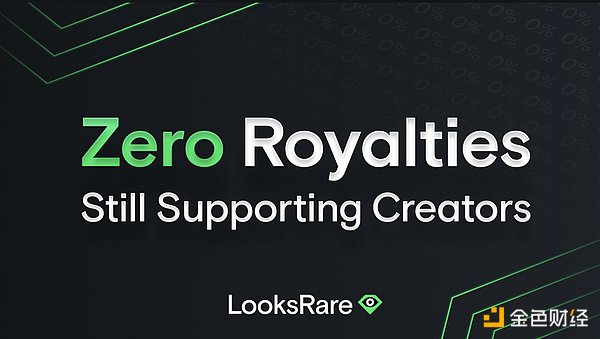 Over the past week, Lookrare ranked fifth in the Ethereum NFT market in terms of number of unique users and number of transactions, and in terms of transaction value, due to Lookrare's new strategy, that puts it in second place in the short term, behind only OpenSea.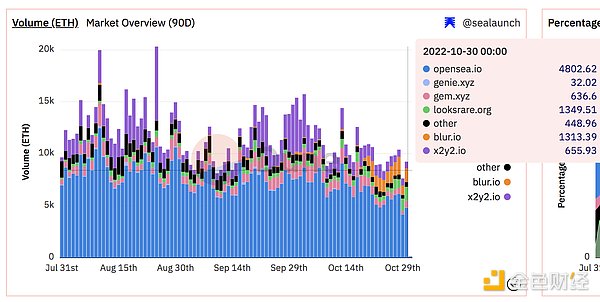 Gem
Gem is an NFT aggregator that connects to the NFT market, allowing NFT traders to save more on gas costs. After being acquired by OpenSea, the development and operation of GEM has not been satisfactory, despite the activity of its official Twitter account over the past four months, GEM remains one of the leading NFT platforms.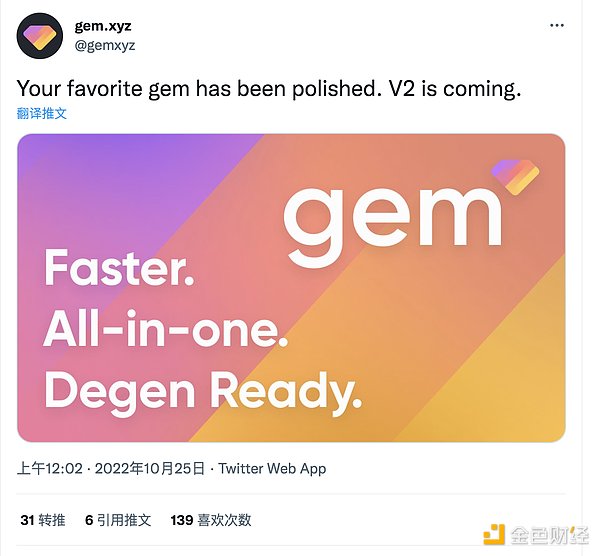 According to Gem's latest tweet, V2 version of GEM is coming soon, and the three keywords revealed by the project so far are"Faster", "One stop" and"Degen Ready", but there is no mention of more radical improvements, such as the"Abolition of royalties".
In terms of data, GEM is not doing well. In the past week, GEM ranked third in the market in terms of number of unique users, number of transactions, etc. , its figures over the past few days have slipped to fifth place, which may have more to do with royalties.
Blur
Blur is a new entrant to the NFT market and is positioned to serve professional NFT traders. One of Blur's biggest advantages over other NFT markets is speed (with the corresponding drawback that gas costs more) , and it is also the first platform to adopt a zero-market fee strategy, blur provides traders with an optional royalty and encourages them to participate in NFT transactions at a royalty rate of more than 0.5 per cent by means of airdrop incentives.
Blur's data has grown rapidly since the open beta, with X2Y2 ranking second in the market in terms of number of unique users and number of transactions over the past week, behind OpenSea, and in terms of transaction value, blur data also hovers between the second and third bits.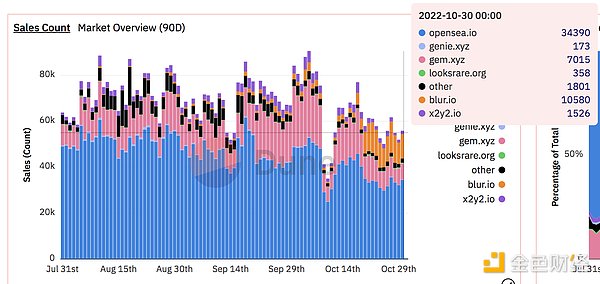 Blur will also experience a major airdrop boost in the coming November, so the numbers suggest that Blur is likely to continue to grow in the short term. But the sustainability of the zero-market fee strategy remains in doubt, and my guess is that the Blur platform is likely to change its fee allocation strategy in the future.
Some observations and guesses
Over the past week, OpenSea and its GEM platform have continued to show a downward trend in data, while the NFT platforms lookrare and Blur, which use optional royalties, have experienced growth, this suggests that alternative royalty strategies are popular with market participants.
It is therefore reasonable to speculate that OpenSea may be forced to adopt this strategy in the future, which would mean a significant reduction in royalties for NFT creators and project parties, depending solely on third-party NFT platforms, NFT creators and project owners may even face the harsh reality of losing revenue (e.g. , pure avatar NFT) , while applications (e.g. , games) NFT projects, revenue opportunities can be increased by developing a proprietary and built-in NFT trading platform.
In the coming period, we may see further developments in the NFT platform rat race, where some platforms focus on optimising gas fees while others focus more on transaction speed, competition for fees will be inevitable, and Blur's zero-platform-fee strategy is the most extreme as it stands, and its sustainability remains to be seen.
Another trend is that the NFT platform will also integrate lending services, which will be a very important next competitive point in the NFT market.
Like what you're reading? Subscribe to our top stories.
We will continue to update Gambling Chain; if you have any questions or suggestions, please contact us!