Source: Blockworks
Compiled by: Joy, BlockingNews
On the evening of June 6th, Beijing time, after the SEC announced a lawsuit against the US exchange Coinbase, SEC Chairman Gary Gensler appeared on CNBC's Squawk Box program and discussed the recent lawsuits filed by the SEC against Binance and Coinbase. The lawsuits accuse both platforms of operating as unregistered securities exchanges.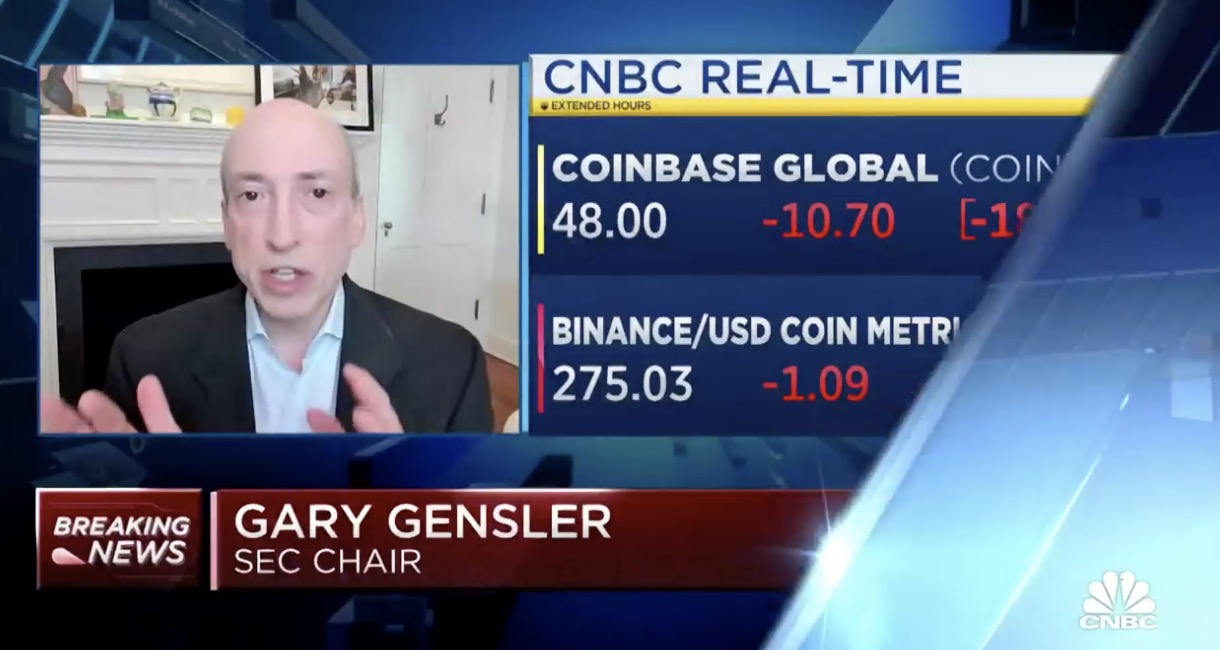 Gensler's main point was that Coinbase, Binance, and other cryptocurrency exchanges are evading US regulation and have been "clear about it for years." "It's fundamentally about lack of control, fraud, and conflicts," Gensler said. "The entire business model is based on not complying with US securities laws, and we're asking them to comply with US securities laws, so they're a little 'catch us if you can'."
In the interview, Gensler repeatedly mentioned the SEC's claim that Binance CEO Changpeng Zhao mixed customer funds with those of his trading company Merit Peak Limited, using this as an example of why cryptocurrency exchanges need more regulation. Of course, Binance denied this allegation in its response to the SEC lawsuit.
Binance was a persistent target of Gensler's during the CNBC interview, and he rarely mentioned Coinbase. Gensler even suggested that users think twice about leaving funds on the Binance platform. "Make no mistake, it's not appropriate to store funds and cryptographic securities on platforms like Binance," he said.
Gensler also talked about the value of certain cryptocurrencies, saying there is a lot of debate about use cases.
When host Jim Cramer raised some questions about the value of SOL, ADA, MATIC, FIL, ATOM, SAND, MANA, ALGO, AXS, and COTI, which are listed as securities in the Binance complaint, Gensler was clear.
"Look, we don't need more cryptocurrencies. We already have cryptocurrencies. It's called the dollar. It's called the euro. It's called the yen. They're all digital now. We already have digital assets," Gensler said. He continued, "For centuries, we haven't seen an economy or the public need more than one way to transfer value."
Although he is skeptical about the future coexistence of cryptocurrencies and fiat currencies, Gensler added, "If these crypto tokens have real value, compliance will build trust, and the business models of crypto exchanges may change."
He further asserted that the recent actions of the US Securities and Exchange Commission were "supporting innovation," countering Binance's claim that the SEC is undermining "the role of the US as a global financial innovation and leadership center." "What we're doing at the SEC is supporting innovation because without trust, capital markets really can't operate," Gensler said.
Gensler declined to discuss specific communications between the SEC and relevant companies, but indicated that he is still prepared to have more cryptocurrency exchanges meet appropriate compliance requirements.
As for the SEC's goal in court, Gensler said, all it needs to do is prove that a cryptocurrency "is a security" and "should be properly registered."
Gensler has been closely watched for months as his agency has stepped up enforcement against crypto companies. In April, he also refused to answer whether ether was a security or a commodity when testifying before Congress.
Like what you're reading? Subscribe to our top stories.
We will continue to update Gambling Chain; if you have any questions or suggestions, please contact us!