Author: LianGuai, Climber
July 24, 2023 will be a day that is destined to be remembered by history. Twitter's iconic "blue bird" logo is about to be replaced by the "X" pattern by Elon Musk, and Sam Altman, the CEO of OpenAI, announced the official launch of the Worldcoin project.
Coincidentally, both Musk and Sam Altman have set their sights on the current global financial system. Musk, in a somewhat "humble" manner, hinted that the integrated payment system represented by "X" may become half of the global financial system, while Sam Altman, as early as the beginning of the Worldcoin project, set the ambitious goal of creating a decentralized world-class digital financial system.
As business tycoons and legendary figures, both of them have made revolutionary innovations in the fields of new energy vehicles and AI. They have fought side by side in the past, but now they have reunited as opponents on the same battlefield. Who will have the last laugh?
1. The Ambitions of Business Leaders in the Financial Field
On July 23, Musk tweeted that Twitter's brand will bid farewell to its previous "blue bird" image and replace it with the "X" logo. This statement shocked the world. However, what is even more unexpected is that the new logo was selected within just one day, and the retirement of the Twitter "blue bird" is imminent.
On July 24, the Twitter website has been replaced with X.com, and Musk has officially changed his personal Twitter account avatar to the "X" logo.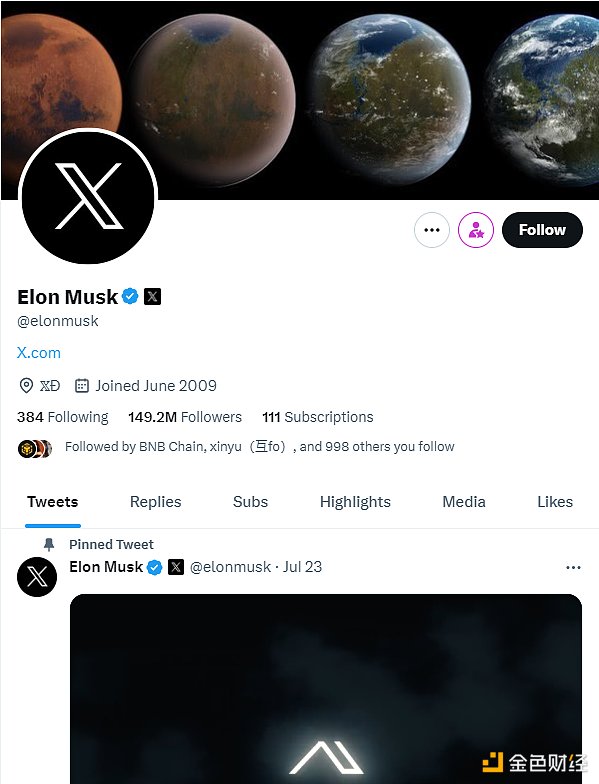 In response to this somewhat hasty move, Twitter CEO Linda Yaccarino posted that the new "X" will have "infinite interactivity," support various media formats, and have banking and payment functions.
Musk's comments in a later interview also align with this business plan. He stated that users can send and receive funds through Twitter's X, and if all goes well, the integrated payment system represented by X may occupy a significant position in the global financial system.
Musk revealed that X is dedicated to creating the most efficient database for global money, aiming to develop financial products with features such as minimal fraud, real-time processing, and seamless integration.
Almost on the same day, Sam Altman, the CEO of OpenAI, announced that the Worldcoin project, which he has been working on for three years, is officially launching, and the Worldcoin protocol has also been officially activated after migrating to the OP (formerly Optimism) mainnet.
Prior to the official announcement of this news, cryptocurrency exchanges such as Binance, OKEx, and Huobi have already opened Worldcoin (WLD) deposit channels one after another.
Note by LianGuai: The total supply of Worldcoin (WLD) is 10 billion. The WLD-ERC20 contract address is: 0x163f8c2467924be0ae7b5347228cabf260318753; The WLD-Optimism contract address is: 0xdc6ff44d5d932cbd77b52e5612ba0529dc6226f1.
In an open letter released by Sam Altman, he stated that we believe Worldcoin can significantly increase economic opportunities and ultimately demonstrate the potential path of AI-supported Universal Basic Income (UBI).
The founder's global-level business plan is not limited to facing challenges head-on but is gradually expanding.
On July 14 alone, the number of registered users for World ID exceeded 2 million, with an average of over 40,000 people registering and authenticating World ID every week. The verification location for Worldcoin's iris recognition device, The Orb, was chosen in Hong Kong, which has a dense population and is relatively open to the cryptocurrency field.
II. Breaking out of economic difficulties: For oneself or for others?
Both Elon Musk and Sam Altman have had grand ideals of using technology to benefit humanity, but their original intentions have diverged due to changing circumstances.
In 2015, Sam and Musk co-founded the artificial intelligence company OpenAI. Their initial goal was to establish a nonprofit, human-friendly AI and then release its source code to the world for sharing and benefiting humanity.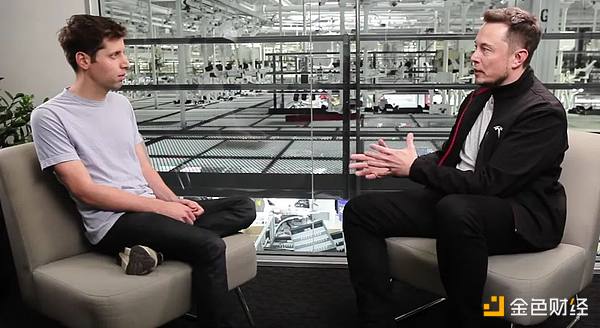 However, Musk left OpenAI in 2018. At the time, the company publicly stated that the reason was to avoid any conflicts of interest with Tesla, as Tesla was developing its own AI technology for autonomous driving systems, which would compete for talent with OpenAI. However, there are also reports suggesting that the real reason for Musk's departure may have been a failed internal power struggle.
In March 2019, Sam resigned from Y Combinator and devoted himself wholeheartedly to the development of OpenAI. In May 2019, under Sam's leadership, OpenAI transitioned from a nonprofit business to a for-profit company.
This year in February, with the release of ChatGPT, OpenAI gained widespread attention and made AI the focus of discussions on potentially disrupting various industries.
Since purchasing Twitter for $44 billion in October last year, Musk has implemented a series of bold reform measures. However, the results have not been as satisfactory, especially as his multiple roles have not been able to alleviate his financial concerns.
1. Tesla's losses and SpaceX launch failures
In February of this year, Musk told the media that Tesla's factories in Berlin, Germany, and Texas, USA, have started production successively, but due to low production capacity, they have incurred billions of dollars in losses. In terms of investments, Tesla sold a large amount of Bitcoin in 2022, resulting in a depreciation loss of $204 million.
In April of this year, a SpaceX launch failure resulted in Musk's $3 billion investment going down the drain.
2. Fierce competition in the social media market
On July 6, the social media app Threads, launched by Mark Zuckerberg, exceeded 100 million registered users in less than a week. This put pressure on Musk, who had to publicly criticize its new features for copying Twitter.
3. Paying homage to the original business
As early as 1999, Musk co-founded the online bank X.com. In 2000, the company merged with Confinity to become LianGuaiyLianGuail.
In 2002, eBay acquired LianGuaiyLianGuail for $1.5 billion, which provided the greatest confidence for Musk's future extravagance.
Now, Musk is obviously more confident in transforming the social media platform Twitter into an integrated payment system. Especially on July 15th, Musk personally admitted that Twitter's advertising revenue has dropped by 50% and the company is heavily burdened with debt.
In contrast, the life trajectory of OpenAI CEO Sam Altman is a different scene. Although the metaverse did not arrive as scheduled, Sam's spring is incredibly bright.
In 2019, Microsoft invested $1 billion in OpenAI. In January of this year, Microsoft announced that it will invest billions of dollars in OpenAI again. Although the specific details were not disclosed, Microsoft's investment is estimated to be around $10 billion. Moreover, ChatGPT has also been integrated into the Bing search engine.
With the popularity of ChatGPT, this founder has earned a lot.
With abundant cash flow, Sam thought of helping the world.
As early as 2019, Sam realized that the future development of humanity requires global interoperability of digital identities when he came into contact with a large number of top-notch encryption projects at YC. Thus, the idea of Worldcoin was born.
This project aims to use iris scanning technology (Orb) as a global identification mechanism, reducing the entry barriers to the encryption industry, and allowing people all over the world to easily access encrypted assets.
Today, the Worldcoin project has sufficient funds to develop and grow. Sam Altman has also embarked on his vision to build the world's largest and fairest digital identity and digital asset system, and to implement a social experiment of "universal basic income".
In the economic system of the future AI era, people don't need to work. They just need to have a World App and click to receive money to meet their basic needs, ultimately achieving "billions of people lifted out of poverty".
On the other hand, Sam Altman also hopes to offset the unemployment caused by artificial intelligence by implementing universal basic income through Worldcoin's core business model of collecting data.
Conclusion
Regarding the announcements made by Musk and Sam Altman on almost the same day, opinions in the outside world are mixed. Some people believe that Musk will destroy the accumulated user base of Twitter over the past decade, while others believe that integrating social media into the payment and financial system through X will be more beneficial to the global economic integration process. As for Worldcoin, in addition to the common doubts, some people believe that if the project can succeed, it will bring more people into the field of encryption and further promote the development of the encryption ecosystem.
In fact, no matter which perspective or viewpoint, it is normal. Tesla has also been full of doubts on its journey. Collision and exchange can produce new sparks, so let's wait and see.
Like what you're reading? Subscribe to our top stories.
We will continue to update Gambling Chain; if you have any questions or suggestions, please contact us!