Author: Nancy, BlockingNews
FTX's liquidation repayment work has made new progress. On the one hand, the FTX claims website was launched on June 15th and will officially start around July 3rd. On the other hand, FTX has recovered over $7.3 billion in funds, and news of a restart or sale is frequent. Will FTX creditors turn the corner?
FTX claims are expected to be launched on July 3, and more than 60% of total liabilities have been recovered
Recently, FTX's debt submitted a motion to determine the deadline for customers to submit claims and seek court approval for this procedure. Prior to this, the bankruptcy court only stipulated that 4:00 a.m. Beijing time on July 1st is the deadline for creditors to submit claims for all claims except "customer claims," and customer claims are motions filed separately by the debtor.
According to the FTX claims website, the motion for the deadline for customer claims will be heard in court on June 29th at 1:00 a.m. Beijing time. If the motion is successfully signed around July 3rd, the FTX claims website will be officially launched.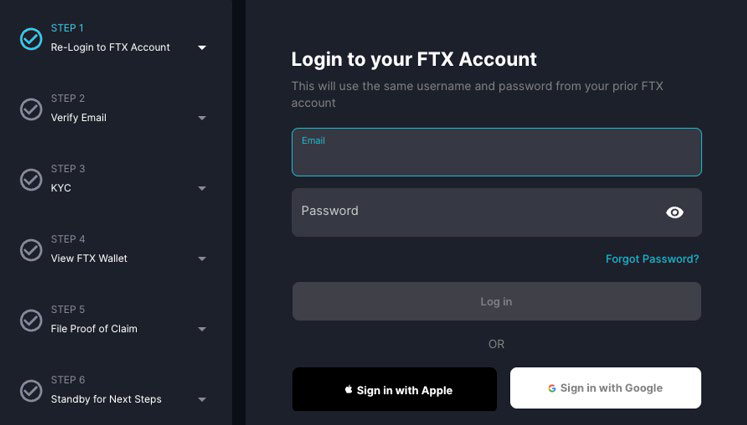 Once the website is launched, users can log in to the FTX claims system using their FTX, Apple, or Google account. According to the screenshot disclosed by the Twitter account @AFTXcreditor, the user's claim process is to log in to the FTX account password, email verification, KYC, browse the FTX wallet, submit a claim proof, and wait for the next step result. After successful login, users can view their transaction history and asset balance on the website, but the assets are frozen and cannot be used.
At the same time, the FTX claims website has provided answers to some questions, including: (1) For non-US claims of non-US users, FTX debtors are cooperating with non-US regulatory agencies and accelerating the process as appropriate under local legal rights; (2) The team has yet to know whether to use cryptocurrency or exchange it for the equivalent of US dollars for repayment; (3) The handling of open positions will depend on applicable terms of service and legal constraints; (4) US users will receive electronic or paper 1099 forms (tax forms) to pay taxes on cryptocurrency income in 2022, and the debtor has assessed similar tax reporting for users outside the United States; (5) If the user's contact information is incorrect, they can request a change by sending an email.
Although creditors are about to be able to make debt claims, the funds currently recovered by the FTX liquidation team are far from enough to cover the total debt of about $12 billion. According to court documents disclosed in April this year, FTX has recovered about $7.3 billion in liquid assets (including $2 billion in cash, $4.3 billion in Class A cryptocurrencies, $300 million in securities, and $600 million in receivables), accounting for 60% of the total debt, and FTX has not yet reached the "equity distribution" stage. Although the Hamma liquidator had requested to control some of FTX's disputed assets from the US bankruptcy court, it was eventually rejected and handed over to the United States for control.
In fact, since the bankruptcy application more than half a year ago, the FTX liquidation team has been trying to recover various funds. For example, several US legislators such as Marc Molinaro, RN.Y, Elise Stefanik, and Brian FitzBlockingtrick, R-Penn have surrendered FTX donations under the guidance of the US Department of Justice, sued former management of SBF to recover FTX stocks, sued shareholders of the acquired company Embed Financial to seek recover funds, and sold derivatives exchange LedgerX for about $50 million.
However, FTX still faces a huge financial test. On the one hand, the US Internal Revenue Service (IRS) has demanded taxes worth as much as $44 billion from FTX and its affiliates, which far exceeds the current amount of funds recovered, and these applications will be classified according to "administrative priority", which means that the IRS's applications may be prioritized over those of other creditors in the bankruptcy case. On the other hand, the legal and consulting fees required by FTX are not cheap, and FTX alone paid $103 million for this in the first quarter of this year.
9 million user list may become FTX chips, and there is still no clear restart timetable
As a cryptocurrency trading platform that once had a very high number of users, FTX was recently exposed to have about 9 million users. This list of usernames has become the best chip for FTX to be sold. Several media outlets have requested the list of FTX creditors to be made public. They believe that according to US federal law, openness and transparency in bankruptcy proceedings is a basic principle, and the public submission of a list of creditors' names when a company goes bankrupt is normal.
However, the FTX restructuring team believes that publishing the list may damage the sales value of the cryptocurrency exchange. Kevin Cofsky, a member of the FTX restructuring team and partner of investment bank Blockingrella Weinberg, bluntly stated that the publication of the customer list would harm FTX's restructuring work and sales value. FTX has begun an important process to solicit the interest of buyers, investors, and even to restart the exchange.
According to the final ruling of US bankruptcy judge John Dorsey, FTX can permanently remove the names of individual customers from its bankruptcy filing and temporarily allow FTX to remove the names of corporate and institutional investors from its customer list, but FTX must make new requests for this within 90 days. Dorsey also said that institutional clients would not face the same risks as individuals, but if FTX decides to sell its cryptocurrency trading business as a whole, the names of institutional clients could be valuable assets for it. According to court documents previously disclosed, the debts owed by only the top 50 creditors amounted to as much as $3.1 billion, indicating that these lists are "very valuable."
In fact, FTX's restart plan is not groundless, and reopening FTX is also a joy for creditors compared to the long road to recovery.
In May of this year, court documents showed that FTX's current CEO, John J.Ray III, dealt with FTX 2.0 plan-related matters, including reviewing the checklist of terms for the exchange restructuring plan, reviewing and ultimately determining the materials for launching the 2.0 version of the exchange, and reviewing the bid list for 2.0, among other things.
At the same time, FTX chief lawyer Andy Dietderich has also revealed the possibility of FTX's restart, saying that if it is reopened, FTX creditors can convert some of their holdings into shares of the reopened exchange. But the lawyer also stressed that restarting the exchange is just one of many possibilities, not the final decision. If this approach is taken, a large amount of capital will need to be raised, and there is a debate within the company about whether the funds should come from FTX or a third party.
But as the lawyer said, the restructuring plan is hypothetical, and Ray has not personally confirmed it. Some industry insiders also believe that FTX has persistent technical flaws, particularly high latency and software vulnerabilities, which have plagued FTX from the beginning, including the financial crisis of 2022. Therefore, fixing FTX's trading engine and other flaws requires a lot of work, and it is better to start a new exchange from scratch than to deal with the negative impact of the FTX brand.
However, the FTX Unsecured Creditors Official Committee also tweeted that it is working with the debtor to evaluate all options to restart or sell FTX and create value for creditors, but there is currently no clear timetable for restarting or selling the exchange. Interested parties who want to buy or sponsor the restart of the FTX exchange should contact the debtor and the committee before the formal process begins, and the committee will continue to update the creditors on the latest developments.
And this news has attracted the attention of external institutions. For example, according to Bloomberg, Arjun Seti, a co-founder of Tribe Capital and an FTX investor, met with the FTX Unsecured Creditors Committee in January to discuss a proposal to restart the exchange. As part of the plan, Tribe is considering raising $250 million, and the company has already received $100 million in support from its parent company and investors. Kevin Cofsky also revealed that he is now in contact with multiple third parties regarding the idea of acquiring, investing in, or restructuring the FTX exchange.
In short, although FTX is about to open a claims registration, creditors still face uncertainty about the time and amount of compensation. In addition, the FTX restructuring plan at this stage is only market speculation. Even if it really reopens, it is still unknown whether it can attract huge capital injection, how the interests will be distributed, and whether FTX can regain user trust under the shadow of bankruptcy.
Like what you're reading? Subscribe to our top stories.
We will continue to update Gambling Chain; if you have any questions or suggestions, please contact us!