Conflict between Ether.fi and OpenSea
Ether.fi announced on Tuesday that OpenSea has banned the trading of its NFTs that require Ethereum collateral.
In an open letter published on Medium, Ether.fi CEO Mike Sillagadze said, "We launched the ether.fan NFT series backed by collateralized ETH." He continued, "It has been extremely successful in every way. We minted all 3,000 NFTs within a day, with over 6,200 ETH locked."
Subsequently, Sillagadze stated that the entire series was listed on OpenSea for trading. "Then we got hit. All tradable NFTs on OpenSea disappeared. The new NFTs seemed to be disabled, accompanied by a mysterious error message. We received no notice or warning. None of our contacts at OpenSea reached out to us. This series was inexplicably disabled like this."
Sillagadze stated that after about a week of no response, OpenSea finally replied in the form of a "standard letter" stating that the marketplace "does not allow NFT series that involve registered or licensed financial activities."
What is Ether.fi?
According to the official website, Ether.fi is a special type of NFT that requires ETH collateral to mint. In summary, it is an "interest-bearing NFT."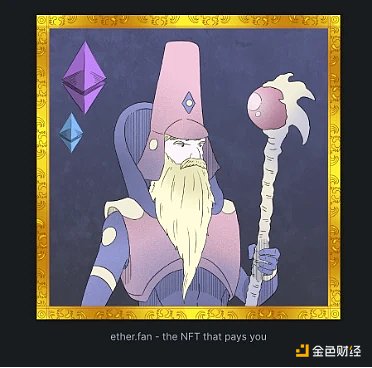 Screenshot of Ether.fi official website Source: Ether.fi official website
By collateralizing ETH, buyers can mint fan NFTs (differentiating them from the project's name, Ether.fi), which can earn them membership points and additional collateral rewards. Additionally, the website states that fan NFTs can "allow you to participate in exclusive events and showcase your commitment to Ethereum decentralization."
All ETH collateralized through ether.fan will be distributed to independent node operators running physical nodes in different geographical regions, using DVT (DeversiFi Trading Platform Token). Fan NFTs participate in the loyalty rewards program, and as the collateral time increases, the share of collateral rewards and protocol revenue will increase.
The collateral is done through ether.fi's non-custodial collateral protocol, and all protocol revenue is returned to the collateralizers and independent node operators to subsidize the cost of collateral hardware, with a small portion reserved for paying ether.fi interns.
According to a previous report by Odaily Star Daily, Ether.fi completed a funding round in February, led by North Island Ventures and Chapter One, totaling $5.3 million.
OpenSea's argument and responses from both sides
OpenSea responded to Ether.fi's email, stating that OpenSea does not allow NFTs with registered or licensed financial activities.
The underlying meaning of this statement is that there is currently no consensus on whether ETH is a security (even though in several past lawsuits, the SEC did not classify ETH as a security, and many people speculate that the SEC has abandoned the idea of treating Ethereum as a security and pursuing legal action). Additionally, staking services may also have securities characteristics, so whether registration is required is still uncertain. OpenSea is unwilling to take the legal risk of listing NFTs like Ether.fi, which have financial activity characteristics, which has led to this delisting event.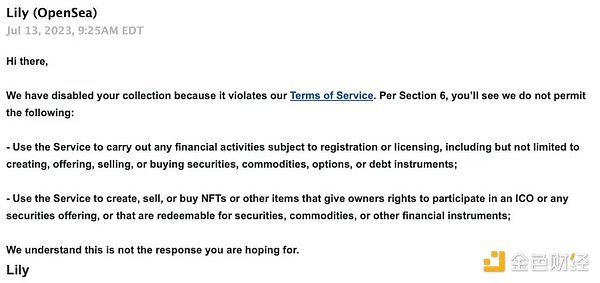 OpenSea's response email. Source: Decrypt
However, this delisting has been criticized by the Ether.fi team as being "too conservative." In an open letter, Sillagadze wrote, "This means that OpenSea's position is that staked ETH needs to be licensed and registered. This position is very conservative, and even the SEC has not made a clear statement on this."
In this open letter, it is not difficult to see that Sillagadze himself is very angry. He wrote, "Before the release, we have been communicating with OpenSea to ensure that ether.fan is compatible with its market, integrate its API to keep the metadata up-to-date, and ensure the correct display of the collection. We have been working on this for weeks before the release."
"But throughout the process, we have not received any indication that any of our actions would be a problem." Subsequently, the delisting event occurred.
He wrote:
"OpenSea has been operating an effectively unlicensed casino where people engage in destructive gambling and spend millions on images of monkeys, etc. Apparently, all of this is acceptable, but listing a collection that actually has utility is not allowed because it has practical use.

In reality, I don't think OpenSea has any malicious intent here. I don't think anyone intentionally did anything wrong. It may be a breakdown in their internal communication. OpenSea is now a company with over 300 employees, and there may be many teams who are not familiar with each other. As companies grow in size, they are often subject to the actual control of their legal and accounting teams and cease to take any slightly risky actions."
Aside from the initial email, OpenSea has not responded to any requests for comments from cryptocurrency media. However, a spokesperson provided the following response:
"While we won't disclose specific details about actions taken against individual collections, I can share that our terms of service govern the types of content and behavior allowed on OpenSea. When we discover collections or content that violate our terms of service, we enforce our policies in different ways, including delisting collections and, in some cases, banning accounts."
Like what you're reading? Subscribe to our top stories.
We will continue to update Gambling Chain; if you have any questions or suggestions, please contact us!