In the early morning of November 9th, the drama of " Binance vs FTX " ushered in a climax. CZ and SBF simultaneously issued a document announcing that Binance would acquire FTX wholly (see "Epic Reversal of the Story, CZ Announces Complete Acquisition of FTX" ), Affected by this news, not only the price of FTT has been greatly repaired, but the overall market has also ushered in a rapid rebound.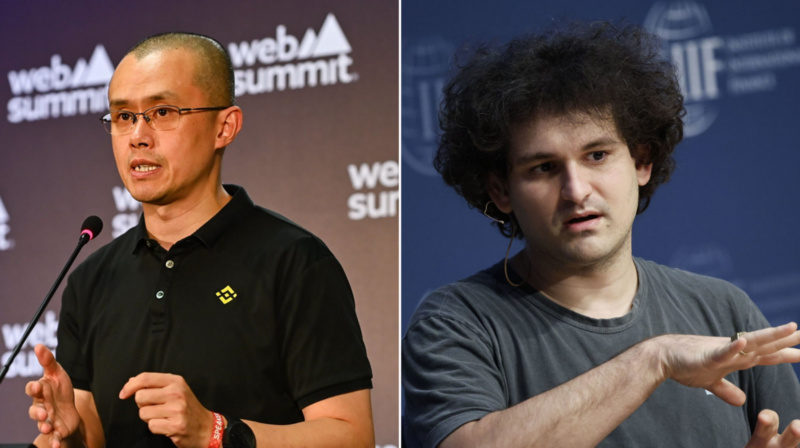 However, the good times did not last long. Just when everyone thought that this matter would be settled, the market once again heard the voice of acquisition or forced interruption due to violation of anti-monopoly law. The market turned sharply for a while, and BTC once fell below 17000 . The US dollar and ETH once fell below $1,300. As SBF personally admitted that FTX was suffering from a liquidity crunch, FTT collapsed directly, dropping to a minimum of around $2.5.
Looking back at the past two days, since CZ tweeted on the evening of November 6 that all FTTs in the account will be liquidated, the news of this war has become the most important factor affecting the short-term trend of the cryptocurrency market. From a stage perspective, It can be roughly divided into six periods of different emotions.
Stage 1: Before CZ tweets "Clear FTT" ( before 23:47 on November 6th)
Before the battle began, the broader market was in the midst of a long-lost slight rebound. After many months of slumping and sideways trading, panic has gradually been digested, and many investors initially had better expectations for the market in November.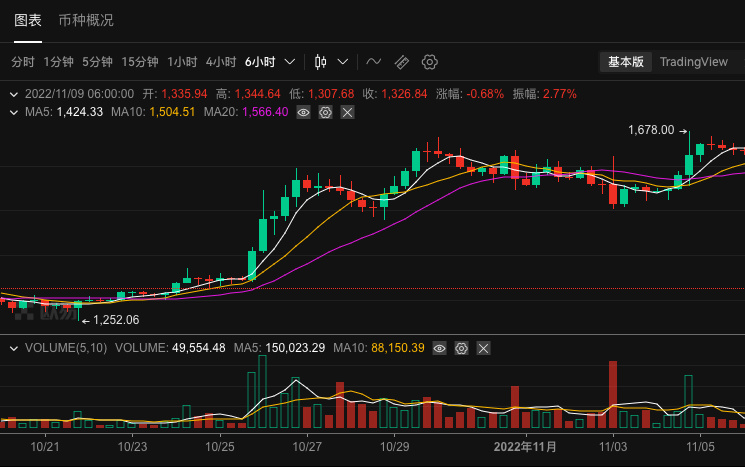 From the perspective of the disk, BTC once again stood at the $21,000 mark, and ETH also broke through $1,600. As for FTT, although there were some rumors about the hidden dangers of FTX's assets and liabilities at that time, many users did not believe that such a giant institution fell at such a fast speed, and the price of FTT has been sideways around 25 US dollars. .
Phase 2: After CZ tweets, before Caroline responds (23:47 Nov 6 – Nov 7 0:03)
On the evening of November 6, CZ's tweet started the war destined to go down in cryptocurrency history — "As part of Binance's exit from FTX stake last year, Binance received approximately $2.1 billion worth of cryptocurrency. (BUSD and FTT). Due to the recent exposure, we have decided to liquidate all remaining FTT on the account. We will try to do this in a way that has minimal market impact. Due to market conditions and limited liquidity, we expect this to be It will take several months to complete."
Affected by this, FTT fell rapidly in the short-term, and once fell to $21.4. At the time, however, other mainstream cryptocurrencies, including BTC and ETH, were not affected much.
Phase 3: Caroline Response and 35 Hours After (07 Nov 0:03 – 8 Nov 11:00)
The first wave of FTT's downside didn't last long, and after CZ's tweet, Caroline Ellison, co-CEO of Alameda Research , responded quickly: "Alameda would love to buy all FTT from you (CZ) for $22" .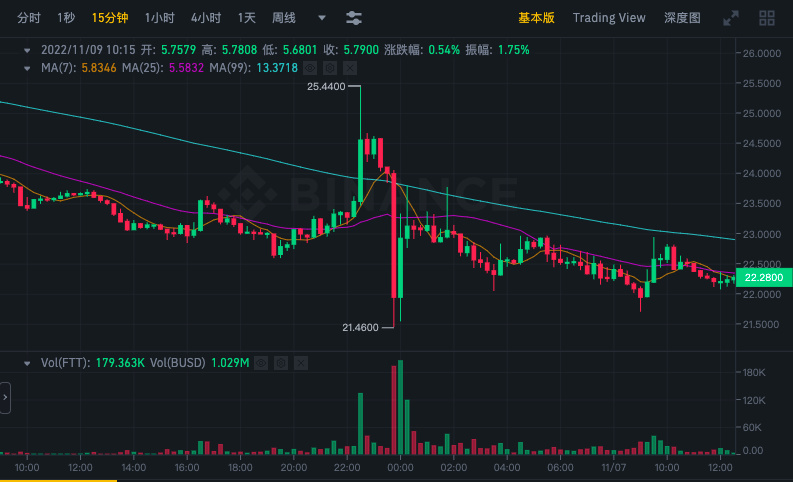 Such a strong "bottom" declaration (which now looks somewhat embarrassing) effectively stabilized the decline of FTT. In the following nearly 35 hours, the price of FTT has been stable above $22.
Phase 4: After FTT falls below $22, before the takeover announcement (11:00 on November 8th – 0:03 on November 9th)
Alameda's underpinning effect only lasted about 35 hours.
As the market's concerns about the overall liquidity of FTX intensified, a large number of users began to withdraw from FTX frantically. In the face of the sudden run, bad signals such as FTX withdrawal delays soon appeared, which seems to support the market 's doubts about the liquidity gap of the exchange .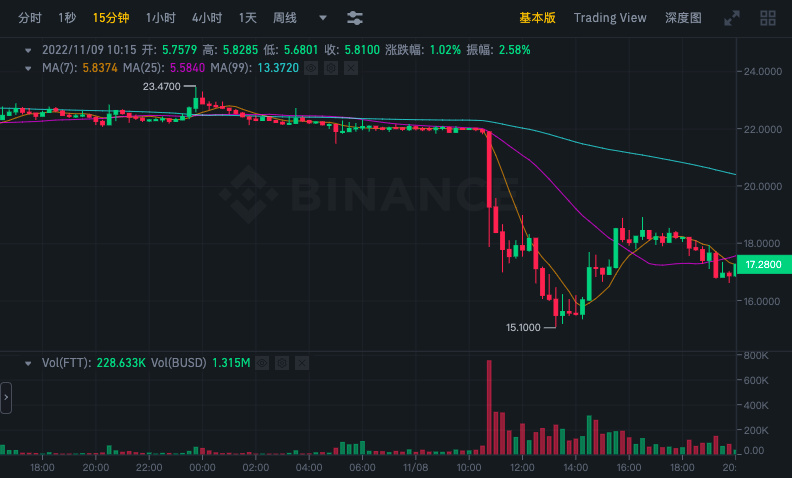 At around 11:00 on November 8th, the continuous accumulation and fermentation of panic finally ushered in an outbreak. After falling below the $22 mark, FTT dived quickly and once fell to around $15. This time, the broader market also began to turn weak. BTC fell below the $20,000 mark, ETH fell below the $1,500 mark, and more altcoins also experienced double-digit declines. SOL, BIT and other projects involved in FTX fell even more. More than 20%, the stable currency MIM with FTT as one of the main collateral assets also showed signs of de-anchoring.
Phase 5: The acquisition announcement and half an hour after (0:03 on November 9th – around 0:30 on November 9th)
The climax of the battle came in the early morning of November 9th. As mentioned above, CZ and SBF announced at the same time that Binance would wholly acquire FTX. Stimulated by this super reversal, BNB once rose to $398, with a maximum increase of over 20% in 1 hour; FTT once rebounded from $14.5 to $21.2, with a maximum increase of 46%; BTC and ETH also returned to 20,000, 1,500 Wait above the gate.
It seems that everything has to develop in the ideal direction, but the reality is often cruel.
Phase 6: After the rumors of "Acquisition may be blocked" ( November 9, 0:30 – now )
Shortly after CZ and SBF announced their acquisition plans at the same time, there were also voices in the market about acquisitions or being put on hold due to regulation.
Thibault Schrepel, an associate professor at the University of Amsterdam who specializes in blockchain and antitrust issues, wrote under CZ's tweet: " In the future please check whether this is in compliance with antitrust laws before tweeting, if this tweet appears in an upcoming In an antitrust lawsuit, I wouldn't be surprised."
Thibault explained that in the U.S., antitrust laws such as the Sherman Act prohibit direct competitors from taking action to protect each other, while CZ tweeted that "after FTX faced a severe liquidity crunch and sought help, he has Step in to protect users", which means that there is an illegal agreement, and US law may apply to this event, because the transaction affects the entire company, including its US operations.
At the same time, Steven Adamske, a spokesman for the U.S. Commodity Futures Trading Commission (CFTC), also said that the CFTC is paying attention to the dynamics of FTX events, but any regulatory issues are currently unclear.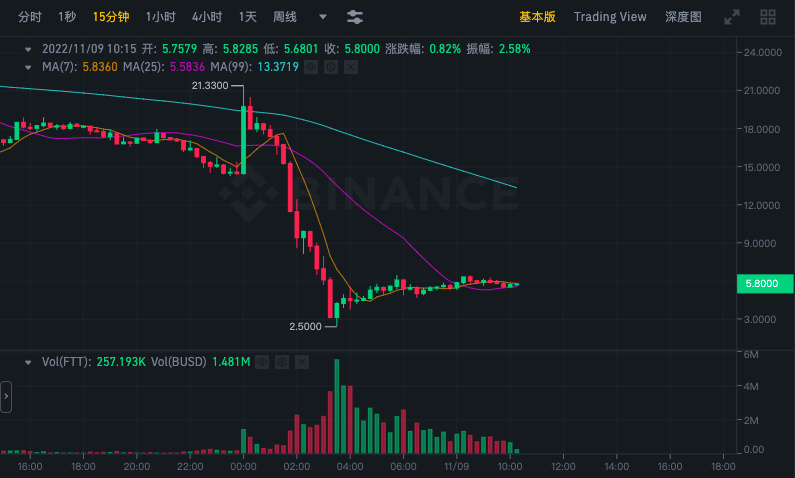 Affected by this uncertainty, market sentiment took a turn for the worse again. BTC once fell below $17,000, and ETH once fell below $1,300. Due to the fact that FTX had a liquidity crunch in the acquisition announcement, FTT collapsed directly, with a minimum drop of $2.5 (as of the time of publication, the temporary report was $5.8), which was directly erased by a zero.
What will happen in the next phase?
This morning, SBF issued another letter of apology, stating that the details of Binance's non-binding agreement to acquire FTX are still under discussion.
In addition, FTX US also issued an announcement explaining that it is an entity that operates completely independent of FTX, which can be regarded as FTX US clarifying that there is no similar liquidity crisis in its own company, or it can be understood as responding to the acquisition on the side and not Does not affect US users.
It is worth mentioning that this incident does not seem to have all negative effects. At least it has accelerated the disclosure process of the exchange industry on its own asset reserves. Binance and OKX have stated that they will publish their own reserve certificates in the future. .
As for the trend of the disk, no one can give an answer for the time being, but you can refer to the opinion of BitMEX founder Arthur Hayes, who has always predicted quite accurately: "FTX is the Lehman of the cryptocurrency world, and the market has not bottomed yet, and Bitcoin is $17,500. The price is still at risk."
Like what you're reading? Subscribe to our top stories.
We will continue to update Gambling Chain; if you have any questions or suggestions, please contact us!