Author: Jiang Haibo, LianGuaiNews
Wormhole is one of the most well-known cross-chain interoperability protocols. In 2021, it was acquired by Jump Trading, and in 2022, it was compensated by Jump Crypto with 120,000 ETH (about 326 million USD) after being hacked. It has also surpassed competitors like LayerZero in the competition for the official governance bridge of Uniswap.
After the collapse of Terra, the development of Wormhole has been lukewarm. In fact, the Wormhole team has been continuously updating the project, and there have been some recent developments, such as the announcement of the establishment of the Wormhole Foundation, the first-time support for new public chains Aptos, Sui, and Sei, the development of automated relays to help developers build dApps, etc. Wormhole hopes that these measures will break the deadlock.
Supporting 23 chains, TVL stable around 324 million USD
According to the data on the Wormhole official website, as of August 31st, Wormhole has supported 23 chains.
Since Wormhole uses a lock & mint approach for cross-chain transactions, it is meaningful to calculate the Total Value Locked (TVL) on the source chain. As of August 31st, the sum of TVL on various chains for Wormhole is 324 million USD, with a historical peak of 3.8 billion USD on May 12th, 2022. The recent TVL has been relatively stable.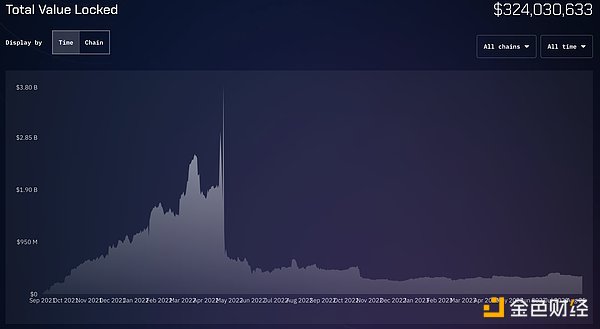 Breaking it down to each individual chain, the chains with the highest locked assets are Ethereum with 259 million USD, Solana with 23 million USD, Binance Smart Chain with 16 million USD, Terra Classic with 8 million USD, and Near with 8 million USD. The assets with higher locked value on Ethereum are USDC with 62 million USD, HXRO with 49 million USD, WETH with 45 million USD, USDT with 20 million USD, and WBTC with 17 million USD. Most of them are mainstream coins, relatively more realistic.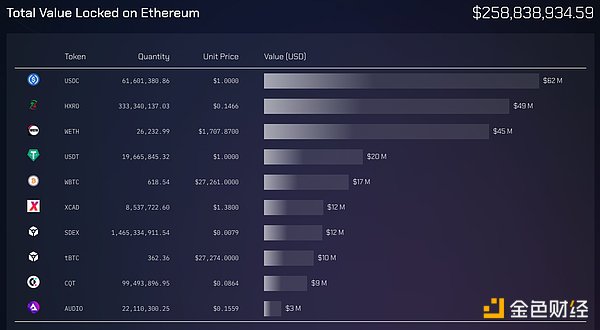 Looking back at the historical data of Terra Classic, during the peak period on May 12th, 2022, out of the total 3.8 billion TVL for Wormhole, 3.25 billion USD came from Terra Classic. The collapse of LUNA/UST started on May 8th, so the surge in TVL on May 12th may be due to the oracle not updating the price of UST in time, resulting in inflated data. Before May 8th, the TVL on Terra Classic increased significantly, with 1.13 billion USD on May 6th, stable TVL before that; on May 7th, TVL rose to 1.71 billion USD; on May 8th, TVL rose again to 2.18 billion USD. After that, possibly due to the decline in LUNA's price, TVL dropped to 1.84 billion USD on May 9th and further dropped to 988 million USD on May 11th.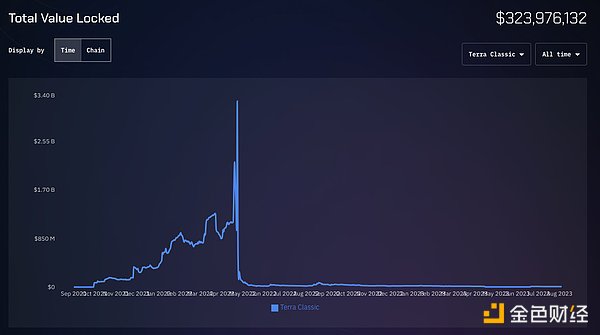 Whether the surge in cross-chain funds from Terra Classic to Wormhole in the two days before the collapse of LUNA/UST is the culprit of the collapse is quite possible.
Recent Developments of Wormhole
The development of interoperability protocols is not accomplished overnight. With the continuous launch of new public chains, it is necessary to support these chains as quickly as possible to seize the market. In terms of functional iterations, in addition to the initial cross-chain asset transfer, it is also necessary to have cross-chain message passing and cross-chain Apps, and simplify these functions as much as possible. According to recent updates from the Wormhole official website, the team has made the following progress.
Establishment of Wormhole Foundation
On August 15th, Wormhole Foundation officially announced its establishment. The foundation is jointly led by Robinson Burkey and Dan Reecer from the Wormhole team. The plans of the Wormhole Foundation include three directions:
xGrants: Provide resources for open-source software development and research, with a particular focus on cross-chain protocols and applications.

Cross-chain Ecological Fund: Initiate a $50 million fund to support Web3 applications integrated with Wormhole.

Wormhole Association: Establish a global active Wormhole community, engage in technical contributions, develop educational content, provide translations, organize online and offline activities, etc.
In addition, although the official statement does not mention it, typically, foundations like this would launch governance tokens and reserve some tokens to promote ecosystem development. This also means that Wormhole may issue governance tokens. Currently, Wormhole lacks income and provides free services to users. When evaluating the cross-chain bridge on Uniswap, the Uniswap Cross-Chain Bridge Evaluation Committee also suggested that Wormhole implement "in-protocol mechanisms" to address the issue of "passive validators". Incentivizing validators (Guardians in Wormhole) through governance tokens is a common practice.
Launch of Automatic Relayers
Current cross-chain protocols are no longer limited to asset cross-chain but also include cross-chain information transmission and cross-chain apps built on top of cross-chain protocols. Wormhole has also started to apply in cross-chain apps, such as Wombat using Wormhole's relayers for cross-chain message transmission and building cross-chain liquidity pools. This functionality is expected to be launched on September 6th.
Wormhole has also introduced Automatic Relayers. To build cross-chain apps, developers usually need to build on-chain components and off-chain relayers to transmit messages from one chain to another. Building, managing, and maintaining off-chain relayers can be challenging, so Wormhole has separated this part of the work and developed automatic relayers. Developers can use pre-configured relayer networks without the need to set up, run, or maintain relayers, simplifying the development of cross-chain apps.
Support for Cosmos, Polkadot, and Base
For application chains in the Cosmos and Polkadot ecosystems, although there are XCMP and IBC for convenient internal cross-chain communication, there are still security issues with cross-chain from other chains like Ethereum to Cosmos and Polkadot. Multiple projects in the Polkadot ecosystem have been affected by the transfer of Multichain funds.
For the Cosmos ecosystem, Wormhole recently launched the Wormhole Gateway to connect the liquidity on supported blockchains to Cosmos through IBC. For Polkadot, Wormhole leverages Moonbeam's routing liquidity to transfer Wormhole assets to the Polkadot ecosystem with one click.
Current Issues: Daily Cross-chain Fund Limitations and Inconsistent Cross-chain Liquidity
Wormhole was acquired by Jump Trading and relies on Jump's investment and market value management. Wormhole can deeply integrate with certain emerging public chains or projects on public chains, but it is still not making significant progress in recent developments.
With the launch of Sei Network and the formulation of airdrop rules, issues with Sei and Wormhole have been exposed. According to Sei's airdrop rules, the more assets cross-linked to Sei, the higher the probability of obtaining rare treasure chests and more SEI airdrops. As a result, many users choose to cross-link more than $100,000 to Sei through Wormhole. However, when withdrawing funds, Wormhole imposes limits on the daily funding for each chain, which has resulted in many users being stuck in the process of transferring funds from Sei through Wormhole, requiring a wait of over 24 hours.
According to the 2022 year-end review of Wormhole, a security feature called Governor was introduced in August 2022 after being stolen. It allows Wormhole Guardians to limit the cross-chain value for each chain. Currently, the daily limit for underlying assets extracted from Ethereum is $50 million, while for Solana, it is $25 million, and even less for other chains.
In the Wormhole community, there have been reminders about reaching the cross-chain amount limit, as shown in the figure below. The speed of fund arrival is also an important evaluation indicator for cross-chain protocols. In general, the daily limits set by Wormhole can already meet the demand, and the arrival speed is fast. However, due to the surge in cross-chain demand caused by Sei's airdrop rules, the experience of waiting for 24 hours for withdrawal is poor.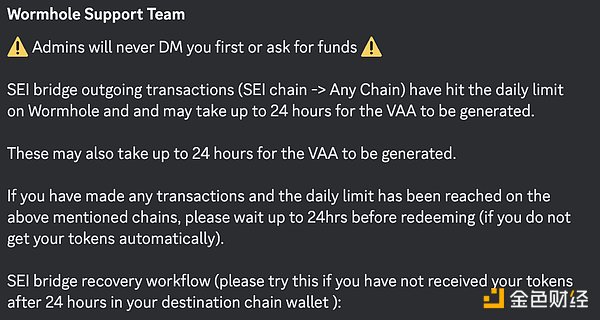 In addition, the cross-linked assets on Wormhole are too complicated. For example, although USDC on each chain can be cross-linked to Aptos, only USDC cross-linked from Ethereum to Aptos is supported on LianGuaincakeswap and Thala on Aptos. Does this mean that using the Ethereum mainnet is the only way to meet the requirements? Actually, it's not. On Solana, there is also a cross-linked asset called USDCet minted by Wormhole from the Ethereum mainnet. There is sufficient liquidity for the USDC/USDCet trading pair on the DEX. For ordinary users, withdrawing USDC to Solana and then exchanging it for USDCet through an aggregator can achieve the same effect, with lower fees. It is also worth noting that although Aptos supports USDC cross-linked from Ethereum or USDCet cross-linked from Solana, when calculating the Solana airdrop, Sei requires the use of native USDC on Solana for cross-linking. Different assets can be easily confused. Competitor LayerZero does a better job in this regard, as only supported assets are visible on the front end.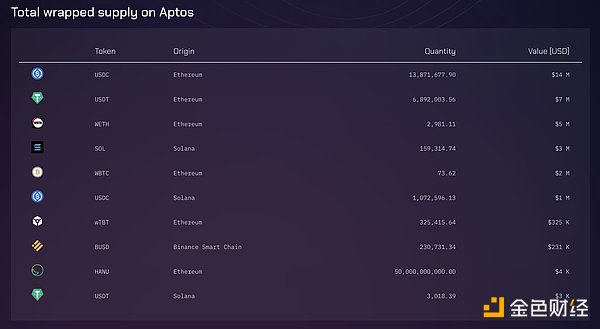 In March of this year, Wormhole integrated Circle's Cross-Chain Transfer Protocol (CCTP). In theory, different chains, such as Ethereum and Solana, can cross-link the underlying assets to Aptos using Circle's official native USDC. If Wormhole can unify liquidity, the user experience will be improved.
With Terra's collapse, Wormhole's glory has also disappeared. Swim Protocol, an ecological project that provides cross-chain liquidity, has also been suspended after a series of subsequent events. It remains to be seen whether Wormhole can regain its former glory in the future.
Like what you're reading? Subscribe to our top stories.
We will continue to update Gambling Chain; if you have any questions or suggestions, please contact us!