Glassnode analysts recently stated on social media that Bitcoin's realized volatility has dropped to its lowest point since March 2020. Cryptocurrencies that have lost their high volatility characteristics are fading from investors' view. At the same time, Binance, one of the world's largest cryptocurrency exchanges, announced the launch of the Launchpool projects Sei ($SEI) and CyberConnect ($CYBER) at the same time, once again attracting attention.
One of the important reasons why Binance Launchpool is highly anticipated is that both Sei and CyberConnect are star projects in the industry, with a large number of users participating and paying attention.
Sei is a Layer 1 project characterized by scalability and speed, and has received investments from well-known institutions such as Multicoin, Coinbase, and Jump Capital. Before announcing its participation in the Binance Launchpool project, more than 4 million users participated in the Sei testnet, with a total of over 100 million transactions on the testnet.
CyberConnect is a Web3 social network that allows users to have their own digital identity, content, connections, and interactions. According to Dune Analytics data, CyberConnect's peak daily active users (DAU) has exceeded 200,000, and currently has a daily active user base of 62,000. After announcing the launch on Binance Launchpool, CyberConnect's weekly active accounts grew by 30%.
However, there are still many criticisms in the market that Launchpool cannot bring sufficient returns to users. The logic of participating in Binance Launchpool is different from Binance Launchpad. Binance Launchpool is more inclined towards wealth management products for BNB and stablecoin holders, with a longer cycle and relatively fixed returns, suitable for users who already hold BNB and have a low-risk preference. At the same time, Binance also provides users with stablecoin pool mining, allowing them to obtain new coin returns without risk. Therefore, BlockBeats will analyze the real rate of return of Binance Launchpool and how to participate to achieve the best returns.
Wealth management product Binance Launchpool, accumulated returns of approximately 15.37% in the past three years
In fact, the difference between Binance Launchpad and Binance Launchpool can be clearly seen from the number of projects launched. As of now, Binance Launchpad has launched 32 projects, while Binance Launchpool has launched 37 projects. In 2023, Binance Launchpool launched 6 projects, twice the number of projects launched on Binance Launchpad.
Since 2021, the average mining duration of Binance Launchpool projects is 28.69 days, with 9 projects already listed on Binance before mining began. This also means that investors can better arbitrage based on the annualized return rate. In order to better measure the performance of projects, BlockBeats used the annualized return rate officially announced by Binance as the basis (as of August 16th, 8:00 for CYBER and SEI), and calculated the actual return rate of the entire mining cycle (annualized return rate / 365 * mining duration).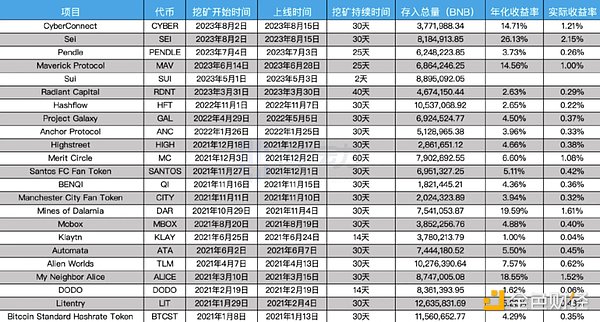 Without considering the factors of overlapping mining cycles and fluctuations in BNB prices, the BNB-denominated returns of Binance Launchpool over the past three years will reach 8.06%, 0.91%, and 4.9% (the actual data for 2023 SUI will be higher than 4.9% because the official annualized return rate has not been disclosed and the mining period only lasted for 2 days). This also means that if BNB holders participate in Binance Launchpool every period starting from 2021 and convert the tokens into BNB, the number of BNB will increase by approximately 13.87%. And currently, there is no direct correlation between the amount of BNB participating in Binance Launchpool and the rate of return for the 23 projects.
Meanwhile, one of Binance's financial products – the BNB yield pool – also has an annual yield of approximately 0.5%. It automatically invests users' money into Launchpool, allowing them to enjoy a fixed yield of 0.5% as well as additional Launchpool earnings. The total accumulated yield over three years is 13.87% + 1.5% = 15.37%.
Compared to the Binance LaunchLieGuaid project, participating in Binance Launchpool does not require any capital, making it more suitable for users who already hold BNB and stablecoins for various reasons. Additionally, since Binance Launchpool often has a longer duration, participation through methods such as collateralized borrowing needs to consider the actual project situation, rather than mindlessly participating as with the Binance LaunchLieGuaid project.
For those with extremely low risk preferences, they can consider participating in stablecoin mining. The total accumulated yield over three years can also reach 13.16%. Normally, stablecoins can be deposited into a current stablecoin financial product with a yield of 2.59%. Occasionally, there may be additional interest of 1% to 2% during promotions, resulting in an average interest rate of approximately 4.1%. The total yield is 4.1% + 13.16% = 17.26%.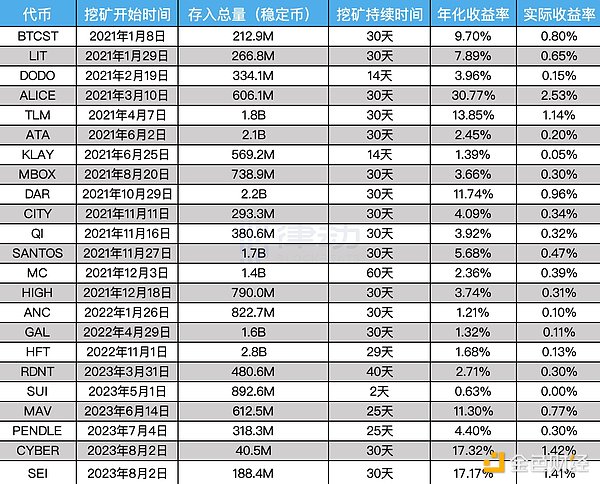 Buying on the first day and selling on the second day may be the optimal solution for Binance Launchpool
For many investors, they may not want to hold BNB but still want to profit through Binance Launchpool. In that case, they need to have a certain understanding of the project in order to borrow BNB through methods such as collateralized loans. However, it can be challenging to understand the project in a short period of time. Perhaps, we can reverse engineer the potential profitability of the project through Binance's rule settings.
There is a time difference between the start of mining for Binance Launchpool projects and their listing on Binance. By analyzing this time difference, it can be observed that projects that start mining and are listed on Binance after a certain period (referred to as "blind mining") have a higher probability of performing better. When investors are not long-term holders of BNB and stablecoins, choosing to participate in projects with longer time differences between listing and mining may also be a more profitable option.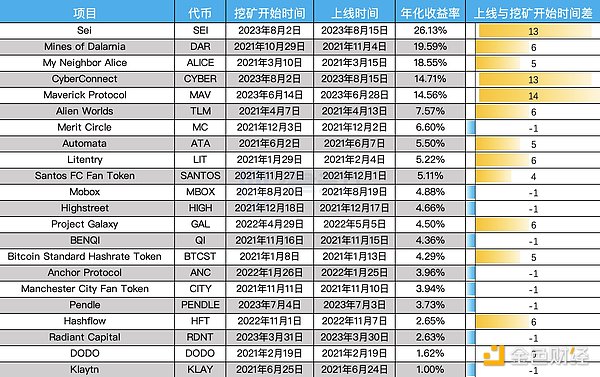 Of course, there are also investors in the market who do not participate in Binance Launchpool but instead participate in the secondary market. After excluding two delisted projects, Bitcoin Standard Hashrate Token and Anchor Protocol, as well as projects with short listing times, Sei and CyberConnect, BlockBeats has analyzed 19 projects from 2021 to the present.
After eliminating short-term price fluctuations caused by liquidity and market sentiment on the first day, using the closing price as the buying time point, all projects were profitable, with an average return rate of 76.95%. However, 9 out of the 19 projects reached their all-time high on the next day. This also means that selling on the second day may be the best strategy for Binance Launchpool.
The reasons for the rise of Binance Launchpool projects vary, but the decline is greatly influenced by BTC. Among the 19 projects, 2 projects hit their historical lows on May 12, 2022, when BTC briefly fell below the $27,000 mark, the first time since December 29, 2020. 8 projects hit their historical lows on June 10, 2023, which was also a day of BTC decline, reaching a low point in nearly 3 months. Therefore, when bottom fishing Binance Launchpool projects, judgment on the trend of BTC may also be necessary.
Binance Launchpool Empowers BNB
After analyzing the projects of Binance Launchpool since 2021, it is not difficult to come to a conclusion that Binance Launchpool is a stable financial lottery for BNB holders. Binance is leveraging its industry position and influence to empower BNB holders.
In terms of market capitalization of cryptocurrencies, BNB currently has a total market cap of about $36 billion, ranking fourth. February 2021 was the month with the largest monthly increase in the history of BNB's market, with the price rising from $44.3 to $210.2, a 374.2% increase, and reaching a high of $348.7. Now, there are many explanations for how it has grown into such a behemoth. But Binance Launchpool is undoubtedly an indispensable part of it.
Unlike the empowerment of many other projects, Binance Launchpool's empowerment of BNB is direct and fierce. In the first two months of 2021, Binance launched 5 Binance Launchpool projects in just 10 days, with the highest annualized return rate reaching 26.96%.

Of course, it is difficult for BNB to achieve a huge monthly increase in its current size. However, Binance has recently launched two star projects, Sei and CyberConnect, which seems to be worth looking forward to.
Like what you're reading? Subscribe to our top stories.
We will continue to update Gambling Chain; if you have any questions or suggestions, please contact us!