Today's News Highlights:
1. The Federal Reserve raises interest rates by 25 basis points, the highest level since 2001
2. The U.S. House Financial Services Committee approves the cryptocurrency regulatory framework bill
3. The Korea Federation of Banks issues the "Virtual Asset Real-Name Account Operation Guide," requiring exchanges to reserve 3 billion Korean won in reserve funds
4. Amazon expands its blockchain hosting service by providing AMB access and query functionality
5. The Sui testnet now supports liquidity staking and will be added to the mainnet in the next upgrade
6. Cryptocurrency payment app Hi receives a $30 million investment from Animoca Brands
7. Ethereum dynamic storage expansion project EthStorage raises $7 million in funding with a valuation of $100 million, led by Dao5
8. Meta Q2 financial report: Reality Labs division of Meta incurs a loss of $3.74 billion
Regulatory News
The Federal Reserve raises interest rates by 25 basis points, the highest level since 2001
The Federal Reserve raises its benchmark interest rate by 25 basis points to a range of 5.25% – 5.50%, reaching the highest level since 2001, in line with market expectations. The Federal Open Market Committee (FOMC) statement said that the committee members unanimously agreed on this interest rate decision and will continue to assess more information. Given the rise in inflation, the Federal Reserve will closely monitor inflation risks and consider further tightening monetary policy to curb inflation. Fed funds rate futures indicate a 18% probability of a rate hike in September and a 36.5% probability in November.
Foreign media: The leadership of the U.S. Senate has approved an amendment to the National Defense Authorization Act (NDAA) that includes crypto provisions
According to DL News, three sources revealed that the leadership of the Senate has approved an amendment to the National Defense Authorization Act (NDAA) that would require federal regulatory agencies to develop new anti-money laundering guidelines. The NDAA is a must-pass major legislation currently being negotiated between the House of Representatives and the Senate. In addition to requiring federal agencies (from the Drug Enforcement Administration to the Financial Crimes Enforcement Network) to provide reports, the bill also establishes new rules requiring crypto ATMs to collect user identity information. Crypto ATM operators will also need to report on the status of all operating locations to the government. The version of the NDAA that includes the amendment is likely to pass in the Senate, and the Senate is scheduled to vote on the bill this week.
The U.S. House Financial Services Committee approves the cryptocurrency regulatory framework bill
The U.S. House Financial Services Committee approved the Republican-led cryptocurrency regulatory framework bill with a vote of 35 to 15. The legislation will establish rules for when cryptocurrency companies must register with the SEC or CFTC. It provides a process for digital asset issuers to demonstrate to the SEC that blockchain networks are sufficiently decentralized, which would allow the relevant tokens to be classified as commodities regulated by the CFTC. The bill also requires the two agencies to participate in joint rulemaking and calls for research on issues including NFTs and decentralized finance (or "DeFi"). Additionally, the bill specifies that the digital asset itself is not a security as it is sold as part of an investment contract. The bill will next be submitted to the House Agriculture Committee for review. Given that Ohio Banking Chair Sherrod Brown has been skeptical of the cryptocurrency industry, the bill is expected to face significant resistance in the Democratic-led Senate.
The Korean Bankers Association has formulated the "Guidelines for the Operation of Real-name Accounts for Virtual Assets", requiring exchanges to reserve a deposit of 3 billion Korean won.
After consulting with financial authorities and virtual asset exchanges, the Korean Bankers Association has developed the "Guidelines for the Operation of Real-name Accounts for Virtual Assets" to protect virtual asset users and strengthen anti-money laundering measures. Firstly, banks will require virtual asset exchanges to accumulate a reserve deposit of at least 3 billion Korean won to fulfill their responsibility for user damages. Additional authentication will be implemented for receiving transfers and restrictions will be imposed on receiving transfers for long periods of non-use. Banks plan to limit the deposit and withdrawal limits by classifying user accounts into quota accounts and regular accounts. The anti-money laundering standards and procedures related to real-name accounts have also been revised. Banks will strengthen customer identity verification for real-name account users every year, not only checking and verifying users' identity information, but also examining additional information about the purpose of transactions and the source of funds. Verification of high-risk users and reporting of suspicious transactions will also be strengthened.
The Hong Kong Monetary Authority signs a Memorandum of Understanding with the Saudi Arabian Monetary Authority: Key areas of focus include regulatory technology, tokenization, and payment infrastructure.
The Hong Kong Monetary Authority (HKMA) and the Saudi Arabian Monetary Authority (SAMA) held a bilateral meeting in Riyadh today to enhance cooperation in the financial services sector between the two regions. During the meeting, SAMA and HKMA discussed multiple cooperation plans, mainly involving financial infrastructure development, open market operations, cross-border market connections between the two regions, and sustainable development in four major areas. The Governor of SAMA, Ayman Alsayari, and the Chief Executive of HKMA, Eddie Yue, jointly signed the Memorandum of Understanding to promote joint discussions on financial innovation. The Memorandum of Understanding aims to promote knowledge sharing in financial innovation and financial technology, focusing on new trends, best practices, regulatory matters, policies, and regulations. The Memorandum of Understanding will expedite cooperation between the two parties in various relevant areas of financial technology, sharing experiences in research and innovation, with a focus on the latest developments in regulatory technology, tokenization, and payment infrastructure.
The Office of the Superintendent of Financial Institutions Canada (OSFI) initiates consultation on regulatory capital and liquidity treatment of crypto asset risks.
The Office of the Superintendent of Financial Institutions Canada (OSFI) announced two draft guidelines on the regulatory capital treatment of crypto asset risks today, one for federally regulated deposit-taking institutions and the other for insurance companies. The banking guideline reflects the December 2022 BCBS banking standards. The insurance guideline incorporates relevant parts of the BCBS standards and has been adjusted to suit the specific circumstances of the insurance industry. Both guidelines provide detailed descriptions of the four classifications of crypto assets and the capital treatment for each classification. These two draft guidelines will be publicly consulted before September 20, 2023. These guidelines will replace the interim proposals on the regulatory treatment of crypto asset risks published in August 2022 and will take effect in early 2025. The temporary consultation in August 2022 is still valid at present.
NFT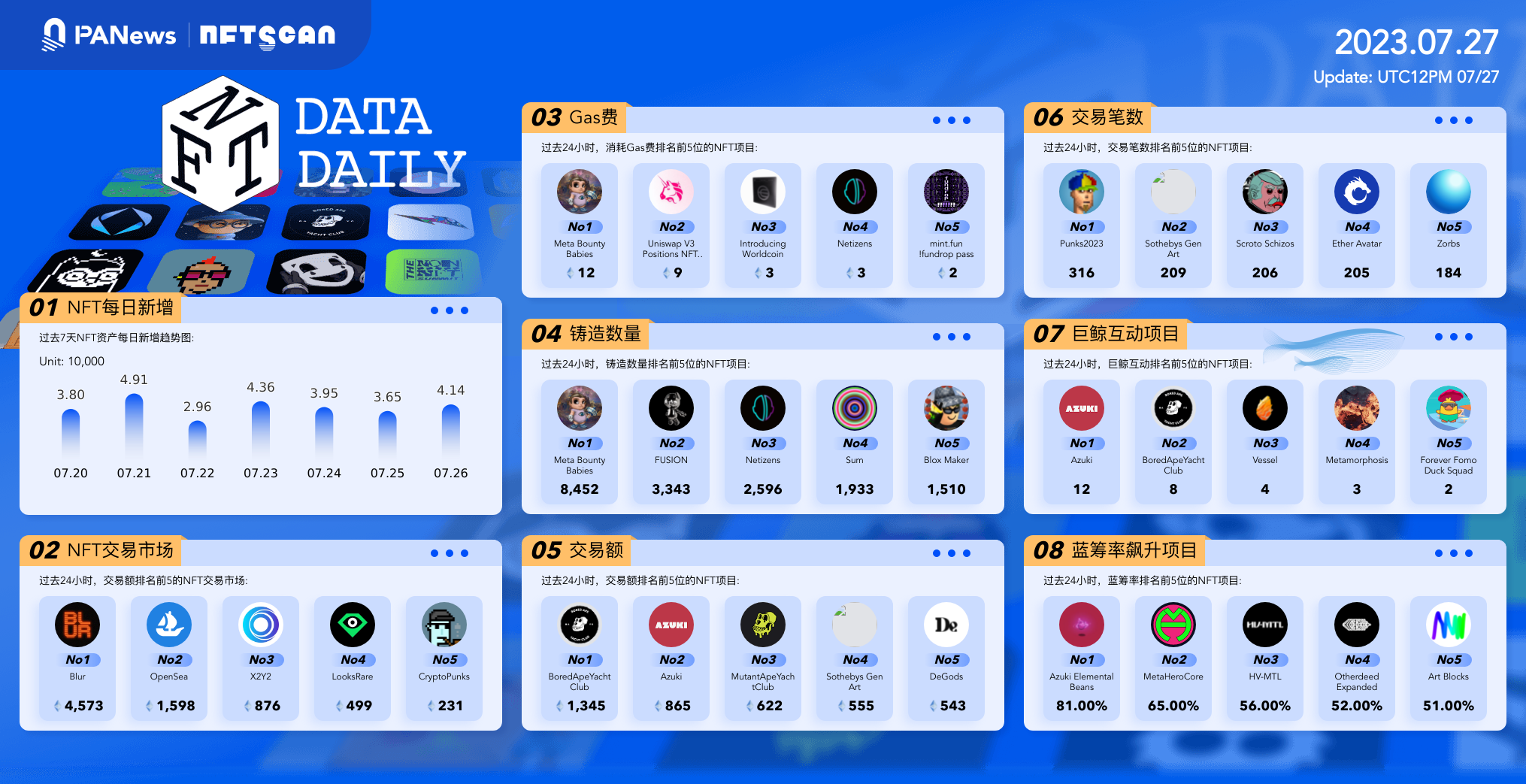 Project Update
US presidential candidate Robert Kennedy confirms recent purchase of Bitcoin
US Democratic presidential candidate Robert F. Kennedy Jr. confirmed on Wednesday on Twitter that he does indeed hold Bitcoin (BTC). Kennedy stated, "After the Bitcoin conference, I decided to take action and buy two Bitcoins for each of my seven children." Based on the current price of approximately $29,500, the current value of these 14 Bitcoins is close to $414,000. Kennedy expressed his support for Bitcoin at the Miami Bitcoin Conference held from May 18th to May 20th this year. Last week, he further pledged that if he wins the presidential election, he will exempt Bitcoin from capital gains tax and begin supporting the US dollar with hard assets such as Bitcoin.
ZachXBT: Italian government emails stolen
On-chain analyst ZachXBT tweeted that scammers have stolen Italian government emails and accessed the Twitter legal request portal to ban accounts, search for information, and delete posts with forged false subpoenas. Earlier this week, ZachXBT received an email from Twitter requesting the "removal" of 5 very normal tweets from Italian law enforcement. ZachXBT suspects Chase, also known as HZ, a phishing scammer who had his assets confiscated by law enforcement after stealing millions of dollars. Chase messaged ZachXBT on Telegram mentioning the request from Italian law enforcement that ZachXBT received. ZachXBT hopes that Twitter will review these false reports and revoke access to the related emails.
LianGuairadigm transfers over $3 million worth of MKR to OTC address
Crypto KOL Joe | 0xOsprey.eth tweeted that LianGuairadigm has transferred over $3 million worth of MKR to an OTC address. In addition, according to on-chain analyst Yu Jin, in the past 5 days, 5,114 MKR (worth about $5.7 million) has been withdrawn from Binance to FalconX, with an average price of $1,115 per MKR. On July 21st, a16z transferred 8,050 MKR, split into fifths, with one-fifth being transferred to Coinbase each day. The final transfer of 1,610 MKR was made to Coinbase 12 hours ago. a16z currently holds 14,460 MKR (about $17.27 million).
Yesterday, according to Lookonchain monitoring, LianGuairadigm canceled the pledge of 3,000 MKR (worth about $3.37 million).
Sui Foundation announces termination of cooperation with MovEx team
The Sui Foundation announced on Twitter that it has terminated its cooperation with the MovEx team. It is reported that MovEx received 2.5 million SUI from the Sui Foundation as compensation for their work on DeepBook and was subject to contractual lock-up restrictions. By initiating three transactions of 625,000 SUI each to three independent wallets, MovEx violated the lock-up provisions. The final 625,000 SUI from the initial transfer still remains in the original wallet. MovEx did not inform the Sui Foundation of these three transactions that violated the contract lock-up, and the Sui Foundation did not agree to them.
As of July 3rd, at the request of the Sui Foundation, MovEx has transferred all 2.5 million tokens to a wallet hosted by a qualified custodian. The custodian will release these tokens according to the contract lock-up plan and the previously published token issuance plan. Following these events, the Sui Foundation terminated its relationship with the MovEx team. No additional SUI tokens will be distributed to MovEx, and MovEx will no longer be a major contributor to DeepBook. Currently, all other tokens subject to the contract lock-up are held in qualified custodial accounts that have agreed to enforce such lock-up terms.
Amazon expands its blockchain hosting service by providing access and query functions for AMB
The general availability of the access and query functions provided by Amazon Managed Blockchain (AMB) has been expanded. This expansion allows users to enhance their application development processes by leveraging the pre-provisioned blockchain infrastructure offered by AMB. The launch of AMB Access significantly improves its node product by providing serverless and scalable access to the blockchain. Developers can use digital assets and distributed applications across various blockchains without the need for specialized infrastructure. This is achieved through the use of standard Remote Procedure Calls (RPC).
In the initial stage, AMB Access will support the Bitcoin network, enabling developers to access blockchain data from multiple chains. This access will be achieved through the application programming interfaces (APIs) provided by the AMB Query service. Supported chains will include Bitcoin and Ethereum, among others. The pricing structure for these services follows a pay-as-you-go approach.
In 2019, cloud service provider Amazon Web Services (AWS) launched Amazon Managed Blockchain. Since then, AWS has been actively expanding its influence in the Web3 industry. Earlier this year, Amazon announced a new Web3 job listing, clearly indicating the company's continued commitment to the advancement of blockchain technology.
Sui Testnet now supports liquidity staking and will be added to the mainnet in the next upgrade
In an official announcement, Sui stated that the community has approved Improvement Proposal (SIP) #6, which allows token holders to stake their tokens while maintaining liquidity. The Sui Testnet now supports liquidity staking, and once all compatibility tests are completed, this feature will be added to the mainnet in the next upgrade.
LianGuairadigm publishes stablecoin policy document and urges Congress to enact legislation promptly
LianGuairadigm has released a stablecoin policy document on its official website, stating that stablecoins carry lower risks compared to bank deposits. The risk management framework applicable to stablecoins should be designed to manage the unique risks associated with stablecoins, which are different from those found in traditional banking. Additionally, unlike Money Market Funds (MMFs) in practice, if stablecoins were regulated as MMFs, most stablecoins would lose their utility. LianGuairadigm concludes by urging Congress to take immediate action and enact legislation to address the risks posed by stablecoin arrangements while still allowing stablecoins to fulfill their role and continue to innovate.
Eco, supported by a16z, has launched the Beam wallet, which provides payments on Optimism and Base.
According to The Block, Eco (the team behind the decentralized currency project Eco Protocol) supported by a16z has launched an encrypted wallet called Beam. Beam will support payments on Layer 2 networks such as Optimism and Coinbase's Base. Beam integrates account abstraction (EIP-4884) and other functions, allowing the wallet to act as a smart contract and support advanced features such as multi-factor authentication and wallet social recovery.
Eco Inc.'s CEO, Andy Bromberg, previously founded the cryptocurrency platform CoinList in 2017. So far, Eco Inc. has raised over $90 million in multiple rounds of financing from well-known investors such as a16z, Lightspeed Venture Partners, and LianGuaintera Capital, to develop the Eco Protocol.
Decentralized exchange LianGuaincakeSwap expands to zkSync Era network.
According to CoinDesk, decentralized exchange LianGuaincakeSwap expanded to the zkSync Era network on Thursday. This move is in line with LianGuaincakeSwap's plan to expand its user base and increase protocol revenue. After the launch of LianGuaincakeSwap, it will provide token swapping and liquidity provisioning functions, with transaction fees amounting to 0.01% of the transaction value.
LianGuaincakeSwap is currently available on BNB Chain, Ethereum, Polygon zkEVM, Aptos, and the current zkSync Era. According to DefiLlama data, as of Wednesday, LianGuaincakeSwap has a Total Value Locked (TVL) of nearly $1.57 billion.
Securitize launches tokenized securities representing equity in entity companies in Europe.
According to The Block, blockchain company Securitize, specializing in the tokenization of real-world assets, announced the issuance of tokenized securities representing equity in Spanish real estate investment trust company Mancipi LianGuairtners. The securities will be tokenized on Avalanche, and secondary trading will begin in September.
Immunefi, Polygon Labs, and Solana Foundation collaborate to launch the web3 baseline security standard "Rekt Test."
According to The Block, bug bounty security platform Immunefi is collaborating with cybersecurity companies Trails of Bits, Polygon Labs, Fireblocks, DeFi Education Fund, Ribbit Capital, and Solana Foundation to launch the web3 baseline security standard "The Rekt Test." The test guides web3 projects through a series of questions aimed at ensuring compliance with minimum security performance levels. The Rekt Test covers seven security assessments: system documentation and roles, key management and access control, incident response and crisis management, team and personnel security, code security and testing, external audits and vulnerability management, and attack mitigation and user protection.
Investment and Financing
EthStorage, an Ethereum dynamic storage expansion project, raises $7 million in seed funding with a valuation of $100 million, led by Dao5.
EthStorage, a second-layer network data storage solution project, has completed a $7 million seed round of financing with a valuation of $100 million. Dao5 led this round of financing, with participation from SevenX Ventures, Foresight Venture, DragonRoark, Cloud Nine Capital, Avant Blockchain Capital, Future Money Group, Gate Ventures, Vitalbridge, Galxe, GeekCartel, Rebase D. Ventures, W3.Hitchhiker, and other angel investors. All the funds raised will be used to expand the team, support research, develop products, enhance the brand, and attract more ecosystem partners to use EthStorage.
According to reports, EthStorage is a Layer 2 solution that provides programmable dynamic data storage based on Ethereum data availability technology. The team has twice received funding from the Ethereum Foundation's Ecosystem Support Program (ESP) for research on data availability sampling and Layer 2 network dynamic data storage proofs. It also won first place in the Super Demo event at the Ethereum Community Development Conference (EDCON) held in Montenegro in 2023.
Cryptocurrency payment application Hi receives $30 million investment from Animoca Brands
According to CoinDesk, Metaverse game and venture capital giant Animoca Brands has invested $30 million in the Web3 payment application and protocol Hi. In addition, Hi has established a partnership with Animoca Brands. Hi plans to use this funding to expand its application and prepare for the launch of the mainnet for the Hi protocol, which is compatible with the Ethereum Virtual Machine (EVM).
Sean Rach, co-founder of Hi, stated that Hi is a purely digital application that operates as a new type of bank, allowing users to transact with cryptocurrencies or fiat currencies. In 2022, Hi partnered with Mastercard to issue debit cards that can be customized with NFT images. Most of Hi's user base is in Europe, but they plan to expand to Asia, Latin America, and eventually the United States, provided that the regulations are clear. Hi is working on implementing Proof of Human Identity (POHI) into its KYC process, which does not involve iris scanning. The company currently has 3.5 million users and 1 million KYC users.
Key Data
Meta Q2 financial report: Reality Labs division records a loss of $3.74 billion
The second-quarter performance report for 2023, released on July 26th, shows that Meta reported a revenue increase of 11% compared to the same period last year, totaling $31.9 billion. Reality Labs, focusing on the metaverse, recorded a loss of over $3.74 billion in the second quarter, and its revenue reached its lowest point in the past two years, surpassing $276 million, a decrease of nearly 40% compared to the second quarter of 2022.
Susan Li, Meta's Chief Financial Officer, stated that the decline in Reality Labs' revenue was due to a decrease in sales of its Quest 2 virtual reality (VR) headset. The department's expenses increased by 23% to $4 billion, partly due to the growth in personnel costs. Meta stated that Reality Labs' operating losses will increase by 2023. The company stated that the development of VR-related products and further investment in its metaverse are the reasons for the expanding losses.
LianGuaiNews APP Points – PT (Grape) officially launched, join Read to Earn!
PT (short for Grape in Chinese) is the points reward that LianGuaiNews users can earn by participating in interactive activities such as reading news, sharing content, liking, and bookmarking on the LianGuaiNews website and app. PT (Grape) is not tradable or transferable, and can only be used for redeeming various prizes in the "Points Mall" of LianGuaiNews and participating in various daily activities. Experience it now!
LianGuaiNews Launches Global LEAP Journey!
Korea, Singapore, Shanghai, Taipei, multiple locations gathering together from September to December to witness a new chapter of globalization!
📥Multiple events are being organized, welcome to communicate!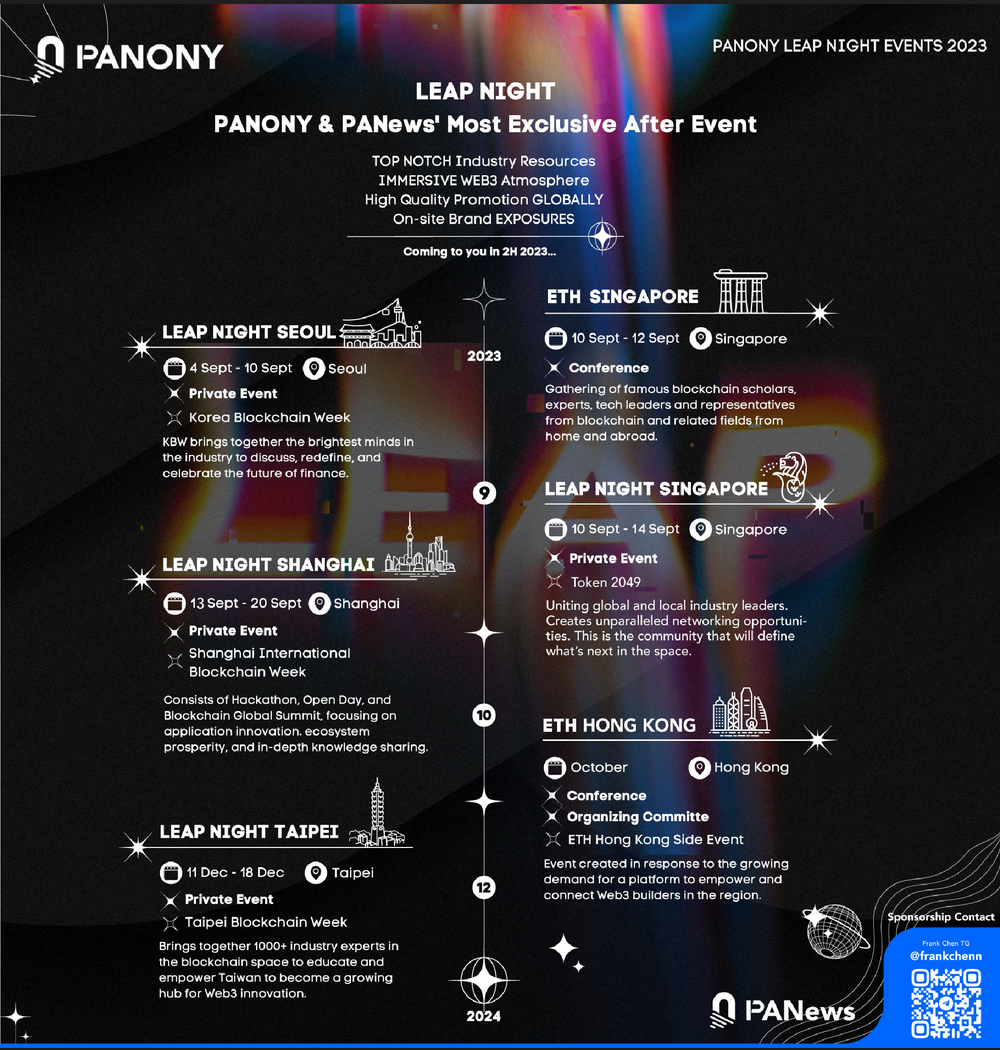 Like what you're reading? Subscribe to our top stories.
We will continue to update Gambling Chain; if you have any questions or suggestions, please contact us!